The Scotland landscapes are absolutely stunning!
This destination offers lochs, mountains, castles, abbeys, volcanic formations… 
Just have a look at those 40 Scotland Pictures and be ready to pack your bag! Scottish photos WANDERLUST ALERT.
About the following Scotland Pictures
It was very difficult to reduce this selection to only 40 pictures of Scotland. It is such a beautiful place with landscapes including:
Lakes known as Lochs
Beaches
Castles
Abbeys
Mountains
….
Most beautiful landscapes of Scotland
My choice is:
Glencoe, the whole valley is impressive and varied.
Loch Leven (near Glencoe) – perfect for sunrises and sunsets
Glen Shiel, on the way to the Isle of Skye
Caerlaverock Castle, a unique shape and landscape
All views of Edinburgh
I know… the Isle of Skye is not on my list. It's beautiful, but I must admit that objectively, it doesn't fit in my top 5 of the most beautiful landscapes in Scotland.
Lots of pictures below.
All the locations below, along with many other beautiful places, are included in my eBook to help you easily plan your road trip around Scotland:
1 – Most photographed Mountain – Buachaille Etive Mor
Buachaille Etive Mor in the Glen Coe area is the most photographed mountain in Scotland. When you are in front of it, it is not difficult to understand why. It has something magnetic and you keep looking at it.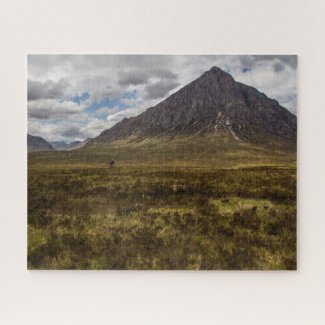 Get your Puzzle Landscape of Scotland – Glencoe
2 – Glasgow University
Glasgow is a town with many architectural facets. One of the most impressive building you should visit is the Glasgow University. Who would not love to study in such an inspiring place?
3 – Glencoe Lochan
A lochan is a very small loch. Near the town of Glencoe, a small walk takes you around the beautiful Glencoe Lochan. Hopefully you will be lucky as well and see it with reflections.
4 – Loch Leven – Typical Scotland landscape
I am going to share several pictures of Loch Leven from various angles as it is very photogenic. This was taken in the South Shore as the end of the afternoon. So peaceful!
5 – St Mungo's Cathedral
Several cathedrals are worth being visited on a Scotland Road Trip. St Mungo's in Glasgow is definitively the best ones (to my opinion). Definitively an interesting atmosphere plus artefacts, explanations and a surprising underground level.
6 – Loch Awe
Most people focus on the lochs in the Trossachs National Park. But drive west in the Argyll region and you will find enchanting places like this one on Loch Awe.
This is one of my favorite Scotland Pictures as it shows the atmosphere of the Scottish lochs.
7 – Inveraray Castle – typical Scotland image
Inveraray Castle is definitively what we call a fairy-tale castle, even if the walls are green, which is very surprising. Located in the Argyll region, it has beautiful park and gardens and a huge collection of weapons. It is a very photogenic building, in my opinion.
8 – The 3 sisters
The drive on A82 through Glen Coe is one of the best road trips to take in Scotland. You will want to stop to take many pictures of the beauty of Scotland. One of the main attractions is the viewpoint towards the 3 sisters:
9 – Assynt-Coigach Reserve
Sometimes you drive towards a specific destination and discover amazing landscapes along the way. This Scotland picture was taken while driving towards Loch Assynt.
10 – Caerlaverock Castle
So many castles in Scotland! One of the most unique is Caerlaverock. Located near the border with England is has a triangular shape.
11 – The Queen's View – representative picture of Scotland
The Queen's View is considered one of the best views in Scotland. It sure is not disappointing. It displays the length of Loch Tummel, Northeast of the Trossachs.
If you can't travel yet, you can enjoy it at home with this jigsaw puzzle: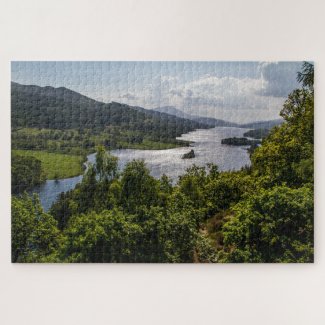 Get this Scotland Jigsaw Puzzle – Landscape Loch Tummel
12 – The Ring of Brodgar
Scotland is also home to archeological wonders, listed on the Unesco World Heritage. One of those places is the Ring of Brodgar in the islands of Orkney. You can take some iconic photos of Scotland here.
13 – Loch Leven again – typical Scotland Highlands photo
As I said before, I am back wihth another pictures of the Stunning Loch Leven in Glencoe. This Scotland photo was captured from the North Shore in the morning.
The mountains of Glencoe are majestic reflecting on water.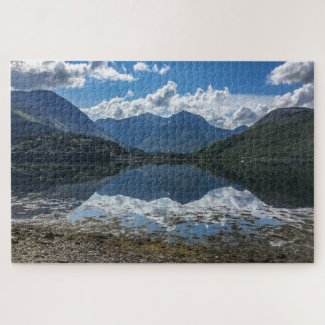 Get this Scotland Jigsaw Puzzle – Loch Leven 2, Glencoe
14 – Loch Chon
The Loch Lomond and Trossachs National Park is home to many lochs. Loch Chon is a little off the main road and very peaceful.
15 – Sinclair Girnigoe Castle
This castle is in ruin, but its location is just amazing. The Sinclair Girnigoe Castle has been built right on and inside the cliff. Not sure how long it will remain until erosion takes it away.
16 – Edinburgh Princes Street
Walking at sunset in Edinburgh… no wonder the whole town is on the Unesco World Heritage List.
17 – Scottish Highland Cattle – fun Scotland photo to take
A typical picture of Scotland… the Scottish Highland Cattle. You just want to get close and shuffle their hair 🙂
18 – Fairy Glen
Fairy Glen is a lesser-known location on the famous Isle of Skye. It is like a Scotland in Miniature. And it really feels like fairies are going to appear from behind the hills. It is great place to walk around and take some great pictures of the Isle of Skye.
19 – Edinburgh Castle – impressive Scotland image
No need to introduce, the place is quite famous. This photo of the Edinburgh Castle was taken from Princes Street Garden.
20 – Near Loch Coruisk
Some are of the Skye Island are only accessible by boat or hiking. Loch Coruisk is such a place. You can take a boat from Elgol. This is the view towards the pier.
Let's take a break from the pictures to watch my little video about the beautiful Scotland landscapes:
21 – Loch Rannoch
Some lochs are wide and not surrounded by high summits making them less photogenic. But when the clouds explode you get one of your best photo moments in Scotland.
22 – Dunrobin Castle
There are so many castles in Scotland it is difficult to decide which one to show. Dunrobin Castle is one of the most photogenic from any angle. Especially from the lower gardens.
23 – Loch Shiel
Loch Shiel on the Road to the isles is so beautiful that it has its own visitor center and a special track to get higher and have fantastic views.
24 – Old Man of Storr
The Old man of Storr is one of the most photographed landmarks in Scotland. I have several pictures with a blue sky. But this one with the clouds represents better this location on the Isle of Skye.
25 – Stirling Castle
Stirling castle is a medieval city on top of a hill. Make sure to stop once you leave the main road for such fantastic views.
26 – Loch Maree
Loch Maree is one of the most beautiful lochs in Scotland, although a lot less touristic than many. Located North West of Scotland, its whole length is surrounded by high summits.
27 – Viewpoint of Rest and Be Thankful
At the edge of the Argyll forest, there is a viewpoint called 'Rest and Be Thankful'. Quite fitting, don't you think?
28 – Scottish Sheep
So cute!
29 – Loch Tay
At the end of Loch Tay, in the town of Kenmore a small harbor and sometimes incredible light!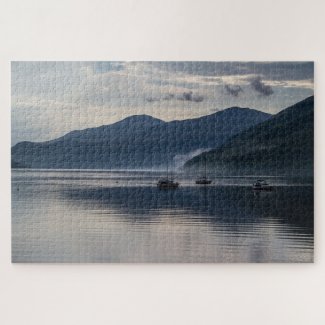 Get this Scotland Jigsaw Puzzle – Loch Tay Clouds
30 – Meeting of the 3 Waters
While driving on A82 through Glen Coe, stop near a small bridge to admire the waterfall where 3 waters meet. Not impressive but very poetic.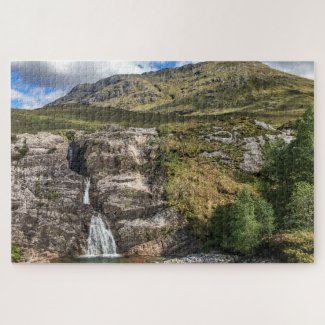 Get this Scotland Jigsaw Puzzle – waterfall Glencoe
31 – Scott's view
The writer Walter Scott loves the region of the Borders. This was one of his favorite views.
32 – Glen Shiel
When driving towards the Isle of Skye, you go through Glen Shiel, a narrow and magnificent valley. No problem staying awake!
33 – Jedburgh Abbey
Jedburgh is not the most intriguing Abbey in Scotland but definitively the most photogenic with all its arches. You can even get to the first level at one end and take even more beautiful Scotland photos.
34 – Loch Etive
Back in Glencoe again, you can take a side road through Glen Etive. The road takes you all the way to Loch Etive a wild and peaceful location.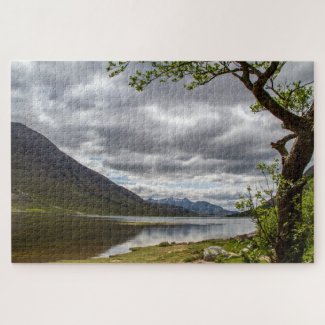 Get this Scotland Jigsaw Puzzle – Loch Etive, Glencoe
35 – Eilean Donan Castle
No need to introduce Eilean Donan Castle, one of the most famous in Scotland. Most people photograph it from the bridge, but drive a little further and you can capture it with the mountains behind.
36 – Wester Ross
A drive through Wester Ross is colorful!
37 – Majestic Glencoe – The Photo of Scotland
The munros are summits over 3000ft (914m). A lot of them can be found in Glencoe.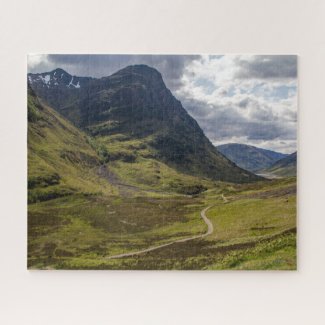 Get this Puzzle Landscape of Scotland – Glencoe Valley 2
38 – Loch Leven, another one!
Told you! Here is another Scotland photos of Loch Leven. This one was taken from the end of the loch in the morning. Simply stunning!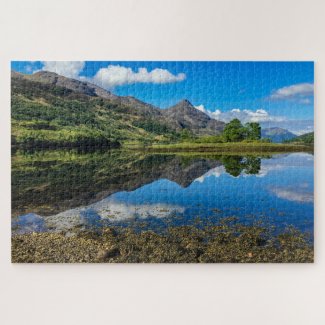 Get this Scotland Jigsaw Puzzle – Loch Leven, Glencoe
39 – Calton Hill Edinburgh
Spending one night in Edinburgh? At sunset, head up to Calton Hill for some of the best views in the city.
40 – Dramatic Skies
Always be ready to capture incredible pictures of Scotland – Stunning clouds and light can appear at every turn.
Want to see more of the best Scotland has to offer?
Planning a trip to Scotland?
Check out my travel guides to help you plan:
And keep track of your own trip!
PREVIOUS:
NEXT: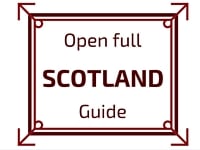 Inspired? Share it on your favorite platform!