Time to plan your Scotland Road Trip? Great!
Below is my Scotland road trip planner guide with information about:
when to visit,
where to go,
itinerary,
transportation,
accommodations,
driving…
All you need for a successful Road trip in Scotland!
Before my tips + photos, here are my favorites for Scotland:
STEP 0 – Scotland road trip planner – Essential to know
Why visit Scotland?
There are many reasons to visit Scotland: the History, the scenery, the drinks… But I think the following photos are enough to convince anyone 🙂
General Scotland Facts
Scotland is in Geographic Europe
Scotland is the North area of the United Kingdom main island (North of England)
The capital is Edinburgh
But Glasgow is its largest city
Is Scotland a country?
That is a frequent question as the situation is quite confusing. In sports you consider Scotland as a separate country. But on the international political scene, the United Kingdom is represented. But it does print its own pounds with different bill size and images… Confusing!!!
Verdict: Scotland is a nation of people but not an independent country. It is a division of the United Kingdom of Great Britain and Northern Ireland
STEP 1 – WHEN – Best time to visit Scotland
With such amazing landscapes, all periods of the year have something to offer and could be the best time to visit Scotland. It really depends on what you love.
Here are a couple of facts to help you take your decision:
The weather in Scotland is unpredictable so be ready to appreciate everything – one day we had a beautiful blue sky and 20 minutes later, we were driving under pouring rain…
July and August are the hottest months, so they also are the busiest month
May and June are dryer than July and August
There are midges from April to October, especially near water. Personally, I had none in May, but it varies greatly from year to year.
Many castles and monuments only open from Easter to October – so if you like history, winter is not the best time to go to Scotland. But if you love snowy landscapes, then winter is for you 🙂
Many consider the the best time to visit the Scottish Highlands are in Autumn as the colors enhance the bare landscapes and mountains.
STEP 2 – WHERE to go on your road trip in Scotland
Scotland Road Trip Map
Let's start with a map of Scotland to show you how I structured the touristic regions in this blog and in my eBooks:
Regions of Scotland – Where to go?
Edinburgh
Glasgow
Largest city of Scotland
Modern architecture along River Clyde
Famous University
Lowlands
Trossachs – Argyll
Nature and History
The Trossachs National Park is a protected hilly area around beautiful lochs
Enjoy a historical boat trip on Loch Katrine
Going on the Argyll peninsula, don't miss the green castle of Inveraray
Glencoe
My favorite region of Scotland
Small but magnificent
Hiking paradise
Road though the Glencoe valley, lochs, munroes (mountain over 3000ft – 914m)…
Central Highlands
Mountainous landscapes with lochs, valleys, distilleries…
Cairngorms National park
…
Isle of Skye
North Scotland
Wilder region, less touristic
Stunning coast, lochs, beaches and valleys
Stunning reserve such as Wester Ross
Magnificent Old ruins such as Girnigoe
Orkney islands
Many other Islands
Mull, Iona…
Shetland islands
Outer Hebrides
STEP 3 – Define your Scotland Road Trips Itinerary
Driving Times for your Scotland by car itinerary
Here are some travel times (without stopping) to give you a general idea to plan your itinerary around Scotland by car:
Edinburgh to Glasgow – 1h15
Edinburgh to Inverness – 3h30
Edinburgh to Fort William – 3h30
Edinburgh to Portree (Isle of Skye) – 5h30
Edinburgh to Aberdeen (Ferry to Shetlands) – 2h30
Edinburgh to Thurso (North Coast, ferry to Orkneys) – 5h40
Edinburgh to Dumfries – 2h
Planning your Scotland Road Trip itinerary
With so much history and nature to offer, your road trip around Scotland will be quite busy.
You can either:
Check out my list of the best drives in Scotland
or to help you plan your Road Trip itinerary around Scotland, you can use this site and have a look at the digital guides I wrote to make your planning a lot easier!
Be overwhelmed by the beauty not the planning!
STEP 4 – Plan a Scotland trip – how to get there
How to get to Scotland
The main airports in Scotland are Edinburgh (EDI, 10km from the city center) and Glasgow (GLA, 11km from the city center)
Edinburgh and Glasgow can also be reached by train from the rest of the United Kingdom mainland
Other smaller airports are spread out in Scotland and its islands
Another way to reach Scotland is by boat – cruises or ferries from Ireland or mainland Europe – check out options
Visa
You need a valid passport to enter the UK (and Scotland) or ID card for some countries
EU citizens, Canadians, Swiss and many other nationalities do not need a visa but can only stay for up to 6 months
Check if you need one on the Government website
I don't drink coffee
But I also like other drinks and sweets!
Do you like the free content you find on my blog? All my tips and practical information, without intrusive advertising…

STEP 5 – Transportation for a Scottish road trip – Rent a car
Travelling Scotland by car
Driving in Scotland is generally quite easy and stress-free even if it is on the left side of the road. With so many amazing landscapes to admire alongside the main and side roads, renting a car in Scotland is definitively the best option for freedom.
Ferries to most islands also transport cars so you can really tour Scotland by car.
Check out the video, information and advice on my article dedicated to driving in Scotland.
Renting a car in Scotland
Compare prices on my favorite platform: Discovercars.com – one of the best rated comparison sites!
Choose the car and company you prefer (prefer a compact car for the narrow single-lane roads)
Consider their full coverage option – I always take it for peace of mind!
Book early to have a large choice of vehicles!
Campervan in Scotland
If you want to save on accommodation, you can also travel by campervan or motorhome. This is great to wake up in beautiful locations.
Just keep in mind that Scotland has many roads which are single track. Crossing cars might be difficult in some places and difficulty is not indicated on the road signs.
Public Transportation
Scotland has a good network of busses with Scottish Citylink, StageCoach and National Express
The train network Scotrail is also interesting with links to the main cities in mainland Scotland and connections to the ferries
Ferries get you to the main Scottish islands
Of course, it has a typical disadvantage of not allowing you to stop and admire the landscapes along the track or road. And it will not take you along side roads such as the magnificent Glen Etive.
Flying
There are small airports on most islands and smaller towns, which could help traveling within Scotland.
Scotland Road Trips with Organized Tours
But if you want to just sit back and relax, there are a huge quantities of organized day trips and multi-day tours around Scotland. Check out options
STEP 6 – Book Accommodations on a Scotland Road Trip
And to finish planning your Scotland Road Trip you need to book accommodations.
Scotland has a good selection of Hotels, Guesthouses, BnBs and Rentals.
BnBs are the most typical mode of accommodation in Scotland. They are great to enjoy typical Scottish Breakfast and meet locals.
Along your road trip, I recommend staying at:
Check out my article dedicated to Scotland Accommodations with suggestions and reviews of places where I stayed.
STEP 7 – Get ready – Useful Info for your Road Trip around Scotland
Language
The language in Scotland is English with a strong accent and some specific expressions. Be assured you will have some interesting moments taking with locals!!!
Concerning locations, Scotland also has its own terms:
Ben – Scottish or Irish mountain peak
Munro – Scottish Mountains over 3000ft (914m)
Glen – Narrow and deep mountain Valley
Loch – Scot word for lake (also covers sea lochs which are arms of sea in Scotland)
Firth – Narrow inlet of the sea
Cairn – a mound of stones erected as a memorial or marker
Brough – round tower or enclosure or outer wall
Broch – Iron age walled structure
Money
The money used in Scotland is the British Pound.
However, do not be surprised that the bills may be different because Scotland prints its own money. Both Scottish and United Kingdom bills can be used in when traveling in Scotland.
Credit card is largely accepted but some small BnB sometimes accept cash only so always have enough with you to pay the next night.
Tipping in Scotland
There are no fixed rules for tipping in Scotland.
It is not common to tip in pubs unless the service is excellent. They often have a jar for tipping.
Tipping is to be considered in restaurant if service charge is not applied. But keep in mind that there is a minimum wage for waiters in the UK regardless of tips
The 10% rule tends to apply for taxis.
STEP 8 – Scotland Packing List
Clothes
Layers, Layers, Layers
As said before, the weather is unpredictable so bring layers for warmth, wind and rain so that you can switch easily
Do not forget hat and gloves as the wind can be very cold even in Summer.
Other
Plug: Voltage is 220-24 and 3 rectangular sockets of Type G
Do not forget Mosquito cream to protect from the midges' bites
Otherwise, nothing special… Use my Travel Packing Checklists to get ready for your trip.
And don't forget to bring binoculars to make the most of those views!!!! Check out my guide to find the best travel binoculars for your needs.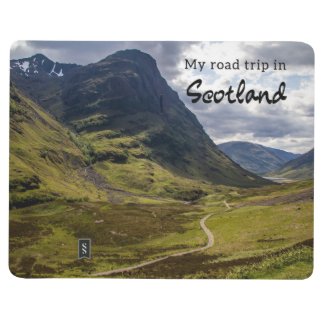 Get your Travel Notebook for your Scotland Road Trip
by ZigZag_Road_Trips
And keep track of your own trip!
Travel Insurance
And don't forget to purchase Travel insurance! I wish you a very smooth trip, but my policy is: better be prepared. I personally use World Nomads. Get a quote online here.
Want to see more of the best Scotland has to offer?
Planning a trip to Scotland?
Check out my travel guides to help you plan:
Want to see more of SCOTLAND?
PREVIOUS:
NEXT: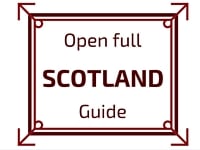 Inspired? Share it on your favorite platform!