Let's enjoy the scenic drive through the Glencoe Valley in Scotland, one of the best in the country! 
The magical Glen Coe Road A82 area offers summits, valleys, waterfalls and lochs… 
Discover the best stops and Glencoe road viewpoints in photos and video, as well as advice to complete your drive to Glencoe Scotland.
Before my tips + photos, here are my favorites for Scotland:
Why do the scenic drive through the Glencoe Valley?
Glen Coe is a protected area around the town of Glencoe. Road A82 enables you to cross it.
It is one of those grand landscapes, a must-see when traveling in Scotland, easy to add to your itinerary (see my examples).
The Munros (mountain in Scotland with a height over 3,000 feet) and peaks that surround the road were formed by volcanic activity and shaped by glaciers.
What remains for our pleasure is magnificent… Some of the best landscapes in Scotland.
What is it famous for?
The area is famous for 2 main reasons:
The scenery – the density of magnificent mountain peaks is fascinating. It is very popular with hikers and climbers. But the drive right in the center is already a good way to appreciate it.
The Glencoe Massacre – an historical dramatic event took place here in 1692 when 30 members of the Clan MacDonald were killed by government forces. Learn more here
The Glencoe area is so beautiful that it has been used in various movies:
Harry Potter – The 3rd movie The Prisoner of Azkaban has scenes filmed in the area. For example, Hagrid's hut was close to the Clachaig Inn.
Highlander
Monty Python and the Search for the Holy Grail
Skyfall – not exactly, it was filmed in Glen Etive which starts from Glencoe but was not filmed in Glen Coe
Glencoe Scenic Drive in video
Below is a short video to give you an idea of what it looks like to drive on A82 through Glen Coe, one of the most scenic drives in Scotland – get a virtual tour!
Do you understand why it made it to my list of top Destinations in Scotland?
About the name
The glen is named after the river that runs through it, River Coe.
It was named a long time ago and the meaning is not known. Maybe it was after the name of a local.
The valley is Glen Coe, the village is Glencoe. However, the 2 are used interchangeably by most people (and by me in this article…)
Best Glencoe valley viewpoints along Road A82
You will see many pictures of the drive in the following article, but I think the 3 stops not to be missed are:
Etive Mor at the beginning of Glen Etive road
Carpark with view of Etive Beag
Carpark of the 3 sisters
More photos after the planning tips.
Planning tips – Valley of Glencoe Scotland
Glencoe Valley location – Glencoe road A82
The Glencoe Valley is North West of the Trossachs region and of Glasgow
It is just South of the town Fort William Town
The Valley stretches between Bridge of Orchy and the Village of Glencoe
However, Road A82 is way longer, coming from Loch Lomond and continuing past Glencoe to Fort William
From Bridge of Orchy to Glencoe, the road takes 30min if you are not stopping… which won't be the case
It can be visited on a 1 day Excursion from Edinburgh
A82 driving times
Glasgow to Glencoe Village – 2h15 drive
Edinburgh to Glencoe Village – 3h drive
Glencoe Village to Fort William – 30 min drive
South Loch Lomond to Glencoe village = 1h35 drive
Glencoe Scotland Map – Best things to do in Glencoe Valley
Here is a map to get you oriented, the red points are all the best things to do in the Glencoe Valley.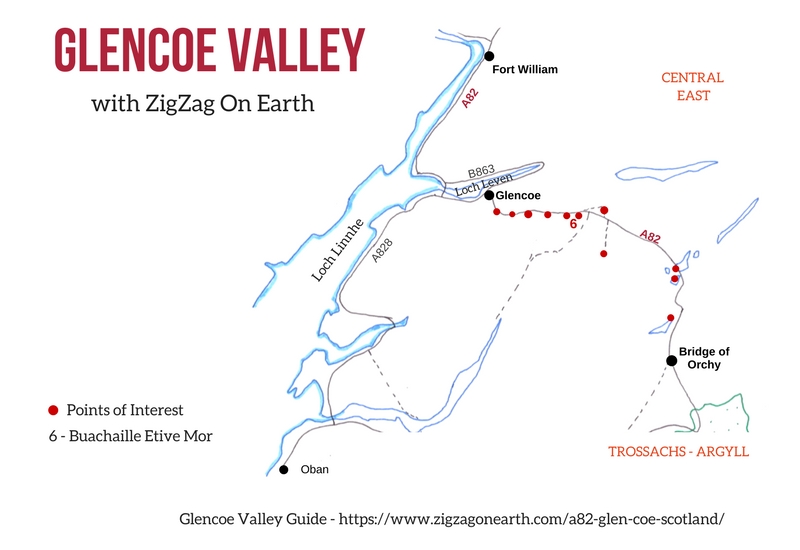 The complete map with all the places of interest in the Glencoe Valley (with their GPS coordinates and practical info), as well as other maps for all the regions are available in my Travel Guide eBooks. They help you easily plan your road trip:
Visiting Glencoe Scotland
There are many interesting stops along this road with Loch Tulla, Loch Ba, the peaks of Buachaille Etive Mor, Buachaille Etive Beag, the Three Sisters, the Meeting of the 3 waters waterfall and Loch Achtriochtan. Below in this article I detail each of these stops.
Toilets available at the Glencoe Ski Center and at the Glencoe visitor center.
If you can choose your direction, I strongly recommend driving from Glasgow to Fort William rather than in the other direction. I think the views are more impressive, especially with Buachaille Etive Mor.
Wondering where to stay in Glencoe? I recommend staying either in Glencoe (see options) or in Kinlochleven (see options) – More Info at the end of the article
Hiking in Glencoe
Glencoe has many hiking trails and climbing routes. You can explore for many days – learn more on Walk Highlands
Some of the best walks include: Garbh Bheinn, Beinn Trilleachan and Mam na Gualainn
But if you are looking for a simple small walk, I recommend the loop around Glencoe Lochan – see my article
Need to rent a car in Scotland?
My tips:
Compare prices on my favorite platform:

Discovercars.com

– one of the best rated comparison sites!
Prefer a compact car for the single-lane roads
Consider their full coverage option – it for peace of mind!

Book early

to have a large choice of vehicles!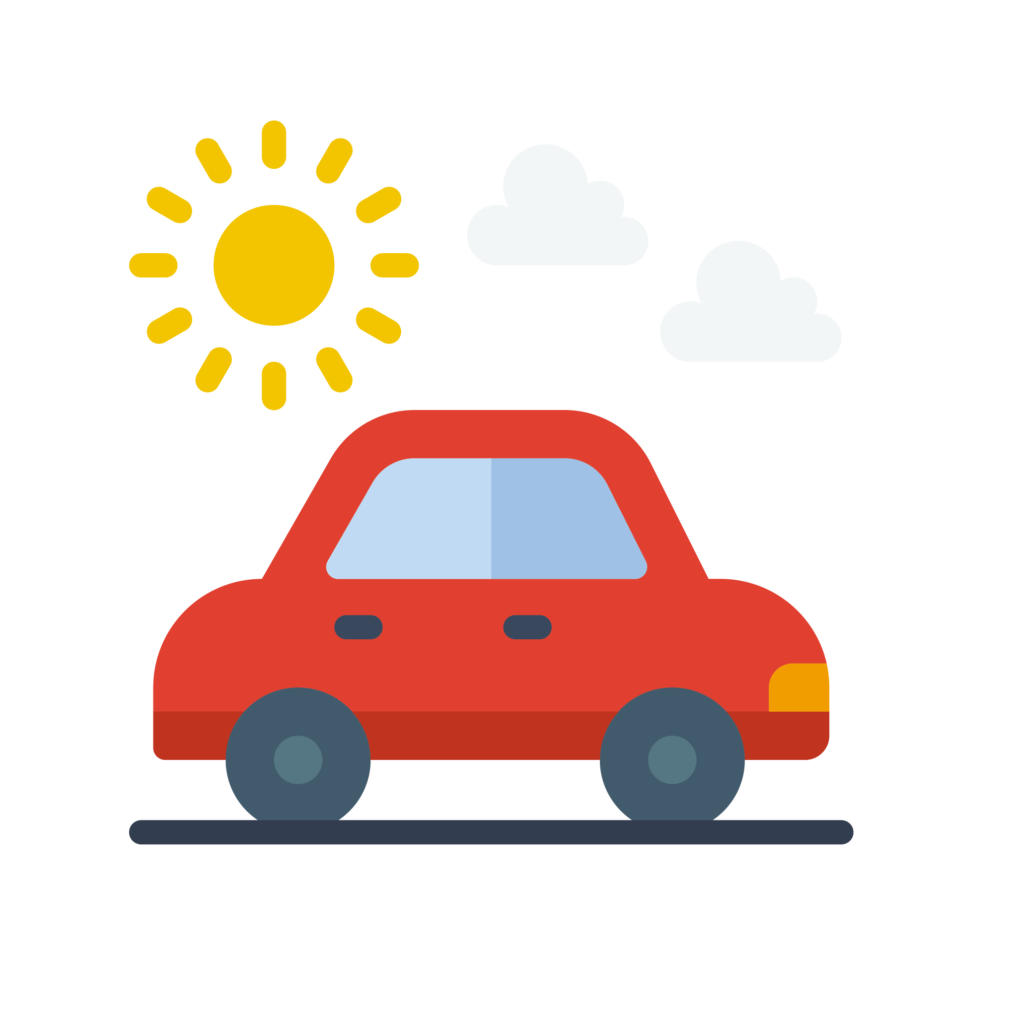 Tips to drive on Road A82 Scotland (Glencoe Drive)
A82 is a fast road as it joins major cities in Scotland. Part of it drives through Glencoe, so it is sometimes referred to as the Glencoe Road or the Glencoe Drive.
But it is much longer.
BE CAREFUL as your eyes are attracted by the scenery 
So if you want to stop be careful and do not brake at the last minute!!!
And please do not U-turn around on this road  – yes, I have seen it and the car got stuck in the middle of the road where you can drive at 110km/h !!!!!!
Below are a few pictures taken from the road – don't forget we drive on the left there! (you can check out my guide to driving in Scotland)
1. Road to Glencoe – first stops: the Lochs
Glencoe route – 1st stop – Loch Tulla Viewpoint
Right after entering the Glen Coe Scotland area, you drive near Loch Tulla.
Continue further up in the mountain and you will find a large carpark for the Loch Tulla viewpoint with an open view of the surrounding munroes (peaks).
Next on Glencoe road – Lochan na h-Achlaise and Loch Ba
Not long after, you will see a very small loch: Lochan na h-Achlaise. The small hill behind was very photographic, I think. It is easy to park.
From there I recommend going for a walk to discover the loch which is spread out and has many small islands. I saw it only from the car and was unable to take any pictures. There is no place to stop further along the road.
Then you reach Loch Ba. It is made of many small water areas and rivers between them. It stretches on both side of road A82.
I don't drink coffee
But I also like other drinks and sweets!
Do you like the free content you find on my blog? All my tips and practical information, without intrusive advertising…

2. Etive Mor – Most famous Glencoe photography location
Then you get closer to the high summits of Glen Coe. It gets really exciting as you approach the most photographed mountains in Scotland: Buachaille Etive Mor. 
For some of the best locations to photograph it, check out the dedicated article about Buachaille Etive Mor.
This photo below was taken at the beginning of the side road going through Glen Etive.
After driving by Etive Mor you can stop to see it from the other side.
3. Etive Beag – one of the best views
Then, there is a carpark where you get amazing 360° views of the valley.
And another peak appears. This is Buachaille Etive Beag at 958m:
4. Meeting of the Three Waters Waterfall
In all my research, I had not seen that there was a waterfall on that road through Glen Coe Scotland. So, I was pleasantly surprised when I stopped at the bridge and found out this beautiful 3-section fall. Apparently, its name is the Meeting of the Three Waters.
5. The 3 Sisters viewpoint in Glen Coe Scotland
At the next stop along Road A82, you discover the scenery of the Three Sisters. There is a large carpark and an orientation table.
The landscape is a dramatic ridge around the summit of Bidean Nam Bian that culminates at 1148m.
6. Loch Achtriochtan
Our next stop is Loch Achtriochtan. Surprisingly there was nobody on the carpark when the Three Sisters one was full. Probably because the loch is not indicated just the guesthouse.
This is a small loch but the Glen is narrower at this point, so, the place is scenic.
Other Stops Glencoe Visitor Center, Mountain Resort, Kings House
Apart from the amazing views listed above, there are a few buildings and attractions to stop at in the area:
The Glencoe Mountain Resort
The Kings House Hotel
The Visitor Center
The Glencoe Mountain Resort
Not far from A82 you can see the bottom of the Glencoe Mountain Resort.
In Summer, it is a great place to ride bikes.
You can check out the Glencoe mountain resort webcams here.
It is not the best viewpoint. However, it is where you can see the river best without hiking, and get nice pictures with the orange rocks.
The Kings House Hotel
Here you can find food and enjoy a break with views of Buachaille Etive Mor.
They might also have red deers enjoying the area.
Glencoe Visitor Center
After all those wonderful natural sceneries I was very disappointed by the Glencoe Visitor Center. This is the first time I see an exhibit to explain the region in a visitor center for which you have to pay to enter.
The viewpoint on the other side of the visitor center (free access) was really disappointing compared to what we had just seen.
The view from the Glencoe viewpoint…
Village of Glencoe Accommodations
Glencoe is a very small town by Loch Leven. It is a great place to stay for the night.
You can find stunning small properties there such as
I continued driving around Loch Leven to sleep at Kinlochleven where you can find great accommodations.
Consider the guesthouse Highland Getaway in Kinlochleven, where you can enjoy beautiful views – See photos and availability
Where to stay in Scotland?
Bridge on Loch Leven – past Glencoe to Fort Williams
The last portion of A82 that is in the Glen Coe area is the bridge over Loch Leven. It gives you a glimpse of one of the most scenic lochs in Scotland. If you have time, I strongly recommend driving around it. See my dedicated post about Loch Leven for photos and more info.
Want to see more wonderful Roads to drive in Scotland? Here are a few:
Planning a trip to Scotland? Check out my travel guide to help you plan it:
And keep track of your own trip!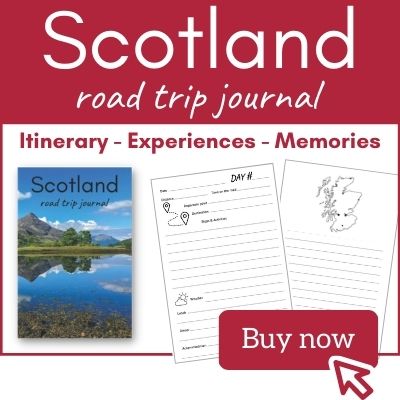 Want to see more of SCOTLAND?
PREVIOUS:
NEXT: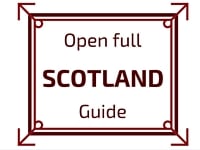 Inspired? Share it on your favorite platform!