Glen Etive is definitively one of the most beautiful roads in Scotland.
It offers mountain landscapes along a river all the way to the wild Loch Etive. 
Don't be afraid of the single-track road! Below is my guide with tips, map and photos to help you plan this road trip adventure on the Glen Etive Road!
Before my tips + photos, here are my favorites for Scotland:
Why drive through Glen Etive to Loch Etive?
Glen Etive is a long valley in the Glencoe National Trust.
A single track road has been built along the River Etive all the way to the magnificent Loch Etive.
If you want one of the best roads in Scotland, this is it!
It offers beautiful views along a narrow valley and leads to a stunning wild loch… what more could we ask?
And for the James Bond fans, it was where one of the legendary Skyfall scenes was filmed.
Before showing you photos of Glen Etive, the River Etive and Loch Etive, here is a short video to give you a feel for the drive on one of the most scenic roads in Scotland  – get a virtual tour!
Please note, that the reality is at least 10 times better than the video (maybe I should have filmed wide angle… I feel frustrated not to be able to give you a better rendition).
About the name "Etive"
It is believed to mean "little fierce one" from the Gaelic goddess associated with the loch.
Many photos after the information to help you plan your drive!
PLANNING TIPS – Glen Etive, Scotland
Where is Glen Etive – Map
Glen Etive is a road off A82 in Glencoe, you can't miss it, the turn is where everybody stops to photograph Buachaille Etive Mor, the most photographed mountains in Scotland
There is no public transportation, you must have your own vehicle
The small village near Loch Etive at the end of the road is called Gualachulain
The road is a dead-end, which means you will be forced to drive the same road to come back to Glen Coe… what a hard life!
Below is a map to help you get a better idea of where the Glen Etive road is and where Loch Etive is:
The GPS coordinates and locations on a practical map are available on both Travel Guide eBooks. They help you easily plan your road trip around Scotland:
Visit Tips – Glen Etive
How long to drive Glen Etive?Plan 1 hour each way to drive Glen Etive + And as long as want to explore Loch Etive on foot or by boat (if you travel with one…)
How to behave on the road It is a single-track road with many passing places. Don't forget not to tail the other cars to be able to stop at different passing places
Facilities – No toilets on the road
Parking – It can be difficult to park as the road is narrow. Do not stop in the middle of passing places! Leave spaces for people to cross.
Wild camping is permitted – but be respectful
The road of Glen Etive is suitable for motorhomes but when the road is busy in Summer and people don't respect the crossing places, it could get difficult.
Need to rent a car in Scotland?
My tips:
Compare prices on my favorite platform:

Discovercars.com

– one of the best rated comparison sites!
Prefer a compact car for the single-lane roads
Consider their full coverage option – it for peace of mind!

Book early

to have a large choice of vehicles!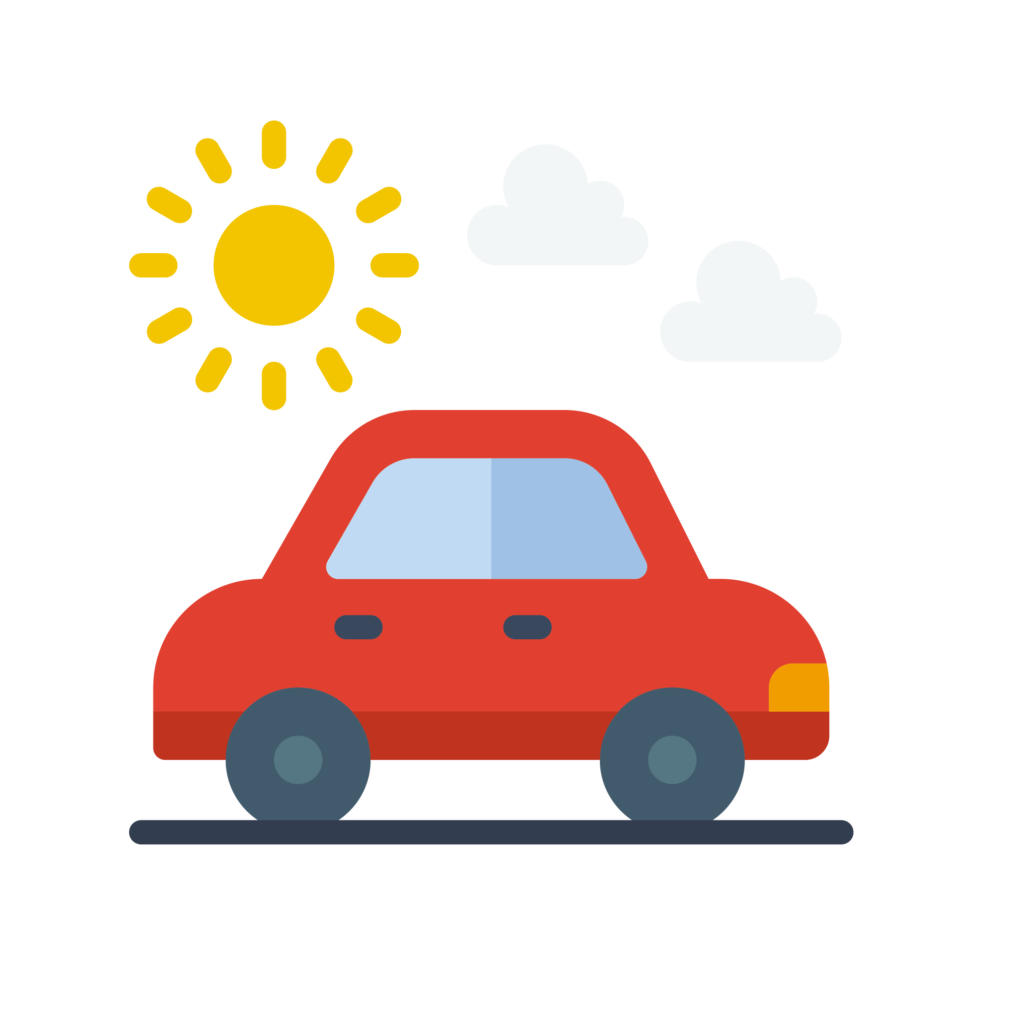 Tips about Loch Etive
No roads around the loch, it stops there.
Many people bring their kayak and boats to enjoy Loch Etive.
The loch is also great for paddling and swimming
And you can also go crabbing (as it is a sea loch)
Glen Etive walks and hikes
There are several in the vicinity of the glen such as Beinn Trilleachan.
Learn more on Walk Highlands
Where to sleep near Glen Etive
The nearest accommodation area is in the village of Gencoe (see best rated options).
See more information at the end of the article.
Access to Glen Etive Road – Buachaille Etive Mor
You cannot miss the beginning of Glen Etive.
If coming from the East on A82, you will admire Buachaille Etive Mor from far away.
Everybody stops at the beginning of the road that is indicated with a sign.
Plus, you get a sign clearly indicating the start of Glen Etive. 
As you can see the Gaelic name is Gleann Eite.
Easy to understand why everyone stops to photograph the mountain of Buachaille Etive Mor (more pictures in the dedicated post).
Don't be scared by the dead-end road sign. Yes, there is nowhere to go, but the road is long and beautiful…
See how inviting it is?
The Glen Etive Drive
This drive is really one of the most scenic roads in Scotland.
I could not understand why some cars were speeding. Take your time and enjoy the scenery!
In Summer, it can get a little complicated with everyone trying to stop and take pictures. But off season, it is quite a pleasure.
Most of my photos are taken on the way towards Loch Etive.
But don't forget to look in the rear-view mirror!
Looking back towards, Glencoe, you can see the 2 famous summits of Etive Mor and Etive Beag. They are the 2 twin summits on the photos below:
I don't drink coffee
But I also like other drinks and sweets!
Do you like the free content you find on my blog? All my tips and practical information, without intrusive advertising…

At first along River Etive…
Glen Etive was carved by the movement of glaciers, and since then, River Etive has since sculpted its own path with waterfalls, slides and pools.
The road is often close to the River Etive.
It is a small river with pinkish rocks and tiny falls here and there.
It is one of the rare rivers that it still free flowing. Check out Save Glen Etive, to learn more about the situation.
Stunning Loch Etive Scotland in photos
After a little section of driving surrounded by trees you reach Loch Etive. 
I just stopped there to enjoy a picnic with a great view. I wish I had planned more time to explore the area as I think this is one of the most beautiful Scottish Lochs.
Loch Etive Facts
It is a 31km (20 mi) long sea loch (yes check on google map, it bends but actually joins the sea)
It is all in length with a maximum width around 1mile (1.6km).
No roads surround it, the best way to enjoy it is to bring your boat
Its maximum depth is 490 ft (150m)
Glen Etive road leads to the North shore
You can also see the South shore where it meets Loch Linnhe by driving to the village of Connel (but it is a big detour – Glencoe to Connel = 45min drive)
Can you swim in Loch Etive?
It is a sea loch, so it is like swimming in the sea (without waves…).
It is even considered one of the most beautiful places for wild swimming in Scotland.
Where to stay near Glen Etive
Except for camping, you can't really stay in Glen Etive. Accommodations are really limited with only a few houses.
But you can drive a little bit further on A82 and stay in Glencoe Village or KinlochLeven with amazing views of Loch Leven and the mountains.
Below are some accommodation suggestions in Glencoe
I drove all the way to Kinlochleven and really enjoyed my stay at there.
Consider the guesthouse Highland Getaway in Kinlochleven, where you can enjoy beautiful views – See photos and availability
Where to stay in Scotland?
Camping in Glen Etive
There are no official campsites within Glen Etive. You can find some around Glencoe.
But Glen Etive is famous as one of the best wild camping sites in Scotland. 
Sadly, it is also famous for being one of the dirtiest because of the lack of respect from some campers.
Glen Etive is a great place to enjoy wild camping, along the river or next to Loch Etive (just avoid the forest area).
Always check out the signs for where it is not allowed and be respectful! Please don't forget to take away your rubbish. 
See below, the owners of this tent have found a great spot.
Glen Etive filming locations – Skyfall, Harry Potter…
Are you a movie fan?
The 3 main movies with scenes in Glen Etive are Skyfall, Braveheart and Happy Potter.
Glen Etive Skyfall scene
As I wrote above, James Bond fans love taking this road.
They want to see the place where 007 and M stand in front of the car, looking at the mountains with the river to their left.
This is the location in the picture below where the cars are.
I did not take a picture myself, but you can see many people who did when looking for pictures online.
Find out other Skyfall filming locations!
Loch Etive in Harry Potter
In the last installment of Harry Potter (Deathly Hallows Part 2), do you remember the scene where Harry, Ron and Hermione escape from the Gringotts Bank on a dragon after recovering the Cup of Helga Hufflepuff (which is one of the Horcruxes). They jump off the dragon's back and end up in cold water and then camp… it was in Loch Etive.
Other highlights to discover in the region of Glencoe
Planning a trip to Scotland?
Check out my travel guide to help you plan:
And keep track of your own trip!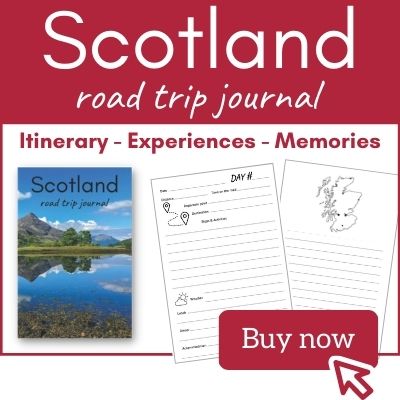 Want to see more of SCOTLAND?
PREVIOUS:
NEXT: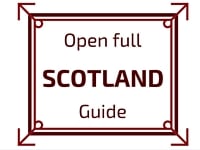 Inspired? Share it on your favorite platform!