The Isle of Skye in Scotland is one of the most beautiful areas in the UK with dramatic landscapes surrounded by water.
So much to do… what should you not miss?
Let me help you plan your itinerary and make the most of your time with:
the best things to on Skye Island,
photos, and video,
Isle of Skye Map.
Before my tips + photos, here are my favorites for Scotland:
Best things to do on the Isle of Skye – Map + Video
The beauty of the Isle of Skye – Virtual Tour
The Skye Island is huge. There are so many things to do on Skye…
Below is a short video of some of the amazing landscapes you could admire while visiting the Isle of Skye: the black Cuillin mountains, the lochs, the ridges… – get a virtual tour!
Do you understand why it made it to my list of Best Scotland Destinations?
Is the Isle of Skye worth visiting?
Tourism has exploded on the Isle of Skye. It has been listed in so many 'places to see before you die' lists, that the number of travelers has increased (but the size of the island has not…).
So is it still worth it to visit?
I think yes. You have seen the landscapes in the video. It is splendid. But if you hate crowds then visit off season or head to another region in Scotland. The East coast is for example a lot less visited.
And if you have no choice but to still visit in Summer, book your accommodation early (do not go without a booking) and explore early morning or late afternoon to avoid the busy hours.
Best things to do on the Isle of Skye – Map
I have drawn you a map of the top things to do in Skye Island. Of course, every road and loch and cliff is beautiful, everywhere, but the red dots indicate for me the most interesting places to see and attractions on the Isle of Skye.
You can see photos and details about the 20 best places on Skye Island further in the article. Skip to top 20 description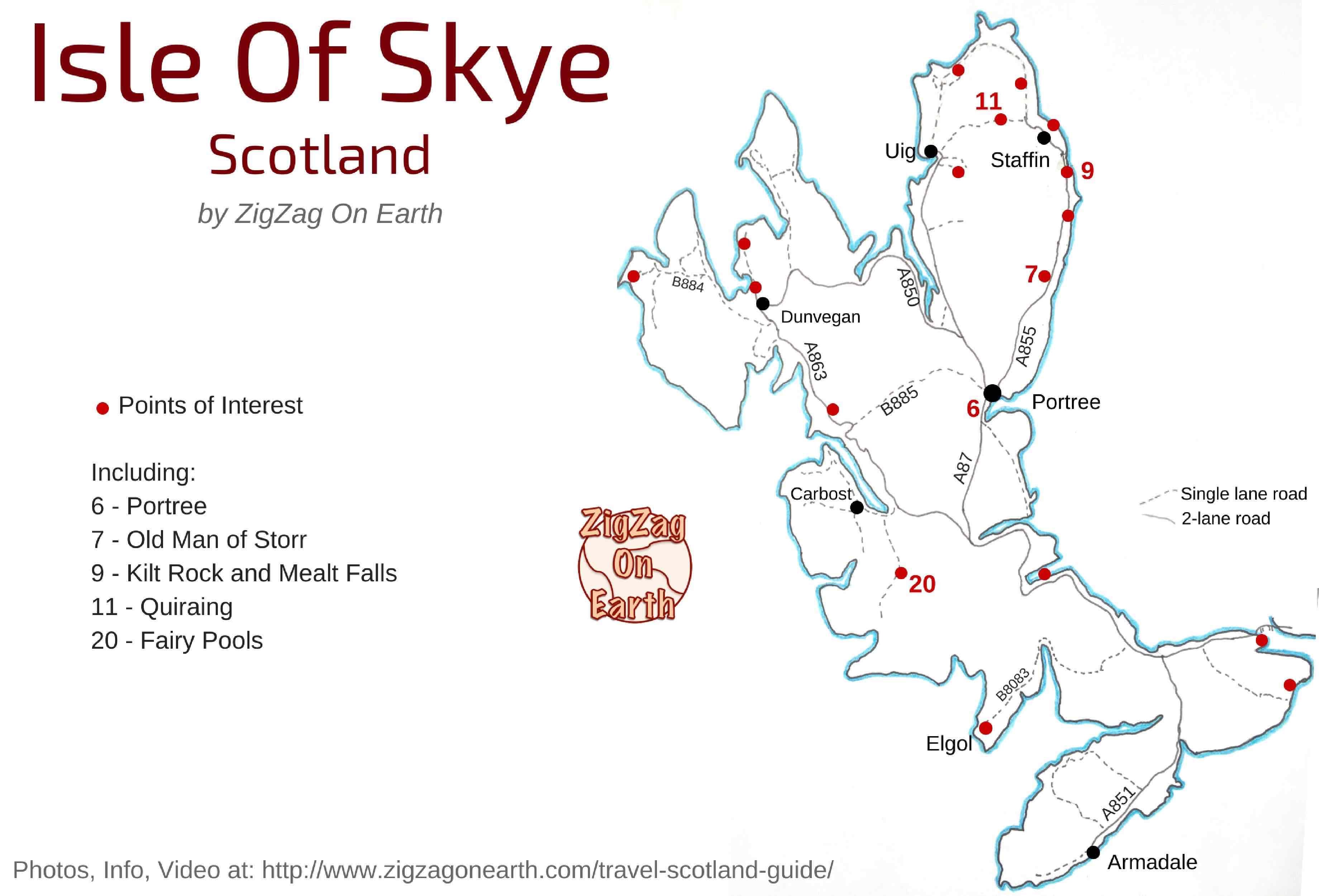 Planning a trip to Scotland? The full map of the Isle of Skye with identification of all places to see and maps of other regions with GPS coordinates of all those locations are available on the ZigZag On Earth Travel Guide eBooks:
Isle of Skye accommodations
How long to visit Skye?
Before you choose all the places you want to see, you need to find accommodations. You can't really visit Skye Island on a day trip…
Best is 3 or 4 days to really appreciate the variety of landscapes and attractions.
Below are info and suggestions to find the right accommodation for you.
About the accommodations in Skye
You can find all types of accommodations: hotels, rentals, camp sites, B&Bs, Guesthouses, hostels…
Be aware that accommodations get booked very fast, this is one of the most popular places in Scotland. Plan ahead!
Don't come to the island without a place to stay (especially in June and July).
So, don't book at the last minute, almost everything will be booked ,and you will have to pay more. Book at least 3 months in advance, more if possible.
Where to stay on the Isle of Skye
If you are wondering where to stay on the Isle of Skye, Portree is the main town and quite central. You will find all you need, including restaurants and shops.
But if you are looking to be closer to nature, there are also many options off the central area. But then it means more driving to reach all areas of the island.
Note: many accommodation reviews complain about the Internet. This is a general issue on the Island and should improve over the coming years.
Suggestions of Accommodations on Skye – Hotels & more:
WHERE I STAYED – I stayed in Portree but as I booked only 2 weeks in advance, all was full, and I had to go over budget. The Quayside apartment was beautiful and right in those famous colorful houses. See my full review on the Scotland Accommodations.
PORTREE WITH STYLE
Heatherfield House B&B is one of the best rated accommodation on the Isle of Skye. Great location, stylish decor and wonderful views, it has a lot for everyone
Check out photos and availability
OFF THE BEATEN TRACK
Hazel Bank Skye in Colbost (North East of Skye) offers a wonderful atmosphere for those looking for comfort and connecting with nature.
Check out photos and availability
TRADITIONAL LUXURY + VIEWS
The Cuillin Hills Hotel offers views across the Portree Harbour especially enjoyable during breakfast. Slightly out of town, but worth it to get the views
Check out photos and availability
Unique
The Skeabost view pods skye are centrally located but offer an experience more in nature
See photos and availability
ISLE OF SKYE CAMPING
If you prefer to bring your tent and camp, there are few campsites on the island – I am not an expert, so I let you have a look at this page that presents you 3 campsites.
Getting around – Driving on the Island of Skye
To be able to visit all those amazing places, you will have to take your car.
The isle is a lot bigger than one imagines and there are a lot of things to do on Skye Island.
Just the drive from the bridge to Portree takes 1 hour! And that's on a main road. Many other roads are small single lanes.
Below are driving times on the Isle of Skye (without stopping to admire the scenery):
Kyle of Lochalsh to Portree – 1h
Portree to Elgol – 1h15
Portree to Armadale – 1h15
Portree to Fairy pools – 40 min
Portree to Staffin – 30 min
Portree to Uig – 30 min
Portree to Dunvegan – 35min
Dunvegan to Nest Point – 40min
When there is a lot of traffic on the single lane roads, time can double as you have to stop all the time.
Need to rent a car in Scotland?
My tips:
Compare prices on my favorite platform:

Discovercars.com

– one of the best rated comparison sites!
Prefer a compact car for the single-lane roads
Consider their full coverage option – it for peace of mind!

Book early

to have a large choice of vehicles!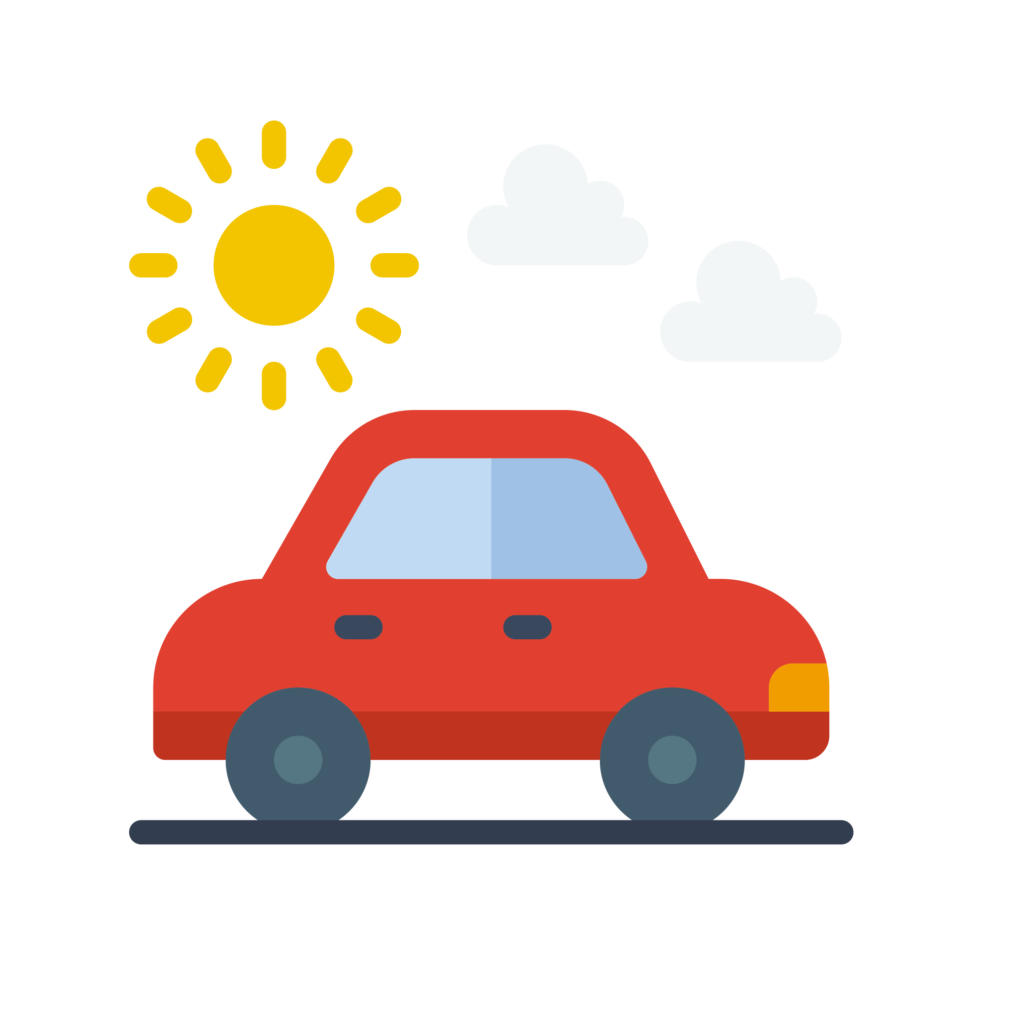 Best things to do on Skye Island – Attractions
Now let me show you some of the amazing attractions on the Isle of Skye with some pictures. There are many points of interest and incredible views everywhere, but I have narrowed it down to my 20 favorites.
Sadly, the weather is often clouded. It is still great but not really practical for photography.
1 – Old Man of Storr (Map #7) – most famous Isle of Skye Attraction
Icon of the Isle of Skye, the pinnacle can be seen from far away on a clear day. Part of the Trotternish ridge, it is one of the most famous walks. However, I was not feeling well enough, so I admired it only from the distance.
Discover it from many angles and get information about the walk to the Old Man of Storr Skye article.
Old Man of Storr walk: the climb takes 1h30 to 2 hours return to the pinnacle or you can go on a longer hike (3 to 5 hours)
2 – Quiraing (Map of Skye attractions #11) – Isle of Skye must-see
Another one of the top things to do on Skye : Getting up to the views of Quiraing. The 10min drive on a single track will take you to a large carpark (don't park on the way up). From there you can walk around and admire the views which can be all the way to the sea on a clear day.
Discover more about Quiraing Skye with photos, video and information.
3 – Fairy Pools (Isle of Skye attractions Map #20) – famous Isle of Skye Highlight
One of the top things to do on Skye island is the popular walk to the Fairy pools. The walk includes some river crossing and steep sections. It takes you to a series of small pools with crystal waters. And on a clear day, you can see them with the impressive backdrop of the Cuillin mountains.
Whatever the weather you will not be alone. It gets really busy.
Photos, Video and info to plan your walk on my Fairy Pools Skye article.
2h return walk from the Fairy Pools carpark (for a 5£ fee)
4 – Elgol Cruises – Loch Coruisk, Wildlife (My favorite – best of Skye)
Elgol is an isolated town on the West coast of Skye. For me, this is one the best attractions with incredible views of the Cuillin mountains (on a clear day of course…)
Cruises depart to Loch Coruisk and to see wildlife (seals, whales, puffins…) on the nearby Scottish islands of Eigg, Rum and Canna.
Elgol cruise carpark: access to Elgol is via B8083 a single-track road (30 min drive from the main road).
Discover photos, video and information in my Elgol Boat Trip to Loch Coruisk and Cuillin Mountains article.
5 – Clan Donald Museum – Armadale castle
In the South of Skye, the Clan Donald Skye estate covers 20000 acres around Armadale Castle. There you can learn about the Highland history.
The detour from the main road on A851 takes under 30min each way.
Open from end of March to October. Check out opening hours and prices.
6 – Loch Ainort
Loch Ainort is not identified as an Isle of Skye attraction. Yet, this was one of my favorite locations on the island. Have a look at the many pictures on my Loch Ainort article. The surrounding Red Cuillin mountains are beautiful. And you will not miss it as you have to take that road to get to Portree.
The town next to the loch is Luib.
7 – The town of Portree (Isle of Skye Tourist Map #6)
Portree is the main town on the Isle of Skye. It is famous for its enclosed bay and its colorful houses. It is quite central, so a good place to base yourself while you are there.
Wildlife Cruises leave from Portree as well as organized tours on the island.
8 – Lealt Falls
The path from the carpark takes you to some beautiful cliffs but it is when you come back that you realize that the attraction was the Lealt Falls (not to be confused with the Mealt falls which are at Kilt Rock – see below). From what I read, hiking is possible to the bottom of the falls but rough and dangerous with the tide.
More photos and information about Lealt Falls in the Eastern cliffs of Skye island article.
9 – Kilt Rock and Mealt Falls (Map #9) – Top Isle of Skye attraction
One of the most famous Isle of Skye things to do is admire Kilt Rock. The basalt columns along the cliffs mimic a kilt and the waterfall of Mealt drops straight into the ocean (if there is no wind).
More photos, video and information on my Kilt Rock Skye and Mealt Falls article.
(For example, Two Scots Abroad enjoyed it in their 3 Day Skye High Tour by Haggis Adventures.)
10 – Staffin Beach / Slipway
The road right after Staffin will take you to its beaches and beautiful cliffs.
11 – Flodaigearraidh – Loch Langaig (Isle of Skye off the beaten track)
A stop I was not expecting but really loved. As we drove towards the northern tip of Skye Island, I spotted a carpark. A short walk took me to the beautiful Loch Langaig and the mountains behind.
Photos and information on the article about Loch Langaig and the North of the isle of Skye
12 – Skye Museum of Island Life
As it was late, I only drove by the Museum of island life. Located in the North of the island, it allows you to step back in time and discover how the Skye islanders were living 100 years ago: cottages, tools…
Photos and information on the article about the Duntulm castle and the North of Skye.
13 – Fairy Glen
Off the beaten track, the miniature features of Fairy Glen Skye (mini mountains, mini lochs), create a magical and peaceful area. And quite unexpected.
Discover this attraction in more details: video, photos and planning info on my article Fairy Glen Skye.
14 – Dunvegan Castle
Built on the shores of Loch Dunvegan, the castle and its garden are a classic visit on the Isle of Skye. A visit inside will let you discover oil paintings, treasures from the Clan MacLeod and the famous Fairy Flag, which legend says has miraculous powers.
Opening hours and prices on the Dunvegan Castle website.
15 – Claigan Coral Beach
Skye Island has several beaches that deserve a stop, especially in the North. I had selected Claigan as one of the most beautiful beaches on the Isle of Skye.
16 – Nest Point Lighthouse
The Nest Point cliffs are one of the most famous locations on the Isle of Skye. However, it is quite isolated and requires a 30min to 1hour drive on a single lane road (depending on traffic). And you might have to cross with buses.
But the views of the cliffs are worth it!
17 – Dun Beag Broch
The iron-age broch is located 1 kilometer northwest of Struan. Its main feature is the tower located on a rocky knoll. It was excavated in the early 20th century. See a photo here
18 – Castle Moil a.k.a Caisteal Maol
The ruins of the castle are located on a promontory near the village of Kyleakin. Discover more on Wikipedia. You can admire it from the village or complete the walk around it (3.5km, 1.5h). As you can see, there is not much left, so I skipped it.
19 – Kylerhea Otter Haven
Easy walk with nice views over the Kyle straight to the mainland. Stop by the water and be patient to spot otters. You can also see seals, birds and other wildlife. Take your binoculars! Picnic tables and toilets near the start.
2.5km (1.5 miles) – 1 hour walk
20 – Talisker Distillery
The Talisker distillery is located near the town of Carbost. Tasting tours are available on some days. Make sure you call and book. As it is the only distillery on the island it gets quite busy.
I just went to the shop and did not complete the tour. The shop section was very touristy and commercial. Compared to another distillery I visited later on my trip, with this one we could not get any help from the people on selecting whisky… way too crowded for my taste.
Fake Isle of Skye point of interest
Altered photos can be found on the Internet about a location on the Isle of Skye with purple trees. Those have been modified and the original picture is not even from Scotland (but from New Zealand).
I don't drink coffee
But I also like other drinks and sweets!
Do you like the free content you find on my blog? All my tips and practical information, without intrusive advertising…

Isle of Skye Walks
For those who love hiking, there are a lot of things to do in Skye island, from easy flat walks to challenging ridges.
If you want the complete list check the WalkHighlands website section for the Isle of Skye. And for each walk, click on the user reports line to get reviews from people and often pictures of their own walks.
Isle of Skye itinerary
1 day in Skye
1 day is not a lot considering the size of the island – in that case I would focus on attractions around Portree:
Old man of Storr, Quiraing and Kilt rock.
I would do some hiking at the old man – but if you can't hike then I would do a driving loop to the North via Staffin and Uig
Alternatively, I would go see the lighthouse cliffs
2 days in Skye
2 days is a little better
on day 1 I would go to the North with Old Man of Storr, Quiraing, Staffin, Duntulm, Lighthouse
on day 2 I would go South and do the Elgol boat tour in the morning and maybe the Fairy Pools in the afternoon
3 days or more on Skye Island
I recommend making your own itinerary by grouping what you want to see by areas.These locations, along with many other beautiful places, are included in my eBooks. They are practical tools to plan your trip with maps, photos, planning tips, GPS coordinates…
How to get to the Isle of Skye Scotland
Where is the Isle of Skye located?
Below is a map of Scotland to help you locate the Isle of Skye: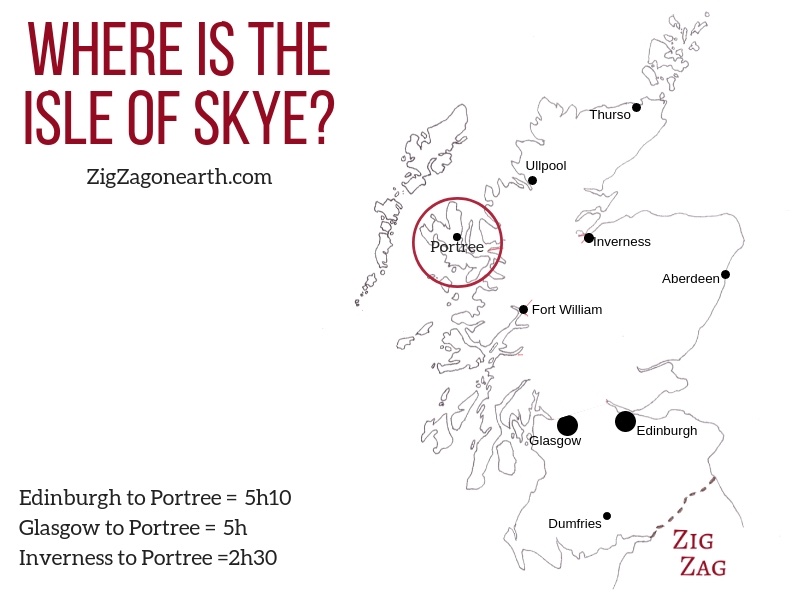 Can you fly to the Isle of Skye?
The Isle of Skye does not have a commercial airport. Only a single landing strip for private airplanes.
By ferry
Ferries available:
from Mallaig on Mainland (at the end of Road to the Isles), arriving in Armadale – 30 min route
or from the Outer Hebrides islands (Harris and North Uist) arriving in Uig – 2 hours
or the manual turntable ferry (which transports only a few cars) between Glenelg and Skye – learn more
You can take the ferry with your car or on foot (a train runs from Glasgow to Mallaig).
Check out timetables and prices on DirectFerries.com (type Isle of Skye or Mallaig or Armadale)
Self-drive – How to get to the Isle of Skye by car
The easiest access to Skye island, is the Skye Bridge at Kyle of Lochalsh. From Glasgow take A82 then A 87.
The drive is 4h15min (without stopping) from Glasgow via the beautiful Glen Coe area
Edinburgh to Skye island = 4h30 drive (without stopping)
Inverness to Isle of Skye = 2h (without stopping)
These are the times to the bridge, there is still a lot of driving to reach Portree (see next section)
The Road trip via A87 along Glen Shiel and Loch Cluanie is one of the best drives in Scotland.
Need to rent a car in Scotland?
My tips:
Compare prices on my favorite platform:

Discovercars.com

– one of the best rated comparison sites!
Prefer a compact car for the single-lane roads
Consider their full coverage option – it for peace of mind!

Book early

to have a large choice of vehicles!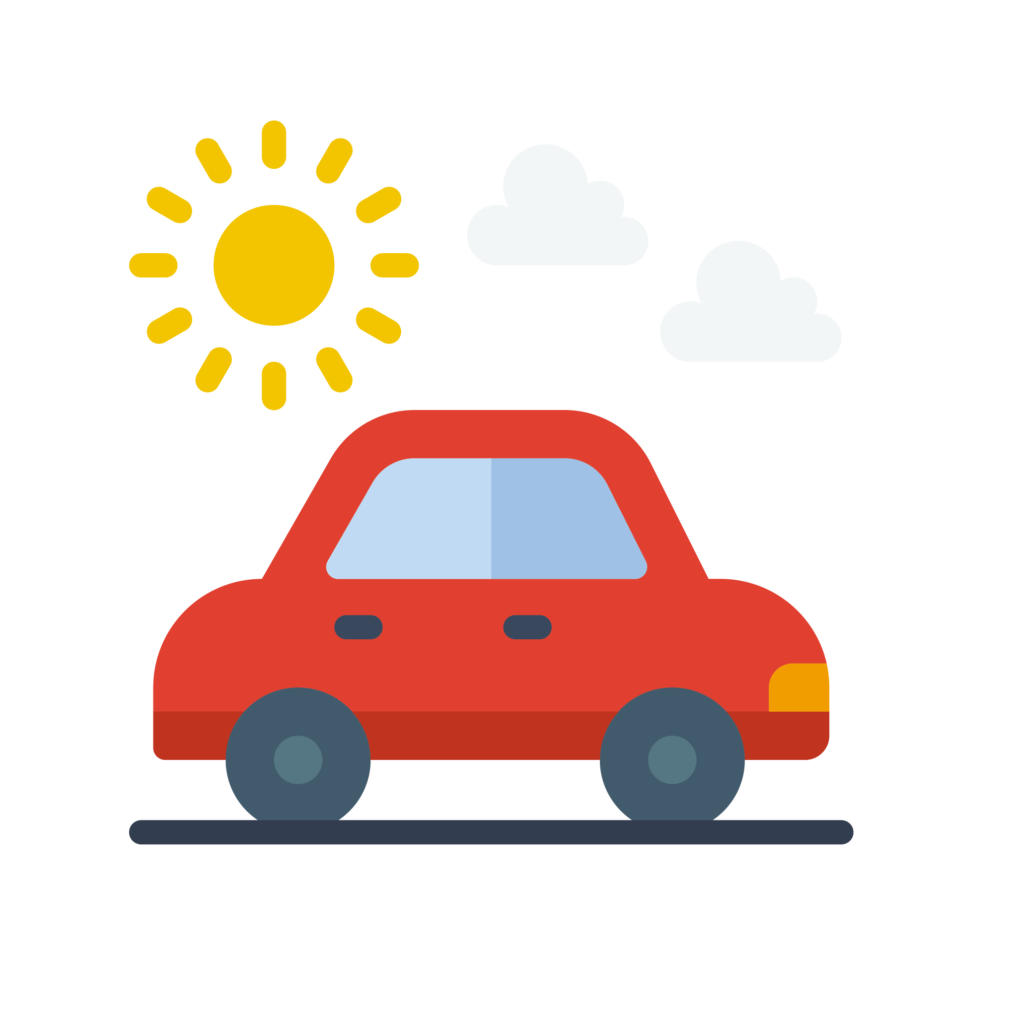 Organized Tours
If you don't want to drive, and want to enjoy some explanations along the way, you can book an organized tour from Edinburgh.
It does not exist as a one-day trip, because there is too much driving involved, but you can see a lot of the country's best landscapes with a 3-day tour:
Other options are available, check out my guide about choosing your Isle of Skye Tour from Edinburgh, Glasgow or Inverness.
How to get to Skye Island by bus
Mostly you have to take the bus to Portree and then use the island bus system to get around. The island is large and the buses not so frequent, so I strongly recommend hiring a car.
Direct line Glasgow to Portree – 6h30 – Line 915 or 916
Direct line – Inverness to Portree – 3h20 – line 917
From Edinburgh, take the 900 to Glasgow and then buses as listed above.
Can you visit the Isle of Skye in winter?
Yes, it is a possible winter destination. But it can get rainy and you have to be prepared for any kind of weather. Learn more on this article detailing how it is to visit Skye in Winter
What to pack for the Island of Skye?
Weather in Skye
Let's start with some information about the weather that will help you take a decision:
The isle of Skye gets a lot of rain (which is why it is so green)
The wettest months are September to January and the driest are April and May.
During the warmest period (May to September), you can expect temperature 9 to 13°C (48 to 55°F) during the day, which is not that warm…
Packing list
So of course, you need layers, layers and layers. So that you can add and remove as you need.Clothes that cut the wind and are waterproof (especially your shoes)
Finally, I took the same as clothes as for Iceland without the thermal pants underwear. You can have a look at my Iceland Packing list to get inspired.
Other Suggestions
Because of the rain, I recommend a rain sleeve if you have a nice camera – check them out on Amazon
And I recommend traveling with binoculars to watch the birds and admire the details in the rocks and mountains. Check out my guide to find the best travel binoculars for your needs.
Other fun or interesting facts about Skye
Its name is probably a combination of 2 Norse words: Ski meaning cloud, and Ey meaning island. Probably because there are almost always big clouds stuck over the island. lol.
The island has been identified on old maps as Scitis, and it has many different names and nicknames: Misty Isle, Winged Isle…
The Three Chimney is a world famous restaurant on the Isle of Skye
Vikings have ruled Skye from 700AD to 1263. Then after the battle of Lards, it was ruled by the Kings of Scots
Many folklore stories and legends were inspired by the Isle of Skye – you can read some here
The Skye terrier is a breed that originated on the Isle of Skye. Queen Victoria loved them. They are now rare.
A half marathon is organized every year. If you are not a runner, avoid that date since traffic will be perturbed (see website)
And keep track of your own trip!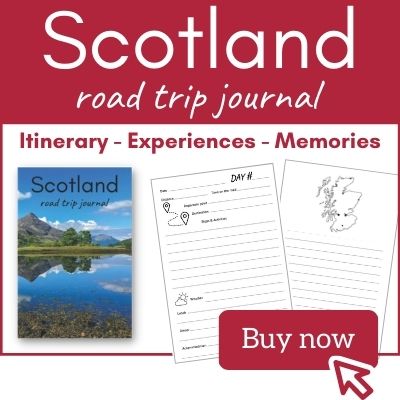 Other Islands near Skye
Islands closest to Skye
If you like visiting islands, around the Isle of Skye there are other Inner Hebrides islands to visit:
Canna Island
Rum Island
Eigg
Raasay
You can learn more about the Scotland Islands in my introduction article
Continuing to the Outer Hebrides islands
After your trip around the Island of Skye, you can also take a ferry from Uig to get to the Outer Hebrides of Lewis and Harris.
Those Scottish islands offer beautiful white sand beaches and a famous stone circle. You can recharge your batteries there, away from the world and close to nature.
Check out ferries from Uig to Tarbert (shortest boat trip) on directferries.com
Want to see more of SCOTLAND?
PREVIOUS:
NEXT: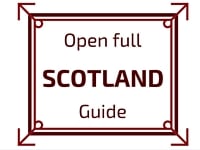 Inspired? Share it on your favorite platform!