Melrose Abbey was one of the richest and most powerful medieval abbeys in Scotland.
Today's ruins are still in good shape and you see much of what it used to be.
Don't miss getting up to the roof for a better view!
Below is my guide to help you plan your visit with map, tips and photos.
Why visit Melrose Abbey in the Borders, Scotland?
Because of its proximity to Edinburgh, Melrose is one of the most popular attractions in Scotland.
It is located in the heart of Melrose, a pretty town in the region called the Borders.
The abbey is in ruins but a lot remains and it is easy to imagine how life was.
Below is a short video to give you an idea of what a visit could look like – get a virtual tour!
More photos after the planning tips.
PLANNING TIPS & Map – Melrose Abbey, Scotland
How to get to Melrose Abbey location
South of Edinburgh
In the Borders region
In the town of Melrose near A6091 (off A7 at Tweedbank or off A68)
Edinburgh to Melrose Abbey = 1h drive from Edinburgh via A68
Part of a circuit with Dryburgh Abbey, Kelso Abbey and Jedburgh Abbey where you can also stop at Scott's view – this is one of the great day trips from Edinburgh
Below is a map to help you locate Melrose Abbey:
The GPS coordinates and location on a practical map are available in both my Travel Guide eBooks. They help you easily plan your Scotland itinerary:
Visit Tips
Melrose Abbey opening times: 9:30 to 5:30 from April to Sept – 10am to 4pm in Winter – Last entry 30min before – check latest here
Entry price: £6 per adult – Can be visited with the Scotland Explorer Pass
Toilets outside the site, a little up on Abbey Street
Easy to walk around
View up the tower: 71 steps
Plan 30min to 1h30 to visit depending on your interests
Where to stay nearby?
Melrose Abbey – Facts, History and Ground Map
Below are a few facts you should have in mind to better appreciate what you are looking at:
Melrose Abbey Scotland was one of the richest and most powerful medieval abbeys
The original monastery dates back to 1136 – it was the first Cistercian monastery founded in Scotland
The church was built following the destruction of the earlier building in 1385. They took advantage of it to build one of Scotland's most magnificent churches.
It was a major feat of construction with hundreds of skilled workers
Masons and sculptors left their mark all around
Robert the Bruce loved it so much that he chose it as the resting place for his heart (a cylinder was found, and it is assumed it was his heart) – The rest of his body is in Dunfermline Abbey
The abbey is 79m (258ft) in length and 17m (57ft) at its highest point
Below is a map of Melrose Abbey as it used to look like:
The ruins – Exterior views
You can walk all around Melrose Abbey.
Therefore, you can see the sheer size of the church from many angles.
The abbey is laid out on a traditional axis: East-West.
On the West side, only the foundations remain. 
And the Northern cloisters were also completely destroyed, with only the foundations remaining.
The Graveyard
The graveyard was used to serve the local community. Most stones date back to the 19th century.
The Arches
Melrose does not have as many arches as Jedburgh Abbey, but they are delicate and beautiful with different colors of stones.
Melrose Abbey church
The church remains really impressive, tall and with a very high ceiling.
The atmosphere is interesting, and you can imagine the monks' lives as they used to walk inside.
The height of the central nave is quite impressive.
Burials & Heart of Robert the Bruce
People who have been buried on the grounds of Melrose Abbey include:
Jocelin, Abbot of Melrose who later became the Bishop of Glasgow
Alexander II of Scotland, a Scot King in the 13th century
Sir David Brewster, a scientist who focused on Physical optics in the 19th century (I find this interesting as this subject was one of my minors)
Robert the Bruce, who died in 1329, is not buried here but in Dunfermline Abbey.
However, a container believed to hold his embalmed heart was found in 1921 and again in 1998 below the Chapter House.
There is no way to know for sure if it belongs to King Robert. But, it is said, that a King's heart should have been buried next to the alter and not under the chapter house…
The Presbytery Ceiling
Don't forget to look up at the presbytery ceiling.
You will discover a pattern of ribs and arches decorated with saints, angels and the Holy Trinity.
Displays give you more details. I let you discover them on site.
Roof Viewpoint & the bagpipe-playing Melrose Pig
Staircase
If you can, do not miss the view from the roof of Melrose Abbey.
You will have to climb 71 steps on a narrow staircase, but the view is worth it.
Note – that it can be closed depending on the conditions.
Viewpoint on the roof
Fore there you can see all the original details of the exterior of the building with sculptures and carvings.
You get a view of the church from above as well as a nice view of the surroundings:
The bagpipe-playing Melrose Pig
The abbey is known for its many carved decorative details. If you look closely you will see:
saints,
dragons,
gargoyles,
animals,
plants.
But the most famous is the bagpipe-playing Melrose Pig. It is best seen from the roof viewpoint.
It dates back to the 14th century.
Other highlights of South Scotland to consider visiting:
Planning a trip to Scotland? Check out my guide to help you plan your road trip:
And keep track of your own trip!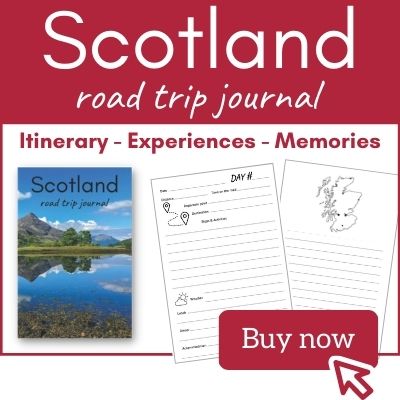 PREVIOUS:
NEXT: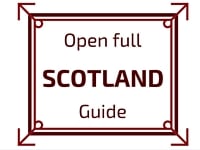 Inspired? Share it on your favorite platform!