Preparing your road trip and wondering what driving in Scotland feels like?
Below is my complete guide about driving in Scotland, including:
Is driving difficult? safe?
Driving rules, road signs,
Road conditions, including single lane roads,
Parking information,
Car rental tips,
Most beautiful roads not to miss,
…
Before my tips + photos, here are my favorites for Scotland:
Driving in Scotland – Essentials to know + video
Essentials to know before driving in Scotland
Driving is on the left-hand side
Minimum age in 17
Seatbelts are required at all time for driver and passengers
There are no tolls
There are no very fast roads or many tunnels
The main driving difficulties are the single lane roads – always look ahead and stop in or near passing places
In case of accident – emergency number: 999
Road status can be found on Traffic Scotland – single lane roads can be completely closed for roadwork.
In brief, just take your time, drive at your own rhythm and give way to trucks and buses.
Driving in Scotland – Video
Below is a short video to give you a taste of what driving in Scotland looks like on the main roads, countryside roads, in towns…
Note that the lense make roads look narrower on the video.
Where I rent my cars
I always compare prices right away on Discovercars.com.
This is one of the best customer-rated comparison sites on the market.
I have found really great deals and I think the platform super easy to use. I can filter based on my criteria.
Plus, they have a practical coverage option at great price that will cover you in case of damage to the outside of the car.
Check out their current car rental deals in Scotland.
Need more help? Read my 36 tips for a worry-free experience.
Is driving in Scotland difficult?
How to drive in Scotland – Difficulty
You can read a lot about people complaining about the difficulty of driving in Scotland. It is not as bad as they say, in my opinion.
It is just that people who find it quite easy, don't leave comments on the web about how easy they have found it…
The 2 main difficulties are:
Driving on the left-hand side (if it is not the case in your home country) – personally I have never felt it hard. You just have to be focused when exiting a parking space
The single lane roads that are very touristy – single lane roads in general are not that complex, there are crossing-places very frequently. The problems are the tourists that just keep going and then pile up at those crossing places blocking the whole thing. Always look ahead to see if there is enough space.
All my favorite locations are included (with GPS coordinates, map and tips) in my travel guide eBook that helps you easily plan your Scotland road trip:
Getting around Scotland without a car
It is possible to get around Scotland without a car, to see the major sights:
Bus & trains – There is a network of public transportation – it is slow and does not allow you to see many places outside towns
Organized tours – There are companies running day trips from Edinburgh and Glasgow, as well as mutli day trips (to discover the Isle of Skye for example) – They cover all the main attractions in terms of mountains, lochs, castles… – check out the many options
Driving times in Scotland
To give you an overall idea about your trip, check out the driving times:
#1 to 6 – Scotland Driving Rules
Let's start with general rules about driving in Scotland you should be aware of:
#1 – License requirement / Age – Do I need an international driver's permit? Can Americans drive?
To drive in Scotland / UK you need a valid driving licence from your country.
If you have a valid driving licence, which includes:
a licence number,
a photograph,
a valid date
and is in Latin letters,
Then you don't need an international licence.
Americans can drive in Scotland with their US licenses.
Canadian can drive in Scotland with their Canadian licenses.
Europeans can drive in Scotland with their country's licenses.
You can use this official tool to check the requirements for your country to reassure you – License to drive in Scotland check tool
You must be 17 years of age (but know that rental companies will require you to be 21).
It is also mandatory to always have the vehicle registration documents as well as a valid ID, such as your passport, with you.
#2 – Scotland driving side of the road
Driving is on the left-hand side in Scotland.
Most of the time it is easy, just be careful in those situations:
When exiting a parking space, be especially careful
When driving on a single lane road, stop on the right side to cross path with other vehicles. If the passing place is on the left, enter it. If it is on the right, stop on the left side of the road next to it.
There are many roundabouts, especially in the South. Don't worry, the curve is natural, and you won't go against the flow. Just drive towards the left. Give way to people from the right unless there are lights.
#3 – General behavior rules
Seatbelts are mandatory for all
No cell phone while driving
Headphones are illegal
Kids under 12 cannot seat in the front of the car
All rules can be found on the Code and Road safety page
#4 – Alcohol and driving
Alcohol limit is 50mg per 100ml of blood – but I always recommend not drinking at all if you are driving
#5 – Mandatory equipment to have in your car
In Scotland / UK, there is no law requiring pieces of equipment to be available in the car (e.g. Warning triangle, Reflective vest or jacket, First aid kit).
And there are no requirements to fit winter tires.
#6 – Mandatory insurance in Scotland / UK
The mandatory insurances in the UK are: unlimited third-party liability insurance – it is automatically included in the price of all car rentals.
If you are visiting with your own car, don't forget to bring proof of insurance.
Compare car rental prices in Scotland
#7 to 12 – Roads conditions and Road Signs in Scotland
#7 – Driving on the main Scottish Roads
Road designations are: M for Motorway – A for Primary Road, B for Secondary Road
There are not many high speed roads. Most of the time there is one lane in each direction
Road status can be found on Traffic Scotland
#8 – Driving in Scottish towns
In Glasgow there is a large road with many lanes and many exits, so take your time and focus
In Edinburgh, the center is quite easy but all around there are those big roundabouts which are a bit crazy. Don't hesitate to do one more tour before exiting if unsafe
In other towns, it is quite easy to drive.
#9 – Driving on Single lane roads in Scotland
The main thing to be aware about driving in Scotland is how to drive on single track roads.
Take your time, often the scenery is beautiful so no need to speed
Always look ahead for cars and stop in passing places that are to your left to allow traffic coming ahead. Or stop on the road next to a passing place that is on the right so that the other car can drive in it
Also look ahead for passing places, you can see signs most of the time
NEVER NEVER Tailgate. We go stuck once, because 4 cars were driving very close to each other. The passing places do not fit 4 cars!!! and then you are stuck because the width of the road does not allow crossing
Do not park in passing places, you will block everyone!
Give way to traffic coming uphill
#10 – Speed Limits in Scotland – Driving laws
Speed limits are indicated on circular signs with red border and a number
Speed limits are in miles per hour
National speed limits are 70mph on Motorways and Dual Carriageways for cars (60 for towing caravans) – 30mph in built-up areas (20mph around schools) – 60mph otherwise for cars (50mph for caravans)
#11 – Scottish road signs
The Scotland Road signs are quite clear and easy to understand.
Limits and dangers are indicated on the road-side sign but also often indicated on the road itself.
A & B road numbers are indicated on top of potential destinations
Sometimes near the big cities you can even see the directions indicated on the road.
Touristic sites are on brown road signs
Fixed speed cameras and carparks are indicated in advance
#12 – Toll roads in Scotland
There are no toll roads or bridges in Scotland.
I don't drink coffee
But I also like other drinks and sweets!
Do you like the free content you find on my blog? All my tips and practical information, without intrusive advertising…

#13 to 15 – How to drive safely
#13 – Know the potential dangers
Apart from you driving too fast, the main dangers on the Scotland roads are:
Driving on the left
If you are not used to it, be careful especially when exiting a parking
Farm animals
In the countryside, animals roam free. Sheep can jump in front of the vehicle, so stay vigilant.
Wild animals
Some areas also have wild animals. I had deers twice on the road, but they are mostly out early or late
Weather
Conditions can be good and all of a sudden it can start pouring rain. Adapt your driving to the weather conditions
Scenery
Sometimes the road is so beautiful that you are distracted. Better to stop!
Idiots…
We were on a road where you can drive at 70mph, one lane in each direction and we had to stop because someone had decided to do a U turn and was no good at it!
#14 – Piling tourists on single lane roads – specific Scotland driving tip
This is not a danger, but it can create big difficulties.
When driving on single-lane roads, always look far ahead. If there are already cars in a passing places further down the road, don't go and pile behind them as it will make crossing path with other vehicles very difficult, stop at a passing place before.
Don't be in a hurry!
And remember that passing places are not parking spaces!!!!!
#15 – What to do in case of accident
In case there are people hurt or there is a conflict, the emergency number in Scotland is 999.
The best order of actions is:
contact emergency services
contact the police
contact your rental provider
#16 and 17 – Parking in Scotland
#16 – Parking in towns
Few things to know about parking in Scotland:
Parking in Glasgow and Edinburgh is very expensive
There are underground carparks but it is especially difficult to park around the old town
Travel early to avoid the busiest hours of the day
#17 – Parking at attractions
Parking conditions vary greatly depending on the attractions.
Some of them have small carparks others have larger ones.
Generally remember:
Visit early the most popular locations if you want to be able to park e.g.: the Old man of Storr or the Fairy Pools, on the Isle of Skye
Some attractions have a ticket display system. In the countryside, machines often only take coins
Where to stay in Scotland?
#18 to 19 – Gas stations
Tip 8 – Fuels and their names
Fuel choice is not a significant factor. Diesel is just as easy to find as gas.
Gas is called Petrol
Gas stations are called Petrol stations
See the concentration of electric car charging station, where you are going in Scotland on this website
#19 – Management of gas stations
Price is by the liter
In remote areas, especially in the North of Scotland, there are not many petrol stations. Think ahead and fill up your tank
Compare car rental prices in Scotland
#20 – Most beautiful roads in Scotland
Scotland is stunning almost all around. You will never get bored when driving there.
My absolute favorite roads to drive are:
Learn more on my article about the most scenic drives in Scotland.
#21 to #25 – Scotland Car Rental Tips
Below is a snapshot with the main things to know.
You can find all my tips in this other complete guide about renting a car in Scotland.
#21 – What vehicle to rent?
Size – Choose a car that is not too large. Scotland has many single lane roads. You may have to cross path with a bus or a large vehicle using the passing places. It is not dramatic, but if you have a narrow car, you will feel less stressed by those situations
Power is not really a deciding factor
No need for a 4WD
Most cars are manual – if you want automatic, choice is reduced – make sure to book early
#22 – Best car rental company in Scotland
When reading reviews, don't forget that on Tripadvisor or Google for example, anyone can write a review even if they have not used the company.
Plus, only the people who had issues write comments, most of the people without issues, don't take the time to write that it went smoothly.
On the platform Discovercars.com, each rental company has a mark on 10 points. This is an average of the marks given by actual customers.
Some of the best rated rental car companies in Scotland are:
Enterprise
Alamo
Arnold Clark
#23 – Where to rent your car in Scotland
You can find all major brands at the airports and in the main towns.
My recommendations:
Rent a car from your arrival / departure airport – it is easier to start driving on main roads rather than in a city until you get used to the car
Rent the car before or after you explore Edinburgh or Glasgow – there is no need to have a car in those towns and parking is very expensive.
The largest car rental hubs in Scotland are:
#24 – General tips for worry-free experience
There is no particular thing to do when renting a car in Scotland, no specific scam.
I recommend always doing those things wherever you are renting:
Take pictures of the car as you take it
Don't forget to check the state under the bumper of the car (look for scratch and take pictures)
Don't forget to check the state of the roof (look for rock fall dent and take pictures)
Take pictures of the car as you leave it
#25 – Be careful if taking a ferry
From Mainland Scotland, you could also visit Northern Ireland and the Orkneys or Shetlands islands (which are part of Scotland).
However, that implies crossing taking a ferry.
This is not allowed by all rental companies. And for others, there are fees included.
Most of them allow crossing to the islands, since it is within Scotland.
If renting with Discovercars.com, once you selected a car you can click on "Rental conditions" and then again "Rental conditions" or "Additional conditions" to find the "geographical restrictions".
If it is not documented, you can add the question for customer support to answer.
Plan road trip in Scotland by car
Want to see more of the best Scotland has to offer?
Planning a trip to Scotland?
Check out my travel guides to help you plan:
And keep track of your own trip!
PREVIOUS:
NEXT: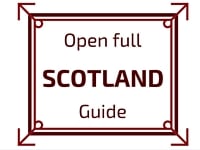 Inspired? Share it on your favorite platform!