Only one day in Glasgow to visit this large Scottish city?
No problem, you can easily enjoy the best the town has to offer.
Below is my suggestion for my 1 day in Glasgow itinerary including: historical buildings, and modern architecture, street art, funny decors…
Before my tips + photos, here are my favorites for Scotland:
One day in Glasgow itinerary & map
The following itinerary consists of what I enjoyed the most.
There is a lot to see and visit and Glasgow, so many different itineraries can be created. I think this one gives you the best overview of the city, with a little bit of everything:
Historical buildings
Modern architecture
Culture of the city
Nature
One day in Glasgow Itinerary – 6 stops
Start in George Square and explore the pedestrian streets
Hop on the bus and stop at the Glasgow Cathedral – enjoy the historical area and the magnificent religious building
Hop on the bus and enjoy views of Trongate street with clock towers and old buildings
Stop at the People's Palace and visit the museum – admire the Winter Gardens building
Hop on the bus and enjoy the modern buildings around Riverside (if you have time you can visit one of the museums or climb up the tower, otherwise stay on the bus). Stroll along the river for a very different atmosphere than the city center one
Hop on the bus and head to the Glasgow University – I think it is worth getting off and exploring it and then walk down to Kelvingrove, where you can take the bus again.
How to spend 1 day in Glasgow – Video
Before sharing the photos, here is a short video of one day spent visiting Glasgow – enjoy a virtual tour!
Is Glasgow worth visiting?
As everybody rushes to the famous Edinburgh, some may be wondering if it is worth heading to Glasgow. It is. The large city has a lot to offer in terms of architecture, art and culture.
How many days to you need to visit Glasgow?
If you decide to add it to your itinerary, the next question is for how long. If you are not into museums, then 1 day is enough to soak in the main buildings and have an overview of the city. However, it is home to interesting museums and 2 to 3 days would be necessary to enjoy many of them.
How to visit Glasgow in one day
The reality of visiting Glasgow
Glasgow is a large and busy city.
Contrary to Edinburgh, the sights are far apart, and you cannot easily walk between all of them.
And if you are driving, parking can be difficult is some areas so you will look for carparks that are quite expensive
Therefore, the best options is the Hop-on Hop-off bus or public transportation.
How to get around Glasgow
Sometimes I don't recommend the Hop-on Hop-off bus, but in this case, I think it is your best option because:
If you have only one day, it allows to you see a lot of the city while choosing which areas to visit in more depth
It is a quite large city, and it would make you lose time to try and do it in any other way
The route is very practical – you can enjoy some of the areas without getting of the bus and it stops at all the best places not doing never ending loops in uninteresting areas
Pre-purchase your Hop-on Hop-off bus ticket in your own currency
Accommodations in Glasgow
You may still want to spend one night in Glasgow before starting your road trip in Scotland.
There is a large choice of accommodations with backpackers, hotels, rentals…
Check out the best rated accommodations in Glasgow and book
Is Glasgow dangerous for tourists?
There is no issue with visiting the classic touristy areas of the city. Locals are nice and crime in those areas is low.
However, it is a big city, so you will get the same scams and pickpockets as in other large cities. So, exercise the same caution.
As a day trip from Edinburgh
Glasgow can easily be visited as a day trip from Edinburgh. There is a frequent train line between the 2 cities, and it takes only 51 min.
See more day trips opportunities from Edinburgh.
By the way, if you are planning a road trip in Scotland, check out my travel guides eBooks to help you plan everything:
1 – Start in George Square and visit the Glasgow pedestrian streets
Most visits of Glasgow start in the city center in George Square.
The large place is home to a central column with the statue of Sir Walter Scott and the building of the City Chambers' building.
From George Square, explore the city center on foot.
The pedestrian roads are especially enjoyable with some beautiful façades.
Take your time, you will see strange things. For example, this shop had hundreds of old sewing machines on display in the windows.
And other buildings display art on the outside… The music art is also very vibrant in Glasgow, and you will find many artists to listen to in those streets.
2 – The Glasgow Cathedral Area – St Mungo's
After that you can get up to the area surrounding the Glasgow Cathedral.
A visit to St Mungo's Cathedral in Glasgow is certainly in order (check out more photos on my Glasgow Cathedral article).
Don't forget to discover the lower church!
In the vicinity of the cathedral, you can also find:
The Provand's lordship (picture below), a house dating back to the 15th century and nowadays a museum.
The St Mungo's museum of religious life and art
The building of the royal infirmary
I don't drink coffee
But I also like other drinks and sweets!
Do you like the free content you find on my blog? All my tips and practical information, without intrusive advertising…

3 – Trongate Street
Then you can drive or walk up Trongate, one of the oldest streets of Glasgow, Scotland.
To the East it starts at the original center of the medieval Glasgow. There you will find the Tolbooth clock tower (also known as the Tolbooth Steeple) which was part of the original city chambers, built in the 17th century and destroyed in the 20th.
Before that on Trongate is the famous Tron Theatre.
4 – People's Palace and Glasgow Green
After all that, you might want a break from architecture to enjoy some greenery. Glasgow Green is a large park South East of the City Center.
It is home to the People's Palace, its museum and the Winter Gardens.
Learn more on my article dedicated to the People's Palace.
5 – Enjoy the modern architecture of Glasgow Riverside
As you visit Glasgow, don't miss a drive or a stroll along the river. It is a feast for the eyes for those who love modern architecture.
The river flowing in Glasgow is River Clyde. Its shores are home to the Hydro park, the Scottish exhibition center. The most famous bridge below is the Clyde Arc.
If you love seeing cities from above, you can head to the South shore of River Clyde and enjoy the 360° view from the top of the Glasgow Tower.
But boat and train buffs might prefer the Riverside Museum with its ship. It is a museum of Transport. With over 3000 objects on display, from skateboards to locomotives, plan an extra half a day to your visit of Glasgow.
6 – Explore Kelvingrove and Glasgow University
Then head North West of the City Center.
I suggest finishing the day by an exploration of the stunning Glasgow University (more photos in my article dedicated to the Glasgow University). The architecture is spectacular and its position on a hill provides great views and much needed greenery.
This is one of my favorite things to do in Scotland!
Then you can walk down in Kelvingrove park where River Kelvin makes its ways in a lush environment. There you can appreciate the architecture of the Kelvingrove Art Gallery and Museum.
Street Art in Glasgow
As you get around Glasgow, don't miss the many beautiful pieces of street art. They are everywhere and it is very refreshing. Here are a couple of examples:
48h in Glasgow
Do you have 2 days instead of 1?
In that case I recommend picking 2 other museums to visit (beside the People's palace).
Maybe one near the Cathedral and one on Riverside.
Or you can book a tour round one of your interests, for example:
Planning a trip to Scotland?
Check out my travel guides, which facilitate the planning of your itinerary:
Want to see more of SCOTLAND?
PREVIOUS:
NEXT: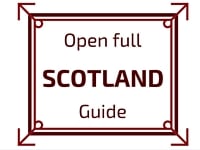 Inspired? Share it on your favorite platform!