The Orkney Islands offer so many points of interest including historical sites, cliffs, beaches, architecture and abundant birdlife!
But where to start?
Below you will find the best things to do in Orkney, whether you are here only for a day or for a complete vacation.
A practical guide to the Mainland Orkney attractions and those of the neighboring islands with maps, tips and photos.
Before my tips + photos, here are my favorites for Scotland:
7 best things to do on Mainland Orkney & Map
With so many Scottish islands to visit, you may be limited in time on the Orkney islands (e.g. if you take the ferry in the morning and go back with the evening one).
I list more options in the article, but, with only a short time, I would recommend staying on Mainland Orkney and discovering:
Yesnaby Cliffs
Skara Brae Neolithic village
Ring of Brodgar
Standing Stones of Stenness
Maeshowe Cairn Chambers (need to book in advance)
Broch of Gurness and the nearby beach of Aikerness
Kirkwall cathedral and palaces
You will see photos of each one further down in the article, but here is a snapshot:
Inspiring isn't it? This is why the Orkney islands are on my Top 5 list of Scotland Destinations.
Below is a map to help you get oriented with those:
You can find my complete map with other attractions on my travel guide eBook that helps you easily plan your Scotland itinerary:
Video – Virtual Tour
And in the following short video, you can get an idea of what spending one day on Mainland Orkney can look like:
Historical and Unesco sites on the Orkney islands
Orkney is considered to have more ancient sites than anywhere else in the world, but many remain undiscovered.
The Orkney islands are often called the "Egypt of the north". According to archaeologist Julie Gibson, "Turn over a rock around here and you're likely to find a new site."
The Unesco site on Orkney is called Heart of Neolithic and it includes the 3 main sites of Skara Brae, Ring of Brodgar and Stenness stones plus many other sites that have not been excavated yet.
More attractions and photos after the planning tips.
Planning tips & Map – Orkney Islands, Scotland
The Orkney Islands – Facts
The archipelago of the Orkney islands is home to more than 70 islands
They have been inhabited for around 10,000 years
It wasn't always part of Scotland – it joined in 1474 after King Christian I of Norway (plus Denmark and Sweden) pledged Orkney and Shetland against payment of his daughter's dowry when she married King James III of Scotland.
There's a lot of history from different origins
Despite being up North, it has many white sand beaches with turquoise water!
The Orkney Islands Map
And if you are wondering where Orkney is, it is just above the North East Coast of Scotland.
Below is a simple Orkney Islands Map to give you an idea of the locations of the isles compared to Mainland Orkney. Just to get you oriented.
How to get to Mainland Orkney – Ferry or Flight
To travel to Orkney, you have 2 options:
The ferry to Orkney from Scrabster near Thurso on the North Coast of mainland Scotland – it takes 2 hours to reach Stromness on the South West coast of Mainland Orkney – Learn more on my article about the Ferry to Orkney or Check out prices and options
If you don't want to drive all the way to the North, you can also take a longer ferry from Aberdeen (on the East Coast of Scotland) to Kirwall
The other way of getting to Orkney is by plane. Flights to Orkney land at Kirkwall airport from many towns in the UK – Aberdeen, Inverness, Glasgow, Edinburgh, Birmingham…
How to get around
Once in Orkney, better to have your own car to discover all the things to do in Orkney on mainland and in the neighboring islands. So, I recommend you take the ferry with your car from Mainland Scotland. This way as soon as you disembark, you can head to the first amazing attractions. No time wasted.
However, you can also rent a car or bikes where you arrive (by ferry or by plane).
How is driving on Orkney?
Overall, driving is quite easy. There is not a lot of traffic…
The main roads, such as between Stromness and Kirkwall have one lane on each side.
However, as soon as you turn away you will find mostly single-lane roads but with plenty of visibility and passing places
And on the other islands, you will find mostly single-lane roads
Check out my article about driving in Scotland
Where to stay on Mainland Orkney – Accommodations
After visiting the high number of things to do in Orkney, you might want to rest.
Most Orkney accommodations are in the main towns
Things to do in Kirkwall – Main town of Orkney
The 'mainland' refers to the main island (not to mainland Scotland).
And at the heart of Mainland, you can find Kirkwall, the capital of the Orkney islands.
It is not a big town, but it is the largest with a population around 9000. The population is approximately 9,300.
Below are my favorite things to do in this town.
#1 – St Magnus Cathedral Kirkwall
The Kirkwall Cathedral is dedicated to St Magnus, an earl of Orkney who was murdered by his cousin. The cathedral was built in the mid 1100s and expanded twice.
It is made of beautiful yellow and red sandstones.
Discover it in video and photos on the article dedicated to St Magnus Kirkwall Cathedral.
#2 – Earl's Palace
The Earl's Palace in Kirkwall was built around 1603. It was built by Patrick Stewart, the Earl of Orkney who wanted to create a magnificent complex. He was actually known to be ambitious, arrogant and irresponsible.
Discover more on the article dedicated to the Bishop and Earl's Palace Kirkwall.
#3 – Bishop Palace
The Bishop Palace was the residence of the medieval bishops of Orkney. It was built in the mid 1100s at the same time as the St Magnus Cathedral. The ruins are not as interesting at those of the Earl's Palace, but you can get up the tower for a great view of the cathedral.
Discover more on the article dedicated to the Bishop and Earl's Palace Kirkwall.
Other attractions in Kirkwall include the Orkney Museum and the Wireless Museum.
Things to do in Orkney, Scotland – mainland attractions
Most of the main attractions in the Orkney Islands are located on the West side of Mainland Orkney.
Below is an overview of the things to do in Orkney Mainland island:
#4 – Stromness
Stromness is the town where the ferry arrives from Mainland. It is the second largest on mainland.
It has its own charm and great seafood.
You can feel the atmosphere of the last watering hole and departure post before sailing on the North Atlantic Ocean.
#5 – Yesnaby Cliffs
Located on the West coast, the Yesnaby cliffs is a walk along tortuous and eroded cliffs. One of the highlights is the Sea Stack called the Yesnaby Castle.
The walk is easy. Bring your binoculars to admire the many birds nesting in the vertical cliffs (see my guide to help you buy binoculars for travel).
Discover more pictures and practical information to plan your visit on the Yesnaby Castle and Cliffs article.
#6 – Skara Brae
Skara Brae was discovered under a sand dune after a windstorm in 1850. It is a settlement that was built and used 5000 years ago. With a great state of preservation, it gives a good idea of life during the Neolithic.
Learn more about this extraordinary site on my article dedicated to Skara Brae Orkney.
#7 – Skaill House
Right next to Skara Brae, you can visit the Skaill House: how a family home was in the 1950s and the tales related to the discovery of Skara Brae.
#8 – Brough of Birsay
The Brough of Birsay is not as fascinating as other sites in Orkney. However, its location and limited access during low tide makes it an adventure.
Learn more about the tidal island and its access on the article dedicated to the Brough of Birsay.
#9 – Broch of Gurness
The Broch of Gurness was home to a thriving Iron-age community.
The ruins are well preserved. There is also a small museum and great explanations.
Because of the combination of history and beautiful landscapes, this site was one of my favorite things to do in Orkney Scotland.
Discover in photos and video this amazing site on my article dedicated to the Broch of Gurness.
#10 – Aikerness Beach
Right next to the Broch of Gurness is Aikerness Beach, one of the longest stretches of sand on Mainland Orkney.
If you want to relax for a while at the beach…
#11 – Maeshowe Chambered Cairn
Meashowe is considered one of the best-preserved chambered cairns. It survived from 5000 years ago, enabling us to discover its prehistoric design.
It is one of the most recommended sites, one of the top things to do in Orkney Scotland. But access is limited, and visit must be pre-booked. No pictures allowed inside.
Learn more in the article dedicated to the Maeshowe Chambered Cairn. 
#12 – Standing Stones of Stenness
One of the earliest stone circles in Britain, the Standing Stones of Stenness are towering up to 5.7 meters. Even with only 4 remaining Stones, it is not difficult to imagine how significant the site must have been 5000 years ago.
Video, photos and practical information on my article about the Standing Stones of Stenness.
#13 – The Ring of Brodgar
The Ring of Brodgar is a Neolithic stone circle located on small band of land between Loch Sternness and Loch Harray. It is part of a central area designated a Unesco World Heritage site which also includes the Standing Stones of Stenness.
It is definitively one of the top things to do in Orkney.
Video, Photos and practical information on my article about the Ring of Brodgar.
#14 to #21 – Other West Mainland Orkney attractions
The ones listed above are my favorite ones. But there are others to consider:
Hole O'Rowe, a natural arch cliff near Skara Brae
The archaeological dig of another settlement at Ness of Brodgar
Restored fishermen's huts at Skiba Geo near the Brough of Birsay
Kirbuster museum – 19th century farmhouse
Unstan Cairn – chambered tomb between Stromness and Maeshowe
Cuween chambered cairn
Happy Valley – near Stenness, garden and woodland walk
Round Kirk, Circular medieval church
#22 to #29 – East Mainland Orkney – attractions
East Mainland Orkney is less famous. It is mostly low grassy farmland mainly enjoyed by birdwatchers and people interested in World War II. Things to do include:
Loch of Tankerness, a great destination for bird watching
Mill Sands: a shallow bay great for bird watching
Saint Andrews War memorial – cross between East and West
St Peter's Pool, a bay on the East side of mainland which played a strategic role during World War II – long flat area also great for bird watching
Italian chapel: located on Lamb Holm, a small island between Mainland and South Ronaldsay – built by Italians during the Second world war
Mull Head Nature reserve: coastal grassland with sea cliffs – great for walking and birdwatching – nearby is the sea cave called the Gloup
Brough of Deerness: a large grass area, great sea cliff scenery
Newark Beach: long stretch of white sand beach with a walk to Point of Ayre. Great for birdwatching
Dingieshowe Beach: sandy beach forming an isthmus between mainland and the peninsula of Deerness
I don't drink coffee
But I also like other drinks and sweets!
Do you like the free content you find on my blog? All my tips and practical information, without intrusive advertising…

Places to visit on the Orkney Islands accessible by car from Mainland
2 islands are connected by bridges:
Burray (#30…)
First is the small island of Burray. Things to do include:
Northfields Broch – call the farm before visiting
Orkney Fossil and heritage center – information about the geology of the Orkney islands and a large display of fossils
The small island of Hunda joined to Burray by the Churchill Barrier built during the war
South Ronaldsay
The Churchill Barriers between islands – set as defenses during World War II
The cairns broch from the iron age
The picturesque village of St Margaret's Hope
Boxa Head for military enthusiasts – coastal walk with batteries
Burwick sea stack
Olad Brae viewpoint
And many other military significant places
Attractions on the other islands of Orkney by ferry
There are many islands in the Orkney archipelago.
The Orkney Ferries allow you to hop from one to the other.
Island of Hoy
Hoy is one of the most famous islands in Orkney because of its impressive sea stack, the Old Man of Hoy (learn more on the Ferry to Orkney article).
Other things to do in Orkney Island Hoy include the Dwarfie Stone, a 5000 year rock cut tomb and the Martello Tower.
Rousay
Rousay is also a great place to visit with dramatic cliffs, bird colonies and over 150 archaeological sites – it is one of the reasons the Orkneys are known as the 'Egypt of the North'
Westray and Papa Westray
Even more North are the islands of Westray and Papa Westray.
Highlights include Notland Castle, Knap of Howar (farmstead predating the Pyramids), Viking house, heritage center, puffins, rural life
Sanday
For something slightly different, head to Sanday with its beautiful beaches, bays and dunes and its unique lighthouse.
And more…
And the many smaller / less visited Scottish islands in the Orkney islands… Flotta, Shapinsay, Burray, Eday, Stronsay, Papa Stronsay, North Ronaldsay
Orkney islands itinerary suggestions
The Orkney islands could deserve their own holidays.
However they are often a stop on a Scotland road trip itinerary.
1 day in Orkney
If you are arriving by ferry in Stromness (with your rental car) and have just one day, I recommend staying on the West side of the island and focusing on the amazing historical and natural sites:
Ring of Brodgar and Standing stone of Stenness
Skara Brae
(Brough of Gurness and Aikerness beach – depending on how long you have)
The Yesnaby cliffs because I looooove them!
2 days in Orkney
But if you can stay one night on Mainland Orkney, it is even better then you can explore
Kirkwall
The East and maybe some of the connected islands
Planning a trip to Scotland?
Check out my travel guide, that facilitates the planning of your itinerary:
And keep track of your own trip!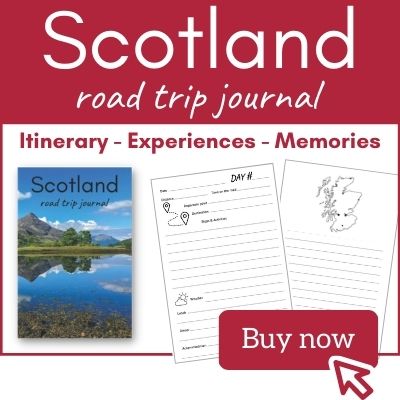 Want to see more of SCOTLAND?
PREVIOUS:
NEXT: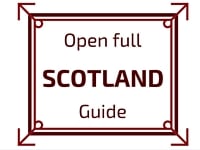 Inspired? Share it on your favorite platform!