Discover the most beautiful landscapes of Oman with photos.
35 of my favorite pictures from Oman to show you why you should travel to this sultanate full of contrasts, nature and culture:
wildlife,
wadis,
mountains,
forts,
souqs,
traditions…
Let me show you what you could admire on your road trip in Oman!
Before my tips + photos, here are my favorites for Oman:
About the landscapes of Oman in photos
In this article you will find all my favorite photos I have taken in while traveling around Oman.
They show the beauty of the landscapes, the culture, the traditions, the wildlife… and much more!
WARNING – all those pictures of Oman may give you a severe case of wanderlust.
1. The Sinkhole – colorful picture of Oman
Not far from the sea, South of Muscat, you can admire a the Bimmah Sinkhole and swim in it. Legends says a falling star created it… Geologists disagree.
2. Exploring the Sultan Qaboos Grand Mosque
Located in Muscat the incredible Sultan Qaboos Grand Mosque will keep you busy for several hours. You first discover it from the garden.
3 & 4. Fishermen – Omani traditions in images
The fishing tradition is well alive and at any time of the day you can see these small boats out to catch some fish.
5. The magnificent chandelier
Inside the Sultan Qaboos Grand mosque hangs the 14 meter tall chandelier sparkling with Swarovski crystals.
6. Jebel Akhdar – Mountains of Oman in photo
The mountains of Jebel Al Akhdar can be reached only via 4WD and the views are worth the drive.
Need to rent a car in Oman?
My tips:
Compare prices on my favorite platform:

Discovercars.com

– one of the best rated comparison sites!
Choose a car with enough power for the mountain roads
Consider their full coverage option – for peace of mind!

Book early

to have a large choice of vehicles!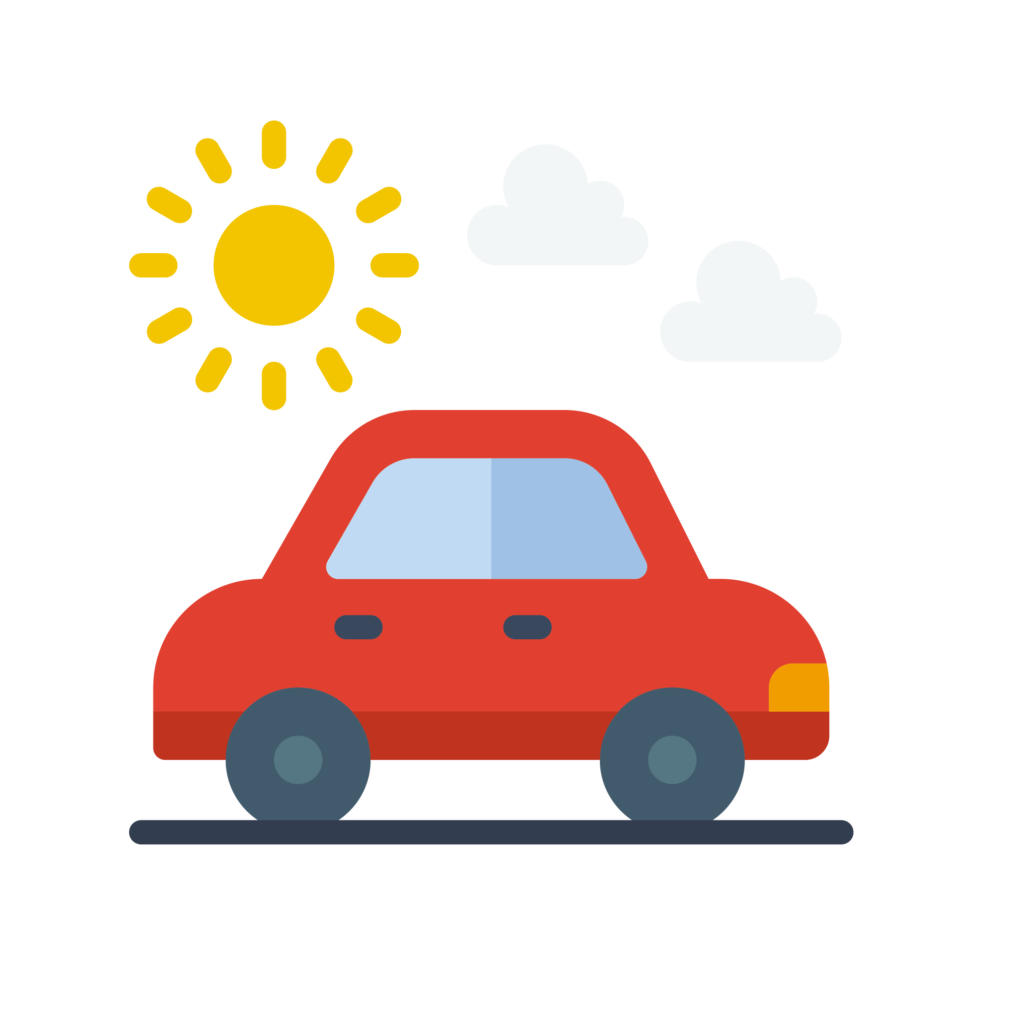 7. Exploration of a Souq
Walking around a Souq, soaking in the atmosphere is a must do.
8. Magnificent corridors
The Omanis have mastered the art of building corridors…
9. Off Road Surprise
While climbing off road towards the Salmah plateau, I crossed path with dromedaries and their shepherd. A magical moment!
10 & 11. Meeting locals at the Fish Market
The Fish Market is a great place to meet local Omani people. They are all very friendly.
All my favorite locations are included (with GPS coordinates, map of region and planning info) in my travel guide eBook that helps you easily plan your Oman road trip:
12. Refined decor
What is striking is that Omani don't go overboard with decor, it is detailed and refined but is not overwhelming, except maybe the Royal Opera House with a little bit too much wood for my taste. This glass is in the Sultan Qaboos Grand Mosque.
13. Wild Camping in Oman – great photo oppotunity
Wild camping is allowed everywhere in Oman. It makes for memorable nights!
14. The Oman Grand canyon
Yes Oman has its own grand canyon… It is deeper but narrower than the famous American one. The area is called by the name of its highest mountain: Jebel Shams.
15. Wadi Tiwi
Along wadis, you can find colorful pools. Each is different wide or narrow, with or without big boulders… Below is a photo of Wadi Tiwi.
I don't drink coffee
But I also like other drinks and sweets!
Do you like the free content you find on my blog? All my tips and practical information, without intrusive advertising…

16. Turtle watching – great wildlife to photograph in Oman
One of the highlights of a trip to Oman is to go watch turtles nest on the beach. Wake up early and admire their resilience!
17. Mosaics and Arches
At the Sultan Qaboos Grand Mosque: regular arches but unique mosaics…
Where to stay in Oman?
My favorites on a road trip:
18. Sunset in the mountains
Near the Jebel Shams canyon, the plateaus with isolated trees offer great views for sunset.
19. Renovated historical buildings
Omanis do a good job of restoring and using their old forts and castle.
20. Nizwa fort
My favorite was the Nizwa fort and its different levels of walls.
And keep track of your own trip!
21. Oman Sunrise photo
I recommend you spend one night wild camping one of the many isolated beaches to enjoy a peaceful sunrise.
22. Lost in the mountains – Scenery of Oman
Misfat Al Abriyeen is a small village on the side of mountains where you can hike with great views of the plantations.
23. Snorkeling hotspot
Oman has several snorkeling and diving hot spots.
24. Peaceful and Friendly people
The Omani people are simply adorable. Always happy to help but respectful of each other's privacy.
25. Unesco Heritage Site
Oman has several Unesco sites with old beehive tombs such as Al Ayn: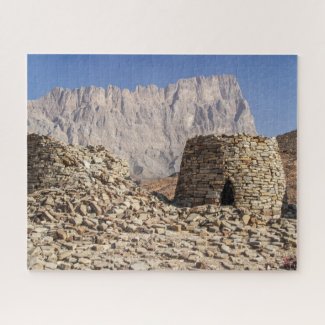 Get your Puzzle Landscape of Oman – Beehive Tombs
by ZigZag_Road_Trips
26. Dramatic scenes
Up on the bare Salmah plateau, birds enjoying the winds
27. The famous Wadi Shab
All the wadis have something special but Wadi Shab is one of the most famous: the hike, the swim, the cave… a great adventure!
28. Meeting Sinbad?
Oman knows how to keep tradition alive. I love spotting a scene that looks like we are back hundreds years ago.
29. Rugged coastline
Around Muscat, the Omani coastline offers a variety of landscapes including this arch which is quite popular:
30. Entering the desert
Wahiba Sands is made of longitudinal sand dunes. Driving between them at quite a high speed is exhilarating.
31. Sunrise over Wahiba Sands
So many beautiful Oman photos of the Wahiba Sands desert… It is hard to choose just one.
32. Oasis Oasis Oasis
There are many places where you can drive through oasis.
33. Swimming adventure
There are several wadis where you can enjoy a swimming adventure. Especially in Wadi Shab where you can swim all the way to a cave.
34. New friends
I love camels. Do you?
35. One of the Oman Photos I wanted
When planning my trip to Oman, one of the absolute Oman photos I wanted to bring back was this one. So happy I was able to get it! Go for it turtle!!!
Want to see more of Oman?
Planning a trip to Oman?
Check out my travel guide to help you plan:
Want to see more of Oman's beauty?
PREVIOUS:
NEXT: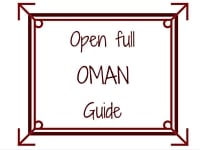 Inspired? Share it on your favorite platform!