Let's plan your Oman Road Trip so that you see all the beauty the Sultanate has to offer!
Below is your step-by-step guide to start planning:
when and where to go,
renting the right car,
creating your Oman itinerary,
booking accommodations,
what to wear,
and getting ready to drive and travel.
Before my tips + photos, here are my favorites for Oman:
STEP 0 – ESSENTIALS to Plan your Oman road trip and itinerary
If your don't want to read the entire article with all my tips and recommendations, here are the essential ones to keep in mind:
Ease of travel
Many amazing landscapes are very easy to reach so don't worry! No stress, keep planning
4WD
Don't overestimate your 4WD capacity – if you plan on going off road, driving on sand is really an art
But know that many amazing places don't require a 4WD (more details about which car to choose later in the article)
Renting a car
I normally advise to rent the car after or before visiting the capital city but a car is also

very useful in Muscat

, since the town is spread out.
The car rental offer is not yet very large, so, if you want your choice of car, book early – you can compare prices and deals on my favorite platform Discovercars.com
Period
Don't travel during Summer months, it is way too hot to get out during the day in North Oman
The case of Musandam
I don't recommend crossing the UAE on land to get to Musandam from Muscat. The journey is quite a pain. Ferries or planes are better options.
STEP 1 – Decide when – best time to visit Oman
The weather year in the Sultanate of Oman can be cut into 2 main seasons. Oman has a reliable climate that is warm all year long.
Winter Conditions – October to April
This is the touristic season as temperature get into the 20°C
Temperatures are cooler and way more bearable than in Summer
It can rain, mostly in January and February but those are short showers
February and March are the busiest months – but considering the size of the land and the tourism level, you won't feel overwhelmed like Paris in Summer…
Summer Conditions – May to September
It is not recommended to travel to North Oman during that period. Temperature can be unbearable above 40°C. You can't really visit the country during the day. All you could enjoy is shopping at night
The only area you can travel to in that period is Salalah. Thanks to the monsoon the area is great and cooler. Even the locals travel there to enjoy some relief. But you have to love humidity…
These conditions mean cheep hotel prices.
Best time to see turtles in Oman
Close to the town of Sur (2hours from Muscat), is a reserve for turtles to nest safely (see article)
Turtles come nesting on the Omani beaches all year around. So you have chances to see them every morning and evening. Although during low season there can be days without sightings. This photo was taken in December
You get the highest number of turtles in the reserves between August and October during breeding season. This is when you are more likely to spot babies hatching and making their way to the water
Other things to consider when choosing the best time to travel to Oman
Oman is a muslim country. So do not forget to check the dates of the Ramadan during which you will not find restaurant or places to eat during the day outside of International Hotels
The Muscat Festival is held in February with cultural and musical events
In April, roses bloom in Jebel Al Akhdar, making the landscapes even more special
STEP 2 – Where to go in Oman – Map
Destinations in Oman Map
Below is a Map of Oman to get you oriented and help you decide where to go.
Introduction to the Omani regions
MUSCAT
Muscat is the capital city of Oman. It combines tradition and modernity. One fourth of the Omanis live in this city which is spread out in several area between bays and mountains.
Places to visit in Muscat include:
Magnificent modern architecture with the Sultan Qaboos Grand Mosque and the Royal Opera House
Traditional markets and Souqs
Forts and Palace (from the outside) and Museums
Long sandy beach
For more ideas, check my complete list of things to do in Muscat.
SUR + EAST COASTAL AREA
Landscape-wise, this is one of the most diverse areas in Oman. You can enjoy it all: sand dunes, beaches, mountains, forts and wadis… Easily accessed South of Muscat, if you only have a few days in the country this is the number 1 region I suggest you visit.
Things to do on the Eastern coast include:
The town of Sur and the nearby turtle reserve
The high sand dunes of the Wahiba Sands Deserts
The many stunning wadis such as Wadi Shab and Wadi Bani Khalid
Masirah island
NIZWA + INLAND
Called Hinterland, the area around Nizwa offers dry land in the valley but plenty of traditions. This is where the Imman used to live and contest the authority of the Sultan.
Places to visit in the Hinterland include:
Majestic forts such as Nizwa, Bahla and Jabrin
Ruins of old villages and Unesco listed Falaj irrigation systems
The "green" mountainous area of Jebel Akdhar
Jebel Shams, the Arabian Grand Canyon
SOHAR + NORTHERN COAST
The coastal area North of Muscat is a narrow plain between the Al Hajar mountains and the sea. It is one of the most fertile areas in Oman. The region is also called Al Batinah.
Highlights in the Sohar region include:
Beaches including some covered with shells
Fortifications including the famous Rustaq fort
Fishing villages, farming area and palm tree plantations
MUSANDAM PENINSULA
The Musandam peninsula is probably the most famous land in the Sultanate of Oman. It is an area separated from mainland and close to Dubai, at the northern point of the Arab peninsula. This region is mountainous and surrounded by fjord-like khors with abrupt cliffs.
Things to do in the Musandam Peninsula include:
The main town Khasab and its fort
4WD adventure in the mountains with views of the bay, petroglyphs and old villages
Dhow cruising (traditional boat), watching dolphins, snorkeling, and camping on one of the islands
SALALAH + DHOFAR
The Dhofar region is the South of Oman, close to the border with Yemen. It is home to the second largest city in Oman: Salalah. The Dhofar is quite different from the rest of the country as it is isolated in the South and subject to the monsoon in summer (June to September).
Things to do in Dhofar include:
Desert adventure in the Empty Quarter desert
Stunning beaches
Mountainous areas and green gorges
The famous Frankincense trees are grown here
Ad WUSTA
Ad Wusta is an empty band in the middle of Oman. Most people only cross this area to get from the North to Salalah. On the west side is the grand desert of the Empty quarter. Highlights of Al Wusta include:
Caves such as Al Raki
Springs
The Arabian Oryx Reserve also known as the Wousta Wild Reserve
STEP 3 – How long to plan for your road trip around Oman
The first criteria is, of course: How much travel time can you have…
If you have no flexibility on how long you can travel in Oman, you can jump to the next step.
If you have flexibility, here are a few driving distance to consider
Muscat to Sur – 2h10
Muscat to Nizwa – 1h35
Muscat to Shannah port (for Masirah island) – 5h
Muscat to Khasab flight time – 1h
Muscat to Salalah – 10h drive without stopping or 1h30 by plane
From my experience and discussion with local tour guides, I think to really enjoy it you need at least:
Muscat – 2 to 3 days (depending on your love for museums)
East Coast and Sur – 3 to 5 days
Nizwa and hinterland – 3 to 6 days
Sohar and North Coast – 2 to 3 days
Musandam Peninsula: 2 to 3 days
Salalah and Dhofar region: 3 to 4 days
Of course it is always possible to dedicate a whole holiday to just one region. These are what I think a good number of days to grasp the areas and their variety.
STEP 4 – Book your flight
So now that you have chosen when to go, where to go and for how long, you are ready to book your flight.
VISA
However, first, check the Visa requirement for your type of passport.
Unless you are from a country that is part of the Gulf Cooperation council, there is at least a requirement for an eVisa.
You can check your visa eligibility on the Royal Oman Police website here.
AIRPORT
The international airport is near Muscat.
Domestic flights are run to Khasab in the Musandam peninsula and Salalah in the South.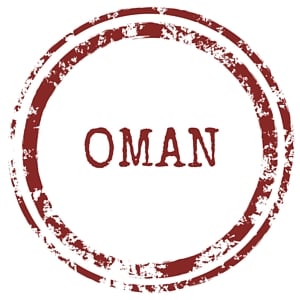 Starting your Oman road trip in Dubai
I think it is easier to fly in Muscat and start the road trip from there. Flight lasts 1h. However if you want to go by car consider:
Dubai to Mascate – 420km – 4h30 (when not stopping)
Border crossing can be long
Make sure your car rental allows you to also drive in Oman (with insurance coverage)
STEP 5 – Hire the right car
Now it is time to rent your car.
4WD car or normal car?
It depends on where you go. You need a 4WD if you want:
to go off road
to get to the mountains of Al Jabal Al Akhdar (but you can arrange to park at the entrance and have someone from the hotel pick you up – or to rent a 4WD or a day or 2 from the checkpoint)
To get in Wahiba Sands (but you can also ask the camp to send someone to pick you up at the desert entrance)
Otherwise a 2WD car is sufficient. Even to get to Jebel Shams as it is paved almost all the way (still 7 km of dirt road towards the top but in good condition if it has not rained before).
However note, that even if you rent a 4WD, the insurance conditions for most companies nowadays do not cover offroad driving… It gets complicated to be a little adventurous.
I am sorry I don't have a solution for you here. This is your risk to evaluate.
Car rental in Oman
All the classic car rental companies are available in Oman. Here are a few tips to keep in mind when booking:
RENTAL COMPANIES – When choosing the company, don't just look at price but consider age of the fleet, included mileage, 24/7 customer service, servicing availability…Foreign driver's license or international driving permit are accepted for up to three months
INSURANCES – Check all types of insurance and decide on the level of risk you are ready to take. For peace of mind, I strongly recommend the Gravel Protection one.
Get a GPS – there are many signs and not that many roads but some locations are not always on it. Plus inside Muscat it would allow you to focus on the traffic instead of the map.
Compare car rental prices on Discovercars.com – one of the best customer-rated comparison sites!
Choose the car and company you prefer and consider their full coverage option – I always take it for peace of mind!
Book early to have a large choice of vehicles!
Need to rent a car in Oman?
My tips:
Compare prices on my favorite platform:

Discovercars.com

– one of the best rated comparison sites!
Choose a car with enough power for the mountain roads
Consider their full coverage option – for peace of mind!

Book early

to have a large choice of vehicles!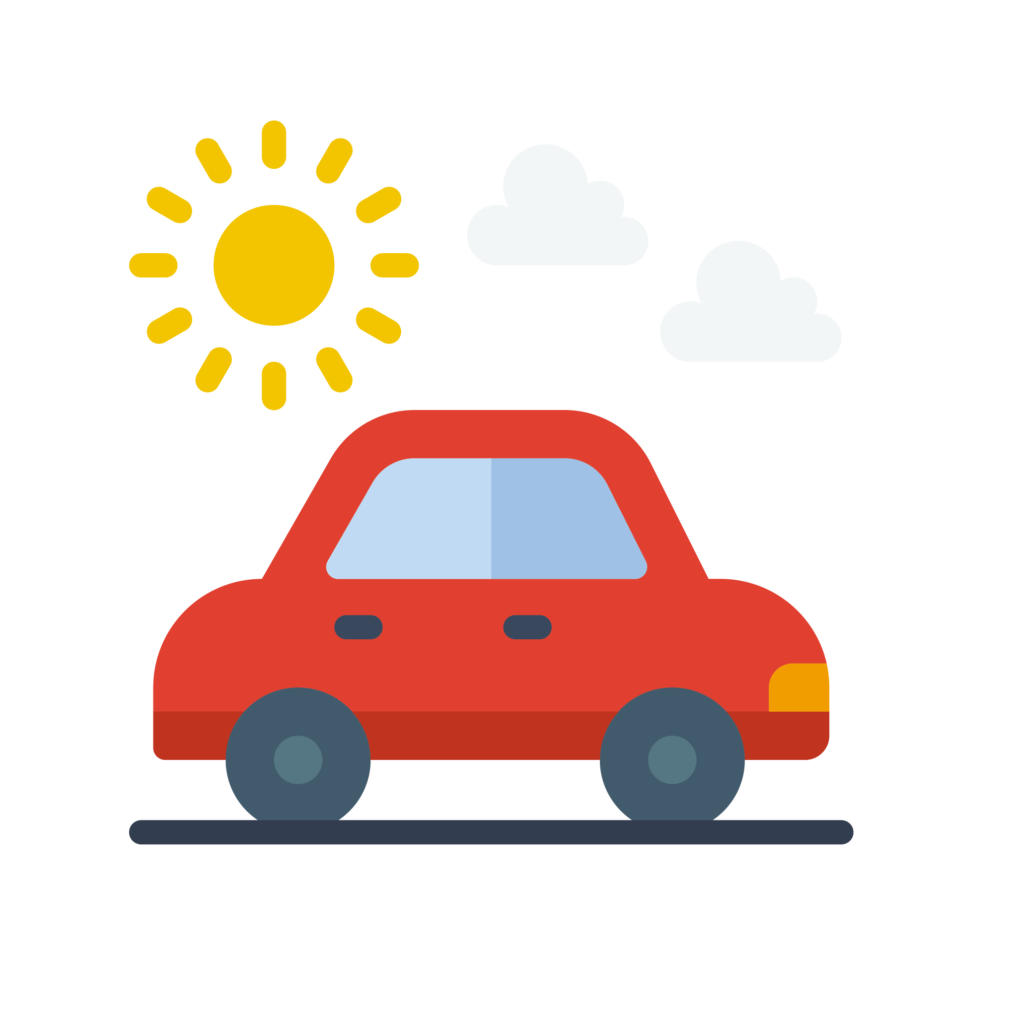 Renting a car in the UAE – Oman road trip from Dubai
You can also add Oman to a trip to the Emirates. You can travel from Dubai to Oman by road. It is an easy drive but not the most fascinating, when it takes only 1h by plane.
If you have rented your car in Dubai or Abu Dhabi and want to take a side trip to Oman, first make sure the rental agency allows it. Then take the extended insurance to cover your time in Oman. Proof of insurance will be requested at the Omani border.
But apart from that, you can drive straight through the border showing your passport at both borders. Plan 5 hours to get to Muscat from Dubai.
I don't drink coffee
But I also like other drinks and sweets!
Do you like the free content you find on my blog? All my tips and practical information, without intrusive advertising…

STEP 6 – Create your Oman itinerary – 5 days, 1 week, 10 days…
Good to know when planning a road trip itinerary in Oman
When planning your itinerary don't forget to consider the following essentials:
DRIVING TIMES – Always plan more time to go from point A to point B than what Google says. You will want to stop to admire the scenery, so if you plan too much you will feel frustrated not to be able to
DAYLIGHT HOURS – You will always have 10 to 13 hours of daylight so you can cover a lot
ROAD CLOSURES – Most roads are in excellent conditions. However after heavy stormy rain, mountain roads can be damaged. Be sure to ask for advice
ACCOMMODATION OPTIONS – If you are booking yourself and not through a local agent, it is easier to find accommodation in the main towns via websites like Booking
OPENING DAYS – Friday is the day to rest. Some attractions are closed or close early
Suggestion – 5 day itinerary out of Muscat
If you have only a few days, the book might be too much for you (although the GPS coordinates are still useful). So here is a suggestion for a 5 day itinerary around North Oman out of Muscat, with a good variety of landscapes.
Tool to plan your Oman road trip Itinerary 1 week, 10 days and more
If you are lucky enough to have more time, there is a wide choice of activities and places to see: mountains, coasts, wadis, desert, forts…
I don't know which one you prefer. So here are my tools to help you plan you own perfect itinerary:
Go through my 40+ articles on Oman
Get my eBook with practical maps and structured information that have been designed to simplify road trip planning:
STEP 7 – Book accommodations
About the accommodations in Oman
The options are as usual: camping, minivan/motorhome, hostels, guesthouses, hotels
A few points to keep in mind:
During peak season, accommodations in desert camps and Turtle reserve fill up quickly so book in adcance
Some rooms in Guesthouses have share bathrooms – I have seen many reviews by people who were surprised. So when you book, check the details!
Camping is also a great option to save money, stay closer to nature. But know that it is cold at night in the mountains, so be mindful of how you are willing to travel. There are not camping ground in Oman at the moment but wild camping is allowed almost anywhere! Check out my Wild Camping in Oman article for more information and advice.
You can find some Airbnb accommodations in the main cities. However the offer is not well developed.
Practical hubs to stay around Oman:
Where to stay in Oman?
My favorites on a road trip:
CONGRATULATIONS!!! Now all is bookedIt is time to get Ready for this Omani Road Trip
STEP 8 – Get all the equipment you need – What to wear in Oman
BASIS – What to wear in Oman – dress code women and men
This is a Muslim country so you should be respectful and over shoulders and knees. No need for women to cover their hair though (except in Mosques).
It gets very hot near the coast and in the desert: long sleeve, trousers and hat are great to protect yourself from the sun – choose light fabrics
During Winter nights in the mountains are freezing, you will need layers especially if camping
Oman Packing list – Essentials
Hiking pants
Comfortable shoes for the hiking
Hat / something to protect your head (I love my Buff "head-sock" to protect myself from the sun and hold my hair)
Sun glasses
Tops covering the shoulders and some long sleeve T-shirt (white is great against the sun)
Scarf to visit the Mosque (although you can normally buy/rent something there)
Formal Dress if you plan on watching a show at the Royal Opera House
Swim wear – Western style for International hotel pools – add a t-shirt and knee-length leggins or a swimwear covering more for public beaches and wadis (although touristic wadis tolerate western style)
Gloves/hat and jumper for nights in the mountains
For all general packing lists, head to my checklist article if you don't want to forget anything.
And keep track of your own trip!
STEP 9 – Get ready to drive in Oman
Below is a video to give you an idea of what driving in Oman looks like:
Driving rules
Driving is on the right side of the road
Speed limits are enforced. There are many radars plus cars start beeping over 120 km/h. Speed limits are clearly indicated. However you will always have locals overtaking you at high speed. Just let them go and enjoy the scenery.
Be respectful in any case, to not make any gesture even if the other driver is behaving dangerously
Do not drink – Zero-tolerance policy for driving under the influence of alcohol
Do not use your cell phone while driving – on-the-spot fines apply (but like everywhere people still do it…)
Roads and Traffic signs in Oman
Roads are modern and in really good conditions between main cities
Streets are paved and in reasonably good conditions in cities
Signs are also in Latin alphabet
Dangers
Animals – In small town and in single lane roads and even sometimes on bigger road you can have camel or goats crossing unexpectedly. So keep focussed!
Wadi crossing – You will often see red signs. This is were the road is over a wadi or dry river bed. Most of the time there is no problem, but in case of heavy rain, use the red pole to evaluate the depth of water.
Straight lines – The main danger and cause for the high number of fatalities in Oman are the straight road. Especially if your drive South to the desert. Make sure you plan plenty of stops and always have water and food in the car.
Check out my full article on Driving in Oman
STEP 10 – Fill your GPS with the coordinates
What I hate the most when traveling is wasting time. Turning around to find a place, missing an exit.
Sometimes it leads to adventure, but most of the time it just leads to frustration.
This is why I don't rent a GPS with the car. I have my own Tom Tom. This way I can use the MyDrive system on my computer to add all the hotel GPS coordinates as well as the carpark coordinates for all the attractions I would like to see.
This way I just pick the favorite and follow the directions!!!
NOTE – All the locations in my eBooks include the GPS coordinates of the nearest carpark, exactly for that reason.
STEP 11 – Get ready to travel in Oman
Communication
Most people in Oman, especially in the tourism industry, speak English. But of course like in any country, it is always appreciated when you try a few words in their language
Peace be onto you – As-salamu'alakum
Answer to above – Wa'alaykum as-salam
Alternative to the above – Salam
Welcome – Marhaban
Please – Raja'an
Thank you (very much) – Shokran (jazeelan)
Excuse me (to ask for) – Min fadlik
Excuse me (to pass by) – Alma'derah!
I am sorry – A'tadhir
Water – Ma
Currency in Oman
The currency in Oman is the Omani real.
What is different:
Their equivalent to 'cents' are Baisa and they are counted in 100 – For example a price can be 2.250 i.e. 2 rials and 250 baisas.
Also the bill for 500 baisas is not written as such, it is written 1/2 Half Rial
Tipping
Tipping is not customary. You can tip after an excellent service.
As in most countries, tour guides are different and would expect tips if you have not booked directly with them
Food in Oman – what to expect
I must admit that I was a bit disappointed by the food in Oman. From what I have seen it is a mix of influence from other countries: chinese, indian, turkish…
You always get a salad with cucumber / tomatoes / carrots. A lot of the simpler restaurants served their version of fast food with noddles, sandwiches… And they often served frozen vegetables. I guess they cannot grow much so this is a problem to get fresh vegetables…
The best food was fish, fresh out of the water.
Drinks
Most shops offer fruit juice mixes, sometimes with ice.
Sodas are also plentyful.
For alcohol you need to go inside and international hotel or get a license in Muscat which authorize you to buy alcohol.
Other info
Currency – The currency in Oman is the Omani real. Their equivalent to 'cents' are Baisa and they are counted in 100 – For example a price can be 2.250 i.e. 2 rials and 250 baisas.
Wifi – The resorts all had wifi. However sometimes only in the common area. Isolated guesthouses may have wifi but it would be restricted to certain hours.
Plugs: Oman plugs are a type G 200V (whatever you read on other sites, I have only seen G plugs).
Tipping is not customary. You can tip after an excellent service. As in most coutnries, tour guides are different and would expect tips if you have not booked directly with them
No special vaccine required
Want to see more of Oman?
Planning a trip to Oman?
Check out my travel guide to help you plan:
And keep track of your own trip!
Want to see more of OMAN?
PREVIOUS:
NEXT:
Renting a car in Oman: 36 tips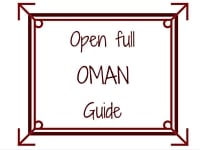 Inspired? Share it on your favorite platform!