Wahiba Sands desert is a highlight of any trip to Oman.
The impressive orange sand dunes offer a unique experience, especially at sunrise and sunset. Therefore, I recommend an overnight stay!
Below is my guide to plan your visit: access, tips, map, photos and Wahiba Sands camps.
Before my tips + photos, here are my favorites for Oman: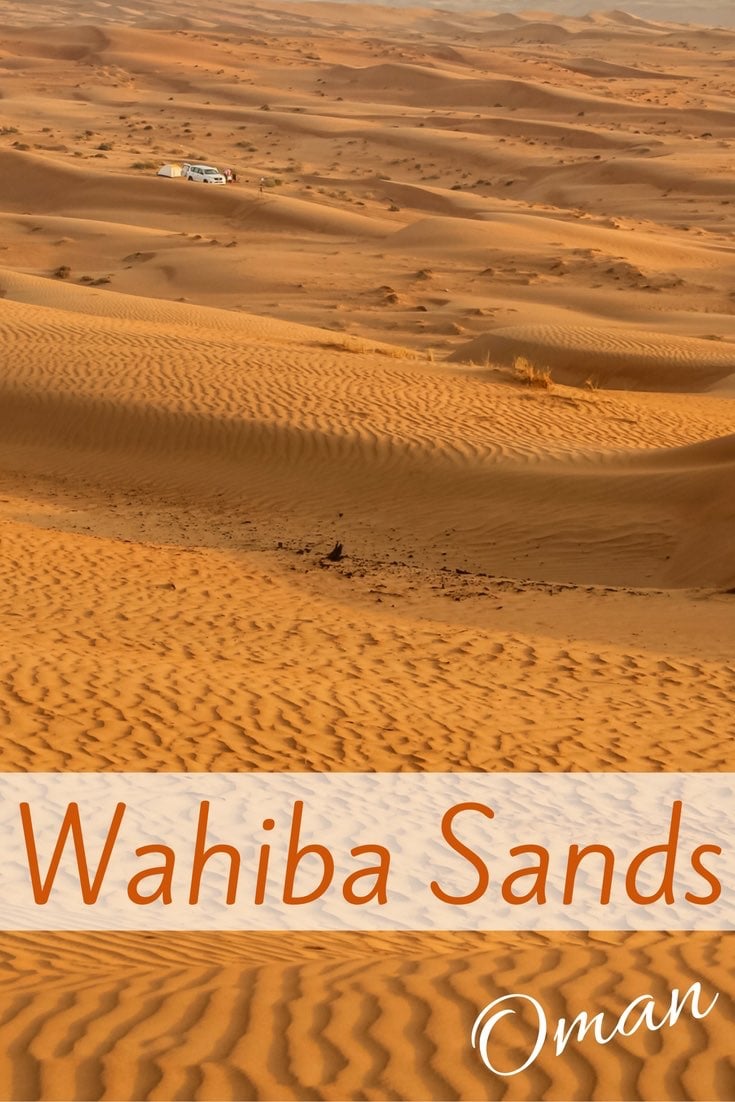 Deserts of Oman & Why visit Wahiba Sands?
The deserts of Oman
Most of Oman (estimated around 82%) is covered by desert or semi-desert environments.
The 2 most well-known for tourism are:
The Empty quarter(Rub' al Khali), the largest of the deserts. It expands on a large portion of the Arab peninsula. However, you need to get a lot more South and West to reach it.
Wahiba Sands a.k.a. Sharqiya Sands
There are smaller ones also close to Muscat but far less interesting visually.
Why visit Wahiba Sands a.k.a Sharqiya Sands?
Wahiba Sands is what everyone dreams of when thinking of a desert:
Orange sand dunes
Long giant longitudinal dunes with smaller ones in between
Those dunes are easily accessible from the capital, Muscat
Facts and Figures
The desert covers 180km North to South and 80km East to West
Apart from the touristic camps, there are no permanent settlements, only Bedouin temporary camps
The Dunes of Wahiba Sands can reach 100 meters in height
Have a look at Google Earth and you will see how longitudinal the dunes are from North to South:
Virtual tour – video
Before with discuss how to visit the Wahiba sands desert, let's start with a short video of my drive into Wahiba Sands and the night I spend wild camping in the desert. You will see why it became one of my top places to visit Oman.
More photos after the planning tips.
Planning tips & Map – Wahiba Sands, Oman
Wahiba Sands Map and location
The desert of Wahiba sands is located South of Sur, and South East of Muscat. The travel times below are to Al-Wasil, before entering the desert:
Muscat to Wahiba Sands – 2h drive
Sur to Wahiba Sands – 1h40 drive
Nizwa to Wahiba Sands – 2h20
Easiest entrances are at Bidiyah Castle (24km gravel road and then sand tracks) and Al Wasil (mix of gravel path and sand tracks)
On the Map, you can see with the orange dots the location of the desert and some of the 4WD tracks to enter.
This desert is included (with GPS coordinates, map of region and planning info) in my travel guide eBook that helps you easily plan your Oman road trip:
Wahiba Sands Weather – best time to visit
Summer Time – the heat of the Summer (June to August) should be avoided but even from mid-April to late September, you will have extremely hot days
Winter Time – from October to beginning of April is when it is bearable and can even be enjoyable. I have found December lovely. Although when the wind picks up it can get cold. You will get 25 to 35°C during the day and 15 to 25°C at night.
How to get to Wahiba Sands – Self Drive
OPTION 1 – you rent a 4WD and are comfortable driving on the sand, so you can get to the campsites in the wadis between the longitudinal dunes.
OPTION 2 – drive to the towns at the foot of the desert and get the accommodations to send a 4WD to take you to the campsite
It you are doing a self-drive day trip from Muscat, is often combined with Wadi Bani Khalid
Need to rent a car in Oman?
My tips:
Compare prices on my favorite platform:

Discovercars.com

– one of the best rated comparison sites!
Choose a car with enough power for the mountain roads
Consider their full coverage option – for peace of mind!

Book early

to have a large choice of vehicles!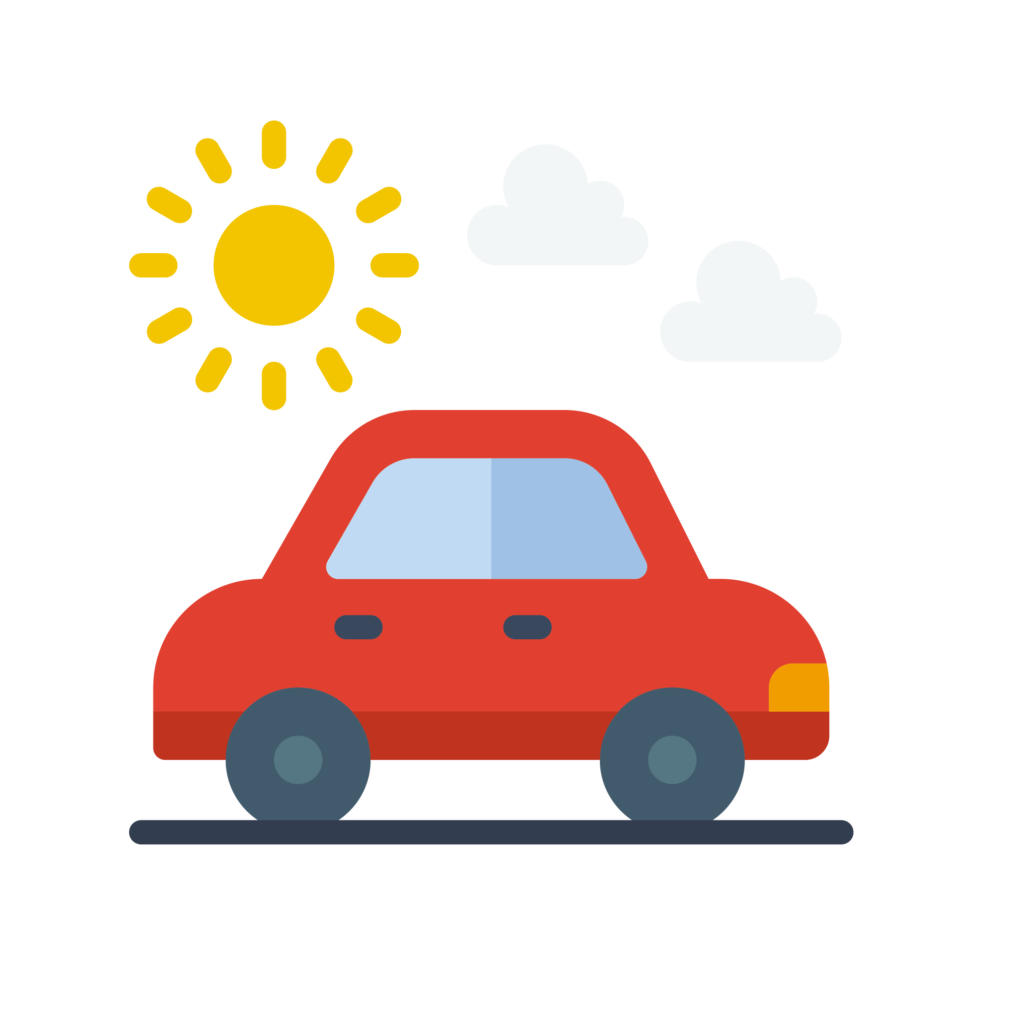 Wahiba Sands Tours from Muscat
OPTION 3WAHIBA SAND DAY TOUR – If you don't want to drive, you can join an excursion from Muscat – the 4WD trip will take you in the dunes of Wahiba Sands as well as to the beautiful Wadi Bani Khalid –
OPTION 4 OVERNIGHT TOUR – even better, you can join a trip that includes a night at one of the desert camps in the desert!!!!
Options keep changing – check out the current offers on Getyourguide or on Viator
If you are staying in Muscat, check out my suggestions for the best days trips
Tips
Wild camping is allowed anywhere (except too close to the camps)
Most camps can pick you up at the nearby village – no need to rent a 4WD
It is possible to cross North to South but only if you are an experienced sand dune driver and with enough provision for several days
Do not go off-road between the hottest months, April to October
Don't forget to bring plenty of water, flashlight and warm clothes for the night.
Do remember that although it is a desert, it can be cold at night and windy. Bring layers of clothes.
Overnight stay – Wahiba Sands Camps vs Wild Camping
You have 2 options to stay in the desert of Wahiba Sands:
Wahiba Sands Desert Camps Oman
You can stay at one of the several desert camps situated in the northern part of the desert. The camps will pick you up at the desert entrance if you need. They offer activities such as sunset viewing, camel rides, quad, dune bashing etc. Their facilities level vary up to some luxury.
The advantage is that you have all the facilities you need. They are located in the flat areas between high dunes and you will find them in different valleys. Some of the best rated on Booking.com include:
Wahiba Sands Camping (wild camping)
Thanks to my guide I went wild camping in the Wahiba Desert.
We drove past the campsites, as the dunes are smaller there.
However, they are still big sand dunes. Only experienced 4WD driver should attempt it!!!
The advantage is that you can wander and be on you own! As you will see later, I wandered for sunset and sunrise and it was fantastic!!!!
See where I left the car?
Where to stay in Oman?
My favorites on a road trip:
Driving in the Wahiba Sands desert
Approaching the sand
We entered the desert via Al Wasil. First we stopped to remove some air from the tires. A local stopped by and gave us a hand. Omanis are so sweet!
In Al Wasil you will find many mechanical shops if you need help.
As you can see, the dunes really start just like that. It is all flat in front of you and then the dunes rise.
Driving in between the sand dunes
On the way in we drove on one side along a high sand dunes. This was a sand track allowing us to drive quite fast.
We drove past 2 permanent touristic camps: the Desert Nights Camp and the Arabian Oryx Camp. We continued furthered until the track disappeared and the dunes started.
Here the dunes are smaller and it is easier to drive and find a camping spot.
But I did not take pictures when the driving became more difficult…
On the way back, we drove to the other side of the valley. The trail was a mixture of dirt and sand.
I don't drink coffee
But I also like other drinks and sweets!
Do you like the free content you find on my blog? All my tips and practical information, without intrusive advertising…

Things to do in Wahiba Sands Desert
The main things to do are:
admiring the dunes
watching sunset
watching sunrise
However, if you are staying at one of the camps, they also over other activities such as:
Sunset Camel Safari
Dune Bashing
Quad Bike adventures
Trekking on dunes
Sand Boarding
Visiting the region: Wadi Bani Khalid, Mantrib fort, local Souq…
Wahiba Sands Pictures – Sunset over the sand dunes
At Sunset, I walked around and admired the dunes changing colors as the sun set. I took hundreds of pictures and it is hard to select only a few.
Sharqiya Sands Sunrise
After a good night sleep in complete silence, I woke up early to be sure not to miss the sunrise.
Not magnificent clouds but a peaceful feeling that I miss.
A little later I heard a rooster so a Bedouin family must have had settled on the other side of the big dune.
As I had some time, I walked higher and higher and discovered different shapes of dunes.
Sand Details
Here are some close shots at the sand texture and the lines created by the wind. I hope you will enjoy them.
The half face
On my evening walk, I spotted a half face in one of the dune. Can you see it?
Want to see more of Oman?
Planning a trip to Oman?
Check out my travel guide to help you plan:
And keep track of your own trip!
Want to see more of Oman's beauty?
PREVIOUS:
NEXT: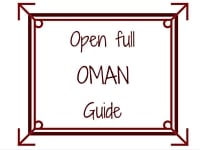 Inspired? Share it on your favorite platform!