Want a little adventure off road in Oman?
Well if you are ready to drive 4WD, you should go explore the Salmah plateau which offers great scenery, large caves, old tombs and traditional villages.
Below are some tips and photos to plan your adventure.
Best drive off road in Oman
I think the Salmah plateau is one of the best adventures to have off road in Oman.
Contrary to the famous mountains of Jebel Akhdar and Jebel Shams, the Salmah Plateau is very closed to the sea. During the climb it gives you great views of wadis and water.
The drive will take you all day and will make you up and down with steep sections (myofforoad.net used to rate the drive as a 5 out of 5). It will lead you to some unique sights far away from the touristic crowds including a giant hole in the ground and old beehive tombs.
PLANNING TIPS – Salmah Plateau Oman
As with all off road adventure, your need to be prepared and have some experience with 4WD.
Getting to the Salmah Plateau Oman
Turn Inland on the coastal Highway 17 between Muscat and Sur
2 roads lead to the plateau. Attention the paved road has really steep sections and it is not recommended to use it when going uphills.
Coordinates bottom of the unpaved road: 22.916423, 59.190610 (22°54'59.1″N 59°11'26.2″E) – From road 27, at the exit to Fins turn in the opposite direction.
Coordinates bottom of paved road : 22.870288, 59.222908 (22°52'13.0″N 59°13'22.5″E)
If you are planning a trip to Oman, check out my travel guide to plan you itinerary (mostly on roads):
Visiting the Salmah Plateau
Accessible to 4WD only
There are no signs on the plateau. Make sure you have a good GPS.
Avoid after heavy rain (check this experience of an Estonian family)
However in good weather conditions the driving is not that bad.
Start your journey early, you don't know what can happen when going off the beaten path.
Make sure to meet locals in the villages, look at the emptiness of the Majlis cave and check a couple of the old beehive tombs. See the article for coordinates and information.
No facilities at all on the plateau, no hotels, no restaurants
Off road access to the Salmah Plateau
Unpaved Road
It is recommended to use the unpaved road to get up to the Plateau. It is just a track but wide enough. Most of it is ok, there are just a few steep sections.
Paved Road
The paved road is very intriguing. It has a long tortuous and extremely steep section. The little walls have been added on the straight sections but not on the bends… are they crazy??? I really did not like going down.
Crossing path with Camels
Camels are very important to Omani people. Before there were 4WD, the camels were the most important animals they could own. Now, of course, you see less and less of them. But by going off the beaten path, you discover areas that still use traditional methods. So we crossed path with many camels all along the day.
The first time we had stopped to watch the wadi and turned around to see several of them walking past our SUV. But my camera was on Manual focus and I did not get good picture. This was one of my favorite moments in Oman and you can see a brief video of it on my top things to do in Oman article.
Then on the plateau itself with saw many more. They were wandering freely and undisturbed by us.
At the end they were not wild, they still belonged to families living in the nearby villages.
In one of those villages they were kept in an enclosure and I just saw their head over the wall. So I captured their curiosity:
Villages on the Salmah Plateau
I did not take many pictures in the villages to not disturb the people living there. This one on the next picture was located in a really strange place. I could not understand how strategic it could be…
Oman off road driving around the Salmah Plateau
The tracks go up and down and right and left. Sometimes there are crossings but no signs. I am glad my guides knew where to go. As you can see in the photos below, the landscapes vary tremendously as you drive around.
Majlis Al Jinn Cave
What the plateau is the most famous for is the Majlis Al Jinn Cave, one of the largest chambers in the world.
Again no sign to get there. The coordinates of the village next to it are 22.882103, 59.105761( 22°52'55.6″N 59°06'20.7″E). At least there is a poster indicating it is there and giving some information.
The cave is up to 340m long, 240m wide and 181meter deep. I did not get too close to the edge… The sign also indicates that it can accommodate 50 jumbo jets 🙂
Birds on the Salmah Plateau
We also spotted many birds flying around. I thought I'd share some photos.
4WD access to the Shir – Jaylah Tombs
The other highlights of the Salmah Plateau are the old tombs. You need to get off the loop track around the plateau and drive further inland. The turn is roughly at this coordinates: 22.831015, 59.099057 (22°49'51.6″N 59°05'56.6″E). And the tombs are roundly 8 km after the crossing (spread around N22 48.946 E59 03.255).
Those Tower Tombs, also named beehives tombs, were built by nomadic people more than 4000 years ago. It has been estimated that some 80 tombs are in the area.
If you like such tombs, check out my post about the necropolises of Al-Ayn and Bat.
If you want to know more, Maptia has a article about those tombs with great pictures (Attention the second part of the article has photos of the Al Ayn Unesco sites which is way more accessible).
Afternoon clouds on the Salmah Plateau
Later the clouds started to take over the view and we made our way down.
Want to see more of Oman?
Planning a trip to Oman?
Check out my travel guide to help you plan:
And keep track of your own trip!
Want to see more of Oman's beauty?
PREVIOUS:
NEXT: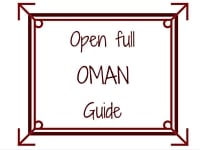 Inspired? Share it on your favorite platform!