Wondering what you can see in terms of wildlife in Oman? 
When you think of the Sultanate, you probably imagine the harsh desert environment of the Arab peninsula.
In fact, Oman has a variety of landscapes and weather and is home to many different species.
Here are some facts and photos of wild and farm animals in Oman.
Wildlife in Oman
With a wide range of landscapes, Oman has a great diversity in terms of wildlife. Have a look at this video from the Oman Tourism Board:
My tour was more focus on landscapes, so I have not seen the oryx, gazelles and leopard. However check out below the animals I have spotted.
I have also added all the farm animals you can see around: camels, goats and donkeys.
Wild turtles in Oman – the main attraction
Thousands of sea turtles migrate annually from the shores of the Arabian Gulf to lay their eggs on Oman's shores. The most common one is the green turtle, although 5 to 7 species come to different locations.
I was lucky to spot a turtle while on a snorkeling tour from Muscat (video in the post) and on a morning tour at the Ras Al Jinz turtle reserve. 
The turtle beaches are included in my eBook to help you plan your trip!
Dolphins and whales
Oman has also many dolphins in its waters. One of the best spot to see them is the Musandam peninsula. The Oman tourism website has photos of dolphins you can see there. I did a boat tour from Muscat including dolphin watch. But I was unlucky on that day and we could not find any pods.
And if you are very lucky you may spot on of the whales that infrequently visit the shores of Oman.
Arabian leopard
The arabian leopard is an elusive animal. It lives in the mountains. There is an approximate of 200 left in the arabian peninsula. You can check the website from wildlife extra for some more information or have a look at this documentary with english subtitles.
Camels in Oman
You can spot camels almost everywhere in Oman: near the coast, in the mountains in the desert. Omanis have a close relationship with camels which are called 'ship of the desert'.
I love them. They make me smile. Here is a selection of some of my pictures:
Donkeys
It is also frequent to come face to face with donkeys. especially near farms in the wadis or in the mountains. I have read that there are also some wild donkeys left.
I was not able to capture its face, but I believe this is Zorro's donkey. It has like a white mask on.
Farm animals of Oman – Goats and Sheep
Goats everywhere… really everywhere! Hiking in the mountains, in the villages, between villages. I can't count how many I have seen.
As I was hiking alone near Misfat Al Abriyeen, I took a turn and stopped facing a group of sheep. We stood still for a while and tehy decided to turn around. But as I was walking on the hiking path they were using, they started becoming concerned. I tried telling them I would not harm them, but they looked so distressed! After 10 minutes they finally left the path, I went through and when I turned around they were back on the path and heading down.
Fishes
There are many snorkeling spots in Oman. I did 2 trips. One on the coast south of Muscat (video in the post) and one to the Damaniyat islands (article soon to be published). Here is a selection of photos:
Birds
Oman has lagoons and high mountains in the North and a mansoon season in the South. So bird life is quite active.
Those next 2 shots were taken on the Salman plateau:
This one was spotted at the entrance of Wadi Shab:
Other animals in Oman
There are also many insects. Some beautiful, some scary. Normally they love me but I was barely bitten during my trip.
In all the wadis I spotted many cute little frogs:
Near Ras Al Jinz where I saw the turtles, I also spotted a fox. They are known to capture the baby turtles as they try to make it to the sea.
Towards the end of my trip, I stopped at Al Sawadi beach to see all the shells. It was low tide and some small pools had formed on the sand. There were many starfishes in those:
I also saw many wasp-like big things flying around. They never attacked but I did not like them much (so no photo here)
Want to see more of Oman?
Planning a trip to Oman?
Check out my travel guide to help you plan:
And keep track of your own trip!
Want to see more of Oman?
PREVIOUS:
NEXT: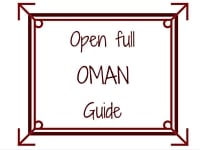 Inspired? Share it on your favorite platform!