Planning on driving in Oman? Preparing for a self-drive road trip? This guide will tell you all my tips about:
road conditions,
safety tips,
off road options,
traffic and road signs,
speed limits
…
With a video to help you visualize. All you need to feel reassured to plan a road trip in Oman.
Before my tips + photos, here are my favorites for Slovenia:
Driving in Oman – essentials to know + video
Essentials to know to drive in Oman
If you do not want to read the entire article, let me start with the essential information to know:
The roads in Oman are overall in excellent conditions. Driving is relatively easy.
Driving in on the right side of the road
Always check the weather conditions before entering a wadi. The biggest dangers are flash flooding
The other dangers are animals on the road (goats and camel). Stay vigilent.
a 4WD is not mandatory at all to explore Oman. But it can help you access a few famous locations. See my detailed section later in the article.
Rent your car early to have a larger choice – compare prices on Discovercars
The Emergency number is 9999 or 112
Video – Oman driving
Let's start with a short video to show you what to expect in Oman when driving through towns or villages, on the main roads, in the mountains and off road. It also show you some of the dangers you should be aware of.
How difficult is driving in Oman? Are road safe?
Generally speaking, driving in Oman is quite easy.
There are recent roads in excellent conditions connecting all the major cities and touristic places.
And road signs are also in Latin alphabet making it easy to navigate.
The few difficult roads are to climb in mountains, enter wadis (4WD only) and reach a few off the beaten path attractions (gravel or less maintained roads).
Where I rent my cars
I always compare prices right away on Discovercars.com.
This is one of the best customer-rated comparison sites on the market.
I have found really great deals and I think the platform super easy to use. I can filter based on my criteria.
Plus, they have a practical coverage option at great price that will cover you in case of damage to the outside of the car.
Check out their current car rental deals in Oman.
Need more help renting a car in Oman? Read my 36 tips for a worry-free experience. 
Tips 1 to 5 – Types of paved roads in Oman
#1 – Driving in Omani cities
Generally I found it quite easy.
The main difficulties are in the old neighborhood of Muscat, where the roads are not as large and where people come shop. I don't have any pictures during traffic jams. For example Muttrah, where the Souq and Fish market are, gets really busy and driving is very very very slow. Be patient!
#2 – Driving on the main roads in Oman
Driving on main roads in Oman is really easy.
They are paved and quite recent so still in good conditions. Most of the time you have really good visibility.
Lanes are large and traffic not heavy. 
You may cross path with some crazy drivers, just stay on the right and let them be.
#3 – Driving on side roads
Some side roads through wadis and small villages (for example wadi Tiwi) might not be in very good conditions. But it is generally not difficult because there is no traffic and you can drive in the middle. Just drive slowly.
#4 – Driving on Omani Mountain roads
If you stay to classic destinations in the mountains, the roads are paved.
They can be really steep though.
For some mountain roads, a 4WD is mandatory such as Djebel Akhdar.
To Jebel Akdhar, you must have a 4WD. There is a checkpoint on the road leading there, so you can't cheat.
This is due to the steep ascent. On the way down there are many safety exit points.
I did not find it that bad though…
To get to Jebel shams the 4WD is not mandatory but strongly recommended. The road is paved except for 7km. When I was there the dirt road was in great condition and not difficult. But rain can change it it in few hours!
#5 – Everyday before leaving, check out the weather
Wadis are prone to flash flooding. It is essential to check the weather forecast before heading inside a wadi.
Even if it looks all clear above your head, it can come really fast.
Tips 6 to 7 – Off-road driving in Oman? Do you need a 4WD?
Tip 6 – Consider if you really need a 4WD in Oman
It depends on where you go. You need a 4WD if you want:
to go off-road anywhere
to get to the mountains of Al Jabal Al Akhdar (but you can arrange to park at the entrance and have someone from the hotel pick you up) – road is paved but steep so 4WD is mandatory (checkpoint)
and Jebel Shams (strongly recommended to have a 4WD but not mandatory)
To get inside the dunes of Wahiba Sands (but you can also ask the camp to send someone to pick you up at the desert entrance)
Otherwise a saloon car is absolutely sufficient. 
And always check what the insurance covers or not (in some countries, even if you rent a 4WD, you are not covered for off road).
Compare car rental prices in Oman
Tip 7 – How to enjoy off-road driving in Oman
You can drive off road in Oman either:
on mountain tracks (for example on the Salmah Plateau)
in the desert sand dunes (for example in Wahiba Sands)
in the wadi river bed (for example in Wadi Nakhr)
Classic rules of off road driving apply:
Don't go unless you know how to drive 4WD
Check your vehicle before going
Adapt the tyre pressure (at the desert entrance there are many shops where you can get help)
Always bring food and water with you
For wadis, do not go when heavy rains are expected
I don't drink coffee
But I also like other drinks and sweets!
Do you like the free content you find on my blog? All my tips and practical information, without intrusive advertising…

Tips 8 to 13 – Oman Driving Rules and signs
#8 – Which side of the road?
Driving in on the right side of the road.
#9 – Know the Oman driving rules
Alcohol limit = 0 – Zero-tolerance policy for driving under the influence of alcohol
No cell phone while driving – on-the-spot fines apply (but like everywhere people still do it…)
Seatbelts are mandatory for all
#9 – Respect the Oman speed limit
Speed limits are clearly indicated. 
The signs are circles with red borders and the numbers are in arabic and latin.
On motorways, the limit is 120 km/h.
Above that, cars start beeping… plus there are many radars.
However you will always have locals overtaking you at high speed. Just let them go and enjoy the scenery.
#10 – License – Do I need an international driver's license?
It is always better to have you International Driving Permit anywhere you travel out of the country.
This way you never wonder.
However, know that to be allowed to drive in Oman (for a short stay), you can use a standard International driver's license for up to 2 months.
It means a license that has:
a licence number,
a photograph,
a valid date,
and is in Latin or arabic writing,
A valid US license works.
A valid Canadian License works.
A valid UK License works.
Here is the Royal Police Source that does not required International Driving Permit (sentence at the bottom of Drive License section).
#11 – Understand the Road Signs
Points of interest and towns are clearly indicated on road signs.
The Traffic signs use Latin alphabet as well, so you can easily find your way!
Cities are on blue signs while points of interests are on brown signs.
Traffic signs in Oman are typical, nothing drastically different.
Signs are according to the ISO (European) system.
The numbers are in dual language with Arabic numbers at the top within the same sign.
#12 – Don't miss your exit
One difficulty is when you miss the exit, then it can sometimes be a pain and a long time until you can turn around.
I had a 30 min detour because of a missed exit…
#13 – Lookout for speed reducers
There are many speed reducers absolutely everywhere in towns and main roads, before crossing, turns, wadi river beds etc…
They are bright yellow.
Don't forget to slow down, it gets uncomfortable otherwise.
Tips #14 – Stopped by the Royal Oman Police
There are frequent checkpoints by the Royal Omani Police.
Nothing to be worried about.
Just present your passport, driver license and insurance documents. Be respectful and all is fine.
They may check what you have in the car as it is not allowed to carry alcohol without a specific license.
I encountered them twice during my trip. No issues.
Tips 15 to 18 – Self Drive Oman – Danger & Safety tips
Self driving in Oman is generally safe. Just make sure you are aware of the following points.
The main dangers on the Omani roads you should be aware of are the following:
#15 – Be careful of animals
In small towns and on single lane roads (and even sometimes on bigger roads) you can have camels or goats crossing unexpectedly. So keep focus!
Most of the times, the roads are straight so you can see them ahead. But still pay attention and slow down as you approach them, because they can abruptly change their mind and run anywhere.
#16 – Don't doze off on straight lines
The main danger and cause for the high number of fatalities in Oman are the straight roads. Especially if your drive South to the desert. Make sure you plan plenty of stops and always have water and food in the car. 
The long straight lines can make you loose focus or make you sleep. Stop frequently and stretch your legs.
#17 – Be careful approaching wadi crossings
You will often see those red signs on the Omani roads. 
This is were the road is over a wadi or dry river bed. Most of the time there is no problem, but in case of heavy rain, use the red pole (after the red sign) to evaluate the depth of water. Be reasonable.
#18 – Focus on the road not the Scenery
The main danger while driving in the mountains is the scenery. You get distracted!
And keep track of your own trip!
Tips 19 & 20 – Parking in Oman
#19 – Parking in towns
A lot of the parking areas and street parking are plenty and free.
The Grand mosque in Muscat has a very large carpark
Note that the only difficult place to park in Muscat is around the Muttrah corniche. Between the market and the souq, it attracts both locals and tourists.
Plus driving here can become complex because of traffic.
I recommend you head there with a taxi.
You can also have issue to park near the Nizwa castle when there is the animal market.
#20 – Parking at attractions
Parking at attractions is also plentiful and often free. Sometimes it is on unpaved terrain.
Generally there is enough space.
However, over the weekends, the most popular place can get full because locals visit as well, such as:
However, if you head to villages hidden away in the mountains, parking can be really difficult (e.g. Misfat al Abryieen).
If you are staying there overnight, ask your accommodation how to best park.
Tips 21 to 22 – Being ready – fuel, equipment…
#21 – Things to check when you pick up the car
Pressure and status of tires
Check the tank and what your fuel policy says
Ask if they have: yellow vest, triangle – not mandatory in Oman(from what I have seen) but always good to have
And check the state of the spare tire!
#22 – Managing fuel in Oman
If you are traveling around the North, you will never be far from a town with a gas station.
But make sure you have enough:
before heading up to Jebel Shams
before heading into the desert
before heading South for the long drive to Salalah.
before heading off road – nothing there!
Tip 23 – What to do in case of an accident in Oman
Leave the car as is
First, call 9999 or 112. It is the main emergency number for traffic accidents, injury, crimes, search & rescue and fires.
If safe, try staying in your car while waiting for help.
Then call your rental company. They can decide with you what the next steps should be.
If you booked via a travel agency, contact them as well
Tips 24 to 26 – renting your car & planing your Oman road trip itinerary
#24 – How to rent a car in Oman
Here are a few tips to keep in mind when booking:
The offering is still limited – Book early to get the best prices and the choice of cars
Compare car rental prices on Discovercars.com – one of the best customer-rated comparison sites!
If you are planning on crossing the border to the UAE, make sure you contract allows for it
Always take picture of the car at pick up if there is any visible damage.
Learn more on my article about renting a car in Oman.
Compare car rental deals in Oman
#25 – Renting a car in the UAE and driving to Oman
You can also add Oman to a trip to the Emirates. You can travel from Dubai to Oman by road. It is an easy drive.
If you have rented your car in Dubai or Abu Dhabi and want to take a side trip to Oman, first make sure the rental agency allows it. Then take the extended insurance to cover your time in Oman. Proof of insurance will be requested at the Omani border.
But apart from that, you can drive straight through the border showing your passport at both borders. Plan 5 hours to get to Muscat from Dubai.
Compare car rental deals in Dubai
#26 – Plan your Oman road trip itinerary
Need help planning your Oman road trip itinerary?
Check out my eBook to facilitate planning with my selection of the best places to see and practical maps:
Where to stay in Oman?
My favorites on a road trip:
Want to see more of Oman?
Want to see more of Oman's beauty?
PREVIOUS:
Renting a car in Oman: 36 tips
NEXT:
Where to stay in Oman – towns, hotels and accommodations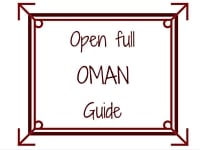 Inspired? Share it on your favorite platform!