Wondering where to stay in Oman? Discover
The 12 best areas / cities to stay in Oman,
The various accommodation options,
suggestions with reviews.
Discover some great Oman hotels, resorts, guesthouses and Wahiba Sands Camps. All you need to find where to stay during your road trip in Oman.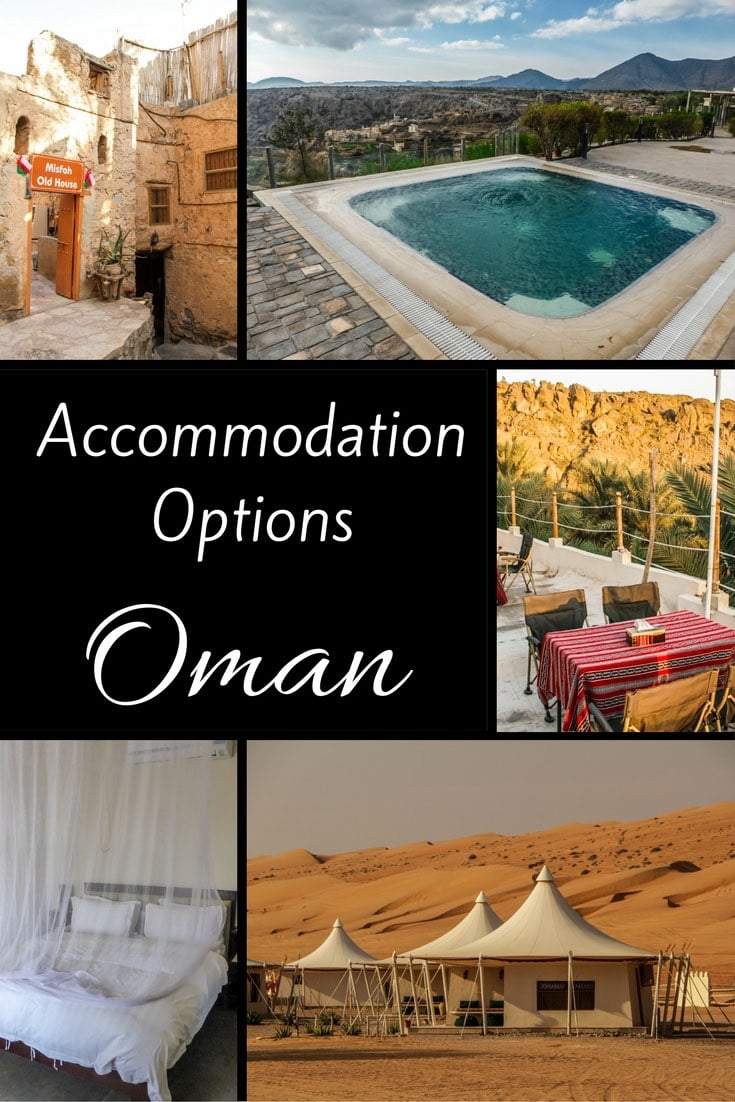 ❝
Best travel guide I have ever read!
Silvian about ZigZag
Where to stay in Oman – Best areas summary & map
Where to stay in Oman – map
Below is a map to help you get oriented:
Overall best towns to visit Oman
In Oman, some of the best places to stay to cover most of the main attractions are the following towns:
More details further down in the article.
Where to stay in Oman to get closer to nature and history?
Some attractions also have accommodation options, such as:
More details further down in the article.
Need to rent a car in Oman?
My tips:
Compare prices on my favorite platform:

Discovercars.com

– one of the best rated comparison sites!
Choose a car with enough power for the mountain roads
Consider their full coverage option – for peace of mind!

Book early

to have a large choice of vehicles!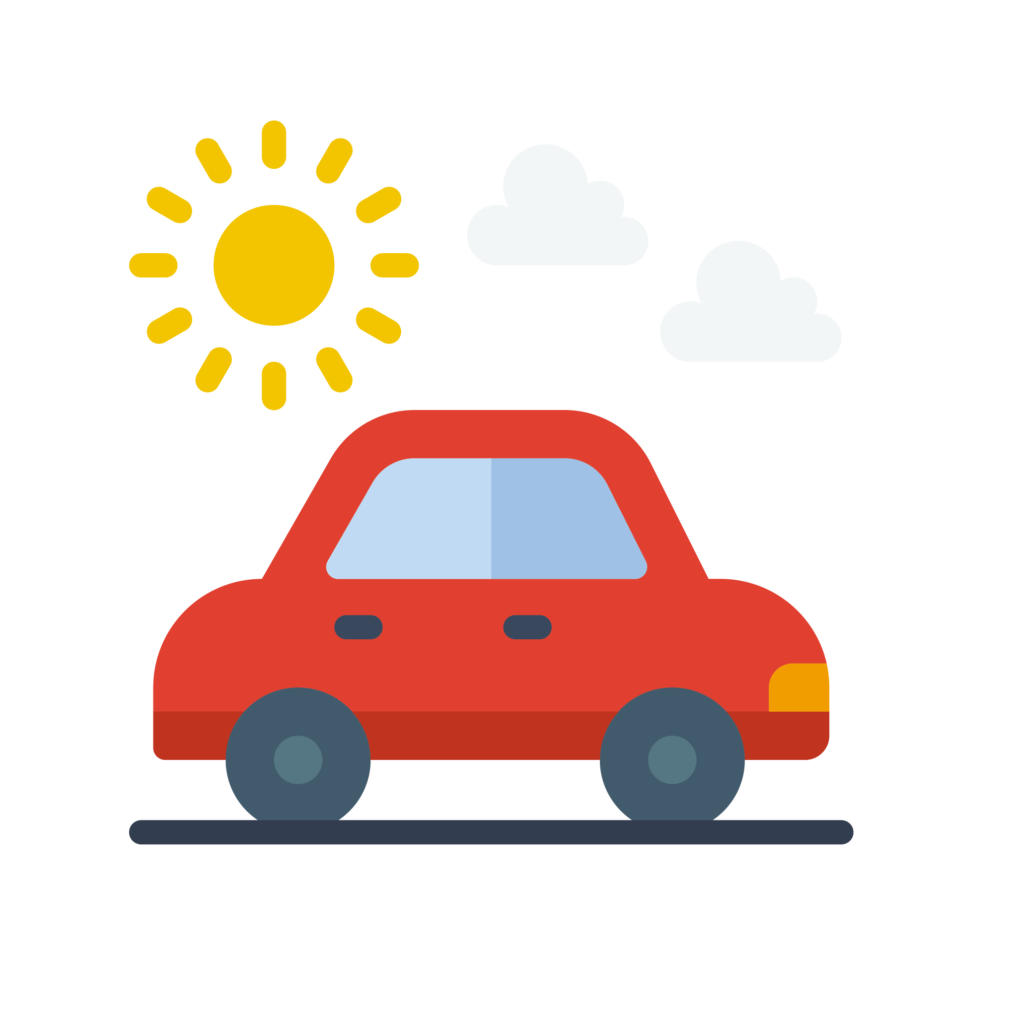 Best hotels in Oman
If you are less about the area and more about the quality of the hotel, here is a list of some of the best hotels in Oman.
My selection is independent. No hotel has paid to be included in this article.
Types of Accommodations in Oman
General information about Oman Accommodations, especially hotels
Muscat has a wide range of hotels
The other big cities of Sur, Nizwa, Sohar etc. also have a good hotel offer but not as much variety
You won't find as much offering as other destinations, but you can find good clean accommodations. And it is developing.
Hotels
You can find level of hotels from no start to luxury 5 stars.
They are mostly in the main cities and near some beaches.
Oman Guesthouses
Mostly in small villages, guesthouses are a great way to discover Oman
Less luxury but more connections
One of the most famous is the Misfah Old house. Check it out in the suggestions below
AirBnB in Oman
AirBnB is developing in Oman
You can find listings. Originally most were to stay with expatriates living in Oman, but locals are doing it too now.
Permanent settlements
In the deserts of Wahiba Sands and the Empty Quarter are permanent settlements that welcome travelers.
Wild Camping in Oman
There are no campsites in Oman but wild camping is allowed almost anywhere
Check out my dedicated article about Wild Camping in Oman
Near the beach, in the desert, or in the mountains… you can stay close to nature
Area 1 – Where to stay in Muscat
Why stay in Muscat
Muscat is the capital city of Oman.
It is also the largest city and it has a lot to offer: forts, souq, museums, beaches, the Grad Mosque, the Royal Opera…
The city is vibrant, but not overwhelming with old neighborhood nestled between bare hills.
Plan at the very least one day in Muscat but 2 days is better.
Best areas to stay in Muscat
Muscat is where you have the most choice in terms of accommodations.
The town is spread out. So it is not the easiest to decide where to stay.
The best areas in my opinion are:
Al Qurum beach to enjoy evening walks on the sands,
or in Muttrah for more traditional restaurant and experience
The cheaper options are in the Ruwi area.
Hotels in Muscat – suggestions
Check accommodation deals in Muscat
Area 2 – Where to stay in Sur
Why stay in Sur?
Sur is a great location to stay for a couple of days.
You can relax at the beach and enjoy the laid-back feeling of the town.
It is a perfect location to visit:
Wadi Shab
Wadi Bani Khalid
Wahiba sands
The Turtle reserves
Muscat to Sur = 2h30 drive
Accommodation options in Sur
Check out the best rated accommodations in Sur.
I don't drink coffee
But I also like other drinks and sweets!
Do you like the free content you find on my blog? All my tips and practical information, without intrusive advertising…

Area 3 – Where to stay in Nizwa
Why stay Nizwa?
Nizwa is the main city in the hinterlands.
It is very central to many attractions in the country such as
Nizwa fort
Bahla Fort
Birkat al Mouz and the irrigation system
Access to the mountains
and so much more!
Muscat to Nizwa = 1h40 drive
Where to stay in Nizwa?
Check accommodation deals in Nizwa
Area 4 – Where to stay in Wahiba Sands – Desert Camps
Why sleep in Wahiba Sands?
Sleeping in the desert is a wonderful experience, the quiet, the colors, the sky…
In Oman, it is easy to spend one night in Wahiba Sands even on a tour from Muscat.
Several permanent settlements welcome tourists.
Wahiba Sands Camp Suggestion
One of the main Wahiba Sands Camps is the Desert Night Camp.
Location: Like all settlements it is in one of the valleys between longitudinal sand dunes. So you need someone to take you around in the dunes
State: As I was wild camping, I did not stay there but my guide had to discuss with them and I was able to tour the facilities. I really enjoyed their settings and the quality of the camp
Other Oman Desert camps in Wahiba Sands
And other camps in the same and other valleys include:
Most offer 4WD tours and camels excursions in the dunes.
All my favorite locations are included (with GPS coordinates, map of region and planning info) in my travel guide eBook that helps you easily plan your Oman road trip:
Area 5 – Jebel Shams Resort – Oman grand canyon stay
Why stay at the top of the Oman Grand Canyon?
Known as the Arabian Grand Canyon, Jebel Shams Oman is a must visit in the Sultanate.
You can do it on a day tour from Muscat but an overnight stay at one of the Jebel Shams Resorts will give you more time to hike and enjoy the sunset and clear night sky.
Jebel Shams Resort Suggestion:
I stayed at the Jebel Shams Resort, which is the last one on the road up to the canyon. From there you can walk around on the plateau all the way to the canyon.
Location: There is nothing else on this plateau, just you and the mountains. 10/15 min walk to the rim of the canyon.
State: Clean and very spacious rooms. Common area for with buffet lunch, dinner and breakfast. not good wifi (of course, considering the isolation). The pool was being cleaned when I was there.
Check-in: Nice staff. No issues.
Breakfast: The buffets are all quite nice.
Other suggestions
The area is not welcoming, so hotel few hotels are available up there.
If the Jebel Shams Resort is full, not far is the Sama Height Resort.
Area 6 – Jebel Akhdar – Best places to stay in the Oman mountains
Why stay in Jebel Akhdar
The mountains of Jebel Akhdar are one of the top destinations in Oman.
The plateau offers magnificent views of the surrounding valleys and mountains, with some greenery and stunning sunsets and sunrises.
4WD is required to get up there but you are rewarded with magnificent views especially at sunset and sunrise.
If you are renting a 2WD (enough or most attractions – see my article about driving), then some hotels have a 4WD service, or you can find rentals at the checkpoint.
Jebel Akdhar hotel Suggestion:
I stayed at the beautiful Sahab Resort and Spa not far from Diana's point.
Location: Fantastic – amazing views of the mountains, the villages and plantations
State: Clean. Very nice furniture. Good wifi. I was upgraded to one of rooms next to the pool. really nice. The jacuzzi has a fantastic view.
Check-in: The staff was not the best I have seen but it was ok. Check in was a bit slow
Breakfast: when they have a lot of people there is a buffet. But because we where not that many I had to order what I wanted. Food was OK.
Other hotel suggestions
Area 7 – Misfat al Abryeen – a night off the beaten path in Oman
Why stay in a small village in Oman?
One of the great things to do in Oman is stay one night in a secluded village in the mountain.
I did it in Misfat Al Abryeen. What an experience!
Locals are still living there. You can enjoy the narrow "streets" of the village after the tourists are left. Watch the sunset, listen to the silence…
Hamra Accommodation Suggestion:
Maybe the most famous guesthouse in Oman, the Misfah Old House is where I stayed near Al Hamra.
There are not many places to stay so it gets full quickly and you should book in advance. (Although surprisingly I was there on a rare day where we were just a few)
Review:
Location: Down in the old village (bring only a small bag, you have to get down many stairs) – the terrace has a great view of the valley and plantations below. Very peaceful environment
State: very simple matresses. Share bathroom. Clean. No issue. Wifi is only one hour a dayat 7pm
Check-in: The people are very nice. One of the owners sat with us at diner and told us stories from the are. It was great!
Breakfast: Nice buffet on the smaller terrace
And keep track of your own trip!
Area 8 to 10 – Best places to stay in Oman for beaches
Area 8 – Masirah Island
Masirah island is a small desert island off the coast of Oman.
It has some beautiful white san beaches, turtles and a a relaxing vibes.
See the best rated accommodation options
Area 9 – AL BATINAH – access to Daymanyiat islands
If you need to relax in luxury near the beach, there are many Oman hotels to satisfy your need on the coast.
On my last night I stayed at the Millennium Beach Resort Mussanah. It is a huge complex with big pool and its own Marina where you can depart to the Daymanyiat islands.
Location: Very isolated but everything is available at the resort – several restaurants, spa, marina, pool etc.
State: Luxurious. Good wifi. Like many resorts it likes character. It is a huge place with weddings and conferences… always busy.
Check-in: No issues.
Breakfast: I woke up very early to get back to Muscat and did not taste their breakfast.
Area 10 – Oman beach resort town – Bar Al Jissah
Not far South of Oman, the main "beach resort area" is at Bar Al Jissah.
There is a beach and great cliffs to explore with kayaks or Jetskis.
The hotel covering the whole area is the Shangri-La Barr Al Jissah – see photos and availability
Area 11 and 12 – Other regions – Salalah and Musandam Peninsula
Area 11 – Where to stay on the Musandam Peninsula
There is not a large choice of hotels in Musandam since many people do day tours from Dubai.
Area 12 – Where to stay in South Oman
The South of Oman is less visited that North.
It is a different experience but with similar landscapes. Here you can enjoy:
the Frankinscense trees
wadis
beaches
the Empty quarter desert
and during the rainy season, all the greenery that appears!
The main town in Salalah – see best rated accommodations
FAQs
Is Oman a good place to stay? It is safe?
Oman is a great place to visit.
People are welcoming and it is one of the safest countries in the World for expats.
You will not find an accommodation offering like its neighboor, Dubai, but it has been able to keep in charm and not be overrun by tourism and modern expansion.
How many days are enough for Oman?
It really depends on what you want to see.
To enjoy all the highlights of Northern Oman, I think 10 days is a good timeframe.
However, if you want to head South or visit the Musandam Peninsula, you will need longer.
Learn more on my article about road tripping in Oman.
Want to see more of Oman?
Planning a trip to Oman?
Check out my travel guide to help you plan:
See more about Oman
PREVIOUS:
NEXT: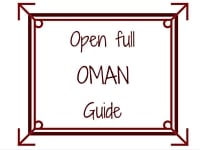 Inspired? Share it on your favorite platform!