Mondrago Natural Park is one of the gems of Mallorca.
Idyllic beaches, turquoise blue waters, forested areas, dunes, lagoons… this protected area offers a peaceful natural experience.
Below is my guide to help you discover its different coves and hikes.
Before my tips + photos, here are my favorites for Mallorca:
Why visit the Mondrago Natural Park in Mallorca?
Is Mondrago Natural Park worth visiting?
Yes, Mondrago Natural Park is worth a visit.
It is home to some of the most beautiful beaches in Mallorca.
The best part of visiting Mondrago is the variety:
Large beaches with fine sand and turquoise waters
Narrow scenic calas, more hidden in the cliffs
Hiking routes along the water with beautiful views of the bay
Walks along a river
WWII historical building
…
Consider including it in your itinerary!
Best things to do in Mondrago
Swim in the crystal clear water
Snorkel around the bottom of the cliffs
Hike Route #2 called "Volto a sa Guardia d'en Garrot"
Birdwatching around the wetlands
About the name and the Natural Park status
In Spanish and Catalan, the names are Parc Natural de Mondrago / Parque Natural de Mondrago.
It is not a National Park but a Natural Park. This status allows for protecting the flora and fauna. It was declared so in 1992. It also has the label Natura 2000 to protect the birds.
The park is 766 hectares, but only 95 of those are public land.
Most of the park is dry land used for agriculture. The pieces of land "rotes" are surrounded by typical stone walls called "marges". Around these lands, traces of centuries of agricultural and livestock activity can be found (wells, stone animal shelters…).
In this article, we will focus on the public lands along the sea.
Planning Tips & Map – Parc Natural de Mondrago, Mallorca
Where is Mondrago Natural Park located? Map
Southeastern coast of Mallorca
In the Municipality of Santanyi
Palma de Mallorca to Mondrago = 1h drive
Alcudia to Mondrago = 1h20 drive
Cala d'Or to Mondrago = 15min drive
Below is a map to help you get oriented:
All my favorite locations are included (with GPS coordinates, maps and tips) in my travel Guide eBook that helps you easily plan your Mallorca road trip:
How to get to Mondrago Natural Park
There are 3 access roads into the park and 2 large carparks
The best option by far is to have a rental car
You can find a bus getting close to the park: Line 507 from Cala d'Or – you can find routes on the transportation official website here.
And during peak season, they can have a touristic train running from Cala d'or
I have not found any guided tour of the park from the main towns in Mallorca
And you can, of course, visit by bike, and avoid the carpark fees!
Need to rent a car in Mallorca?
My tips:
Compare prices on my favorite platform:

Discovercars.com

– one of the best rated comparison sites!
Don't choose a car too large, since some roads are very narrow
Consider their full coverage option – it for peace of mind!

Book early

to have a large choice of vehicles!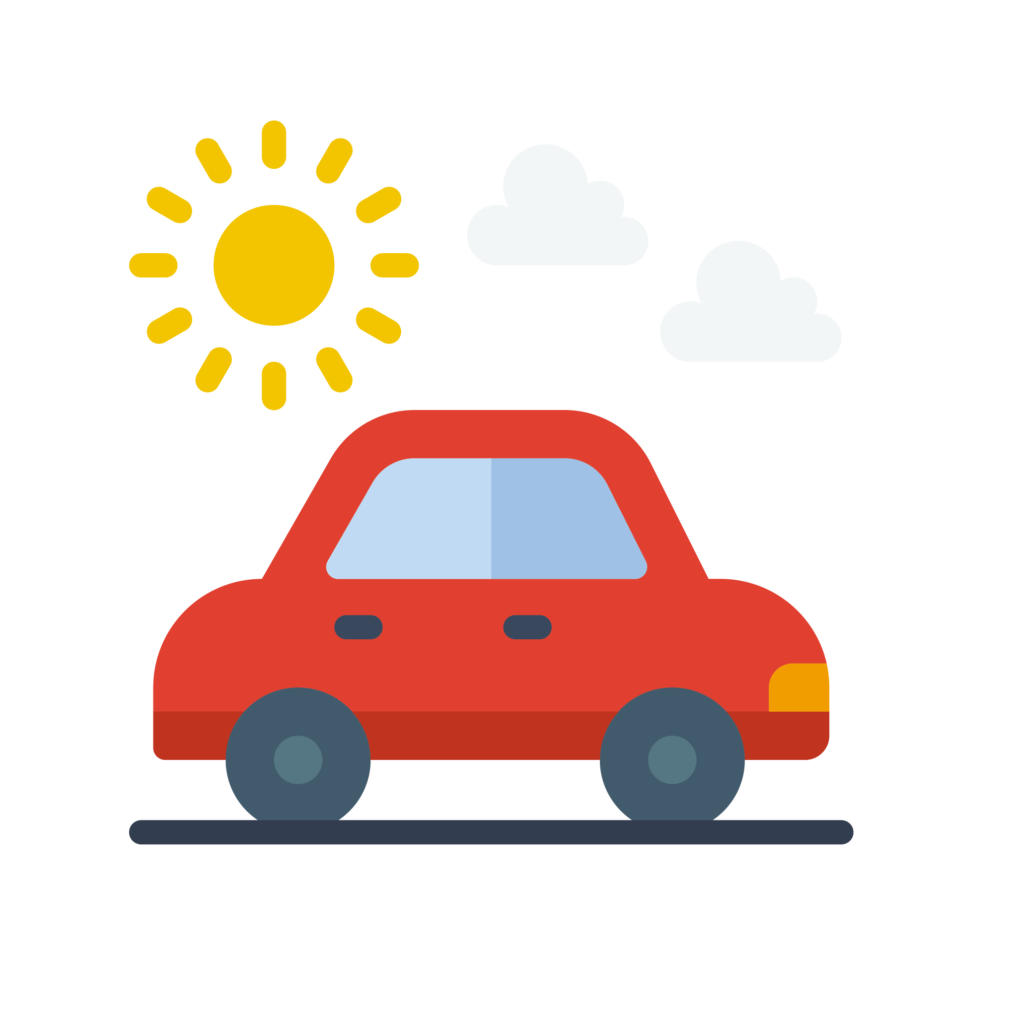 Parkings
There are 2 large carparks around the park
One of the East side, easy walking access to Cala Mondrago and the facilities
One of the West side, with easy access to the wilder Cala S'Amarador
Parking is for a fee, set for the day
The East side is where you will find the restaurants and visitor center
Getting oriented – Mondrago Natural Park map
Throughout the park, you will find maps and signs. This is quite well organised.
The seafront has 3 main coves:
Cala Mondrago (original name: Caló de sa Font de n'Alis) – the most accessible, with bar and restaurant
Cala S'Amarador – a more natural beach with white sand and sand dunes – no restaurants
Calo des Burgit – a much smaller cove, with hiking required to reach it.
There is a network of walking paths that allows you to connect all 3.
Especially between Mondrago and S'Amarador, a paved trail has been set up along the water
Below is one of the maps displayed in the park.
Restaurants
You will find a restaurant and bar only around the main cove Cala Mondrago.
The offer is limited.
But you can also find picnic tables with some shade.
Visit Tips
I recommend arriving early to easily find a parking spot. It can get full quickly during peak season and during weekends other times.
There are toilets near both main beaches
From Cala Mondrago you can rent paddle boards, sun beds, pedal boats and more
The main beach has a life guard
Plan at least half a day
Price – You only have to pay for carpark. Entrance to the Mondrago natural park is free
Where to stay
You can stay right inside the park, near the main beach. There are a few accommodation options:
Or you can find a lot more choices with many restaurants and activities in the nearby resort town of Cala d'Or – see best rated accommodations
Where to stay in Mallorca?
East carpark access + Mondrago visitor center
Visitor center
As you make your way towards the beach from the East carpark, you will come across a small visitor center.
This is also called the northern entrance.
Inside you can learn more about the trails, the wildlife and the area.
Opens 9am to 4pm.
Easy walk
The walk down to the beach is easy. It is along a road (since there is a hotel at the bottom).
There is a clear section for pedestrian most of the way as you can see in the picture below.
Platja de Mondrago – beach (Cala Mondrago)
The main beach is Cala de Mondrago / Playa de Mondrago / Platja de Mondrago / Cala de Sa Font de n'Alis.
It has many many names and spelling!
It is a really stunning beach with soft white sand and a gentle slope into the transparent water.
It is a good beach with children, with a lifeguard on duty.
This is also a great place to start snorkeling along the cliffs. With the rocks and clear waters, it is a wonderful experience.
This is the only beach in the park with all the facilities: restaurant, sunbeds, rental equipment for watersports…
Therefore, it is the most crowded of all the Mondrago Park beaches.
I don't drink coffee
But I also like other drinks and sweets!
Do you like the free content you find on my blog? All my tips and practical information, without intrusive advertising…

Platja de S'Amarador – beach
Walking path between beaches
You can reach the S'Amarador beach in 2 different ways:
From the West carpark
From Cala Mondrago, via a paved walking path along the water
It takes less than 10 minutes to walk between the 2 beaches and you can enjoy open sea views of the bay the entire time.
S'Amarador beach
S'Amarador is a bit wilder. There are no restaurants or hotels.
However, you can find sunbeds to red and toilets nearby. 
There is a lifeguard on duty at certain times.
The sand is fine and the water is turquoise.
There can be algae sometimes, like on every beach in the Mediterranean.
Dunes
At the back of s'Amarador beach is a dune system.
The sand is carried to the beach by the wave and the wind pushes the dry dans to the end of the beach.
It accumulates and creates dunes.
A regeneration project is ongoing. Please respect the sign and do not walk on dunes.
Mondrago Walks
4 trails
4 walking itineraries are recommended around the park.
All of them are under 1 hour:
Mirador de sa Font de n'Alis – an alternative way to connect the carpark with Cala Mondrago with views of the wetlands. You walk through forest and via a lookout over a shallow body of water.
La volta a da Guardia d'en Garrot – a beautiful coastal walk around the headland – see details and pictures below
S'Amarador around the wetland and lagoon behind S'Amarador beach. You can also see "barracas', stone houses typical of the region.
Punta de ses Gatoves – coastal walk on the South headland, through coastal forest. It will lead you to another smaller cove: Cala d'en Perdu
Longer options by bike or on foot are also possible, going inland.
Volta a sa Guardia d'en Garrot
I am not much of a wetland person. I'd rather have stunning coastal views.
So, I have chosen trail #2 around the rocky promontory Guardia d'en Garrot.
And it allows you to visit the third smaller cove: Calo des Burgit.
The trail is well mark and overall easy. You are surrounded by trees with beautiful views of the bay
The promontory is made of stack of limestone slabs (from 10 billion years ago).
You can admire the work of erosion of those stones. Especially a sea cave.
On the low terraced cliffs, the erosion by the sea has created tenasses: flat areas of rock covered by the sea.
Mondrago bay mouth
Once at the end of the headland, you can admire the mouth of the bay and get oriented with some signs along the way.
Nest of machine guns
You come to Mondrago for the natural wonders of the area.
But, surprisingly, on this trail, you can also discover a bit of history.
There is a shelter built in the 1940s for military purpose.
It is at a strategic location to monitor boats entering the coves.
Before, there was a tower part of the defence network from the 16th and 17th centuries (you can still see many of them around the island).
East views
The hike continues on the East side of the headland with more beautiful views of the coastline and of Calo des Borgit.
Plan your trip to Mallorca:
Calo des Borgit
Calo des Borgit is a lot less popular than the 2 other beaches.
It is much smaller and away from any facilities.
But it is also one of the more scenic because of it.
Wildlife and Wetland
The area also has rivers and wetlands around them:
Torrent de ses coves del Rei
Torrent Roig s'Amorador
Fauna
In the park, you can find Algeria hedgehogs, the common weasel, the genet, the pine marten as well as rodent and small reptiles.
Mondrago Birdwatching
The area is mostly recognized for its bird life – thanks to the wetlands and cliffs and because it is on the Western European migratory route.
You can find among many:
The Stone Curlew (burhinus oedicnemus),
the wood pigeon (Solumba palumbus),
the turtle dove (Streptopelia turtur),
the kestrel,
the peregrine falcon,
Audouin's gull
…
Attractions near Mondrago
If you are not staying all day in the natural park, you can combine your visit with a few other nearby attractions.
Es Forti
Es Forti is a square shaped fortress on a headland. It lies at the mouth of Cala Llonga, near Cala d'Or.
Built in 1730, it was completely destroyed in 1793 by an earthquake. The current version dates back to 1793.
The coves of Cala d'Or
Around the resort town of Cala d'Or, you can find some famous calas such as Cala Esmeralda and Cala Sa Nau.
They are beautiful but crowded and noisy.
Cala Figuera
Cala Figuera is a small fishermen village that has kept its charm.
It is located on a narrow arm of water, along cliffside and lush vegetation.
It can be enjoyed at water level, discovering the traditional houses with green accent and the boat houses.
And it can be enjoyed from the top of the cliffs with mesmerizing views of turquoise waters and nature's carving work.
Calo des Moro
Calo des Moro, in Mallorca, is one of the most beautiful places to visit on the island.
The hidden paradise, is narrow with a beautiful headlands and higher cliffs.
But it is also extremely popular!
See my article about Calo des Moro
30min drive from Mondrago East carpark.
Want to see more of Mallorca?
Planning a trip to Mallorca?
Check out my travel guide to help you plan:
And keep track of your own trip!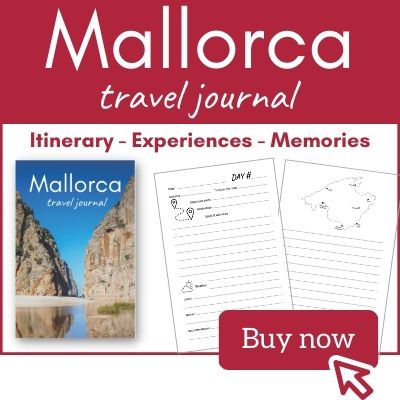 PREVIOUS:
Calo des Moro (beach, access, tips..)
NEXT:
Cala de Portals Vells – beaches and cave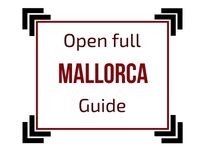 Inspired? Share it on your favorite platform!