Should you rent a car in Mallorca? My answer is definitively a yes.
Below is my complete guide about driving in Mallorca, including:
Is driving difficult? safe?
Driving rules,
Road conditions and safety tips,
Parking information,
Car rental tips
Most beautiful roads not to miss,
…
Everything to get ready, including a short video to give you perspective.
Before my tips + photos, here are my favorites for Mallorca:
Driving in Mallorca – Essentials to know + video
Video
Below is a short video to give you a taste of what driving in Mallorca, Spain looks like:
on the fast roads,
on mountain roads,
in towns and villages,
…
Essentials to know before driving in Mallorca
If you don't want to read the entire article, here are the major points to be aware of about driving in Mallorca:
Minimum age in 18 (but 21 for renting a car)
Driving in on the

right side

of the road
Roads are overall in OK conditions, but not excellent
Wearing flip-flops to drive is prohibited (like in many countries)
There are many narrow roads, don't choose a wide car
Part of the island is mountainous
Locals can be impatient, don't forget to check your mirrors for locals overtaking you
National speed limits are – 120 km/h on dual carriageways and motorways, 90 km/h on all other roads and 30 km/h in built-up areas.
In case of accident – emergency number: 112
Where I get my rental car
I always compare prices right away on Discovercars.com.
This is one of the best customer-rated comparison sites on the market.
I have found really great deals and I think the platform super easy to use. I can filter based on my criteria.
Plus, they have a practical coverage option at great price that will cover you in case of damage to the outside of the car.
Check out their current car rental deals in Mallorca.
Need more help renting a car in Mallorca? Read my 36 tips for a worry-free experience.
Getting around Mallorca – by car or not?
Do you need a car in Mallorca?
No, if you mostly want to stay at a resort and go to the beach
No, if you are staying in Palma de Mallorca for just a weekend
Yes, if you you want to enjoy the variety of sceneries Mallorca has to offer: coves, beaches, castles, mountains, cliffs…
Yes, if you want to have the freedom to adapt your program to the weather or avoid the crowded times (e.g. Formentor during the day!)
Yes, if you want to enjoy the gems off the beaten path
Overall, I think renting a car is the best way to explore the island and see all the best things to do, plus off the beaten path locations.
It will allow you to see the best landscapes Mallorca offers.
All my favorite locations are included (with GPS coordinates, map and tips) in my travel guide eBook that helps you easily plan your Mallorca road trip:
Is driving in Mallorca safe? Is it easy?
To be honest, Mallorca is not my favorite destination for driving.
It is not dramatically difficult, but it is not the most comfortable experience.
Here is my analysis of the situation:
On the positive side:
Roads are overall in correct conditions,
The island is not huge, you never drive for too long
There is a fast road crossing the island East to West, which makes exploring easier
On the negative side:
When you leave the main roads, there are many very narrow roads
It is very crowded with lots of tourists (who don't know the size of their rental cars)
Some mountain roads have a steep drop and not much protection
Getting around Mallorca without a car
It is possible to get around Mallorca without a car, to see the major sights:
Bus – There is a network of public transportation – Especially if you are staying in Palma de Mallorca
Organized tours – If you are staying in Palma or one of the main resort towns, you can find a variety of guided tours to enjoy the main sights or do fun activities – see options
Taxis – You can take a taxi to specific locations but it will get very expensive
Driving times
Below is a map of the driving times you can expect around Mallorca.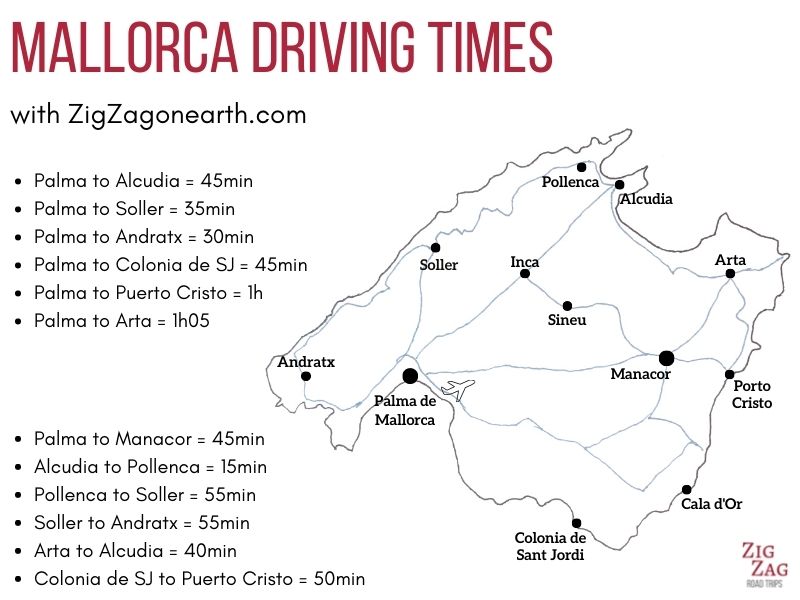 #1 to 6 – Mallorca Driving Rules (Spain)
Let's start with general rules and regulations you should be aware of:
#1 – License requirement / Age – Do I need an international driver's permit?
To drive in Mallorca / Spain you need a valid driving licence from your country.
People with EU licenses can drive on their holidays with only their valid national licenses
All other nationalities must have an International Driving Permit (on top of their national license)
You must be 18 years of age (but know that many rental companies may have other age requirements).
It is also mandatory to always have the vehicle registration documents as well as a valid ID, such as your passport, with you.
#2 – Side of the road
Driving is on the right side of the road.
It is very important to remember it on one lane roads when you have to give way!
#3 – General behavior rules
Seatbelts are mandatory for all
No cell phone while driving
Kids under 12 cannot seat in the front of the car
Do not wear flip-flops to drive
Overtaking can only be done on the left side
#4 – Alcohol and driving
The legal alcohol limit here is 0.05%. Driving under the influence is considered a serious offence.
I always recommend not drinking at all if you are driving.
#5 – Mandatory equipment to have in your car
In Spain, the following pieces of equipment must be available in the car:
2 Warning triangles
Reflective vest or jacket
Spare wheel and tools to change it
First aid kit (advised, not mandatory)
Flashlight (advised, not mandatory)
Children under 18kg (39.7 pounds) in weight must be in child seats
Children under 135cm (4.4ft) tall should be in the rear seats on a booster.
#6 – Mandatory insurance in Spain / Mallorca
The only mandatory insurance in Spain is: unlimited third-party liability insurance – it is automatically included in the price of all car rentals.
If you are visiting with your own car, don't forget to bring proof of insurance.
Compare car rental prices in Mallorca
#7 to 12 – Roads conditions and Road Signs in Mallorca
#7 – Conditions of fast roads and secondary roads
The motorways and fast roads are in good conditions
Lanes are clearly marked
Drive on the right lane, unless overtaking
Overtaking is always on the left side
There are some tunnels – nothing scary, they are wide and well lit
#8 – Driving in the mountains
In the North and North West of Mallorca, there are mountains: The Tramuntana mountains.
The main road through them (West to East) is Ma-10 is easy enough with one lane in each direction and good protection
However, side roads to beaches, villages or hidden gems are often narrow, winding and less protected. Make sure to drive slowly
In

my eBook

, I share with you if one access road is scary, so that you can make a decision to go or not.
#9 – Narrow access to attractions
Even outside the mountains, there are side roads to beaches or shortcuts through farmlands which are on very narrow roads.
Always look far ahead to plan on how to cross path with other cars.
Plus, don't forget that you can close your outside mirrors to make it easier!
#9 – Driving in towns & villages
There is a wide variety of situations in towns and villages.
However all towns have an old center. Most streets in those centers are narrow as well!
Plus, know that Mallorca loves speed bumps.
#10 – Speed limit & signs
Speed limits are indicated on circular signs with red border and a number
Speed limits are in kilometers per hour
National speed limits are – 120 km/h on dual carriageways and motorways, 90 km/h on all other roads and 30 km/h in built-up areas.
#11 – Other road signs in Mallorca
The road signs are classic in Latin letters, nothing specific to know.
There are plenty of signs to indicate directions.
Points of interest are indicated on brown signs.
#12 – Tolls in Mallorca
There are not roads, tunnel or bridge with a toll.
The Soller tunnel (often listed by articles) does not have a toll anymore.
I don't drink coffee
But I also like other drinks and sweets!
Do you like the free content you find on my blog? All my tips and practical information, without intrusive advertising…

#13 to 15 – How to drive safely
#13 – Know the potential dangers
Apart from you driving too fast, the main dangers on the Mallorca roads are:
The cyclists
Mallorca is a dream cycling destination. And they love the mountain roads.
Therefore you will have to overtake many of them, but you don't always have to visibility…
So you will need a lot of patience to avoid taking risks.
The animals
In the mountains and the countryside, you can have animals appearing on the side or on roads.
Pay attention!
Pouring rain
Mallorca is a great destination with beautiful weather.
But it can still rain. And often, it can rain for a short time but very heavily. In those case, the water has difficulty draining and create "swimming-pools".
Stop if you can when it rains. And be extra careful after the rain.
#14 – Specific driving tips
Some specifics to Mallorca driving are:
In old villages, there can be narrow sharp turn. But look up, there are often mirrors to help you see.
Don't plan too much in one day – between the cyclist, the narrow roads and the many tourists, driving around and finding parking will take some time.
#15 – What to do in case of accident
In case there are people hurt or there is a conflict, the emergency number in Mallorca is 112.
The best order of actions is:
contact emergency services
contact the police
contact your rental provider
#16 to 17 – Parking in Mallorca
#16 – Parking in towns
In Palma de Mallorca you can find street parking and underground carparks – I recommend heading directly to one of those carparks to save time
In most touristic towns and villages, you have to pay for parking. Don't forget to display your ticket.
Areas where you have to pay are indicated with blue lines
In other towns you can find free parking
Be very respectful of not no parking signs if you want to keep your car
#17 – Parking at beaches, old villages, attractions
Many attractions have carparks requiring payments.
Iconic villages have timed-fees with display tickets
Beaches have entry booth where you pay one fee for the day – cash only
However, off the beaten paths, you can find attractions with free carparks, especially in the center of the island.
I would say that half of the locations I visited had free parking.
Note: for the villages, there are often few places to park. Visit early!
Where to stay in Mallorca?
#17 to 18 – Gas station
#17 – Fuels and their names
Petrol station in Spanish is "estación de servicio"
Petrol is on green pump – called "gasolina" and if unleaded "gasolina sin plomo"
Diesel is on Black pump called "gasoil"
See the concentration of electric car charging station, where you are going in Mallorca on this website
#18 – Management of gas station – refueling
Prices are by the liter
There are stations roughly everywhere, so don't worry
Many stations have gas station attendants
During night time you may have to prepay before being able to fill up
#19 – Most beautiful roads in Mallorca
If you want to drive on the most beautiful roads in Mallorca, don't miss:
Ma-10, the road all the way through the Tramuntana mountains
Ma-2210, the road along the Formentor Peninsula – see more
Sa Calobra via Coll dels Reis – see more
Road to Santuari da Cura
…
Plan your trip to Mallorca:
#20 to 24 – Renting a car in Mallorca
Below is a snapshot with the main things to know.
You can learn more on my article about renting a car in Mallorca.
#20 – Type of car to rent
Transmission
Most cars in Mallorca have manual transmission. You will pay more for automatic and they are fewer options.
Size
My main recommendation is to not pick a large car. There are many narrow roads where you can have to cross path with other cars and with bus. Driving a narrow car is less stressful
Power
All cars will be able to drive all around the island. There are not very steep roads. However, It will be more comfortable in the mountains, if you don't choose the smallest engine.
No need for a 4WD
#21 – Where to rent
Cars can be rented for all major beach towns and from the airport.
If you want to see only a couple of things, you could rent only for a few days from the place where you are staying.
However, to be able to explore the entire island and see all its magnificent landscapes, the best option is the airport.
You can find all the main rental companies.
The main car rental hubs in Mallorca are:
#22 – Best rental car company
When reading reviews, don't forget that on Tripadvisor or Google for example, anyone can write a review even if they have not used the company.
On the platform Discovercars.com, each rental company has a mark on 10 points. This is an average of the marks given by actual customers.
Some of the best rated rental car companies in Mallorca are:
Sixt
National
Alamo
Enterprise
I have personally used Centauro. There have a lesser rating, probably because you have to use a shuttle to reach the cars. However, it went smoothly
#23 – General tips for worry-free experience
There is nothing special about renting a car in Mallorca – no specific scam or rules
As everywhere, I recommend a thorough examination of the car before taking it (and take pictures) – and don't fall for extra insurance hard sell
Book early to get the best prices and the choice of cars
#24 – Changing island
Most of the companies do not allow you to change island with your car. And you will be in big trouble if you do go and have a technical issue or accident.
So best to do a comparison:
Cost of ferry for the entire party + car with company that allows it
Versus – Cost of ferry seat without car for the entire party + rental
If renting with Discovercars.com, once you selected a car you can click on "Rental conditions" and then again "Rental conditions" or "Additional conditions" to find the "geographical restrictions".
If it is not documented, you can add the question to customer support.
Plan your Mallorca Itinerary
Want to see more of Mallorca?
Planning a trip to Mallorca?
Check out my travel guide to help you plan:
And keep track of your own trip!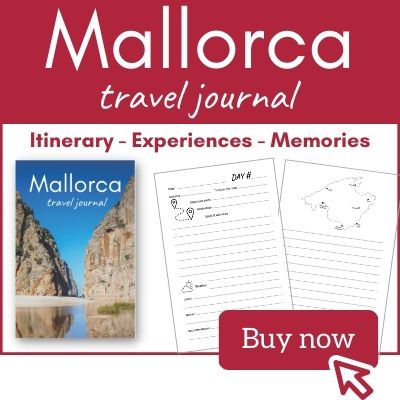 PREVIOUS:
How to rent a car in Mallorca – 36 tips
NEXT:
2 or 3 days in Mallorca – weekend ideas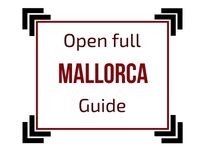 Inspired? Share it on your favorite platform!