Wondering what the Slovenia landscapes look like? Mountains, old towns, lakes, emerald rivers… get ready to be mesmerized!
Here is a selection of 30 Slovenia Pictures I took that will probably make you add this country to your Travel Bucket list!
Before my tips + photos, here are my favorites for Slovenia:
1. Lake Bled – Classic Slovenia Picture
Lake Bled is probably the most famous destination in Slovenia. Some tourists don't even visit the capital city and head straight to Lake Bled. And it is easy to understand why. Between the color of the water, its size neither too small nor too big, the cute little island in the middle and the surrounding mountain… the place is postcard-perfect!
Check out my detailed guide to planning your Lake Bled holidays
2. Vingtar Gorge
The Vingtar Gorge was one of my favorite things to do in Slovenia. I went early to avoid the bus crowds and it was just magical. The narrow part of the gorge with the emerald color of the water was simply mesmerizing.
This easy walk is a must-do, a real gem.
Many photos and a video on the Vingtar Gorge walk article.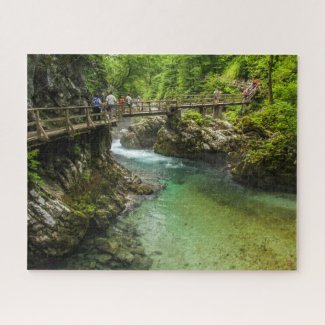 3. Savica Waterfall
Probably the most famous of all waterfalls in Slovenia.
Take just the fall and it is not that special. Take just the pool and you think 'yeah, not bad but…'. However, combine them and you get Slap Savica. I couldn' stop taking pictures!!!!
Many more pictures and video on the Savica Waterfall article.
4. Lake Bled Island
Going to the island is kind of a big tourist trap but I must admit getting closer to it was nice. They really used all they could of this little rock in the middle of the lake.
And once again look at the color of the water!
5. Bohinj Lake – Stunning Slovenia Scenery
Not far from lake Bled, you can find Lake Bohinj which has been able to stay more natural. Even when the weather is not great, it is worth exploring its shores. So peaceful!
More photos on my article dedicated to Lake Bohinj
6. Pericnik Waterfall
I love walking behind waterfalls. How about you? I did it in Iceland and I did it again in Slovenia! This is not the most well-known waterfalls in the country but it sure was one of my favorites.
Many more pictures and a video of Pericnik in the dedicated article
7. Piran
Piran is the most well-known of the Slovenian Coastal Towns. It has had a long history thanks to its salt pans. And today, the tourism industry is taking over, leading you in the narrow streets of this charming town.
See more photos on my guide about the things to do in Piran and the Slovenia Coast
8. Logar Valley – magnificent Slovenia Landscape
At the beginning of my planning, the Logar Valley was not on my radar. But luckily it finally appeared in my research and I had an amazing time here. The valley is beautiful, and the nearby Panoramic road will take your breath away. (more photos here)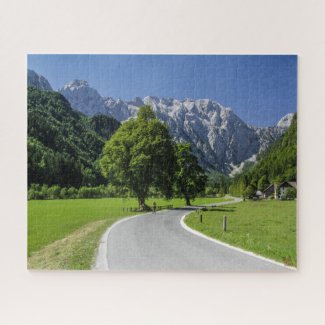 9. Jasna Lake
Before driving to the famous VRSIC pass in the Julian Alps, don't miss a stop at the Jasna Lake. Great place for a picnic with the intense color of the water and the pointy surrounding mountains. I promise this is the real color!
More photos on the VRSIC pass and lake Jasna article
10. Piran Walls
I talked to you about Piran at photo 7, well this is the city as seen from the old Fortification walls. I love it when you can get a bird eye view of a place.
Plan a couple of days there to really enjoy it and relax.
About the Slovenia Landscapes
Slovenia is absolutely stunning. As you see in this article, the colors are sometimes hard to believe.
I sometimes thought that 'people will think I am using filters, they won't believe these colors are real!'. And yet they are.
It was really difficult to limit myself to 30 pictures. I would love to share so many more. But I will do in the various articles.
This is just a snapshot to give you an idea of what to expect.
I have tried to include as many types of Slovenia Landscapes as possible: mountain scenery, old towns, Coastal landscapes, photos of monuments…
Enjoy!
PS – All the locations listed below are included in my Travel Guide eBook to help you plan your Slovenia road trip:
11. Kamnik
Charming little town north of Ljubljana, the best views are from the old castle church to see the roofs with the mountains in the background. Stunning, isn't it?
12. Soca River
You might not know the name, but you most probably have seen pictures of it. The Soca River a.k.a. the Emerald River is flowing through the Triglav National Park.
It is paradise for rafting and kayaking. The water flows through large and narrow sections but keeps its incredible transparency and emerald color.
More photos of the Soca River and its valley in my dedicated article.
13. Kozjansko Castle
With its many mountains and hills, Slovenia has many small castle places around the country to defend the territory. Kozjansko is one of the lesser known because it is off the beaten path, but I think it deserves a detour.
14. Storms
In Summer, heat gets stuck over Slovenia and storms are common at the end of the day. Sometimes it is worth stepping out to enjoy the weather intensity!
I don't drink coffee
But I also like other drinks and sweets!
Do you like the free content you find on my blog? All my tips and practical information, without intrusive advertising…

15. Solcavska Panoramic Road
The Logar Valley region (Logarska Dolina) is being developed for tourism. They are improving a panoramic road that takes you to traditional farms to sample their products. But it also leads you to some unforgettable viewpoints 🙂 Some of the best Slovenia Landscapes you can admire.
16. Izola
Less famous than its neighbor Piran, Izola is a fishing village also located on a small peninsula. And luckily there is a great viewpoint on the way to Piran.
17. VRSIC Pass
The most famous mountain road in Slovenia is the VRSIC pass. It has 50 crazy turns but also magnificent views of the Julian Alps. We stopped at every parking possible to enjoy the walls of mountains around us.
Here as well, some of the best landscapes in Slovenia.
More photos on the VRSIC pass and lake Jasna article
Need to rent a car in Slovenia?
My tips:
Compare prices on my favorite platform:

Discovercars.com

– one of the best rated comparison sites!
Choose a car with enough power for the mountain roads
Consider their full coverage option – it for peace of mind!

Book early

to have a large choice of vehicles!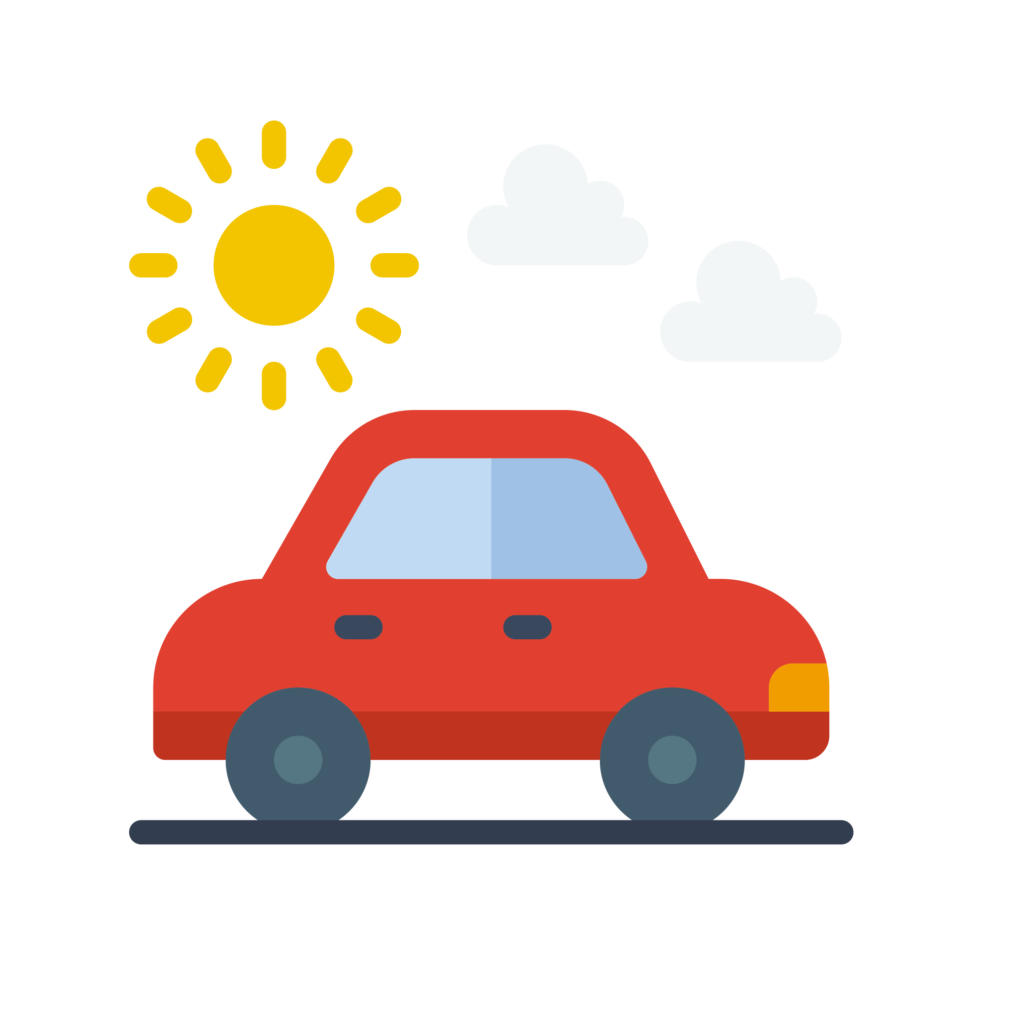 18. Celje Castle
Of all the castles in Slovenia, Celje was my favorite. Probably because of its location offering incredible views over the town of Celje, the river and the mountains.
But probably also because is it is not as strangly restored as much as the others. Restoration is not where Slovenia is the best at…
19. Novo Mesto
Slovenia has a lot of smaller towns, with a river going around. This is fantastic for photography. Here is Novo Mesto in the Eastern part of Slovenia. The Krka Valley is off the beaten path in Slovenia, but worth a visit.
20. More mountains
I loves the Solcava panoramic road so much, that I picked another picture from another stop. You can see why, can't you?
Discover more photos of the Logar Valley and Slocava Panoramic road in my article about the region.
21. Most na Soci
This emerald color is just everywhere. Sometimes I had to check my glasses were not playing tricks with me. But no, this is the reality. Here around Most na Soci.
22. Ljubljana
No, I have not forgotten the capital city. But my favorite Slovenia landscapes are in nature… However, the view from the historical building in Ljubljana called Skyscraper is a success. You can see the old town protected by the castle and the mountains in the background.
One of the best views in Ljubljana.
23. Lake Bohinj
I must say I am a bit disappointed by my pictures of Lake Bohinj. It is a really beautiful and peaceful lake and I am frustrated that I have not been able to capture it.
24. Maribor
Maribor is the 2nd city in Slovenia. It did not particularly enjoy it, but I did like climbing Piramida Hill to see it from above 🙂
More photos on my Maribor Article
25. Postojna Caves
WOW. Yes, it is touristy, but it is incredibly well done. Where in the world can you take a train for 3km to enter a series of caves with impressive formations everywhere you look? Unbelievable! These are the Postojna Caves
Where to stay in Slovenia?
My favorites ona road trip:
26. Zice Charterhouse
Another stop off the beaten track. As in many other places, we were all alone to discover this place. Niched in a valley and quite isolated, this monastery is quite photogenic.
27. Soca River
Another section of the Soca River, this time bit wider. Ready to pack your bags?
28. Virje waterfall
I really thought that fairies would appear at this waterfall. Located not far from Bovec, it probably offers 50 shades of greens!
29. Ljubljana River
The capital city of Ljubljana is cut through by a river. Small boats take you on a 45min cruise to discover the city from another angle. Very relaxing.
30. Sunset in Slovenia
Even in the less mountainous parts of the country, the Slovenia landscapes are never flat. Always a pleasure to just drive around to admire the scenery.
Want to see more of the best Slovenia has to offer?
Planning a trip to Slovenia?
Check out my travel guide to help you plan:
Where to stay in Slovenia?
My favorites ona road trip:
And keep track of your own trip!
PREVIOUS:
THINGS TO DO IN MARIBOR SLOVENIA
NEXT:
Inspired? Share it on your favorite platform!