When traveling to Santorini, people dream of those stunning white villages on the edge of the caldera.
You don't want to miss on those amazing views, I understand. So the most frequent question is: Oia or Fira – Where should I stay?
Below is my detailed comparison guide to help you decide: Fira vs Oia.
Before my tips + photos, here are my favorites for Santorini:
Oia or Fira – where to stay on Santorini? short answer
If you don't want to read the whole article with explanations and photos, below are my short answers depending on what you are looking for:
My overall choice – Despite the practicality of Fira to explore the island, I prefer the charm of Oia
For views – both offer great views of the caldeira, but I have a preference for Oia
For photography – I think Oia offers more interesting angles and scenery for photography
For people who want to explore by bus – Fira is where all the buses depart and return, hence, way more practical
For shopping and nightlife – Fira
To join organized tours and activities – Both are included in pick up routes
Distances – Fira is more central to explore the island – Fira is 10min drive from the airport while Oia is around 30min away
None of them are close to the beaches (driving is required)
If you have more than 3 nights, I recommend splitting your time with several accommodations
There is a large choice of accommodations in both villages –
See my accommodation suggestions for both at the end of the article
Note: Fira can also be written Thera or Thira.
If you are not sure if you want to stay in one of those villages, check out my article about the best areas to stay in Santorini.
Locations & practicality – Oia vs Fira
Let's start by talking distances and how easy it is to explore the island from both of them.
Distances in Santorini
Below is an introduction map of Santorini to help you get oriented.
As you can see, Fira is a little bit more central : it is closer to beaches, to the airport and to the ferry port. It really is the central hub of the island.
Distances from Fira
Fira to airport = 10min drive
Fira to ferry port = 15min
Fira to Kamari Beach = 15min
Fira to Perissa Beach = 25min
Fira to Red Beach = 30min
Distances from Oia
Oia to airport = 30min drive
Oia to ferry port = 30min
Oia to Kamari Beach = 30min
Oia to Perissa Beach = 50min
Oia to Red Beach = 45min
Yes, Oia is further away but we are not talking major impact on your trip. The island is not big…
The other point to note is that Oia has a one way circulation, and sometimes you have to make a big loop to reach your destination inside the village.
Check out my article about Driving in Santorini.
Need to rent a car in Santorini?
My tips:
Compare prices on my favorite platform:

Discovercars.com

– one of the best rated comparison sites!
Don't take a car too large, since village streets can be narrow
Consider their full coverage option – it for peace of mind!

Book early

to have a large choice of vehicles!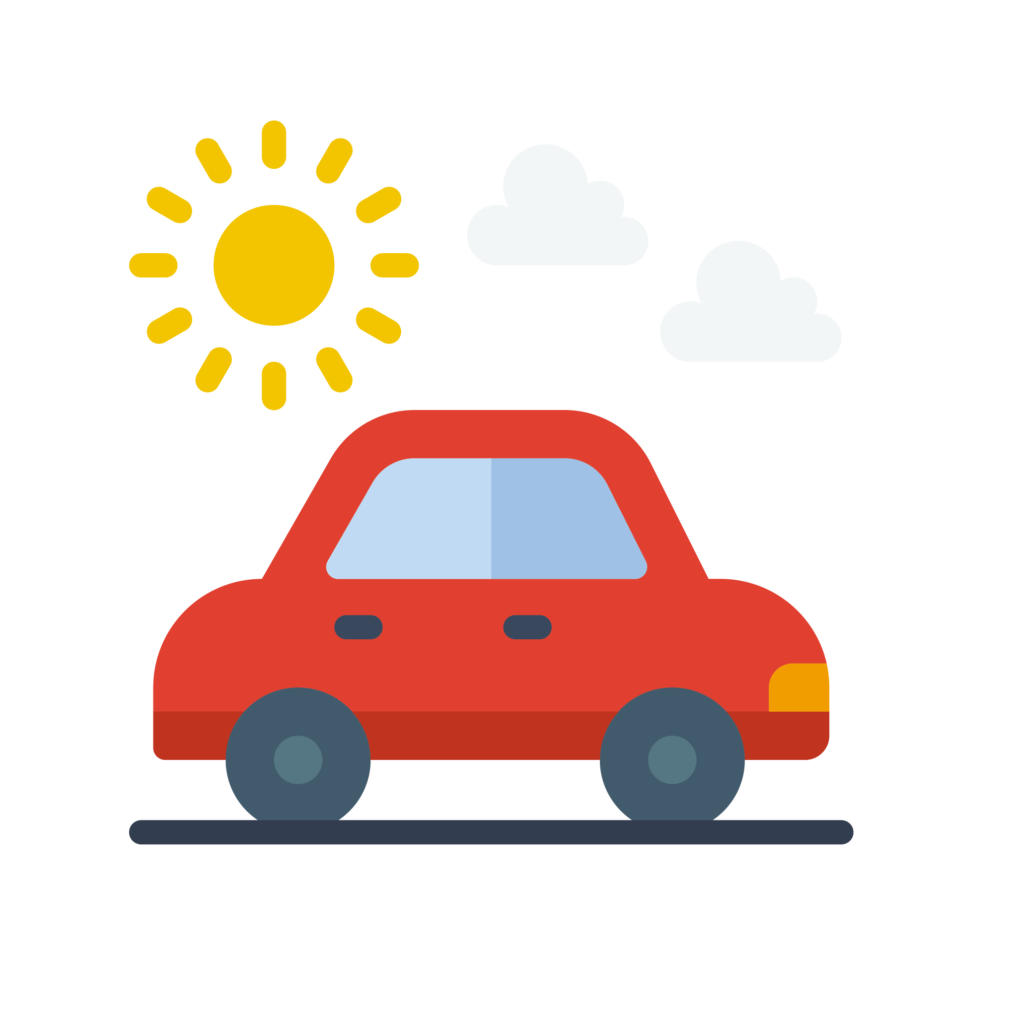 Getting around Santorini from Fira vs Oia
If you are planning on exploring by bus everyday, Fira is definitively the only option for you. All buses depart and come back to Fira.
This way you don't have to plan an extra leg of your journey both ways, especially, as the bus from Fira to Oia is often full.
If you are driving around by car, none of those villages are really ideal. They both have a lot of traffic, narrow streets and one way circulation to deal with.
If you are planning on exploring Santorini by car, below is my guide to help you easily plan your trip:
Best views – Fira or Oia?
As you can see in the pictures below, both villages are right on the edge of the caldera:
Views of the caldera from Oia
The advantage of Oia is that it is made of several villages and it is quite long. Therefore there is a large variety of viewpoints to choose from, many churches and many angles.
It even has 2 bays where houses stretch down the cliffs and where you can walk to the bottom for different perspectives: Ammoudi Bay and Armeni Bay.
In my eyes, I really think Oia looks prettier in terms of overall scenery and offers the best views.
Views of the caldera from Fira
Fira is a more condensed village, with more yellow buildings.
The views towards the caldera are as good as in Oia, but the views with the buildings are more limited and less charming (in my opinion)
I don't drink coffee
But I also like other drinks and sweets!
Do you like the free content you find on my blog? All my tips and practical information, without intrusive advertising…

Exploring the towns – Fira vs Oia – most photogenic?
The main reason why people visit Santorini, is for those fascinating white houses right on the cliffs of the caldera. Both villages are typical with mostly white houses but also buildings with other colors.
However, in my opinion, Oia has many more interesting photo angles and buildings worth photographing. And, if staying there, I strongly recommend exploring it at sunrise. It offers a very different experience!
Examples of photo locations in Oia
Oia has windmills, more blue dome churches, the 2 bays with buildings down the cliff, doors leading to the sea… Check out my article about the best things to do in Oia.
Examples of photo locations in Fira
While Fira is more difficult to photograph and has less interesting angles with nice buildings.
Watching sunsets in Santorini
In terms of sunset, the whole West coast of Santorini offers great experiences.
The most famous viewpoint is the castle in Oia, as you enjoy the whole Ammoudi bay with the sun setting behind the buildings. However, Oia is overly crowded at sunset and it is not enjoyable.
Depending on the time of the year, the alignment of the sunset will vary. You can check it, on your travel dates, on The Photographer's Ephemeris.
Overall:
if you want to see the sun setting behind buildings, then Oia is perfect
if you want to see the sun setting on the water, the angle of Fira will be better most of the year
Activities – Things to do in Oia vs Things to do in Fira
Day trips
Let's start by clearing one thing up. All organized day trips include pick up in both Fira and Oia : the wine tours, the boat tours (see my favorite ones), the walking tours, the sunset tours…
Therefore there is no better place to stay in that regard. They all offer easy access to the best things to do in Santorini.
Local ports – Amoudi Bay vs Santorini Old Harbour
Both villages offer the possibility to get down to water level where you will find their small ports:
In Oia, you can go to Amoudi Bay via the stairs or via a road (but not many parking spaces at the bottom)
In Fira, you can go down to the old port via the stairs or via the cable car
The Amoudi bay fishing port is more charming in my opinion
Activities in town
Except for admiring the views and getting lost in the maze of narrow alleys, what more is there to do in both villages?
Great restaurants in both
Oia is mostly accommodations, there are less shopping opportunities than in Fira
Fira has several museums including about folklore and archeology
Oia has the small Maritime museum
Where to stay – Fira & Oia accommodations
Both villages have a very wide choice of accommodations with hotels, cave houses, rentals…
However Oia has many more high end small accommodations (cave houses) for unique experiences.
Overall, prices are cheaper in Fira
Now that you have seen both villages and what they offer, I hope you have made your choice. Below are some accommodation suggestions for both if you are ready to book.
Best places to stay in Oia
Best places to stay in Fira
Where to stay in Santorini ? Other options
However Oia and Fira are not the only 2 options of places to stay in Santorini. You also have:
Want to see more of the best Santorini has to offer?
Want to see more of Santorini?
PREVIOUS:
Perissa or Kamari Beach – where to go?
NEXT:
Inspired? Share it on your favorite platform!