The Santorini scenery makes it a dream destination for many: impressive cliffs, charming white architecture, deep blue water…
The photos of Santorini are not exaggerated, it is as good in real life!
Below are some of the best views in Santorini you could enjoy – some famous and others off the beaten path – to help you plan your trip.
Before my tips + photos, here are my favorites for Santorini:
7 Best views in Santorini
Let's start with the best views of Santorini – or at least my favorites.
Open views, sea views or perspectives, there is much to see on the island. Therefore choosing this top 7 was difficult…
1. Ammoudi Bay from Oia Castle – Most famous view in Santorini
Where
Ammoudi Bay (also written Amoudi Bay), at the West end of Oia
North West Coast of Santorini
Why
You might have seen a similar picture to this many many times. This is the most famous view of Santorini. You are on the Oia castle looking at Ammoudi Bay. It is very impressive has the buildings are set up on a steep cliff and a small marina is at the bottom. One of the top things to do in Oia.
Access
Access requires a little bit of walking through Oia and some stairs down
It is a very crowded place, especially at sunset (it is already full 2h before sunset)
Photo tips & more
Visit in the morning to have more space to take picture
The light is better at the end of the afternoon
Wear closed shoes as large crowds mean people walking on your feet
2. The overlooked Emporio old town
Where
Old center of Emporio
South Center of Santorini island
Why
People gush about the white architecture of Oia and Fira… but my favorite village is Emporio, away from the crowds and the cliffs.
This is a paradise for photographers with vibrant colors and many many architectural lines.
Access
You can easily access the town by car. Then you have to explore on foot the old section with its narrow alleys. It is on a small hill so it is not a flat walk.
Photo tips & more
Plan enough time to enjoy getting lost in the maze. You will find fascinating arches, staircases, towers, perspectives to have fun.
No ideal time to visit
See more photos
3. Caldera from the ferry
Where
From the ferry as you arrive in Santorini
Why
If you can, I recommend arriving by ferry rather than by plane. Discovering the caldera with the white villages on top of the rim is quite an experience.
Access
From the ferry – From Crete, Mykonos, Naxos, Milos…
Photo tips & more
Make sure you bring a jacket and don't wear a hat – it can be very windy! I saw someone loose a flip flop…
4. Caldera from the top of the cliffs
Where
All the North West Coast – Oia, Imerovigli….
Why
The views of that abrupt cliffs and the houses built right on the rim are very impressive.
This is what makes Santorini so unique and spectacular!
Access
Just explore Oia and Imerovigli.
You can also do the 3h hike between Oia and Thira, or just part of it – so you can have a lot of amazing views. There is not one really better than the others
Photo tips & more
Plan enough time so that you can go down every side path and staircases to find amazing views.
5. Oia church with 3 blue domes
Where
In the town of Oia, just below the main walking street
North West Coast of Santorini
Why
These are some of the most iconic blue domes on Santorini: 3 different levels and sizes against the deep blue of the sea
Access
This is located below the main walking street of Oia (one of the street towards the sea, past Panagia Platsani)
Photo tips & more
You can take 2 alleys down for 2 different perspectives
6. South Coast wonders from a Catamaran
Where
Around the South Coast of Santorini
Why
If you have several days on Santorini, I strongly recommend a catamaran tour.
This is one of the best ways to admire both the caldera and the South Coast of Santorini. The South coast is the most spectacular with black cliffs, white cliffs and red cliffs. The experience is unforgettable.
Access
Book a tour and they will pick you up near where you are staying. They drive you to Vlichada Marina and here you go.
I booked this tour and really enjoyed it (except all catamarans tend to play music very loud) – Check out program and book
Photo tips & more
Bring a swim suit to get in the water
7 – Volcano ridge of Nea Kameni
Where
On Nea Kameni, other island across from Santorini
Why
Nea Kameni island is small and uninhabited. It has formed over the past two millennia by repeated eruptions. You can walk on the ridge for incredible views of the Santorini cliffs with volcanic scenery in the foreground.
Access
A lot of boat tours only take you around the island to the hot spring. Make sure you pick a tour with the option to hike (and bring water!)
See tour options
Best Santorini Photo locations in Santorini + Photos Tips
Map – Photos locations in Santorini – what to see where
Below is a simple map of Santorini to help you get an overall idea of where things are : the ferry harbour, the airport, the main towns and beaches.
I also highlighted the main areas for various types of landscapes that make Santorini famous:
The white architecture on the rim of the caldera (especially Oia)
The wineries' area
The scenic beaches with red, white or tortuous cliffs
The long and wide black beaches for those looking to relax under the sun
Need to rent a car in Santorini?
My tips:
Compare prices on my favorite platform:

Discovercars.com

– one of the best rated comparison sites!
Don't take a car too large, since village streets can be narrow
Consider their full coverage option – it for peace of mind!

Book early

to have a large choice of vehicles!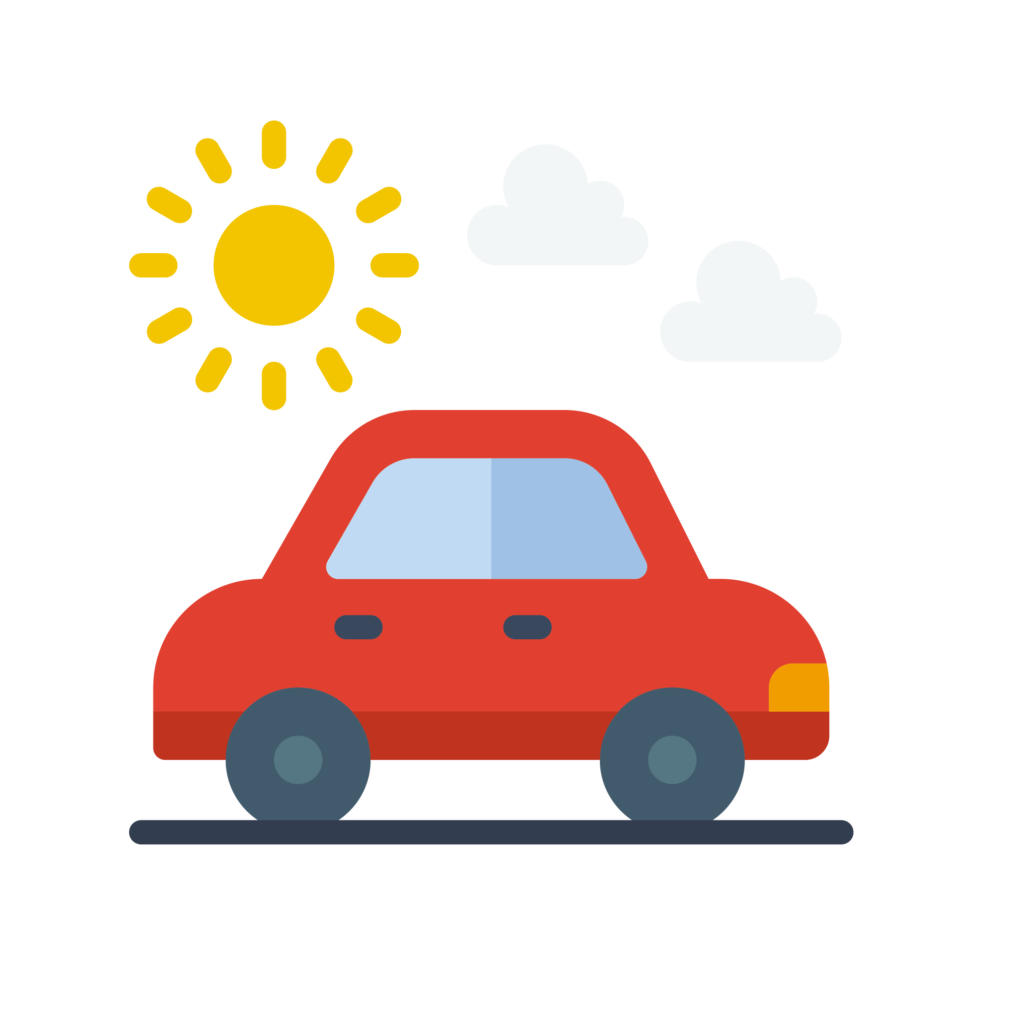 Photo tips – Oia Sunset locations
One of the most famous experiences to enjoy in Santorini is to watch sunset.
The whole West coast is great to watch sunset. However Oia is especially renowned for it.
Be aware that it gets really crowded and people are pushing you to be able to take their pictures.
The main viewpoint is what remains of the Oia castle. It gets full long before sunset. I did not even attempt it.
I do love sunsets, but I don't think the view of Ammoudi bay with the sun setting is really worth fighting the crowds.
You can find other beautiful spots all along the West coast where you will be able to breathe.
If you want to stay in Oia, I enjoyed the view in front Saint Gorge church. It still attracts people, but there is much more space to move around.
Other photography tips for Santorini
My main Santorini photo tip for you is to explore Oia at sunrise. What a difference!
Yes, the alignment is not as good but the views can be as impressive.
Plus the streets are almost empty (except for a few photographers and couples trying to take wedding pictures). The soft light beautiful on the architecture.
Below are 2 pictures taken in Oia during the first lights
Therefore it is best to book at least one night accommodation in Oia – see the best rated options
Make sure you explore side alleys to discover many different perspectives. There are so many composition that can be chosen!
Don't overlook the central villages. Everybody rushes to Oia because it is on the rim, but the central villages also offer great photo opportunities since most of them have been built on hills. I suggest Emporio (that we saw above) or Pyrgos for example.
Just keep an open mind and explore, there are incredible photo locations absolutely everywhere thanks to the architecture with angles and curves and plain color walls.
If you want to create your own itinerary with the best things to do in Santorini (on- and off- the beaten path locations), check out my travel guide. it includes all the locations listed in this article and more:
Photos of Santorini's churches & architecture
Some of the best views of Santorini are those with blue dome churches, especially with the deep blue of the sea behind.
Well, even if you try to avoid them, you can't. They are everywhere 🙂 Below are a few suggestions for you to look for:
3 bells of Fira
This is Agios Theodoros, the famous 3 bell church with one blue domes.
Located in the town of Thera (a.k.a Fira), on the West coast.
The angle is perfect with the other islands of the caldera in the background. This is the most photographed spot in town.
4 bells of Oia
You will find many bells on the island, in every villages: sometimes 3, sometimes 4 or more (e.g. 6 in Megalochori).
They are very photogenic. Above you have the example of the 4 bells in the town of Oia.
Red beach church
Red Beach is the most famous beach on Santorini (as we will see in the next section). But before walking to the beach there is the white church of Saint Nikolaos.
This white building is striking against the red color of the cliff.
South Coast of Santorini, South of Akrotiri
Perissa church
Perissa is famous for its long black beach. But even if you are like me and don't want to lay down all day under the sun, I recommend a visit to the village to discover the Holy Cross church and its tower. It dates back to 1840 but was reconstructed after the 1956 earthquake.
I don't drink coffee
But I also like other drinks and sweets!
Do you like the free content you find on my blog? All my tips and practical information, without intrusive advertising…

Best of Santorini Scenery – Pictures of the Beaches
I must admit that overall I was underwhelmed by the beaches in Santorini compared to locations such as Portugal or Corsica.
However below are 3 good options to see very very different beach landscapes in Santorini.
Most famous beach in Santorini: Red Beach
Where
South coast, South of Akrotiri
Why
There is no need to explain why this beach attract so much… The cliffs are deep red!
Access
Easy drive, large carpark, short walk to the viewpoint, further walking to get to the beach
Photo tips & more
This is a popular place. Come early or late for some peace and quiet (however the light will not be good because of the orientation of the beach)
Please be aware that past the viewpoint, it is dangerous to go to the beach. The cliff is not stable and there are frequent rock slides.
See more photos
Vlichada Beach – best for photographers
Where
South Coast – near the marina of Vlichada
Why
Vlichada was my absolute favorite beach on Santorini. Yet there were hardly anyone (except some naturists towards the northern end).
The cliffs here are stunning. erosion has sculpted them and it is a pleasure to photograph.
See more photos
Access
Road ok, easy access from the carpark
Photo tips & more
Plan enough time because it is quite a long beach and you will be attracted by all the shapes and sculptures. It is difficult to stop and turn around.
Perissa Beach
Where
South East Coast
Village of Perissa
Why
Santorini has 2 main long black beaches – Perissa (which continues to Perivolos) and Kamari. Perissa is my favorite as this side of the mountains photograph better in my opinion. Plus you have a beautiful church (as I showed you in the previous section)
Access
Easy drive, large carparks
Where to stay in Santorini?
Best of Santorini Landscapes – off the beaten path
But don't forget to take chances and go off the beaten path.
There are other villages and other roads to explore.
You will never be truly alone since Santorini is not big… but you can find unique and quieter spots such as the canyon below or the Akrotiri lighthouse.
Here are a few other pictures to inspire you.
All those locations are included, with GPS coordinates, in my Travel Guide eBook.
To get to those, and in general for more freedom on the island, you should rent a car.
Compare prices on my favorite platform: Discovercars.com – one of the best rated comparison sites!
Famous Santorini Sunsets in photos
As I wrote earlier, sunset in Santorini is unmissable.
The experience depends a lot on the cloud coverage… but it is always a great moment.
Below are 3 pictures that show you the combination of sunset with the typical Santorini architecture. Magical!
Check out my guide to the best time to visit Santorini
Where to stay in Santorini with a view
To stay at a place with a view, the villages of the West coast are of course the best choice.
However note that the closest to the rim you are, the more expensive the accommodation.
If you can, I recommend to stay one night in Oia so you can enjoy sunset and sunrise without any rush or parking stress.
In Oia, I stayed at Ianthe apartments which was really practical. And their rooftop terrace was a treat (as you can see above).
Check out more photos and availability.
But there are a lot more choices to find:
At the South end of the West coast of Santorini, you can find Akrotiri.
It is a quieter area, away from the crowds but you can find the accommodations with some of the best views on the island as they are facing the whole caldera.
See the best rated accommodations in Akrotiri
How to get around Santorini
If you want to enjoy all the wonders of Santorini, I strongly recommend renting a vehicle.
I know many people are tempted by ATVs and quad but with the traffic around you, a car is safer.
However I recommend booking a small car so that it can go anywhere.
Read my article about renting a car and driving in Santorini.
The main international brands are based on Santorini. You can compare quotes on Discovercars.com – one of the best customer-rated comparison sites! Plus, they have a full coverage option – I always take it for peace of mind!
Want to see more of the best Santorini has to offer?
Planning a trip to Santorini?
Check out my travel guide eBook to help you plan:
Want to see more of GREECE?
PREVIOUS:
Best things to do in Santorini
NEXT:
Inspired? Share it on your favorite platform!