Santorini is not the absolute best beach destination. But it has a few gems worth visiting.
Below is my selection of the best beaches in Santorini, especially if you enjoy photography.
My guide includes information on the Santorini black sand and the 'black beaches', locations, map, tips and photos.
Before all my tips + photos, let me share my favorites to plan your Santorini trip:
Before my tips + photos, here are my favorites for Santorini:
3 Best beaches in Santorini (for photographers)
Let's start with what I think are the most beautiful beaches in Santorini, or at least the ones where photographers will have the best time.
Exploring then are some of the best things to do in Santorini!
They are, in my opinion:
You can locate them on the map in the next section.
Vlichada Beach
Name
Vlichada Beach (also written Vlychada)
Interest
This is my favorite beach in Santorini. The cliffs have been sculpted by wind and sea creating many amazing shapes. It is difficult to stop photographing them.
Plus the beach is far less crowded than others, so you can enjoy it more (but there are also less facilities)
See more photos on my article
Location
South Coast, to the East, near the Vlichada marina
Fira to Vlichada = 20min drive
How to get there
I recommend renting a car – the road is correct and paved all the way to the carpark.
The carpark is right next to the beach.
Where to stay nearby
There are a few accommodations around the marina. This is a quiet place to spend your holidays in Santorini.
See the available accommodations & Book
Red Beach
Name
Red Beach (a.k.a. Kokkini Beach)
Interest
This is probably the most famous beach in Santorini. The red color like that on a beach is a rare sight on Earth.
Your can walk 2 minutes to a viewpoint where you will see the red cliffs contrast against the deep blue of the sea.
You can then walk to the beach but know that it is dangerous. There are frequent rock falls and slides.
See more photos on my article
Location
On the South coast, South of AkrotiriFira to Red Beach = 30min drive
How to get there
Easy drive down to the carpark (paved all the way) – you can also get there by boat
Some organized tours around Santorini include the Red Beach in their program – See options
And you can also see it from the distance on a catamaran tour around the South shore (my favorite activity in Santorini) – Check out program and book
Where to stay nearby
Red beach is close to the village of Akrotiri. North of the village, you can find many accommodations with beautiful views of the caldera.
Check out the best rated accommodations
White Beach
Name
White beach
Interest
Well, the cliffs are white. It is quite a contrast with the dark colored cliffs around or the red of Red Beach, not far from there.
Location
South Coast, West of Red Beach
How to get there
White Beach is only accessible by boat.
It is a very small area at the foot of the cliff. But you can swim to some white rocks to enjoy the views and the sun.
After the planning tips, you can find more suggestions for the best beaches to spend the day or to swim.
Santorini Beaches Map and General tips
Map of Santorini beaches
Below is a simplified map with all the main beaches of Santorini. They are mostly on the East coast considering the West coast has vertiginous cliffs.
However you can find very small beaches or swimming spots are the foot of those cliffs.
If you want to explore all those beaches, I recommend renting a car (see my tips) – you can compare car rental prices on Discovercars.com – one of the best customer-rated comparison sites!
You can find more practical maps in my eBook to help you plan your ideal itinerary around Santorini, and make the most of your time:
What are the beaches like in Santorini?
To be honest, Santorini is not a beach paradise. You won't find fine white sand for kilometers.
Most beaches are small. And all of them are a mix of sand and small rocks. This is a volcanic island.
However there are a few gems, especially for those who are fascinated by geology and rock formations (like I am…)
Is the water in Santorini warm?
It depends on when you visit… You can see my article about the best time to visit Santorini. As a summary:
In summer you can expect the water to be around 24/25°C (75 to 77°F)
In shoulder season it is from 19 to 22°C (66°F/68°F) – off course, Autumn is warmer that Spring
In Winter expect the water to be around 16°C (61°F)
Santorini beach hotels
Looking to stay at a hotel near the beach? Perissa and Kamari are your best options.
Those are the largest beaches on the island with many choices of accommodations along them.
Where to stay in Santorini?
3 Main Santorini beaches (largest)
Perissa Beach and Perivolos Beach
Name
Perissa Beach which continues into Perivolos Beach (a little bit wider)
Interest
Perissa is famous for its black sand and shallow waters.
To the North is the beautiful mount Mesa Vouno, where the ruins of Ancient Thera can be visited.
It has all the facilities you may need.
Location
South of the East coast
Fira to Perissa = 25min drive
How to get there
Perissa is accessible by bus from Fira, and it easy to access by car on a paved road.
Most cruises' shore excursions around Santorini stop there to give a glimpse of the black sand.
Where to stay nearby
Perissa is a full of accommodations of all sorts – Check out the best rated ones
I don't drink coffee
But I also like other drinks and sweets!
Do you like the free content you find on my blog? All my tips and practical information, without intrusive advertising…

Kamari Beach
Name
Kamari Beach
Interest
Kamari is quite similar to Perissa but a little more compact.
The beach is black sand with all the facilities. This time Mesa Vouno and ancient Thera are to the South.
Location
East coast, not far from the airport
Fira to Kamari = 20min drive
How to get there
Perissa is accessible by bus from Fira.
If visiting by car, it is also easy to access with paved roads – although parking can be difficult
Where to stay nearby
Perissa is a full of accommodations of all sorts – Check out the best rated ones
Monolithos Beach
Name
Monolithos beach
Interest
Monolithos is another option if you are looking for a large and mostly sandy beach.
However, compared to Perissa and Kamari, there are hardly any constructions around. it is a completely different experience.
It is often refered to as the Fira beach as it is just opposite the village of Fira on the island.
Location
Middle of the East Coast
Fira to Monolithos = 15 min
How to get there
Bus from Fira or very easy drive all the way to the beach. Easy to park.
Where to stay nearby
There are a few accommodations around the beach – check out the options
Need to rent a car in Santorini?
My tips:
Compare prices on my favorite platform:

Discovercars.com

– one of the best rated comparison sites!
Don't take a car too large, since village streets can be narrow
Consider their full coverage option – it for peace of mind!

Book early

to have a large choice of vehicles!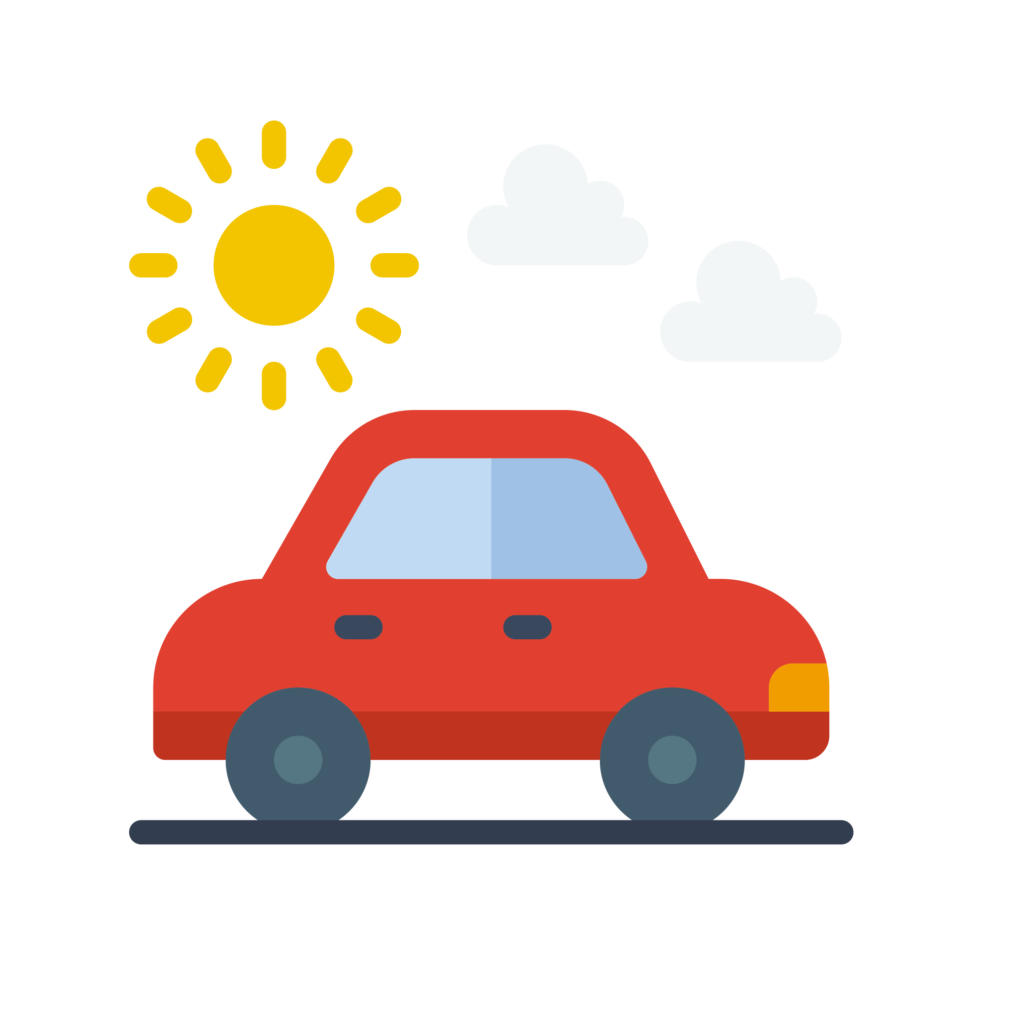 3 other places to swim in Santorini
The East and South beaches are not your only options if you want to enjoy the waters of the Aegean Sea.
Below are other ideas for you to swim in Santorini.
On the West coast, at the foot of the cliffs
The 200 to 300m high cliffs are not the best side to go for a swim, but if you don't mind walking down and up a lot of stairs, you can find a few impressive spots to go for a swim such as Amoudy Bay under Oia, or Caldera Beach under Akrotiri.
From a Catamaran cruise
Another fantastic option is to enjoy a day trip on a catamaran around the South Coast of Santorini and to the hot springs.
The catamaran stops several times when you can go swimming. And you really can't beat the views you will have as you float!
Check out program and book
At the caldera's Hot Springs
Other famous places to go swimming in Santorini are the hot springs near the volcano.
The places are only accessible by boat. The Catamaran tour above does go there, but you can also do shorter excursions from the old port of Fira. Those go directly to one spring for you to enjoy.
Note that you should be able to swim 50m alone as you are not dropped right at the spring.
Check out some options on getyourguide
Name
Eros Beach (or Theros Wave Bar Beach)
Interest
It is often listed as the most romantic beach in Santorini. It is a marketing thing, but I do like it.
Like Vlichada, it is surrounded by beautifully sculpted cliffs and the canyon to get there is quite a treat.
There is a bar and sunbeds can be rented.
Location
South Coast
How to get there
No public transportation
The last 2km are on an unpaved track down a canyon. Not technically difficult but your rental car insurance probably does not cover you there.
Black Sand Santorini – what to expect
The black sandy beaches of Santorini
The beaches of Santorini are mostly black – they are a mixture of black sand and small black rocks.
Some are darker than others. Some have more sand while others have more rocks.
Be careful on the black sand!
As the black sand absorbs a greater fraction of the solar radiation, it gets really really hot in the summer and can result in burns. Bring shoes!
The reason behind the dark sand is the volcanic activity.
The latest really big eruption occurred during the Bronze age around 1600 BC. The center of the landmass collapse into the sea, while the rest was covered with ashes.
Black beaches of volcanic origin are made of tiny fragments of basalt. When lava contacts water, it cools rapidly and breaks into fragments of various size.
Most of them are small enough to be sand, while other are small rocks or pebbles.
About the "black beach Santorini"
You will see articles refer to The "Black beach of Santorini". Note that many beaches are black on Santorini, and those article may refer to different places such as:
Most of the time, they refer to Perissa and Perivolos – they make the largest black sand area on the island
Other times you can hear about seeing the "Red, White and Black beaches of Santorini", in that case they refer to Mesa Pigadia beach a.k.a. Akro Beach. It is close to White Beach but offers a contrast with the white and red cliffs, hence the interest created around it. This beach is only accessible by boat or via a track.
Other beaches around Santorini
Quieter beaches
If you are looking for quieter options, the North-East coast if your best bet.
You can find long beaches which are a lot less crowded. But, of course, they have less to offer. For example:
Exo Gialos
Koloumbos
Baxedes
Naturist beaches
If you are looking for places to feel the sun on your whole body, you can visit:
The western end of Vlichada is a possibility
Koloumbos, near the cape
There may also be a possibility at one end of Monolithos
Other Santorini beaches FAQs answers
Pink beach Santorini?
There is no pink beach in Santorini – there is a Red Beach in Santorini and a Pink Beach in Crete (Elafonisi)
Perissa or Kamari? Which beach is best?
It depends on what you are looking for – Check out my comparison article
Are there any white sand in Santorini?
There are beaches where the black is not as dark, but you won't find beautiful white fine sand 
Want to see more of the best Santorini has to offer?
Planning a trip to Santorini?
Check out my travel guide eBook to help you plan:
Want to see more of Santorini?
PREVIOUS:
Best views in Santorini – Landscapes & photo locations
NEXT:
Inspired? Share it on your favorite platform!