Want to enjoy the beach in Santorini but can't decide on which one? Will Perissa or Kamari be the best option for you?
Below is my comparison guide to help you decide where to stay or where to visit, depending on what you are looking for: beach, location, village, hotels…
Before my tips + photos, here are my favorites for Santorini:
Perissa or Kamari – where to go on Santorini? (short answer)
If you don't want to read the whole article with explanations and photos, below are my short answers depending on what you are looking for:
For a day at the beach – Perissa (longer beach, less crowded)
To stay for several days – Kamari (choice of restaurants)
To explore Santorini – both offer bus and are easily accessed by car – Perissa is better for the South coast exploration
For families – Perissa (quieter at the moment, especially if you go further to Perivolos)
For a quiet holiday – none are a great option in Summer as they are the 2 main beaches of Santorini – check out Vlichada beach
Great accommodation options at both villages –
If you are not sure if you want to stay by the beach, check out my article about the best areas to stay in Santorini.
Perissa Beach vs Kamari Beach
OK, Let's start by talking beaches.
If you want to spend your holiday relaxing at the beach or if you are staying on the west coast and are planning a beach day, you want to know the quality of the beaches.
Crowds – Perissa beach is the longer beach, as it continues on Perivolos beach which becomes wider. Because of that, there is a lot of space and it feels a lot less crowded.
Views – In terms of views, I prefer the Perissa side of Mesa Vouno
Equipements – both have sunbeds and umbrellas for rent and are close to tavernas and bars
Sand quality – both beaches are of volcanic origin – there is a mix of black sand and small black rocks – and it gets really hot in Summer!
Lifeguard – there are lifeguards at both
Swimming – similar
Diving – both villages have diving centers
Getting around Santorini – Kamari vs Perissa
Kamari and Perissa Locations – Map
Both Kamari and Perrisa are on the South East coast of Santorini.
There are located on either sides of the mountain Mesa Vouno on top of which the ruins of Ancient Thera are located.
You can see them both on the map below.
Need to rent a car in Santorini?
My tips:
Compare prices on my favorite platform:

Discovercars.com

– one of the best rated comparison sites!
Don't take a car too large, since village streets can be narrow
Consider their full coverage option – it for peace of mind!

Book early

to have a large choice of vehicles!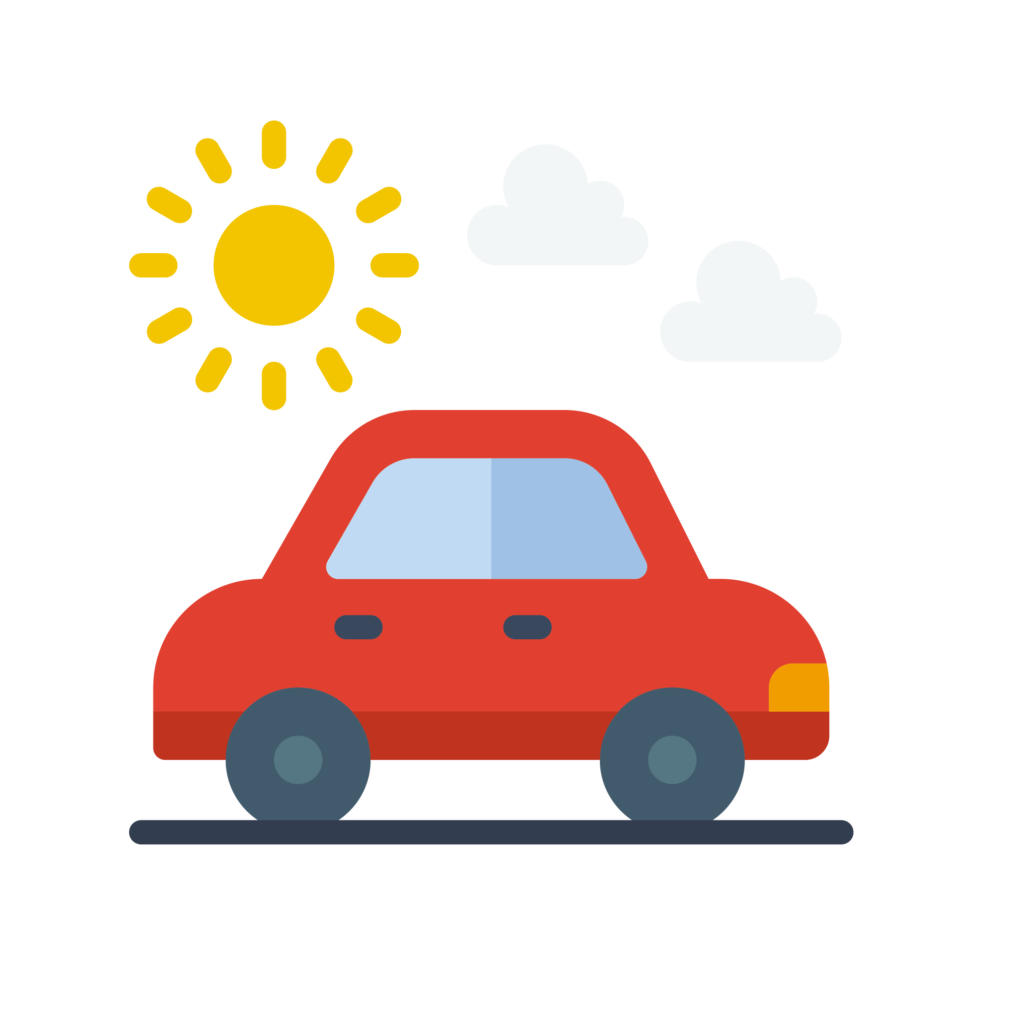 Getting from Kamari to Perissa or the opposite
There is no road allowing you to go directly from Perissa to Kamari over the mountain.
You have to drive all the way inland before you can turn. The drive between both takes around 25 minutes.
Another solution is to take the "shuttle-boat" for an easy transfer between both beaches. It operates normally between 10am and 5:30pm but stops in case of strong winds.
Access to the rest of Santorini
The best things to do in Santorini are spread all over the island. Because of the mountains in between:
Kamari has easier access to the attractions to the North: Oia, Fira…
While Perissa offers easier access to the attractions on the South Coast: Red beach, White beach Vlichada beach… (you can even reach some by boat)
However, if you are driving a car, it just adds 15min more on your travels one way or the other
If you want to base yourself at one of those beaches, and explore the island, check out my eBook to help you plan your itinerary:
Perissa vs Kamari – seafront experience & villages
Perissa and Kamari are 2 villages set up around the beaches.
Kamari feels at the moment more upscale than Perissa but developers are hard at work…
In terms of atmosphere, in my opinion, Perissa felt more traditional while Kamari felt more resort-like.
Walking around – Perissa is more spread out, whereas in Kamari you can quickly walk everywhere your need to.
Restaurants – There is a large choice at both villages – I have not tested many but in my research, it did not seem that one was better than the other
Shops – Both villages have shops and cafés (don't forget to try the ice-cream…) – you can find a supermarket and souvenir shops for all your needs
Choice of Activities in Perissa and Kamari
In Kamari you can enjoy – water skiing, kite boarding, banana boat rides, biking, mini-golf
In Perissa – small water park, jetskis from Perivolos, biking
Kamari has an open air cinema just outside the village with movies in English
Kamari has an Escape Game
Perissa has the Minerals and Fossils museum
Perissa has 'the fun train' you can book to explore Perissa or head to other locations
I don't drink coffee
But I also like other drinks and sweets!
Do you like the free content you find on my blog? All my tips and practical information, without intrusive advertising…

Perissa hotels vs Kamari hotels
Both villages have a great choices of accommodations : rentals, hotels, traditional houses – with or without pools.
Perissa is more spread out. Close to the center around the main church, most accommodations don't have pools. They are further down along the beach.
Accommodations in Kamari
Check out all the best rated accommodations in Kamari
or consider these suggestions (based on research):
Accommodations in Perissa
Check out all the best rated accommodations in Perissa
or consider these suggestions (based on research):
Other criteria to consider – Kamari or Perissa
After all those main criteria, I am just going to mention a couple of other points that can help tip the balance towards Kamari or Perissa:
Kamari is close to the airport, so airplanes may fly very low above the village and town. There are not that many per day, but it is quite noisy when they land.
Perissa has a beautiful church close to the beach with several blue domes and a stunning bell tower.You can admire it from many angles.So if you are looking not just for a day at beach, Perissa offers more than just the beach…
Want to see more of the best Santorini has to offer?
Planning a trip to Santorini?
Check out my travel guide eBook to help you plan:
Want to see more of Santorini?
PREVIOUS:
NEXT:
Oia or Fira – best place to stay?
Inspired? Share it on your favorite platform!