Oia in Santorini is probably the most photographed village on the island, with its beautiful white architecture on top of the cliff. 
So if you have a little bit of time to explore the area, below is my selection of the 10 best things to do in Oia – views, architecture, walks…
Before my tips + photos, here are my favorites for Santorini:
1 & 2 – Best things to do in Oia – Enjoy the Oia Sunsets and Sunrises
#1 Don't follow the crowds, discover Oia at sunrise
Most lists state that the #1 best things to do in Oia, and even the #1 best thing to do in Santorini, is to watch the sunset over Ammoudi Bay.
However I must admit that for me sunrise was so much better!
There is hardly anyone in the narrow streets of Oia, allowing you to marvel even more at the architecture and the quirky details.
The soft light waking up the caldera is stunning and can be admired from many angles.
#2 Choose your favorite Oia Sunset viewpoint
But, of course, there is a good reason why sunset is Oia is so famous.
Yet, compared to other villages in Santorini, the sun sets behind the houses not on the water for most of the year. If you want to see it on the water, head to Fira or Imerovigli.
In Oia, you will be met by crowds of tourists, even off season. You will have to explore to choose your favorite angle for watching the sunset :
The most famous viewpoint is the ruin of the castle but the small space gets full quite early.
I personally enjoyed the space at the Saint George church
…
Where to stay in Santorini?
3, 4 & 5 – The Oia churches – Blue domes and bells
Like all the other villages in Santorini, Oia has many little churches around. It is quite fun to explore each narrow streets to try and find another one.
#3 Find the 3 blue domes of Oia
The most famous one is the church with the 3 blue domes. You can't see it from the main street so many people miss it!
It has 2 large domes and a small one above a small tower.
The contrast of the dark cliffs, white buildings, and the blue of the domes, reminding of the deep blue of the water, is striking.
#4 Capture the 4 bells of Oia – Agia Ekaterini
Another famous photo spot in Oia is over the 4 bells with the flag and the island of Therasia in the background.
Sometimes the churches are not very interesting from the front but offer great perspective from above it!
This view is difficult to miss… it is at the top of Ammoudi Bay not far from the path to the castle.
#5 Visit the Main Oia church – Panagia Platsani
Panagia Platsani is a church that nobody skips, as it is right on the main street, yet not many people talk about it.
Originally it had been built inside the castle. But it was moved to its current location, on more stable ground.
I find it quite elegant with the arched windows, the large blue dome and the bells on the side.
Don't forget to enter to admire the murals, the golden ornaments, the icon of the virgin and the sacred vessels.
All my favorite spots in Oia are included in my eBook (with GPS and access information) to help you plan your itinerary:
6 & 7 – Best photo spots in the village of Oia
If you enjoy photography, Oia is really the place to explore (although I also have really enjoyed Emporio for that too).
Compared to Fira, Oia is more spread out, therefore it offers more viewpoints over the cliffs.
#6 Photograph the most famous view in Oia – Castle over Ammoudi Bay
The absolute most famous photo spot in Oia is what remains of the castle. As you can see in the picture below, it is located on top of a promontory and it offers great views in both directions.
You will have to walk down and up some staircases to reach it, but it is worth it (although not at sunset in my opinion, as it is way too crowded).
And your reward is the view you can see in the picture above: The cave houses going down the cliff over Ammoudi Bay.
As you can see there are windmills at the back, the small fishing port in the bottom and unique accommodations you would love to enjoy (but those cave houses are very expensive!).
#7 Or get lost to find quirky photo spots (chair, shop)
On top of the magnificent views you can enjoy around the village, the people working here also make an effort to give visual interest to the streets and houses: either with fun pieces of furniture or adding plants with colorful flowers.
There is no shortage of great angles. The best option is to explore without a map, and just get lost and have fun.
One of the most famous shops in Oia is the library: Atlantis Books.
Need to rent a car in Santorini?
My tips:
Compare prices on my favorite platform:

Discovercars.com

– one of the best rated comparison sites!
Don't take a car too large, since village streets can be narrow
Consider their full coverage option – it for peace of mind!

Book early

to have a large choice of vehicles!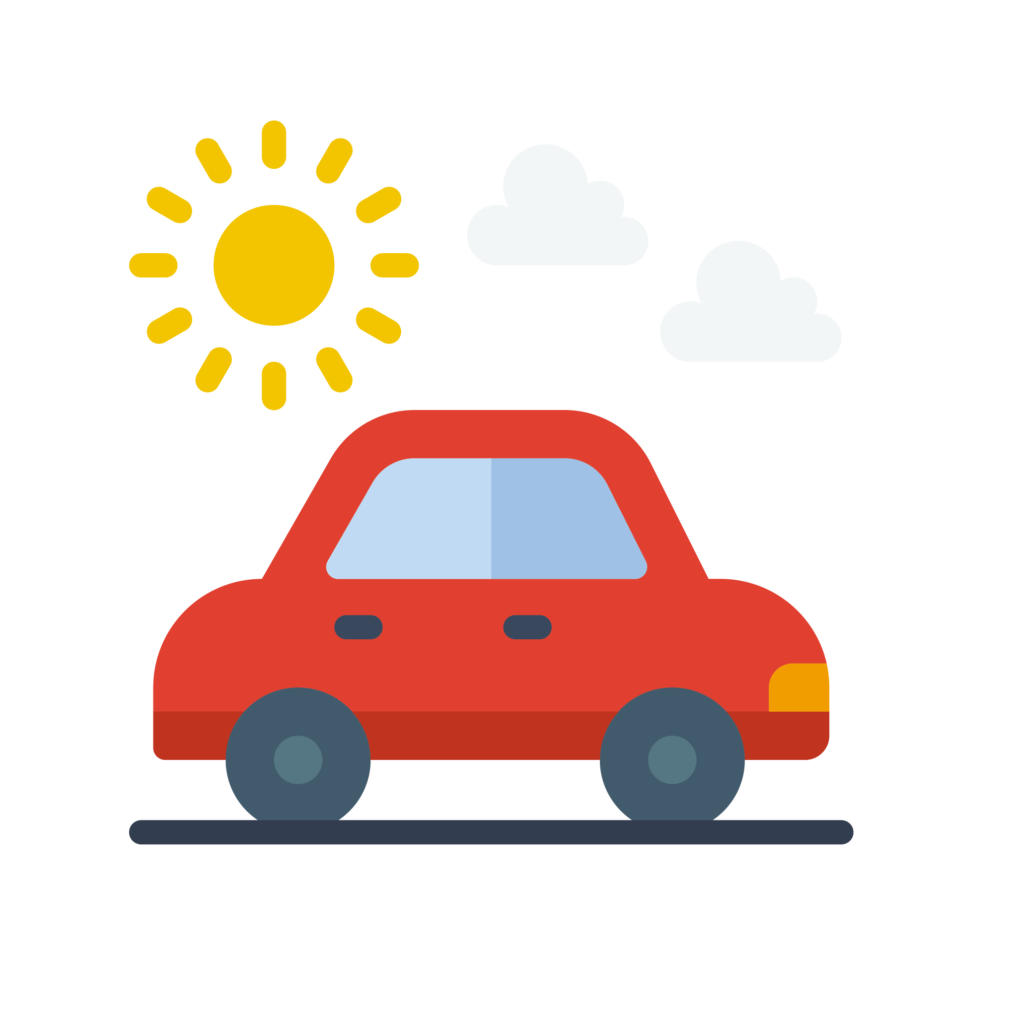 8, 9 & 10 – Walking adventures around Oia
If you feel like stretching your legs, you can also go for a short or a longer walk. Below are 3 options.
#8 Walk down to Ammoudi Bay from Oia
You can walk down the 200 to 250 steps from the top of the cliff (depending on where you start counting).
This will lead you to the charming fishing port of Ammoudi Bay (also written Amoudi Bay).
This is great to get another perspective of the cliffs and the cave houses.
Once at sea level, you can enjoy the tavernas serving fresh fish.
#9 And/or Walk down to Armeni Bay
If you want to go down the cliff, but you would rather enjoy it with less tourists, you can go down to Armeni Bay, East of Ammoudi.
Around 285 stairs to get down this time. It is more abrupt (and you have to walk them back up later…)
The reward is a small cove with only a few houses where you can relax away from the crowds.
#10 Hike to Imerovigli and Fira
And then, there is the famous hike on top of the cliff between the villages of Oia, Imerovigli and Fira. Depending on your fitness and love for views, it will take you 3 to 4h. It offers great perspectives of the caldera and the islands.
There is a bus between Fira and Oia. I recommend going to your opposite point via bus or taxi and walk back to your starting point.
Both directions are equally as great. But it you try to get on the bus or find a taxi later in the day, it will be more difficult.
Also, don't walk it in the middle of the day in Summer. There is no shade at all. Bring plenty of water.
I don't drink coffee
But I also like other drinks and sweets!
Do you like the free content you find on my blog? All my tips and practical information, without intrusive advertising…

Visiting the Oia village – Practical Tips
How to get to Oia
Oia is at the North-West end of the island
You can reach it by bus from Fira
or visit by car – carparks north of the village
or, if you want to just seat back and relax,  you can join an organized tour that include Oia – check out options (bus tours, private tours, sunset tours, photography tours)
Distances from Oia
Oia to airport = 30min drive
Oia to ferry port = 30min
Oia to Kamari Beach = 30min
Oia to Perissa Beach = 50min
Oia to Red Beach = 45min
Visit Tips
Don't wear heels – the alleys are paved and there are holes very often.
Staying in Oia, allows you to admire sunset and sunrise as much as you want
There are many restaurants in Oia and a few small shops with groceries
There are a few craft and clothes shops in Oia (However for more shopping choices, head to Fira)
Where to stay in Oia
Oia is the most expensive area to stay in Santorini, but it is great to just be able to walk out of your accommodations and explore whenever you want (even at sunrise).
This is where you will find a high number of cave houses, some with beautiful views and dreamy jacuzzi… but you can also opt for accommodations that are not on the cliff. They will be cheaper but you can get to a view in just 2 minutes.
Check out the best rated accommodations in Oia
Or considering the following suggestions:
Note, for many accommodations you will have to walk down staircases (down the cliff).
There are options with views and without staircases, but that means that you are right on the main streets where all the tourists walk.
The "Oia Beaches"
The village of Oia itself does not have any beaches.
The swimming options are:
walking down to Ammoudi Bay
walking down to Armeni Bay
Walk or drive North to the small cove of Katharos Beach
Drive to the East Coast to Badexes Beach, a narrow but long area where you can sunbath
Fantastic Santorini tours from Oia
You can stay in Oia and still enjoy the rest of Santorini.
Almost all the organized tours can include a pick up in Oia:
There is much to see in Santorini. Check out my article about the best things to do
Want to see more of the best Santorini has to offer?
Planning a trip to Santorini?
Check out my travel guide eBook to help you plan:
Want to see more of NEW ZEALAND?
PREVIOUS:
NEXT:
Best things to do in Santorini
Inspired? Share it on your favorite platform!