Want to make the most of your time at the Jokulsarlon glacier lagoon in Iceland?
It is such an incredible location: glacier, lagoon, seals, icebergs, Diamond Beach…
Below is my guide to help you plan your visit with tips, map and photos.
Note: if you are traveling in Winter, check out my other article about Jokulsarlon in Winter
Before my tips + photos, here are my favorites for Iceland:
Why visit the Jokulsarlon Glacier Lagoon in Iceland?
Jokulsarlon is considered one of the top natural wonders of Iceland!
It is a large lake at the foot of a glacier where icebergs float towards the sea.
Glacier, mountains, floating icebergs and a black sand beach nearby… this is wonderful place not to be missed!
How was Jokulsarlon formed? Geology and Geography
The Jokulsarlon Lagoon has been created since the mid 1930s by the melting ice from the glacier Breidamerkurjokull. Today the Glacier Lake covers roughly 18km2 (just under 7mi2) which is 4 times bigger than in 1970!
And the Jokulsa River formed, forcing the installation of a bridge to drive over it.
This is Iceland's deepest lake (248m deep) and it is protected under the Vatnajokull National Park.
The best part is that icebergs frequently detach from the glacier and float on the lake. And some of them head towards the channel that links the glacier lagoon to the sea. Because from Jokulsarlon runs the Jokulsa River, the shortest river in Iceland.
About the name + How do you pronounce Jokulsarlon
Jokull means Glacier, sar means river and lon means lagoon. So it it the Glacier River Lagoon.
Its other name is Breidamerkurlón (le laoon of Breidamerkurjökull).
For the pronunciation, it is something like: Yoekuhl-sarl-ow (like in the word cow) – you can here it on this website
More photos after the planning tips.
Planning tips & Map – Jökulsárlón, Iceland
Where is Jokulsarlon? Map and location
Need to rent a car in Iceland?
My tips:
Compare prices on my favorite platform:

Discovercars.com

– one of the best rated comparison sites!
Prefer a compact car for the narrow streets in villages
Consider their full coverage option – it for peace of mind!

Book early

to have a large choice of vehicles!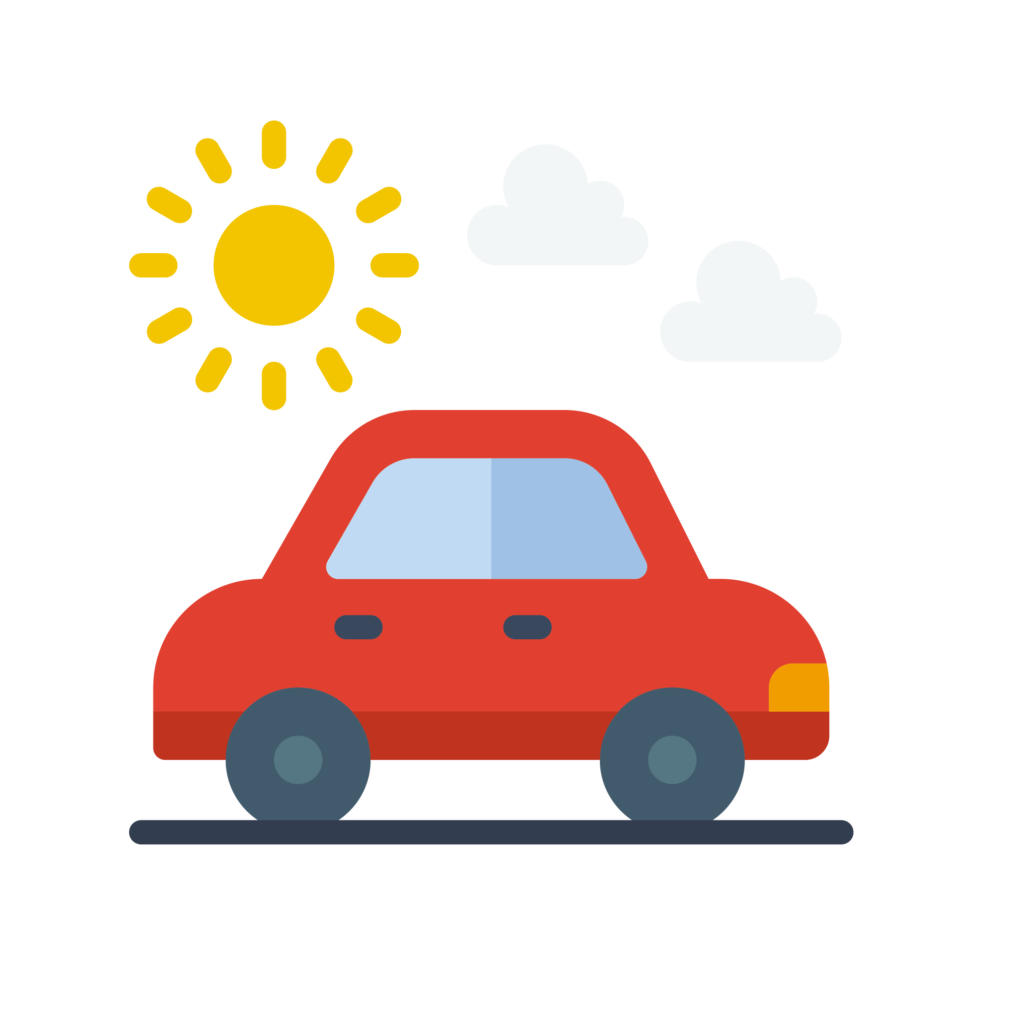 How long to visit Jokulsarlon
Combined with Diamond Beach, you should plan half a day. And if you can stay nearby, you will be able to see it at sunset and and sunrise!
You can easily stop and just watch it for 10min and get back in the car.
However, I do recommend staying for longer to
Walk along the shore
Listen to the icebergs falling
Watch the icebergs moving
Try spotting seals
Plus you can book an Amphibian Boat Tour, a Zodiac Boat Tour or a Kayak Tour in Summer to complete your visit (or an ice cave tour in Winter).
How to get to to Jokulsarlon – self-drive
Reykjavik to Jokulsarlon = 5h drive on Road 1
Vik to Jokulsarlon = 2h30 drive
Höfn to Jokulsarlon = 1h10 drive
In Summer, the drive is very easy – read my article about driving in Iceland
You cannot miss it from Road 1 as you spot the icebergs from the bridge, parking is on the North of the bridge for the lagoon, South for the beach
This location is included (with GPS coordinates, map of region and planning info) in both my travel guide eBooks that help you easily plan your Iceland road trip:
Day Trip and Tours from Reykjavik
If you don't want to drive (especially in Winter), you can book organized tours to Jokulsarlon.
DAY TRIP – The day will be very long, with most of the time on the road but you won't get bored as the scenery is amazing and constantly changing. Plus the tour will stop at the amazing Seljalandsfoss and Skogafoss waterfalls – Check out program and price
Multi-days South Coast Tour – And to get to SEE MORE and spend less time on the road you can book a 2-day trip along the South Coast. You will get to see so much, it is amazing! Some of the best landscapes in Iceland! – Check out Summer program and price
Visit Tips
Safety Info
Do not go swimming in the lagoon
Do not climb on top of icebergs (they can tip over)
The current is really strong and the lake deep!
Where to stay near Jokulsarlon
Close to Jokulsarlon:
There are no accommodations at Jokulsarlon itself
You can find a few hotels or guesthouses in the area, and these will allow you to get there for sunset, sunrise or the northern lights faster – See options
I stayed at the Hotel Smurlabjorg, 30 min drive East of Jokulsarlon. It was clean and practical – Check out photos and availability
Otherwise, you can choose to stop at the small towns of Vik (if you are driving back to Reykjavik after) or Höfn (if you are continuing towards the East fjords after) on your road trip, where you will have more choices
Or read my article with hotel options: where to stay near Jokulsalron.
Where to stay in Iceland?
Best time to visit Jokulsarlon Lagoon
Best months or seasons
There is no best time of the year to see the lagoon. It is always amazing and the water is always flowing. It is actually a lot similar in views except that the mountains are all white.
Know that in Summer, it is one of the most popular attractions in Iceland so it gets crowded. Visit early morning or late afternoon for a more peaceful experience.
Jokulsarlon in Summer:
Pros: Boat tours available, easy access, longer day (and midnight sun in June)
Cons: Crowded, no ice caves
Jokulsarlon in Winter:
Pros: less crowded, departure to ice caves, more chances for the Northern lights
Cons: roads can be more difficult, no boat tours
Best time of the day to visit Jokulsarlon
Like most places, Jokulsarlon is even more magical at sunset as the colors change.
The shore is on the East side of the lake, so you are facing West:
if you want the sun behind the glacier, then visit at sunset
if you want the sun behind you hitting the iceberg, visit at sunrise
Northern lights at Jokulsarlon
The Northern Lights occur all year round, but are visible only when it's dark.
The best period to see them is from September until mid-April. You need clear nights and high activity for chances at seeing them well.
It is possible to see them at the lagoon. It all depends on Nature. You can never be sure beforehand where you might be able to see them.
Don't be stopped by the weather!
Wondering what the Jokulsarlon weather is? DON'T!!! The place is amazing whatever the weather. And anyway, it changes every hour.
Even with wind, rain or fog, the Jokulsarlon Lagoon delivers. The place looks mystical as if creatures would just come out from under the icebergs.
Here are examples to show you how great it is all the time:
6 best things do at Jokulsarlon (Diamond Beach, Boat tours…)
#1 – Simply watch & listen
Of course, the main activity is to walk by the lake shore and simply watch.
Spend some time listening to the ice and you might hear a very loud noise when an iceberg separates from the glacier.
Be sure to wait and watch the changes. When the tide is high, icebergs are blocked in the Glacier lagoon Iceland. As the tides get lower, it is very impressive to see all those huge chunks of ice move quite fast towards the sea and sometimes break down. These icebergs float out to sea, and some of them get caught in the waves and wash up on the black sand of the nearby Jokulsarlon Beach.
#2 – Use Binoculars! Details of icebergs and wildlife
Compared to the other glacial lagoon Fjallsarlon, the Jökulsárlón glacier lagoon is bigger and more active.
The variety of icebergs is great: blue, white or black (because of volcanic eruptions).
I recommend bringing binoculars to admire the textures and details in the icebergs (Check out my Guide to selecting the right binoculars for you).
Plus there is abundant wildlife. With the tide, fish arrive and thus birds as well. You may be able to spot seals and birds (skuas, seagulls…) enjoying the area (especially in Summer). Sometimes you can spot a seal bobbing out of the water. They do enjoy the current. Careful, the skuas can get aggressive if you get close to their nest and their eggs.
I saw seals but I don't have any pictures.
#3 – Walk to Jokulsarlon Beach (Diamond Beach)
From the shore of the lagoon, you can walk along the Jokulsa River to reach the black sand beach.
Here you may find icebergs just waiting for you.
No, there are no real diamonds there (sorry), but some icebergs get pushed back to shore and shine like diamonds on the black sand.
Discover many pictures in my article dedicated to the Diamond Beach but here is one to give you an idea:
#4 – Join a Jokulsarlon Glacier Lagoon Boat Tour
In Summer and Shoulder Seasons, you can also get to see the glacier and icebergs even closer.
Boat tours are available and last under 1h.
Be careful, they get booked fast, so don't wait until you are in Iceland.
There are 2 main options of motorized boat tours:
The fun amphibian boat tour where you start on land and enter the water – Book your seat
The more traditional Zodiac tour for some speed sensations – Book your seat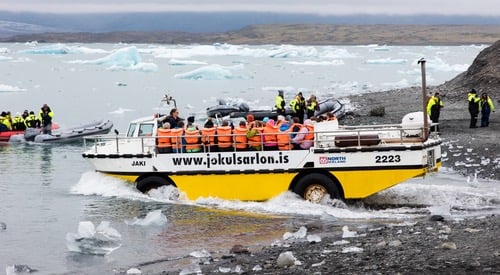 #5 – Kayaking on Jokulsarlon
And if you want to get even closer to nature, you can choose a guided Kayak tour to get closer to the icebergs and the glacier. It is one of the most impressive experiences to have in Jokulsarlon.
Book your kayak experience.
#6 – Ice Cave in Winter
Sorry, I know Ice caves are high on most people lists. But they are not accessible in Winter as the ice is melting.
Normally they can be accesses from mid-october to March. But it depends on the weather conditions.
See the section about Jokulsarlon in Winter.
Can you walk on a glacier at Jokulsarlon?
There are no glacier hiking tours at Jokulsarlon.
Your best option is the Skaftafell National Park only 45min drive West – Reserve your spot
I don't drink coffee
But I also like other drinks and sweets!
Do you like the free content you find on my blog? All my tips and practical information, without intrusive advertising…

Photographing the Icebergs and the Iceland lagoon
You never know the quantity and size of icebergs you will see floating in the lagoon. Sometimes if you are lucky, a big chunk detaches from the glacier and drifts in front of you. You will never be alone, but the good news is that there is enough space on the shore for everyone to set up their camera.
Photography Tips
Lenses – you will want wide angle to capture the multitude of icebergs as well as zooms to be able to capture the details in the ice
Tripod – As you wait for the icebergs to float, move around and find the perfect alignment, it is easier to have your camera on a tripod. But you can capture to movement of the water
Best time – as I said earlier, it is always a great shot – sunrise, sunset and northern lights are all possible
It is really an amazing place to photograph
Don't hesitate to stay nearby so that you can come back with different lights and weather conditions.
I recommend having a powerful zoom to play with the icebergs. They are all different in shape and color. It is like looking for shapes in the clouds.
Don't forget warm clothes! Check out my Iceland Packing guide for tips.
I could have stayed hours admiring them. Some are pure white, some have black stripes and some are intense blue. See below, I even spotted the Titanic!
Plan your trip to Iceland this Summer:
Jokulsarlon in Winter
The experiences of the lagoon and the beach are quite similar in Winter and in Summer. It is just that the mountains are whiter and there might be more ice.
See my article about the Winter experience.
The main differences during the Winter months (November to March) are:
the boat tour is not possible
that the tours depart from the carpark to visit natural ice caves in the glacier. An unforgettable experience to book early to make sure you have a spot – check out my article to choose your ice cave tour.
Movies and other fun facts
Webcam
To build your anticipation, you also check out the Jokulsarlon Lagoon webcam!
Movies, TV shows, music videos
Jokulsarlon has been featured in movies and music videos such as :
Justin Bieber's music video for the song "I'll Show You"
The movie Tomb Raider
The stunning movie with Ben Stiller The Secret Life of Walter Mitty (when he is supposed to be in the Himalayas)
The James Bond films Die Another Day and and A View to a Kill
But it was not, as some think
in Interstellar or Batman Begins (which were filmed at another glacier)
in Game of Thrones
Want to see other highlights nearby?
Want to see more of the best Iceland has to offer?
Planning a trip to Iceland?
Check out my travel guide to help you plan:
And keep track of your own trip!
Want to see more of Iceland's beauty?
PREVIOUS LOCATION:
NEXT LOCATION:
Inspired? Share it on your favorite platform!