Some of the most surprising attractions on Madeira island are the "Telefericos".
With steep cliffs dropping into the sea, locals have set up gardens on tiny pieces of land and they have built the Madeira cable cars to easily reach them.
Today they are still being used by garden owners, but also have become attractions. Below are the 7 cable cars you can enjoy around the island with photos, tips and map.
Before my tips + photos, here are my favorites for Madeira:
Location – 
North shore, near the town of Santana
Height –
Around 330m (1082ft) – not the steepest ride
Running hours –
9am to 1pm / 2pm to 5pm (to 6pm on weekends)
Price –
5€ return ticket – cash
Practical info –
Toilets at the top
5min ride
Small carpark, otherwise park along the street.
Alternative hike: 1.5km with 330m height difference
My opinion – 
This is my favorite cable car on the island. Even if you don't go down, the views is worth the detour! I think the viewpoint at the top is one of the best on the island (see my list).
As you ride down to sea level, you will be able to several waterfalls.
In my opinion, it has be best scenery. You can even see a traditional Santana house in the gardens.
The name Rocha do Navio' refers to the sinking of a Dutch ship in the nineteenth century.
Learn more on my Rocha do Navio article.
#2 – Teleferico das Achadas da Cruz – The steepest cable car
Location – 
West coast near Porto Moniz
Height –
451m of height over 600m – It is written that the beginning has a slope of 98%, making it the steepest in Europe.
Running hours –
8am to 11:30am / 12:30pm to 7pm – everyday
Price –
3€ return ticket
Practical info –  
Travel time is 5min
Cafe and toilets at the top
Medium-size carpark
Alternative hike is 4.5km and takes 2h (Calhau das Achadas da Cruz)
My opinion –
This is really an impressive ride… so steep!
Despite my vertigo and overall anxiety, I enjoyed the ride because the scenery was breathtaking.
There is a great walking path at the bottom and beautiful views of the cliffs.
Learn more in my Achadas da Cruz article
All 7 cable cars listed in this article are included in my eBook to help you easily plan your trip around Madeira:
#3 – Cabo Girao cable car (Teleferico do Rancho)
Location – 
Cabo Girao – 3km from skywalk
Height –
You don't leave from the highest point at 589m but from a lower point. However, it is still a steep ride down.
Running hours –
8am to 7:30pm (closed 12:30pm to 2pm on Tue and Thur)
Price –
5€ return price
Practical info –  
3min ride
Carpark just below the cable car, few spaces.
Restaurant and toilets at the top
My opinion –
Everybody flocks to the skywalk attraction, which, to be honest, disappointed me.
But I really enjoyed the cable car. It takes you down those impressive cliffs, and this is one of the best places in Madeira to admire volcanic features. The cliffs are not only impressive because of their size but also because of their display of the volcanic history of the island.
#4 – Botanical Garden cable car
Location – 
Funchal – connects the Monte area to the Botanical gardens
Height –
Ride above a valley, not down to sea level
Running hours –
10am to 4:30pm – Last boarding at 4:20pm
Price –
8,25€ one way (13€ with garden entrance ticket) – 12,75€ return (16,50€ with entrance) – combinations possible with Monte Cable car
Practical info –  
9min ride
A little of a walk on a slope to reach the top of the cable car (or to climb if traveling the other way around)
Toilets at the top and bottom of cable car
Official website
My opinion –
Of the 2 cable cars in Funchal, I like this one the best because it is more in nature and it is not over the city. I think it is a very practical way to get from the Tropical Garden to the botanical garden, if you are planning a "garden day".
Need to rent a car in Madeira?
My tips:
Compare prices on my favorite platform:  

Discovercars.com

– one of the best rated comparison sites!
Choose a car with enough power for the mountain roads
And choose a car not too big, to easily manoeuver
Consider their full coverage option – it for peace of mind!

Book early

to have a large choice of vehicles!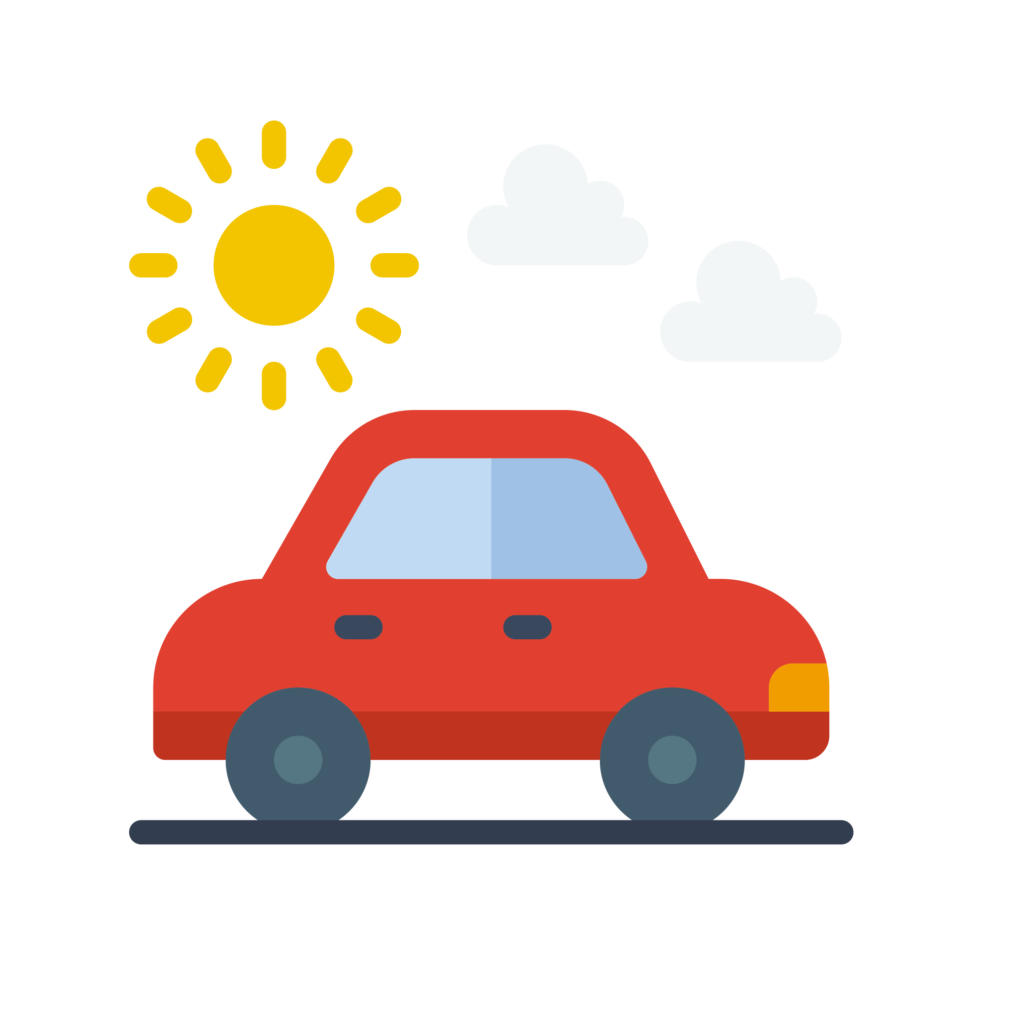 #5 – Garajau cable car (Teleferico do Cristo Rei)
Location – 
South-East shore, near the town of Caniço and near the Christ statue of Ponta do Garajau
10min East of Funchal
Height –
150m (492ft)
Running hours –
10am to 8pm
Price –
3€ return ticket
Practical info – 
Large carpark
Toilets and restaurant at the top and the bottom
My opinion –
It is a great combination of attractions. You can first enjoy the statue Cristo Rei and walk down the staircase to get a beautiful view of the coastline.
And then you can enjoy the cable car ride down, with stunning views of the volcanic rocks and interesting cliffs. 
At the bottom, the beach is famous for the diving opportunities. Enjoy one of the best beaches in Madeira.
Or you can just relax and have lunch!
See article about Ponta do Garajau.
#6 – Faja dos Padres cable car
Location – 
10min West of Funchal
Height –
300m (984ft)
Running hours –
10am to 7pm (to 6pm in Winter)
Price –
10€ return ticket (19,50€ with guided tour, 27€ with guided tour and fruit tasting)
Practical info – 
2min30 ride
No carparks – parking is along the street which makes it difficult
See official website
My opinion –
It has become a big tourist attraction. The gardens are better (and you can book a guided visit and the restaurant is a plus), but it does not have the vibe of the other cable cars that have remained less popular and quieter.
Plus, the lack of parking spaces is a nightmare. If you want to visit, come early enough in the morning, have lunch and leave after lunch.
I don't drink coffee
But I also like other drinks and sweets!
Do you like the free content you find on my blog? All my tips and practical information, without intrusive advertising…

#7 – Monte Cable car (Funchal cable car)
Location – 
In Funchal – departs from the seafront and arrives not far from the Monte Palace Tropical Garden
Also known as the Funchal cable car.
Height –
Length of 3.2km (2mi) – various slopes
Running hours –
9am to 5pm
Price –
11€ one way (you can get back down with the sled ride) – 16€ round trip – combination tickets possible with Botanical Garden cable car 
Practical info –  
15min to 20min ride
Underground carpark nearby
See official website
My opinion –
Compared to the others, it is a more typical cable car with several cabins.
But if offers great views of the city and is very practical to visit the Monte area.
About the cable cars in Madeira – Map
A few notes about the cable cars
The Portuguese name is Teleferico
Many of the smaller ones only take cash payments, so make sure you have enough
I can't guarantee opening times – they can be closed or modified for maintenance
Except the 2 ones in Funchal, the others have one 2 cabins – one goes down while the other goes up – so you may have to wait for your turn.
History
Most of those cable cars were built by the locals to be able to access their gardens in the areas called "Fajas" and to bring back their fruits and vegetables.
Before them, they were traveling by boat (which can be dangerous with the rocks) or taking the hikes with everything on their back which was difficult.
Map
Below is a map to help you locate those 7 Madeira Telefericos.
Where to stay in Madeira?
Want to see more of the best Madeira has to offer?
Planning a trip to Madeira?
Check out my travel guide to help you plan:
And keep track of your own trip!
Want to see more of MADEIRA?
PREVIOUS:
35 best things to do in Madeira
NEXT:
10 best hikes & levada walks in Madeira
Inspired? Share it on your favorite platform!