Let's discover the best things to do in Porto Moniz, Madeira.
The most-Western town of the island is famous for its natural pools (a great experience!) but will offer you more.
Below is my guide to help you plan your visit with tips, photos and map.
Before my tips + photos, here are my favorites for Madeira:
Why visit Porto Moniz in Madeira?
Porto Moniz is considered one of the top attractions on the island of Madeira.
Many people stop here during a day tour.
This is because of the natural pools created by volcanic rocks. Just have a look:
But Porto Moniz is also a charming town that was isolated for a long time.
It offers steep mountains, beautiful plantations, a fort and a laid-back atmosphere. I will share it all further in this article.
About the name & short history
Porto Moniz is named after one of the first settlers on Madeira: Francisco Moniz O Velho. He was an aristocrat from the Algarve region.
Porto means port.
Because of the geography of the island, Porto Moniz was isolated from the rest of the island for a long time. It was a whaling town until the 1980s.
Today the population of the town is around 1700.
More photos after the planning tips.
Planning Tips – Porto Moniz, Madeira
How to get to Porto Moniz
Located on the North-West tip of Madeira island
Nowadays, it is easy to access with the tunnels
Funchal to Porto Moniz = 1h drive
Sao Vicente to Porto Moniz = 20min drive
Below is a map to locate it and get oriented:
This highlight (with GPS coordinates and practical tips) is included in my travel Guide eBook that helps you easily plan your Madeira trip:
Tours & bus – no car
Public transportation is available between Funchal and Porto Moniz – however busses are not frequent and slow, with many stops. Bus 80 and Bus 139
Otherwise there are many group tours from Funchal, touring the Western part of the island, that include Porto Moniz and its famous pools – see options – you will get a snapshot of Porto Moniz but not enough time to really appreciate it. I recommend renting a car.
Visit Tips
There is a large carpark close to the seafront. It gets full during the day as day trippers arrive.
Easy to drive in town
Many restaurants and snack bars – one of the most famous is O Cachalote with seafood
2 complexes of natural pools – one free without lifeguards, one for a fee with lifeguards – more details in the next section
Visit early or late to avoid the crowds
Need to rent a car in Madeira?
My tips:
Compare prices on my favorite platform:  

Discovercars.com

– one of the best rated comparison sites!
Choose a car with enough power for the mountain roads
And choose a car not too big, to easily manoeuver
Consider their full coverage option – it for peace of mind!

Book early

to have a large choice of vehicles!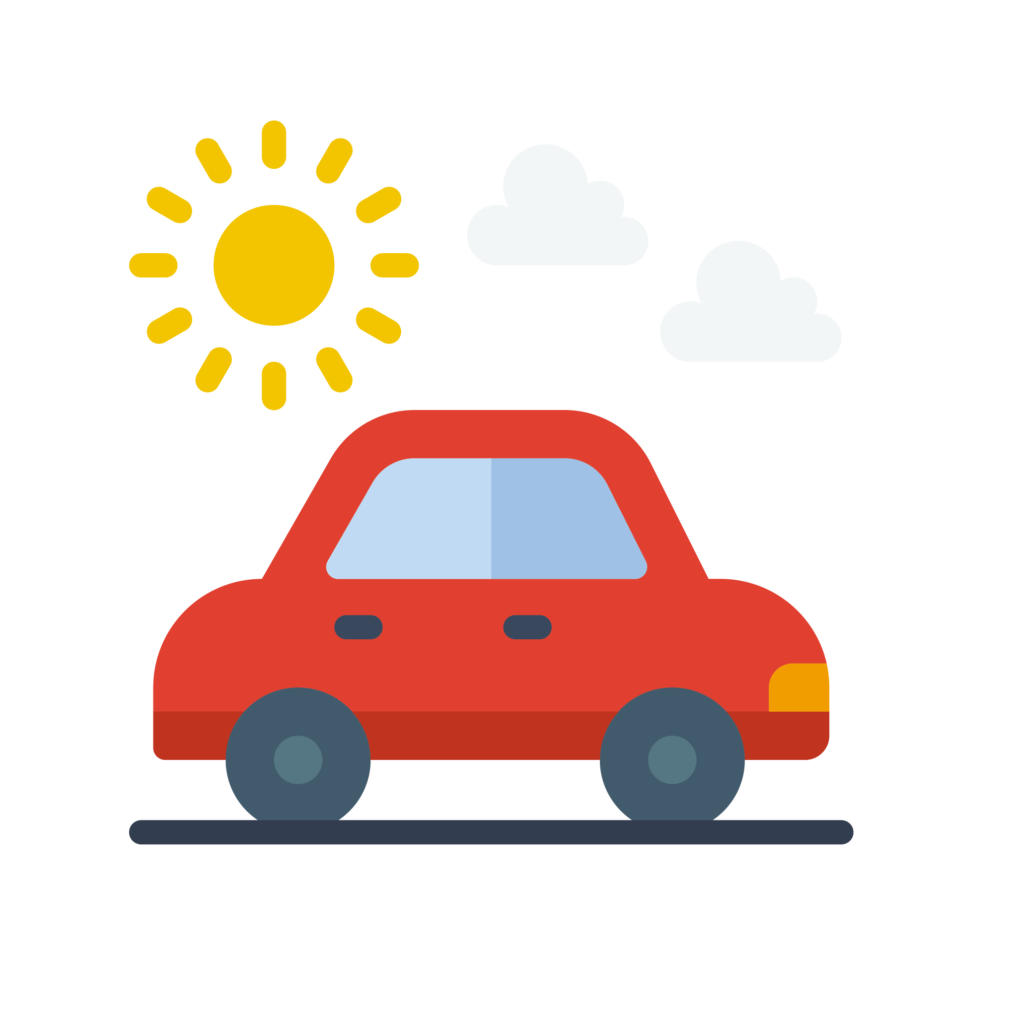 Where to stay in Porto Moniz
I recommend spending one night here to enjoy the pools when the day trippers have left the town. It is much more peaceful and enjoyable.
Below are some accommodation suggestions:
More tips on my article about where to stay in Madeira
The Porto Moniz Natural Pools
As I wrote earlier, the natural pools are the main attractions of Porto Moniz. There are 2 complexes:
Piscinas Naturais do Porto Moniz – a lido complex, safer for swimming
Piscinas Naturais do Aquario / Valhas / Cachalote – the more photogenic and less transformed pools
Let's discover both!
Piscinas Naturais do Aquario / Valhas / Cachalote
Starting with my favorites, the free Porto Moniz lava pools:
There is no official sign with the official name.
The town's website calls them the Aquarium Natural Swimming Pools, as well as the Cachalote ones, with the name of the nearby Cachalote restaurant.
Why I love them?
Because there are more volcanic rocks
Because they is less construction around them
Because they are near the islet Ilheu Mole
Because they are very photogenic
Because they have long and deep pools which are great for swimming.
…
Practical Info
Free access (can be closed in case of dangerous waves)
Walking paths all around to access various easier entrances into the water – or just to find different angles for pictures
No facilities
Restaurant and café nearby
No lifeguards
Good depth
Edges have not been smoothed, so be careful where you put your feet
And, as you are swimming in the sea water, there are great views all around:
Towards the island
Towards the green hills
Towards the fort
…
Piscinas Naturais do Porto Moniz
When talking about the natural pools, this is often the ones that are mentioned.
They are less natural. The area has been transformed into a lido complex, which is great if you have kids.
The rocks are not sharp
There are shallower pools
Large area for sunbathing
The average annual water temperature is between 20 and 21º C.
However, the lava rocks are less impressive. And they are a lot less photogenic!
Practical Info
Lifeguards on duty
Access for a small fee (1.50 euros)
Open 9am to 7pm in Summer (to 5pm in Winter)
Restaurants right next to it.
Changing rooms and toilets
Sun loungers and parasols for hire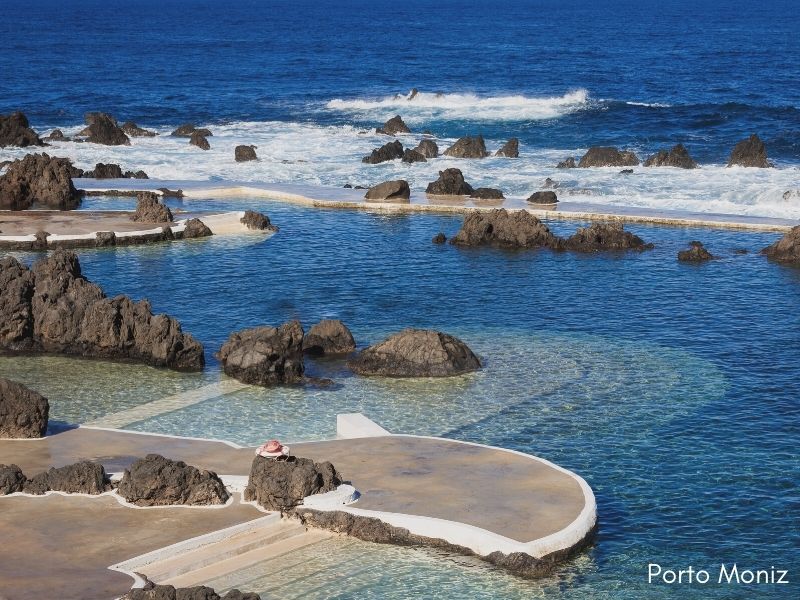 I don't drink coffee
But I also like other drinks and sweets!
Do you like the free content you find on my blog? All my tips and practical information, without intrusive advertising…

Other things to do in Porto Moniz
If you have time in the town, know that there are a few other things worth looking at in the town, apart from the pools…
Admire Ilheu Mole and its lighthouse – the Porto Moniz island
I was fascinated by the small island right by the coast of Porto Moniz.
I walked all along the seafront and to the port, to admire it from all angles possible.
It is a lava dome that has partially fallen into the sea because of erosion.
At the top is a lighthouse (Farol do Porto Moniz) – it is a 3m high tower at an altitude of 62m (203ft) above sea level.
The island is not accessible to the public.
João Baptista Fort
The other unmissable attraction of Porto Moniz is the fort.
Located right next to the pools, you cannot miss it!
It is a replica of the ancient fort from 1730, that was built to protect against pirate attacks.
In 1998, the town bought the ruins and "restored" it. They kept as much a possible of the ruins and used local basalt stones.
Inside, on the lower part, is the aquarium, our next stop. You can also go to the upper part, but there is not much to see, except imagining you standing guard, looking for pirates.
Porto Moniz Aquarium – Aquario da Madeira
Inside the fort, you can find the Porto Moniz aquarium.
It opened in 2005 and its objective is the preserve the marine biodiversity of the Madeira Archipelago.
It is home to more than 90 native species in 12 tanks including small sharks and rays.
Price: 7€
Opening hours – 10am to 6pm
Reviews about it are mixed. And I agree.
The tanks are nice and you can clearly see a lot of species quite up-close.
However, there are only 12 tanks for 7€. The visit is not long… it took me 30minutes (really taking my time).
Note: it is possible to book a diving baptism inside the bigger tank .
Man-made Waterfall
To the back of the fort, you will find a strange waterfall wall feature. No explanation given.
It is a nice place to sit, relax and look at the island, away from the crowds.
The Porto Moniz port and views of Ribeira Janela
Still behind the fort, you will find the small port and enjoy open views of the North Shore of Madeira.
Not far, you can see the sea stacks of Ribeira Janela.
Miradouro da Santinha – view of Porto Moniz
If you want to have an overall view of the town, you can drive up to Miradouro da Santinha.
This is a great viewpoint, an easy stop on the sinuous road to explore the West coast of the island.
There are several parking places.
From here, you can enjoy the town, the island, the cliffs and plantations.
Centro Cienca Viva
There is also a multipurpose exhibition building.
The permanent exhibition is about the Laurissilva Unesco World Heritage forest.
Mostly display panels. No artifacts. Not a science museum.
3.50€
Monday to Sunday – 10am to 6pm
Miradouro do Cabo Calhau – Porto Moniz Beach
To the South West of town, you can find another viewpoint. It looks towards a small pebble beach.
Plantations & wineries
Finally, while in town, don't forget to look up.
It is quite impressive to see how the steep cliffs are being cultivated with terraces.
In the area, you can find several vineyards.
Plan your trip to Mallorca:
Things to do around Porto Moniz
You can combine your visit to Porto Moniz with other great attractions in the same area.
Below are my favorite things to see and places to visit, not far from Porto Moniz (under 20min drive)
Teleferico das Achadas da Cruz
The cable car at Achadas da Cruz is one of the hidden gems of Madeira. It is getting more popular as Porto Moniz advertises for it in town, but it is still worth it.
This is really an impressive ride… so steep! It is written that the beginning has a slope of 98%, making it the steepest in Europe.
Despite my vertigo and overall anxiety, I enjoyed the ride because the scenery was breathtaking.
There is a great walking path at the bottom and beautiful views of the cliffs.
Under 20min drive from Porto Moniz
3€ return ticket
8am to 11:30am / 12:30pm to 7pm – everyday
Toilets
Snack bar
Praia Iheus da Ribeira Janela
Another hidden gem that is overlooked by tourists is the beach of Ribeira Janela.
True, the rocks are large and it is not easy to walk on the beach.
However, there is a staircase cut into the volcanic cliffs to reach a viewpoint overlooking the sea stacks.
And if you manage to walk on the beach, the wave crashing on the rocks are mesmerizing.
I loved it.
5min drive from Porto Moniz
Free access
Large carpark
Toilets
Learn more on my Ribeira da Janela article.
Seixal natural pools – Poças das Lesmas
If you love natural pools, don't miss the ones in Seixal. They were also formed by volcanic rocks.
They are less visit because more difficult to access. But they are very impressive because of their location at the foot of the cliffs and the giant arch of volcanic rocks.
15min drive East of Porto Moniz.
Free access
Very steep path to access them
No lifeguards
Snack bar
Toilets
Seixal black sand beach
This is clearly the most beautiful beach on the island, in my opinion.
It is what I imagine when thinking of an old volcanic island: smooth black sand with steep cliffs with lush vegetation.
There is even a small waterfall on the beach!
15min drive East of Porto Moniz.
Free access
No lifeguards
You can drive all the way down
Restrooms
Snack bar – restaurant
Fanal Forest
On the Paul da Serra plateau, you can find the Unesco Natural Heritage site of the Laurissilva forest.
Here you discover hilly meadows and crooked trees. It is quite enchanting.
The island and much of Southern Europe used to be covered by this native forest. In Madeira is one of the largest patches left.
large carpark
free access
toilets
the trees are near the carpark, but you can also explore the hiking trails around
Best with some fog, for moody photography (but don't get lost!)
And further away
Nothing is really far from where you are in Madeira… But a few other attractions in the West area of Madeira are:
Sao Vicente and its lava caves
The waterfall of Garganta funda
The Lighthouse at Ponta do Pargo
…
All can be found in my eBook.
Activities around Porto Moniz
Hiking
There are a few hiking opportunities around Porto Moniz
Levada da Ribeira da Janela – the most famous – 12km one way – well-maintained path in the valley Ribeira da Janela (bring a torch to go through tunnels)
25 Fontes hike (a little further away) – the most famous levada walk in Madeira to a waterfall – At least 4h return
and more (but less maintained paths)
Canyoning
There are many canyoning circuits near Porto Moniz (Riberia da Cruz, Ribeiro Funda…).
I would say it is the best options to book your accommodation is canyoning is your main objective.
Want to see more of the best Madeira offers?
Planning a trip to Madeira?
Check out my travel guide to help you plan:
And keep track of your own trip!
Want to see more of MADEIRA?
PREVIOUS:
NEXT:
The impressive Achadas da Cruz cable car
Inspired? Share it on your favorite platform!