Are you planning a trip to New Zealand but have limited time? 
Don't worry, whatever region you choose, you will be blown away every day.  
Below is guide guide to help you choose which island to visit: New Zealand North or South island, depending of your interests and objectives.
The battle NZ North vs South island can begin!
Visiting North or South island New Zealand – Overview
Why do you have to choose?
New Zealand is a lot bigger than one imagine before planning a trip:
North island from Cape Reinga to Wellington = 13h30 drive
South island from Nelson to Invercargill = 12h drive
And it is beautiful everywhere, so you want to stop all the time and take side roads
Therefore if you have less than 2 weeks for your road trip of have longer but don't want to drive much everyday, you will have to choose between North and South Island.
But it is difficult. Both islands have amazing scenery. You can have a look at my 50 photos of the New Zealand scenery or check out these snapshots:
NZ North Island vs South Island – Comparison Summary
The article goes into details about the comparison. But below is a summary of the Winner for each category:
Less time driving – Tie
Driving Ease – South Island
Variety and beauty of Views – South Island
Best Drives – South Island
Most amazing Natural wonders – North island
Most stunning Beaches – Tie
Variety of Wildlife – South Island
Interests of Towns – North Island
Quality of Cultural attractions – North Island
Better Climate – North Island
Lesser Crowds – South Island
Better Food and wine offering – Tie
OVERALL = SOUTH ISLAND!
And if I count the number of absolute WOW moments engraved in my memories, South island is also a little ahead.
But not by a long shot, so below are some more detailed info to help you choose based on your own interests.
New Zealand North or South island – Maps & Practicality criteria
Getting around North island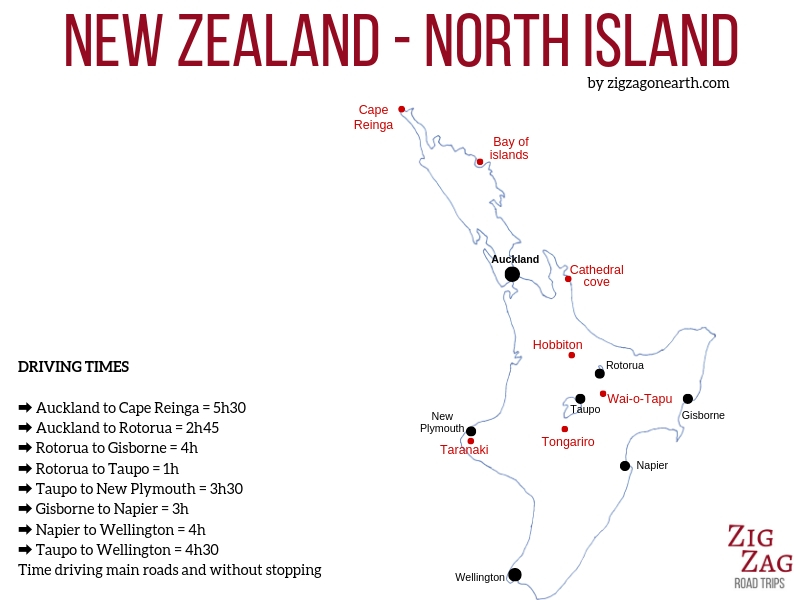 The Numbers
Area – New Zealand North island is 113,729 m2 (43,911 mi2)
Length – from Cape Reinga to Wellington, it will take you 13h30 to drive for 1064km (661mi)
Width – from New Plymouth to Napier, it will take you 5h30 to drive for 411km (255mi)
Above is a map of North Island with the spread of some of the most famous sights on the island
North island is 25% smaller than South Island
The reality of getting around
As you can see, despite being smaller than South island, it takes a lot of time to get around it.
There are hardly any straight roads. As soon as you leave the main road it is sinuous and it takes a lot of time to get from one region to another.
Getting around South island
The Numbers
Area – New Zealand South island is 150,427 m2 (58,084 mi2)
Length – from Nelson to Invercargill = 12 drive – 974km (605mi)
Width – from Christchurch to Greymouth = 3h – 244km (151mi)
Above is a map of South island with the spread of some of the most famous sights on the island
NZ South island is larger than North Island
The reality of getting around
The region is bigger but there are large areas in Fiordland National park that are not accessible by car so reducing the visit area
Despite being mountainous, I was very surprised by the high quantity of straight roads. I felt that was turning a lot less on the South island compared to the North island of New Zealand
The island is all in length and because of the mountains the choice of roads is limited, so I find it easier to plan your trip than on North island
Learn more on my NZ driving guide
Result – New Zealand North or South island to plan a road trip
Regarding fitting your road trip in your schedule, it is a tie. Check out my article on planning a road trip in NZ.
North island is smaller than South island but I find it easier to cover a lot of places and organize the trip on South island.
Winner = Tie
Need to rent a car in New Zealand?
My tips:
Compare prices on my favorite platform:  

Discovercars.com

– one of the best rated comparison sites!
Prefer a car with enough power for the mountain areas
Consider their full coverage option – it for peace of mind!

Book early

to have a large choice of vehicles!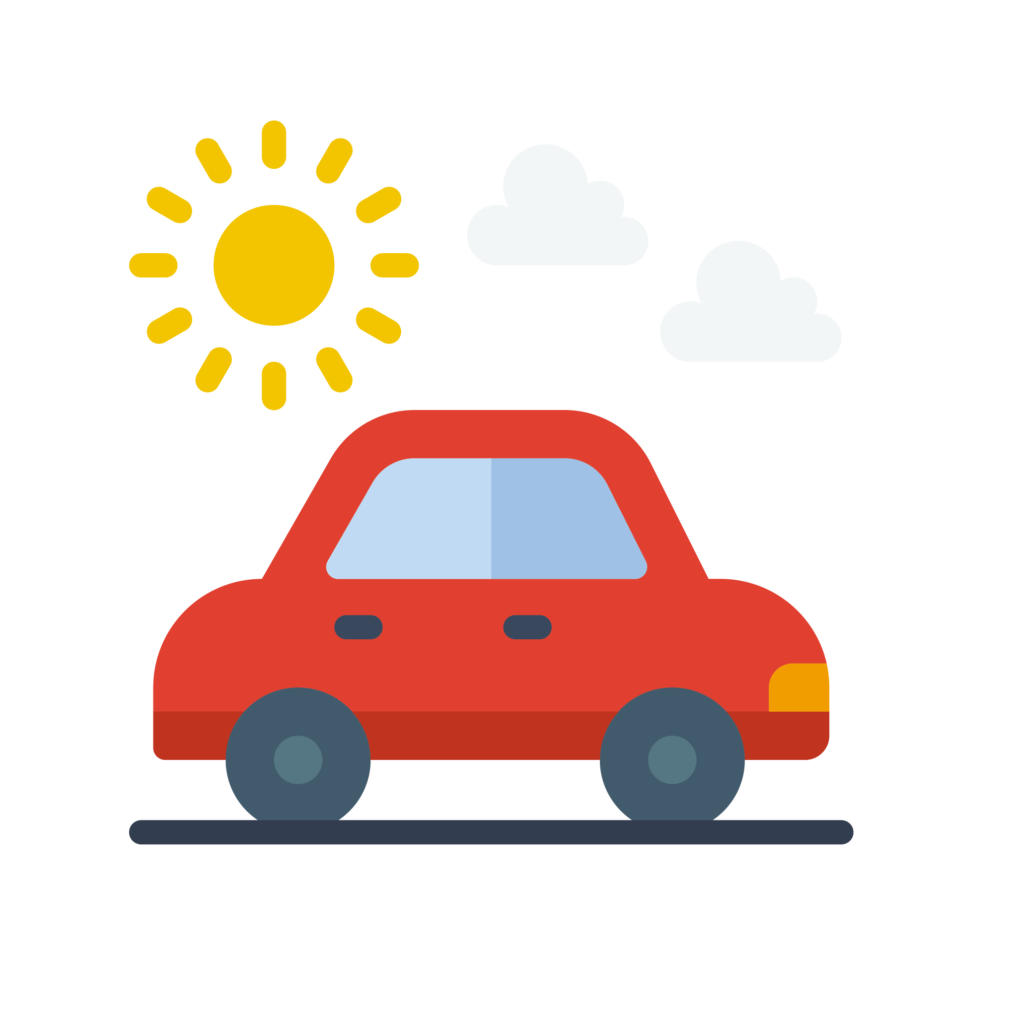 New Zealand North vs South island – Things to do criteria
Now let's dive into the beautiful landscapes and all the amazing things you could do on New Zealand North island vs South island.
I can't share all the pictures or all the amazing places to visit on both islands, but below is a snapshot to help you decide based on your interests.
Variety of Landscapes
The main types of scenery you can expect in North island are
volcanoes,
lakes,
and beautiful coastal lands.
The highest point is the Volcano Mt Ruapehu at 2797m (9177ft)
The landscapes you can admire on the South island include:
old volcanic land,
mountain ranges,
glaciers,
glacial lakes,
fjords,
The highest point is Aoraki Mount Cook at 3724m (12218ft)
Overall, I have found South island to offer more variety of landscapes than North island.
It felt like South island was the old land shaped by time and witness of history while North island was the raw evolving land still being shaped by the power of Nature.
In terms of variety, I would pick South island as the winner even though my favorite scenic views were in North island.
Winner = South island
Most beautiful drives
Some of the most iconic drives in North island are:
Driving up to Cape Reinga with the volcanic crust, the sand dunes and the meeting of the 2 seas
Driving all around Mt Taranaki – on a clear day the perfect shape of the volcanic cone is elegant from every angle
The Cook's landing beaches of Gisborne with turquoise water, golden sand and great stories
The Forgotten World highway for impressive views and a drive back in time
Some of the most iconic drives in South island are:
Arthur's pass – WOW. This was my absolute favorite road of New Zealand. The surrounding mountains look like they have been painted.
Lindis Pass in the South with its bare summits
The road to Milford Sound between narrow and wide valleys with waterfalls, lakes and high summits all the way to the impressive fjord
Lake Tekapo to Lake Pukaki and Mt Cook with milky turquoise waters and magnificent summits
Lake Wakatipu to Glenorchy – hard to describe how beautiful the drive is
The Catlins for something completely different by the South East coast
The North West around Punakaiki to feel like you are on an Hawaiian island with the green hills rolling into the sea
This category is the easiest one to pick a winner in the battle NZ North vs South island. Clearly, the drives were most magnificent on the South island because of the many mountain ranges with their lakes or their proximity to the sea. I had some beautiful drives in North island, but I was blown away while driving around South island.
Winner = South island
Natural Wonders
The natural wonders of North island are mostly volcanic:
The region of Taupo-Rotorua is abundant with geothermal fields. And they are all very different : geyser, colorful pools of boiling water, mud pools, silica terraces, explosive craters…
Then you have the active volcanoes at Tongariro and white island where you will see smoke venting
The beautiful volcanic cone of Taranaki ) – this is seriously the prettiest volcano I have seen
The giant Te Paki sand dunes in the North near Cape Reinga
The fascinating Blue Spring with crystal clear water
While the natural wonders of South island are mostly rock formations:
The millions years old Moeraki boulders lying on the beach on the South East coast. Those 50 boulders are up to 3m in diameter and weighs several tons
Opposite on the North West coast, you can find the fascinating site of Punakaiki (pancake rocks). The geologists are still puzzled by the creation of those stack of rocks
And many more fields of giant rock formations shaped by erosion such as Castle Hill Rocks and Elephant rocks (on the Vanished world heritage trail)
The Spit where sand is accumulating for kms
And of course the fjords and glaciers…
This category is a lot harder. The Natural wonders of North island are colorful and active while the those of South island are treasured witnesses of history. The north island geothermal fields will really impress you and make you feel the power of the Earth. Therefore the winner is North island.
Winner = North island
Best Beaches in New Zealand – North or South Island?
North island has a great variety of beaches:
To the North you can enjoy dreamy white sand beaches in perfectly shaped coves
Around Auckland you can explore the dark side with black sand beaches such as Piha or Bethells beaches
North of Gisborne, you can also find some fine sand beaches ideal for sunrise
If you are looking for beaches with character (with interesting cliffs) you can head to the famous Cathedral cove or to the overlooked Castlepoint with its lighthouse and lagoon (one of my favorite places in New Zealand)
Plus North island has some of the most famous surf spots such as Raglan
South island has less of a variety in the sand, but offers some of the most picture-worthy beaches in New Zealand.
For dreamy beaches, head to the North coast around the Abel Tasman National park. The gold and orange sandy beaches are surrounded by lush vegetation.
If you love cliffs and sea-stacks, you will be really happy with Tunnel beach, Wharariki or Motukiekie
And if you head South to the Catlins, you can alternate with beautiful coves where dolphins come swimming and fascinating carved cliffs such as the Cathedral Caves you can enter at low tide.
In this category, I know I can make some enemies. People have very strong opinions of the best beaches in a country. But when thinking back to all the beaches I visited (which is a lot), I really can't pick one island over the other. You can just see my favorite 15 beaches around the country. Both islands have dreamy sandy beaches as well as crazy cliffs and rock formations.
Winner = Tie
Wildlife
In North island, your main options to enjoy the wildlife are:
The bay of islands for seals and dolphins (and maybe a penguin since I saw one)
Boat excursions from Auckland to islands and bird habitats
Seal colony at Cape Palliser
Ecosanctuary of Zealandia to see native birds
South island is heaven to observe sea life
Whales, dolphins and seals around Kaikoura
Penguins, seals, dolphins and albatross around Dunedin
Dolphins and seals around Abel Tasman
Seals almost everywhere
And my most memorable wildlife moment in NZ – seal pups playing in tidal pools at Wharariki beach!
Ecosanctuary of Orokonui to see native birds
If you are interested in Native birds, then both islands can offer great wildlife experiences. However if you are more into sea life, then South Island is for you (especially the East coast on the Pacific ocean).
Winner = South Island
Towns
My favorite towns in North Island for their architecture or atmosphere are:
Napier with art deco buildings, great beach, nice cafés and a lot of art
Paihia for its relaxed community vibe and the beautiful sea-front
Wellington for its great sea-front and views from the hills
And of course Auckland with volcanoes, islands and sails
My favorite towns in South island for their architecture or atmosphere are:
Akaroa, because I am French lol
Kaikoura because of the great sense of community and isolated feel between mountains and sea
Oamaru and Dunedin which have protected their Victorian buildings
You mostly visit New Zealand for nature. No really old villages or towns with castles and monasteries like in Europe. But if you enjoy visiting quirky little towns, of find places to stay with a great atmosphere, I think North island is ahead of South island.
Winner = North Island
Culture
North island has a great variety of cultural experiences, especially around Maori history:
you can explore several old Pa (old fortified Maori villages on hills) such as Otatara Pa near Napier
The region of Rotorua-Taupo is home to traditional Maori villages where you can learn more about their traditions, arts and lifestyle.
Near Paihia you can visit the historical Waitangi Treaty grounds with the museum to learn more about the accord between the British crown and the Maori people.
And of course Wellington is home to the Te Papa Museum with a lot to learn about the Maori culture.
In the South island you will find a lot less attractions about the Maori people.
However you can learn more about the Victorian era in towns such as Oamaru, Dunedin, Invercargill
You can visit the only castle in New Zealand – Larnach castle
A lot of the land has Maori Legends attached to is – for example about all the rock formations or the mountain and the sea, especially in Kaikoura
Only one Maori village near Christchurch (Willowbank wildlife reserve)
Most of the Maori attractions can be found on North island. And they are the main cultural interest of New Zealand. Therefore I am picking New Zealand North island as the winner over South island in this category.If you want to see more you can check out my:
Winner = North Island
Where to stay in New Zealand?
My favorites on North Iceland:
My favorites on South Island:
New Zealand Which island to visit – Experience criteria
Now that we have covered the best places to visit in New Zealand North island vs South island, we will finish this comparison with the criteria that can impact your experience of seeing those amazing landscapes. It should help you decide which New Zealand island to visit.
Climate / Weather
The climate of New Zealand is wet and temperate maritime. The islands are not wide and surrounded by water: the Tasman sea to the West and the Pacific Ocean to the East. So you can get wet in both island equally. However:
The fjords of South island are really wet – you probability of getting rain is high
New Zealand in on the Southern Hemisphere, therefore the more South you go the colder it gets
Plus South Island is mountainous which means colder temperatures at higher elevations and changing weather
Generally, the North Island of New Zealand is warmer. North of Auckland, it even gets subtropical.
Winner = North island
Crowds
In North island, the tourist crowds are concentrated around Rotorua and Taupo.
In South island the tourist crowds are concentrated around Lake Pukaki and Queenstown.
Local population – North Island = 3.7 million in 2017 / South Island =  1.1 million (data)
Density of population – North Island = 33 per km2 / South Island = 7.5 per km2 (3 in 4 New Zealanders live in North Island)
But in both cases, it is really nothing; If you have travelled intensively around Europe for example, you will not be bothered by the crowds in NZ…
That being said, the attractions that felt most crowded to me were in North Island. And most of the New Zealand population lives in North island. Therefore, South island feels emptier.
Winner = South island
Food & Wine
Wine
New Zealand is one of the most notorious wine-making countries in the World (but with low volumes of productions). Some of the most famous wine regions are:
Marlborough and Waipara in South island
Canterbury, Hastings and Hawke's bay in North island
Food
Typical food in New Zealand is Lamb, Mutton, Fish and Chips and Seafood.
Specialties of North island – Hangi pies cooked on geothermal fields and other Maori dishes around Rotorua and Taupo, fresh oysters in the Coromandel peninsula
Specialties of North island – Lobsters and crayfish in Kaikoura, Canterbury lamb, oysters in Bluff
Other fun information about food in New Zealand
Would you queue 2 to 3h for a burger? Queenstown is home to the famous Fergburger
Wellington is the Bier wonderland of New Zealand
Wellington is also the coffee capital
Dunedin is the home of the Cadbury chocolate factory
They invented the Hokey Pokey ice cream (vanilla ice cream with small hard lumps of honeycomb toffee)
Winner = Tie
I don't drink coffee
But I also like other drinks and sweets!
Do you like the free content you find on my blog? All my tips and practical information, without intrusive advertising…

Quiz to help you choose North vs South island for your first trip to New Zealand?
Do you want to stay in one town and visit from there?
Pick Rotorua in North island (and focus on volcanoes and caves) or Queenstown in South Island (and focus on mountains, lakes, fjords)
Do you want to spend a lot of time at the beach?
Head to the Northland of North island
Do you want to do a lot of hiking?
South island is your paradise
However the volcanoes of North island also have great hikes
Do you want diving and snorkeling opportunities?
Opt of North Island
Do you want a region that is packed with things to do without too much driving?
Head to Rotorua or Queenstown
Do you want to limit the cost of activities?
Avoid Rotorua and Queenstown
Do you want to go surfing?
North island is your paradise. There is a large choice of beaches to choose from for all levels
Planning your New Zealand itinerary for North or South islands
General tips for your New Zealand itinerary
Don't plan too much driving per day, you will want to stop all the time to admire the scenery – and average of 2 to 3h per day is ideal
Plan time to clean your car – in some areas you will drive on gravel roads to reach the most beautiful places and your car will get covered in dust
Always check out the road conditions – website
If traveling during high season, book accommodation in advance – check out my article about the best destinations in New Zealand
Don't rent a car while staying in Auckland. Driving in and around Auckland is nightmarish. So if you are staying a couple of days in Auckland rent your car before or after – see car rental deals
Consider domestic flights to save time on your itinerary
Find out the best time to go to New Zealand for you, with my multi-criteria summary
And keep track of your own trip!
How long to plan your trip to New Zealand North or South Island
Ideally I would plan 3 to 4 weeks in North Island and 4 to 5 weeks in South Island
However not everyone has this kind of time – Don't worry, you can already see a lot with only 1 or 2 weeks
If you have less than 2 weeks, don't try covering both islands. You will spend more time driving than everything else – You can for example check out my suggested North Island itineraries or my suggestions for South Island.
If you are planning your road trip around New Zealand, I have created travel guides with my curated selection of the most beautiful places to visit and practical maps to make it easier to organize your trip:
Plan your dream trip to New Zealand with my guides!
Want to see more of New Zealand?
Planning a trip to NZ?
Check out my travel guide to help you plan:
And keep track of your own trip!
Want to see more of NEW ZEALAND?
PREVIOUS:
NEXT:
BEST THINGS TO DO IN NZ SOUTH ISLAND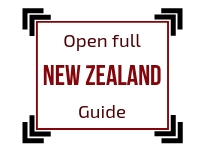 Inspired? Share it on your favorite platform!