Motukiekie beach, New Zealand, is one of the lesser known beaches, and yet it is one of my favorites. Accessible only at low tide, it is a wonderland for both photographers and geology-lovers. Below is my guide to help you plan your visit to this off the beaten path wonder.
Why visit Motukiekie Beach?
Is Motukiekie beach worth it?
Absolutely, if you enjoy photography.
It is a gorgeous beach with:
impressive sea stacks
many layers of rocks with different shapes, colors and textures as they have been sculpted my the sea
cliffs covered by forest (with an Hawaiian feel)
packs of starfish stuck on those giant rocks
And there is nobody there!!! I was alone to explore it.
Despite the bad weather when I visited the beach, I must say that it was really a fantastic surprise.
I just wished I had had a little bit of better light to take better pictures for you (my technical skills are limited in such conditions). It is truly one of the best beaches in New Zealand for photographers!
About the name
Motukiekie is a Maori name:
Motu means island. Kiekie is the name of a native plant.
You can actually found a Motukiekie Island in the Bay of Islands (New Zealand North Island).
But this Motukiekie beach is in South Island.
Planning tips and Map – Motukiekie beach, New Zealand
Motukiekie beach location – Map
Located in South Island, West Coast, off the beaten track
South of the famous Punakaiki (Pancake rocks)
The only way to see it is with a rental car
Punakaiki to Motukiekie beach = 20min drive
Greymouth to Motukiekie beach = 20min
I recommend parking at the GPS coordinates 42°18'53.2″S 171°16'46.9″E along the road
Below is a map to give you an idea of where it is located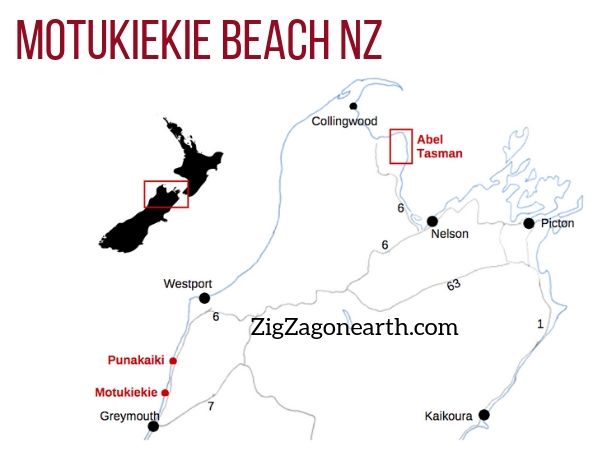 Need to rent a car in New Zealand?
My tips:
Compare prices on my favorite platform:  

Discovercars.com

– one of the best rated comparison sites!
Prefer a car with enough power for the mountain areas
Consider their full coverage option – it for peace of mind!

Book early

to have a large choice of vehicles!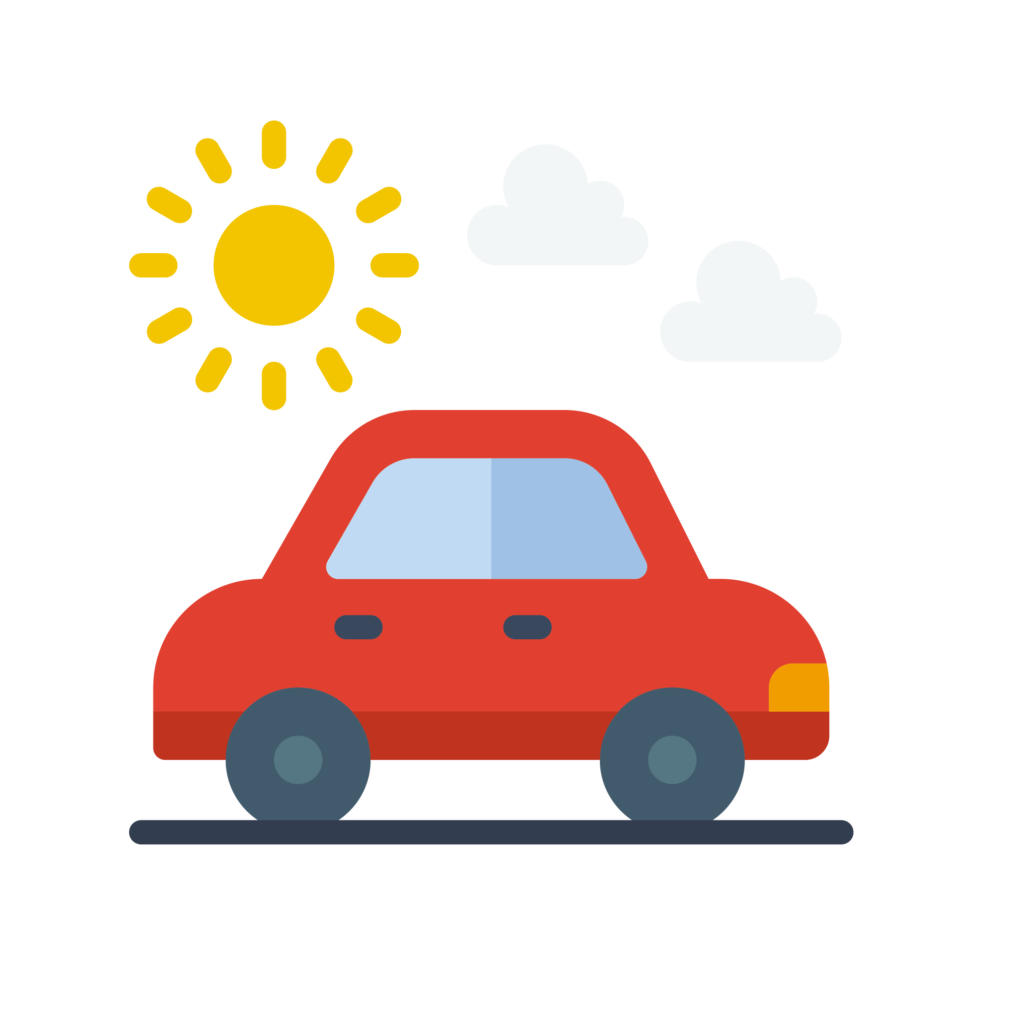 Visit tips
Plan 2 hours
From the side of the road where you parked to the seastacks, you have to walk around 30min (I am a slow walker)
Go before low tide to be able to come back to your car without your feet getting wet
You have to walk on wet sand but it is flat and easy, not rocks to climb
No facilities at all
Motukiekie beach and many other fantastic places to photograph are included in my eBooks, to help you plan an unforgettable road trip:
Where to stay nearby
I think it is a good idea to spend a night nearby to have some flexibility around the tides.
Where to stay in New Zealand?
My favorites on North Iceland:
My favorites on South Island:
How to access Motukiekie Beach Walk
There are a lot of discussion about how to access it.
There is a short but very dangerous path down the cliffs that is not recommended (with ropes).
But there is also a very easy path (a little longer). The beach is not difficult to access at all!
Just park along the road around 42°18'53.2″S 171°16'46.9″E.
From there it is a tiny slope to get on to the beach. If you have some difficulties with high steps, walk around there are some stops easier than other to get down.
And then you walk on flat sand:
Around 10min until you reach the first fascinating rocks – and you photography wonderland starts
Around 30min until you reach the seastacks up-close
Best time to visit Motukiekie beach – Tide and sunset
LOW TIDE
You must absolutely start your walk before low tide.There is no way around it.
And you must plan the time to walk back to your car before the tide goes up as it does not leave any beach to walk on…
SUNSET
And if you can choose the day you visit, try finding the day when low tide and sunset are at the same time (it is on the West coast).
Geology and Photography wonderland
As you walk on the beach, you will reach some rocky areas with a large variety of shapes, colors and texture.
I took way too many pictures even though the weather was not on my side.
So bring plenty of memory cards.
Geology
I have tried to find some geology info on the area but can't find any sorry.
All that I found is that where mountains meet the sea, you can find flat beach platforms at their base. They formed when sea level was higher and appeared as they sea level dropped or when raised by movements of the earth's crust.
Photography
Below are a few shots I took along the way. But they don't do justice to the place.
Don't forget to get up close to the cliffs to see the layers of sediments. Absolutely fascinating!
Seastacks – Motukiekie rocks photography
The main attractions of Motukiekie beach are the seastacks. There are many of them and I love the different shapes they have depending on the angles.
With the low tide, you get reflections on tidal pools to play with in your photos.
And keep track of your own trip!
Starfish colony NZ at Motukiekie
The other stars of Motukiekie are the starfish.
There is a large colony living there.
Get close to the giant seastacks and you will find may of them resting during the low tide.
Just make sure you keep an eye on the water, as you can be surprised by tidal waves and get your feet wet.
Generally they are in clusters. This one than I found alone, seemed to be in bad shape.
A few facts about starfish:
They are also called sea stars
They are not fish at all. The are marine invertebrates
Most species have 5 arms, but some have up to 40 arms! The ones I saw had around 12 arms
They are carnivores (eating clams, shells and mussels)
They can regenerate part of their bodies
They do not have a brain and do not have blood – seawater circulate in their body
Return walk
As you walk back you will see the rocks with new angles and you have a great views of the mountains dropping into the sea: The Paparoa range.
Due to the mild climate, the coast is covered with broadleaf forest with nikau palms. So it has the tropical feel of Hawaii.
View from above – Tide
You can also see the seastacks from above.
Just South of where you have parked to start walking, once you have driven up, you will find a small parking area with picnic tables. Stop there and climb to the edge of the cliffs to see them.
In the picture below you can see how the whole beach is covered by water at high tide.
Attraction near Motukiekie
Do not miss Punakaiki / the Pancake Rocks nearby (which are better seen at high tide, so it is great for your timing):
Other great beaches for photographers
My other favorite beach to photograph was Wharariki. It combines seastacks, reflections, sand dunes and seal pups!
Check out my article
But there are many other with interesting features to photograph:
Want to see more of New Zealand?
Planning a trip to NZ?
Check out my travel guide to help you plan:
Want to see more of NEW ZEALAND?
PREVIOUS:
NEXT: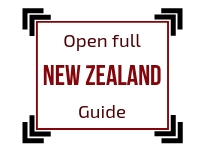 Inspired? Share it on your favorite platform!