Wondering what the Andalucia scenery look like?
White villages, old towns, mountains, beaches… get ready to be mesmerized by the best Andalucia landscapes!
Here is a selection of 40 Andalucia pictures I took that will probably make you add this region to your travel bucket list!
Before my tips + photos, here are my favorites for Andalucia:
1 – Montefrio – National geographic photo spot
In Montefrio, you can find one of the most famous spots for pictures of Andalucia. They even created a little frame to show where exactly the National geographic photographer was standing… LOL… I did not take exactly the same, but it is definitively one of the most typical views of Andalucia: the white houses, the hills with Olive trees and a structure on a hill!
2 – Cordoba – Andalucia city landscape
All the main cities of the region are fascinating with a rich history and stunning buildings. The one that stole my heart the most if Cordoba.
The view from the river with the old Roman bridge and the cathedral behind is fascinating. You can imagine how much history has taken place here.
3 – Playa de los Muertos – Beach landscape in Andalucia
Andalucia offers a lot of variety in terms of beaches (see my list of the best beaches). My favorite area is Cabo de Gata, to the East because it combines the intense blue of the see with volcanic landscapes. At Playa de los Muertos, there is a great viewpoints to admire this dramatic scenery.
4 – Zuheros – one of the best Andalucia landscapes
Zuheros is my favorite white village in Andalucia (see my list). It is hidden and out of the way but the niched in the mountains next to a gorge.
The various views are stunning and it is easy to walk around and appreciate the quaint atmosphere.
See more pictures in my article about Zuheros.
5 – Torcal de Antequera – amazing natural scenery
If, like me, you enjoy crazy rock formations, make sure you don't miss Torcal de Antequera. It is a geological wonder with flat lying limestones that look like piles of pancakes. The most impressive part is that they cover a very large area.
You can easily stop to the museum and viewpoints, or you can go for a hike through the formations.
6 – Setenil de las Bodegas
Setenil is one of the most unique villages in Andalucia. It is well worth a visit.
It is not the only place where houses are built into a rock cliff. But it is particularly impressive in Setenil because of the overhang. There are several streets where the rock just hang over your head!
See more pictures in my article about Setenil de las Bodegas.
7 – Negratin Lake
Lake Negratin is typically not on tourists' map. But it is enjoyed by the locals!
This reservoir not far from the area of Guadix offer some colorful landscapes: red, orange and white rocks around the deep blue of the water.
And the shores are very different from one side or the other, so make sure to drive around!
Need to rent a car in Andalucia?
My tips:
Compare prices on my favorite platform:

Discovercars.com

– one of the best rated comparison sites!
Don't take a car too large, since village streets can be narrow
Consider their full coverage option – it for peace of mind!

Book early

to have a large choice of vehicles!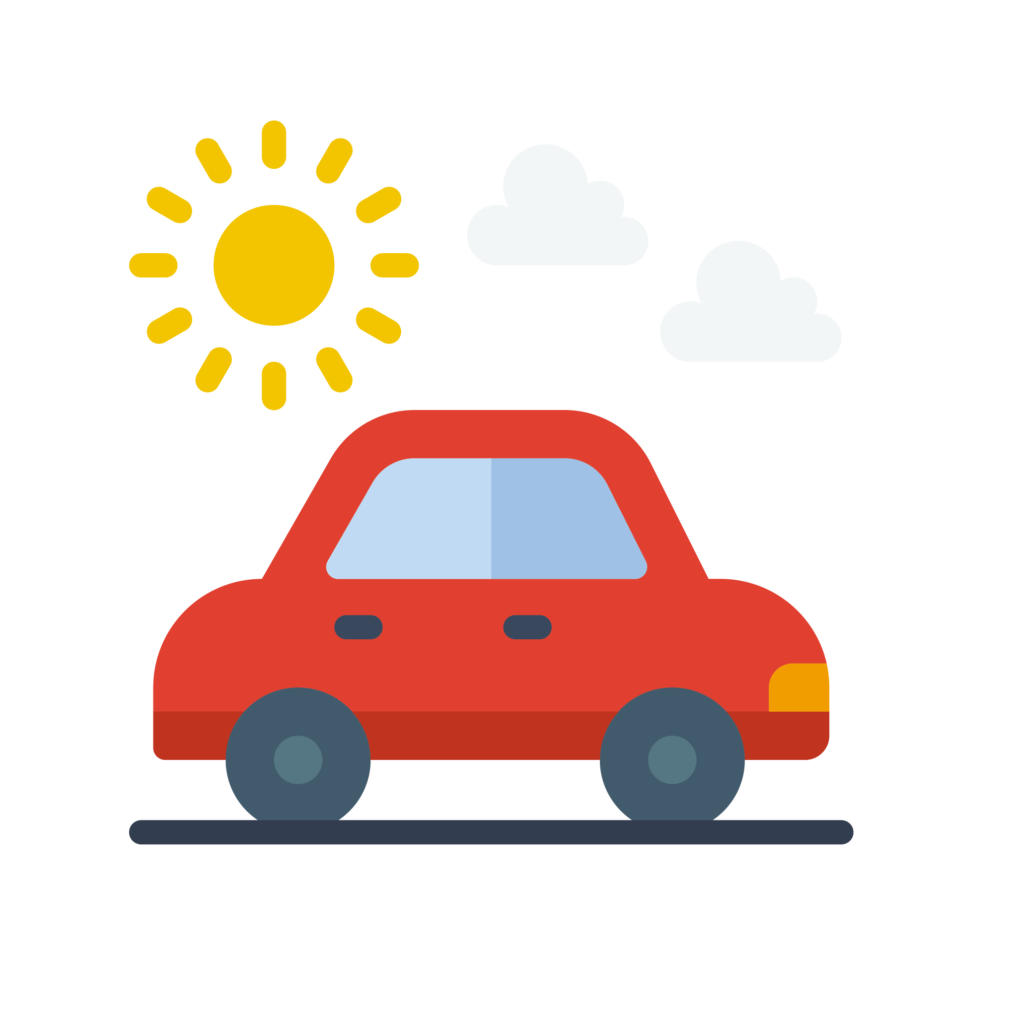 8 – Ruins of Medina Azahara
Andalucia is rich in history and architecture. Medina Azahara are the ruins of a vast palace-city first built around 940. The city was built on 3 levels and fortified. It was full of rich architectural elements, and a few can still be admired. It was destroyed by the civil wars during the 11th century, but you can still admire some of the features.
The site is listed as a Unesco World Heritage Site.
9 – Playa de Bolonia
If you are looking for sandy beaches, Costa de La Luz should be your destination. And you should not miss Bolonia. This seaside village has it all: long beach, hills around, a giant sand dune and roman ruins (see #14)! What else could you ask for?
10 – Nerja Cave – Andalucia underground landscape
Andalucia is beautiful above ground, but also under it. You should not miss the Nerja cave and its beautiful geological wonders, including the column of Hercules, and its impressive size: 32m (105ft) in height and 18m (59ft) in diameter.
11 – Grazalema
There will be many pictures of Andalusian white villages in this article, because they are so typical of the region and so pretty.
This is Grazalema, niched in a high valley (800m – 2625ft altitude) with cobbled street and stunning surrounding peaks.
12 – Antequera Dolmen
If you love prehistoric history, you should visit Antequera. It is home to 3 very different dolmens in great state of preservation. This is one of the most important examples of Megalithism in Europe, and a Unesco site.
Menga – a giant chamber with the entrance aligned for the summer solstice. It is 27.5m (90ft) long and 6m (20ft) wide.
Viera – another chamber with a giant corridor leading to it.
El Romeral – a different structure with round beehive chambers.
13 – Guadix troglodyte village – unique scenery in Andalusia
Located on an elevated plateau, Guadix is a fascinating town like no other in Spain. It dates back to the Phoenicians and has had a long history since then.
In the oldest part of the town, most inhabitants live in cave houses dug in the ochre hills. This is a fascinating place to explore!
All my favorite locations are included (with GPS coordinates and practical tips) in my Travel Guide eBook that helps you easily plan your road trip around Andalucia:
Where to stay in Andalucia?
My favorites on a road trip:
14 – Baelo Claudia
The most famous archaeological site on the South Coast is Baelo Claudia, right next to the Bolonia Dunes, on the shore of the strait of Gilbraltar.
It is an ancient Roman town which started as a fishing village 2000 years ago, was founded at the end of the 2nd century BC.
Here, the landscape is a great combination of ruins, mountains and beach!
15 – Granada's Alhambra
The main attractions in Granada are the forts and palaces on the hill in the middle of the city.
A visit is recommended, but make sure to also visit the Albaicin neighborhood because it offers fantastic views of the Alhambra!
16 – Ronda Bridge – Classic Andalucia photo
The is the Andalusian photo that defies gravity!
Everyone who stops in the Ronda town is mesmerize by the El Tajo gorge and the bridge to cross it. Built in the 18th century, it is an impressive 120m (390ft) height above the canyon floor.
17 – Plaza da Espana, Seville
In Sevilla, you don't only explore during the day, but also at night. One of the best places to be when the sun sets is at Plaza de Espana to see all the lights turn up and make the view even more magical.
I don't drink coffee
But I also like other drinks and sweets!
Do you like the free content you find on my blog? All my tips and practical information, without intrusive advertising…

18 – Nerja Balcon – Andalucia coastal scenery
One of the most famous viewpoints in Andalucia is the Nerja Balcon. Located in a town that was able to keep its original charm, it offers wonderful views of the coastline with hills dropping into the sea.
19 – Almodovar del Rio
Located on the bank of the Guadalquivir, the castle is built on a 250m (820ft) high hill. Thanks to its strategic location, it protected the town of Cordoba.You can admire it from far away and from different angles: with nature, a river or a village for different types of pictures.
Plus, for fans, it has been a shooting location of Game of Thrones.
Where to stay in Andalucia?
My favorites on a road trip:
20 – Cascadas del Rio Borosa
If you are looking for an escape with cooler temperature and protected nature, head to the mountains of Sierra de Cazorla Natural Park. Here you can enjoy the river walk to the Rio Borosa waterfalls.
21 – La Isleta del Moro
In Cabo de Gata, all the beaches are very different, which I love. For example, at La Isleta del Moro, on top of the beautiful beach, you have a small peninsula in the middle of the bay with a few white houses. This is very charming!
22 – Arcos de la Frontera
Another one of the famous white villages. This one if famous because of the giant cliffs. It is a steep drop! And you can discover the buildings right at the top overlooking the Guadalete River.
Inhabited since prehistoric times, it became a defensive strongpoint during the Middle Ages.
23 – La Calahorra – off the beaten path picture of Andalucia
Small town protected by the Castle of La Calahorra. It is one of the most photogenic forts in Andalucia (in my opinion).
With its round towers, domes and the mountains in the background, it deserves a detour off the beaten path.
24 – Frigiliana
Often listed as the 'prettiest village in Andalucia', Frigiliana is a typical maze of cobbled narrow streets and very close to the sea.
It is one of the best maintained white villages with a lot of efforts in terms of plants. Therefore, it is really fun to photograph.
See my article about Frigiliana.
And keep track of your own trip!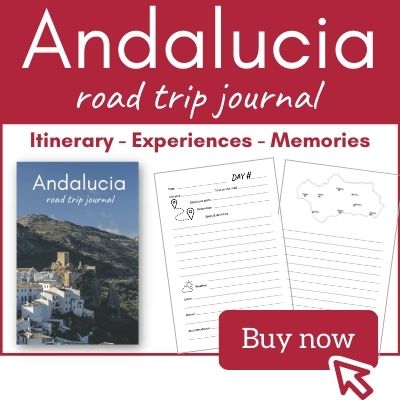 25 – Drive to Puerto de las Palomas
This is a region that gets a lot less touristic attention, and yet it offers some of the best landscapes in the country: white village (see #26 next), a lake with colorful shores and mountains… it is stunning! Don't miss the drive to Puerto de las Palomas to admire the lake from above, off the beaten path and magnificent!
26 – Zahara de la Sierra
And Zahara de la Sierra is near the lake (Embalse de Zahara el Gastor) seen in the picture above.
It is one of the most dramatic white villages in the area, with a fort on top of a rocky promontory. (Embase de Zahara el Gastor).
Originally, it was a Moorish outpost at a strategic location between Seville and Ronda.
27 – Tabernas desert
The Tabernas Desert is the only real inland desert in Europe. The sun shines here for over 3000 hours a year.
It has been used by filmmakers to represent the southern deserts of the USA in the famous "spaghetti westerns".
But it is also a nature reserve over 280km2 (110sqmi), and it offers stunning views and rock formations!
28 – Olive farming near Baeza
Baeza and Ubeda are 2 historical town forming a Unesco site. They are both well worth the visit.
My favorite is Baeza, not only for wandering along the historical streets but also for the views over the olive tree farms with the mountains in the background.
I recommend spending a night here to enjoy its magic! Check out the best rated accommodations.
28 – Bubion and Sierra Nevada villages – Andalucia mountain landscapes
Andalucia has several mountain ranges, but the most famous is Sierra Nevada. Especially to road that leads to 3 village perched on the side of the mountains.
The middle one Bubion. From the road, you can admire the typical roofs of the region.
The road will also take you to Pampaneira and Capileira.
29 – Playazo de Rodalquilar
And we come back to Cabo de Gata, because I love those beaches so much! This is yet a very different one.
At Playazo you enjoy a combination of sandy beaches, rock formations, fossilized dune and fort!
30 – Cape Trafalgar
The area around the Trafalgar lighthouse offers stunning golden sand beaches.
The headland, where the lighthouse stands, is easy to access. It will please geology and photography enthusiasts with fascinating rock formations.
31 – Fortaleza de la Mota
Andalucia has plenty of hills, and plenty of fortresses set up on top of them to protect their region. Therefore, you can often find some great viewpoints to admire them.
Here, the Fortress is in the town of Alacala La Real is one of the most impressive to visit in Andalucia. The whole citadel was abandoned in the 18th century when the town was developed in the plain, but you can visit it today and imagine how life way!
32 – Jaen & surrounding mountains
Jaen is the less touristic of the main towns in Andalucia but if offers one of my favorite city landscape pictures. From the top of the hill, you can look down at the colorful houses with the cathedral overlooking everything and the mountains in the background. Stunning!
33 – Las Setas – architectural landscape
If you are looking for the most photogenic piece of modern architecture in Andalucia, don't miss Las Setas in Seville.
A stunning structure also known as the Mushrooms of the Incarnation. A unique sight!
34 – Cadiz Coastline
Cadiz is located on the tiny piece of land hardly connected to the mainland. Therefore, it is surrounded by water… which makes for great pictures!
35 – Sierra de Grazalema
Another one of my favorite drives is between Montejaque and Grazalema. The steep rock formations around Rio Gaduares are very photogenic!
36 – Playa del Embarcadero
Beach and volcanic landscapes, you can now tell that it is located in Cabo de Gata.
This is one of the overlooked beaches, but I think the view from the East promontory offers a splendid view. Don't you think?
38 – Cierro del Hierro
In the northern part of the region, you will find plenty of locals but not many tourists. Yet this is one of the most fascinating geological landscapes in Andalucia.
Because of the iron in the hill, mining started with the Romans. And it lasted until the 10th century. What remains is a landscape with needles, sink holes, caves, chasms and many more formations from the limestone rocks.
39 – Italica ruins
Italica was one of the first Roman cities founded outside of Italy and one of the best roman sites to visit in Andalucia. It is famous for its giant amphitheater and its well-preserved collection of mosaics.
40 – Tarifa sunset
One of the most famous sunset and sunrise locations in Andalucia is from Tarifa.
On one side you have the Mediterranean sea and on the other the Atlantic ocean!
Check out the best rated accommodations in Tarifa.
Want to see more of the best Andalucia has to offer?
24 Best things to do in Andalucia – read article (to be published)
17 Most beautiful white villages in Andalucia – read article
20+ Best beaches in Andalucia – read article
21+ Best cities and towns in Andalucia – read article
Best castles and forts in Andalucia – read article (to be published)
Sevilla vs Cordoba vs Granada – the city battle – read article
Tips to plan a road trip around Andalucia – read article
16 best castles and palaces in Andalucia – read article
Planning a trip to Andalucia?
Check out my travel guide to help you plan:
And keep track of your own trip!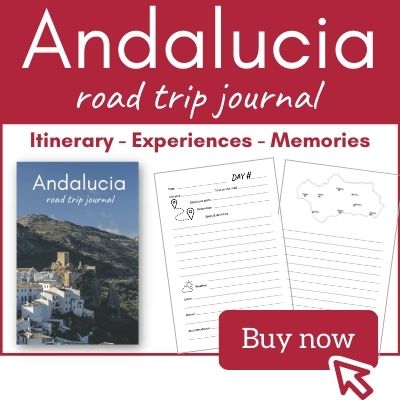 Want to see more of ANDALUCIA?
PREVIOUS:
NEXT:
17 best white villages in Andalucia (Pueblos blancos)
Inspired? Share it on your favorite social media