Want to avoid the crowds of tourists and discover lessen know gems?
Check out my suggestions of 10 amazing places in Andalucia off the beaten path with photos, tips and map.
Andalucia off the beaten path – Overview & Map
Next in this article, you can see pictures and learn more about each of those destination but for a quick glance my suggestion for Andalucia off the beaten path are:
Cerro del Hierro – colorful rock formations
Puerto de las Palomas – stunning drive over a lake
Zuheros – charming white village
Lake Negratin – superb rock formations around deep blue water
Megalithic Park of Gorafe – dolmens and stunning views
Montoro – photogenic village
Cala Enmedio – Hidden beach reached by hiking
Acinipo ruins – roman ruins surrounded by mountains
Medonia Sidonia – intriguing old town center
Jaen – alternative town
Some of them do get crowded with locals during summer holidays, but all of them are overlooked by foreign tourist.
Below is a map to help you locate them:
All these locations (and more) are included (with GPS coordinates and practical tips) in my Travel Guide eBook that helps you easily plan your road trip around Andalucia:
#1 – Cerro del Hierro – loved by locals
Why visit?
At Cerro del Hierro, you can enjoy a short walk to an impressive natural monument, the result of activity by nature and man.
Because of the iron in the hill, mining started with the Romans. And it lasted until the 10th century.
What remains is a landscape with needles, sink holes, caves, chasms and many more formations from the limestone rocks.
Plus some buildings till remain from the mining period.
Note that it is popular with the locals, so on weekends and during school holidays, you can see quite a lot of people. But you will hardly see any foreign tourists!
Tips
#2 – Drive to Puerto de las Palomas
Why visit?
Many people visit the white villages around the town of Ronda. Some are very popular like Setenil de las Bodegas and its rocks.
However, less people visit Zahara de la Sierra, and even less take the time to drive the road through Puerto de las Palomas.
Yet, the drive is breathtaking, with on one side, views over the Zahara-el Gastor Lake and on the other side the mountains covered with forest.
Tips
#3 – Zuheros
Why visit?
It is a little bit of a detour to visit Zuheros but I think it is worth it. The white village is well maintained and surrounded by beautiful mountains and a canyon.
Its castle is beautifully integrated with the rocks and the cliffs. Its current version probably dates back to the 11th or 12th century and modified in the 14th.
It is one of my favorite white villages in Andalucia (see my list).
More photos in my article about Zuheros.
Tips
#4 – Lake Negratin (Reservoir)
Why visit?
The Negratin reservoir is, in my opinion, the most beautiful lake in Andalucia in terms of scenery.
You can drive around it for many different views.
The color of the lake varies from deep blue to turquoise. And it is surrounded by colorful rock formations. And, at one end, Mount Jabalcon (1494m – 490ft) is overlooking the lake.
It is popular with Spanish people in Summer for water activities but there is nobody there off season! We had the lake for ourselves when we visited!
Tips
#5 – Megalithic Park of Gorafe – Andalucia off the beaten track
Why visit?
Gorafe is one of the small villages with cave houses in the Guadix area. The road to reach it is beautiful.
I have chosen this one because there is another attraction nearby: the Megalithic Park of Gorafe: the unpaved road takes you to several small dolmens and offers magnificent views of the valley!
For those who enjoy geology and archeology, this is great!
Tips
#6 – Montoro
Why visit?
Montoro is a very photogenic village niched inside a curve of the Guadalquivir River.
The narrow alleys up the hill are lined with white houses and the village is surrounded by a fertile valley.
Plus it offers several great viewpoints for photography.
Tips
#7 – Cala de Enmedio
Why visit?
This beach is located in Cabo de Gata, which is already less touristic that the beaches of Costa del Sol.
Plus, this fine sand beach with eroded fossil dunes is only accessible on foot.
If are looking for an isolated beach and are ready to hike, this is the place for you.
The hike takes you over Agua Amarga with beautiful views over the bay from above as you approach.
Tips
#8 – Acinipo ruins, Andalucia away from the crowds
Why visit?
Small archeological site, off the beaten track.
The main feature is what remains of the Roman theater including part of the wall from the 1st century AD.
The site also offers beautiful views of the surrounding countryside and mountains.
Part of the ruins are even from a Bronze age settlement.
Those are not the size of Italica, near Seville, but, if you visit early you could be almost alone in the place!
Tips
#9 – Medina Sidonia
Why visit?
The old center of Medina Sidonia has something different but I can't find the words to explain. IT is probably the mix of architecture.
The main entrance with an Arab style door is a great start for your exploration.
Enjoy the 16th century buildings in the lower parts of town. Or head to the top, through the narrow streets, to visit the hilltop church and the ruins of the castle.
There are so many beautiful white villages and towns in this area, that some don't get the love they deserve from tourists. This is one of them, in my opinion.
Tips
#10 – Jaen – less touristic town
Why visit?
OK. Let's be honest, it is a big city. Therefore, it is crowded by default.
However, it is not touristy. Not at all compared to Cordoba, Seville and Granada. 
In my opinion, it has a few points of interest worth a detour if you have the time: for example, it offers magnificent views with the narrow streets, the cathedral standing out and the hills covered with olive trees.
Tips
Want to see more of the best Andalucia has to offer?
Planning a trip to Andalucia?
Check out my travel guide to help you plan:
And keep track of your own trip!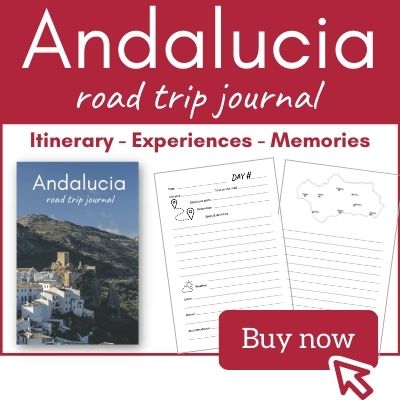 Want to see more of ANDALUCIA?
PREVIOUS:
21+ Best cities and towns in Andalucia
NEXT:
Best castles and palaces in Andalucia
Inspired? Share it on your favorite social media