Time to plan your Andalucia Road trip! 
There is so much to do, that planning can be overwhelming.
Below is my guide to help you go step by step and decide when and where to go, define your itinerary and prepare for you trip in Southern Spain.
Before my tips + photos, here are my favorites for Andalucia: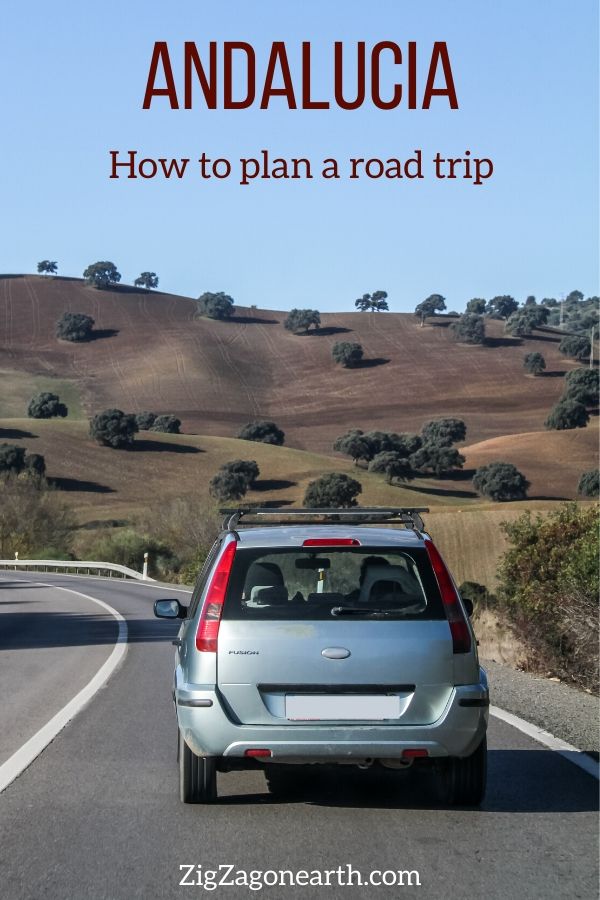 STEP 0 – Essentials to know for your Andalucia Road Trip
Let's start with a few essential facts to keep in mind before planning your trip to Andalucia:
There are lots and lots of places (charming villages, forts, beaches, cities…) so be reasonable in your planning.
Most of the roads are in very good condition
There are a couple of road sections with tolls, but you can avoid them
If you enter villages or the old parts of towns with your car, know that a lot of streets are very narrow. This can be nerve racking
July and August get really crowded
If you plan on visiting the mountains or if visiting outside of Summer, bring layers of clothes for warmth, wind and rain
If you want to visit the famous Nazaries palace in Granada, book at least 3 months in advance – visit passes are limited
All my favorite locations are included (with GPS coordinates and practical tips) in my Travel Guide eBook that helps you easily plan your road trip around Andalucia:
STEP 1 – Decide your best time to visit Andalucia
When to visit Andalucia – the climate
Let's start with the important question of the climate and what to expect.
Andalucia is the southernmost region of Spain. The region is crossed by mountain ranges and facing strong wind. Therefore, you can experience a variety of different weather conditions during your road trip.
Overall – Andalucia has a temperate Mediterranean climate: hot and dry summers and mild winters with irregular rains that can be heavy.
However it gets cooler in the mountains of course. And the East is generally dryer.
In terms of weather, it is often considered the most enjoyable in April, May, September and October.
Best time to visit Andalucia – Other criteria
The other points to consider when deciding when to travel around the South of Spain:
Access – Some smaller attractions are closed in Winter
Crowds – It is extremely crowded in Summer, especially on the main beaches and the large cities
Prices – Of course, during the Summer months, prices are up because of demand.
Driving conditions – In Winter some of the mountain passes and some roads can be covered in snow, but not that many
Daylight – You will have longer days to drive around and see the sights if you visit in Spring rather than in Autumn.
So, when to travel to Andalucia?
If you really want to avoid the crowds, November is a good option. However, know that sunset is early so it will limit your exploration and it can get really cold in the mountains.
Otherwise for a good balance weather and crowds, I recommend April or October.
STEP 2 – Where to go in Andalucia – Regions (provinces) and Map
Size of Andalucia – driving times
Because it is part of a larger country, we don't often realize how big Andalucia is, but you should not underestimate how long it will take you to get around.
To give you an idea of driving times (mostly via Motorways):
Seville to Cordoba = 1h40
Seville to Granada = 2h40
Seville to Cadiz = 1h20
Seville to Malaga = 2h20
Malaga to Almeria = 2h15
Huelva to Almeria = 5h
Malaga to Cordoba = 2h
But as soon as you go off the main road to explore, driving will take a lot longer
Provinces and map of Andalucia and what to expect
Now let me introduce the variety of places to discover in each of the provinces.
Huelva
Main town
Huelva is the capital. It is the less famous of all the Andalusian cities. You can enjoy the wharf, the cathedral and the sites about Christopher Columbus.
Other highlights
Donana National Park – wetlands, great for bird watchers (especially for Flamingos)
Sand dunes and beaches
Mining around Rio Tinto
Aracena and its cave
Border with Portugal
Sevilla
Main town
Sevilla is the Capital of Andalusia. It is a vibrant town where you can enjoy music, dance (flamenco), magnificent monuments and beautiful parks.
Don't miss the Real Alcazar, Plaza de Espana and the cathedral.
Other highlights
The magnificent archaeological sites of Santiponce: Italica with a theater and many mosaics
La Sierra Norte mountain range with geological sites such as Cerro del Hierro
The historical town of Carmona
Cordoba
Main town
Cordoba is the main town and it is magnificent (My favorite) – walking around town with the bridge and the narrow streets feels like traveling back in time. Plus, the mosque-cathedral is so unique and impressive.
Other highlights
The Unesco site of Medina Azahara
Forts such as Almodovar del Rio
Charming white villages such as My favorite: Zuheros
The mountain range Sierras Subbeticas with caves and canyons
Jaen
Main town
Jaen is far less touristic than the other cities. Its fort is not standing anymore but the Cathedral is, and the views from the hill are splendid.
Other highlights
The many forts: Alcaudete, Banos de la Encina, La Guardia de Jaen, Iruela, Cazorla…
The impressive site of Fortalez de la Mota
The beautiful mountain range of Cazorla
The historical towns of Ubeda and Baeza (Unesco sites)
Cadiz
Main town
Cadiz is very different from the other Andalusian cities. The ambience is very relaxed with some great sea-side walks. Don't miss the cathedral, the towers and the roman theater hidden between the buildings.
Other highlights
Lots of charming villages and old town centers: Chipiona, Jerez de la Frontera, Vejer de la Frontera, Arcos de la Frontera, Medina-Sidonia, Tarifa, Sentenil de las Bodegas, Grazalema…
Stunning beaches (Costa de la Luz) with sand dunes: Bolonia, Valdevaqueros
Faro de Tragalgar with the sandy beaches and lagune
Archeological sites such as Baeolo Claudia
Malaga
Main town
Malaga is a very large town with modern art museums and access to wide beaches.
Other highlights
Antequera with its dolmens, historical buildings and the geological wonders of Torcal de Antequera
The beaches of Costa del Sol
The famous town of Ronda with the impressive bridge over the canyon
The town of Nerja with the Balcony of Europe and the cave
Many charming villages (pueblos blancos): Frigiliana, and Mijas
Granada
Main town
Granada is one of the most famous town in Spain because of its large fortress above the town: the Alhambra and the exquisite Palace of Nazaries in Mujedar style.
Other highlights
Some beaches on Costa Tropical
The Sierra Nevada and its famous villages: Pampaniera, Bubion and Capileira
The region of Guadix with fascinating geological formations and troglodyte houses
Photogenic little villages or old towns such as Montefrio or Alhama de Granada
Almeria
Main town
Almeria is lesser known but is attracting more and more visitors with its combination of fort, old town, archaeological site and beaches.
Other highlights
The Cabo de Gata Natural Park with stunning volcanic features and the famous beaches of Playa de los Muertos or Playa de Monsul
The salt plans of Cabo de Gata and the pink flamingos
The Tabernas desert, the only official desert in Europe – with its movie sets
I don't drink coffee
But I also like other drinks and sweets!
Do you like the free content you find on my blog? All my tips and practical information, without intrusive advertising…

STEP 3 – How long to plan your road trip around Andalucia
Time needed to complete the tour of Andalucia
Do not attempt to tour the whole region if you have less than 2 weeks.
Even with 2 weeks, you would have to be diligent to only focus on some highlights of each regions in order to make it work.
3 to 5 weeks is way more comfortable.
Time to dedicate to each region
Of course, you can focus on just one single region and visit it in depth. Even each cities deserves quite a long time to be discovered.
Below are my estimations to give you a general idea of what to plan. These timeframes do not include spending long hours laying on beaches. I love road trips and seeing as much as possible.
The following times are sufficient to see the highlights and get an overview of each region
Huelva – 1 to 3 days (if you are limited in time, this is the region I would skip)
Sevilla – min 2 days in town and 1 to 3 days for the region
Cordoba – min 2 days in town and 2 to 3 days for the region
Jaen – 1 day in town and 2 to 4 days for the region
Cadiz – min 1 day in town and 3 to 5 days for the region
Malaga – min 1 days in town and 3 to 6 days for the region
Granada – min 2 days in town and 3 to 5 days for the region
Almeria – min 1 day in town and 2 to 4 days for the region
STEP 4 – How to get there & where to start?
You can reach Andalucia via planes. There are International airports in:
Seville
Malaga
Granada
Jerez (Cadiz area)
And you can also arrive at Gibraltar
My preference goes to Seville. Since Seville is one of my favorite places to explore. You can rent your car after and before visiting the city and not bother with having a car to park in Seville.
You can also arrive by train or car from the rest of Spain.
STEP 5 – Rent your car
If you fly in, it is now time to rent your car. You will find all the international brands at the big airports.
Here are a few tips:
If you are not the most skilled driver, pick a car that is not too large so that you will be more comfortable in the more narrower sections of the streets in the villages
Pick a car that has a good motor so that you can drive more comfortably in the mountains
Note: most cars are manual, so you will pay more to get automatic
You don't really need a 4WD, especially as most companies do not allow you to drive off-road even with a 4WD for insurance reasons
Compare car rental prices on my favorite platform: Discovercars.com – one of the best rated sites!
Choose the car and company you prefer (remember the villages narrow streets)
Consider their full coverage option – I always take it for peace of mind!
Book early to have a large choice of vehicles
Learn more on my article about driving in Andalucia.
STEP 6 – Create your Andalucia Itinerary
Now that you have dates and transportation, you "just" have to decide on your Andalucia itinerary.
For some inspiration you can check my article about the 21 best things to do in Andalucia. (to be published)
And you can use the maps and planning info in my eBook to plan your ideal road trip:
When planning your itinerary don't forget to consider the following essentials:
DRIVING TIMES – Always plan more time to go from point A to point B than what Google says. You will want to stop all the time to admire the scenery and the roads might have traffic
DAYLIGHT HOURS – Check out the daylight time you have available when you are traveling. Check out how long you have to see all the sites during the day
CHECK OUT ROAD DIFFICULTY – In my eBook, I indicate the roads that are a little more difficult.
If you have a toddler, not all destinations may be adapted – Check out these tips for an Andalusia road trip with a toddler by Dream, Book and Travel for more specific tips.
Unesco Heritage sites in Andalucia
For some people, the Unesco Heritage sites are must-sees, so here is the list:
Granada and many of its monuments
Seville and many of its monuments
Cordoba and many of its monuments
Medina Azahara (Madinat al-zahra) – Moorish archaeological site
Ubeda and Baeza – 2 Renaissance towns
Donana National Park for its wetlands
The Antequera Dolmens
Gorham's cave complex on the eastern side of the Gibraltar rock
And many biosphere reserves
STEP 7 – Book your Accommodations
There is a very large choice of accommodations in Andalucia – many campsites, hotels, resorts, rentals and all-inclusive resorts.
You can find something for everyone's taste.
Few things to be aware of:
Generally, wifi is good, except in some mountain villages
Swimming pools at hotels are not often heated, so it can be cold during shoulder seasons
Most establishments accept credit cards
I have found some magnificent rentals in the main towns offering great service – might be better than hotels
You can find a lot of choices on Booking.com. This is where I booked almost all my stays.
I think some of the best places to stay in Andalucia are the main towns, of course:
Where to stay in Andalucia? My tips:
Where to stay in Andalucia?
My favorites on a road trip:
STEP 8 – Get all the equipment you need & pack
Classic clothes. Nothing special to think about. Check my overall preparation and packing checklists to help you.
And don't forget:
Swimsuit
Layers for rain and for colder nights in the evening and in the mountains
Sunscreen
Sunglasses
Hat
Hiking shoes
And regarding electronics and other equipments, I recommend
Photography equipment
GoPro for snorkeling
An extra battery to recharge your phone – you will want to take many photos and videos!
I also recommend binoculars to see the flamingos and other birds in the wetlands – see my guide to help you choose your binoculars
And keep track of your own trip!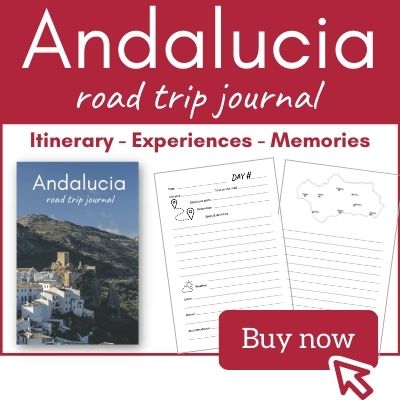 STEP 9 – Get ready to drive in Andalucia
You just have to be aware that:
Roads are overall in good condition – there are lots of motorways and wide roads
Just a few tolls that can be avoided
Streets in villages can be very very narrow, try parking and exploring on foot
A few landmarks are accessible via gravel roads (beaches in Gabo de Gata for example). Know that your rental car insurance may not cover breakdowns on gravel roads.
The only driving difficulties I experienced were around Seville and Malaga because of the traffic.
Check out the video and tips in my article about driving in Andalucia.
Fill your GPS with the coordinates
I recommend you fill in all the GPS coordinates in your GPS before leaving. This way you save a lot of time and can enjoy the scenery.
In my eBook you can find the coordinates to the closest carparks for all the locations:
STEP 10 – Get ready for your road trip in Andalucia
People
Andalusian people are very welcoming. There is a lot of tourism and you feel welcome.
In bars, they often bring free tapas with your drinks.
Language
Knowing a few words in Spanish is always appreciated. I was greeted with big smiles when I tried ordering in Spanish.
Hello – Ola
Bye – Adios
Please – Por favor
Thank you – Gracias
Excuse me – Disculpe
Food
There are some great products to taste in Andalucia.
The many many tapas
Tortilla de patatas (potato omelettes)
Ham (jamon)
The gazpacho (cold soups such as Salmorejo)
Paella
Seafood
Note: for breakfast, I don't recommend purchasing food to eat at your rental. All cafes have great toasts and fresh orange juices for a really good price.
Other tips for your Andalucia Road Trip
Emergency number is 112
Plug is 2 round holes
Tap water is safe and delicious in the mountains
Want to see more of the best Andalucia has to offer?
Best landscapes in Andalucia in 40 pictures – read article
24 best things to do in Andalucia – read article (to be published)
17 most beautiful white villages in Andalucia – read article
20 best beaches in Andalucia – read article
21+ best cities and towns in Andalucia – read article
Cordoba vs Sevilla vs Granada – where to go? – read article
Planning a trip to Andalucia?
Check out my travel guide to help you plan:
Want to see more of ANDALUCIA?
PREVIOUS:
Best castles and palaces in Andalucia
NEXT:
Where to stay in Andalucia – 15 best places
Inspired? Share it on your favorite platform!