Want to visit Portugal and wondering if you should spend your city break in Porto or Lisbon?
Both are fascinating cities with vibrant ambiances, long history and fantastic views. 
So here are my Porto vs Lisbon battle results to help you chose, with photos and criteria such as:
Best views
Best museums
Best beaches
Ease of exploring
…
Where will you go?
Before my tips + photos, here are my favorites for Portugal:
Porto or Lisbon – Comparison Overview
Porto or Lisbon? – Short Answer
Porto and Lisbon are both cities with a long history and a lot of charm. They both deserve at least a weekend. However, if you really need to choose, my opinion is that:
If you prefer character and gastronomy, head to Porto.
But if you prefer architecture and museums, head to Lisbon
If you have just a weekend, choose Porto
But if you want to spend a whole week in a region, prefer Lisbon.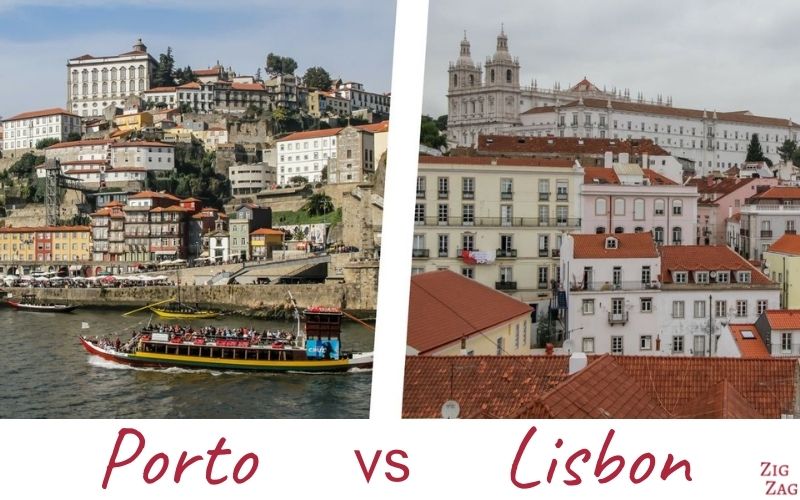 Overview of my comparison
Here is the Summary of my decisions for the Battle Porto vs Lisbon in this article. Read further to understand the decision and see the photos:
Best views of the cities = Porto
Best cathedral = Porto
Best monuments = Lisbon
Best river = Porto (Douro River)
Best old center = Porto (Ribeira)
Best vibe = both cities
Best gastronomy = both cities
Best museums = Lisbon
Best beaches = Lisbon
Best day trips in the region = both cities
Ease of exploring = both cities
Now I'm going to get into the details of my comparison.
But if you have already made your decision:
You can see my full guide to Porto here and my full guide to Lisbon here
BEST VIEWS – Porto vs Lisbon
PORTO VIEWPOINTS
Above is the view from the top part of the central Dom Luis Bridge. You can see the Ribeira old town at the bottom and the wharf for the traditional boats.
Other interesting views include Serra do Pilar where you can admire both the bridge and the old town.
For another very different angle you can also enjoy the views from the Cathedral front. Very close to the rooftops!
LISBON VIEWPOINTS
With hills all around the town, you can enjoy magnificent viewpoints from various angles. Some will point you towards the castle while others show you the bridge.
My favorite views are from the fortification of the castle itself. Then you don't have the castle in the view but I like the angle (see article).
Another interesting one is from the top of the Santa Justa lift in the city center. You are not as high so you have a great view of the rooftops and the street pavements (see article).
My opinion
Both cities have hills so they offer magnificent views.
The views of Lisbon are wider than the views from Porto and more numerous from the many hills in the city.
But, overall, my preference was for Porto, especially the view from the bridge or from Serra do Pillar towards the old town and with the curve of the Douro River. I prefer it because the views are closer to the buildings. I love how many more details you can see.
Porto Cathedral vs Lisbon Cathedral
PORTO CATHEDRAL
Sé do Porto is located at the top end of the Dom Luis Bridge. At the front, you can first stop to admire the views of the old town. It is great because you have a lot of space to move back and take it all in.
The Cathedral was built in the 12th and 13th century in Romanesque style. And its adjacent Gothic cloister in the 14th century. Of course, alterations were made later but it remained an imposing structure overlooking the city.
It is not the most impressive cathedral in Europe, but I really enjoyed visiting the cloister. (See my article).
LISBON CATHEDRAL
The Lisbon cathedral is along the tram line to climb to the castle. 
The façade is more austere. 
You can also visit the cloister, but it is quite a different experience! It is still being searched. You are visiting ruins with different layers of history. It is interesting but not grandiose like the Porto Cloister.
My opinion
I think there is a very clear winner in terms of Cathedrals and it is Porto.
Between the location, the status and the Cloister, there is much more to see at Se do Porto.
MONUMENTS – Lisbon or Porto?
PORTO's MONUMENTS
If visiting Porto, you should not miss the double Carmo church with the 1m wide house in between, the Clerigos tower overlooking the city (you can even climb to the top!) and the Bolsa palace with some fascinating rooms. More ideas on my article about Porto here.
LISBON's MONUMENTS
If you love architecture from different periods and fascinating buildings, Lisbon is for you. There is no shortage of monuments to visit:
The magnificent Jeronimos monastery with Manueline architecture
The nearby historical Belem Tower by the Tagus river (see article)
The old Castle right in the center of town with fortifications dominating the city (see article)
The many churches…
The Sao Vincente Monastery with the surprising collection of Azujelos tiles
The old ruins of the Carmo convent, which has not been rebuilt after the 1755 earthquake.
The National Pantheon and its dome
…
You can find something for everyone's taste.
My opinion
In terms of architecture and monuments to visit, Lisbon is the clear winner.
There is a wide range of monuments to visit in Lisbon: Castle, palaces, monastery, churches… While Porto has a more limited selection of monuments to visit.
The best views and monuments in both cities, along with many other beautiful places, are included in my eBook.
RIVERS – Douro vs Tagus
DOURO RIVER IN PORTO
Porto has been built around the Douro River. Rio Douro means river of gold. It is a 200mile long snake that goes all the way to the Eastern border of Portugal with Spain.
It is really appreciated by those enjoying a cruise to discover all the historical and magnificent vineyards.
TAGUS RIVER IN LISBON
River Tagus (Rio Tejo), which originates in Spain, ends in a wide estuary which flows out into the Atlantic Ocean. The wide body of water is great to make port on a cruise, but makes the city less scenic as Porto.
My opinion
Both Porto and Lisbon have been built near the mouth of a river on the Atlantic Coast.
For Porto is it is the famous Douro River and for Lisbon it is the Tagus River.
However the Douro river narrows right away while the Tagus has created a large estuary where Lisbon stands.
So it is easier and more scenic to appreciate the Douro River in Porto.
OLD TOWN – Ribeira vs Alfama
RIBEIRA IN PORTO
In Porto, the old center is called Ribeira, on the North shore of the Douro river. There the houses are made of dark gray granite and tiled façades.
However if you are claustrophobic, know that there are many narrow streets with not much light entering.
ALFAMA IN LISBON
In Lisbon the best-known oldest neighborhood is Alfama. It is home to the fado music. Most houses are white limestone with light colors for some houses. Houses are not as packed as in Porto but display less character.
My opinion
Both cities are famous for their vibrant old center.
I know many people rave about the Alfama district in Lisbon, but I just did not enjoy it much. I had a clear preference for the old charm of the Ribeira area in Porto.
Loved the old narrow buildings and colors.
I don't drink coffee
But I also like other drinks and sweets!
Do you like the free content you find on my blog? All my tips and practical information, without intrusive advertising…

VIBE – Lisbon vs Porto
PORTO's VIBE
LISBON's VIBE
My opinion
That is a very personal thing to feel. 
Both cities are famous for great nightlife and ambiance.
Lisbon is more international while Porto is more traditional.
I felt welcome in both cities, but I felt that Porto had more Soul than Lisbon.
GASTRONOMY – Porto or Lisbon
In terms of food and drinks, both cities have a lot to offer.
Porto has a lot of traditional little family restaurants to discover in the old quarter while Lisbon has a bigger choice of International Cuisine.
And in terms of beverages, Porto is famous for the Port wine and the caves you can visit right in the city. In Lisbon, the main drink is the ginjinha liquor, a sweet cherry-base drink.
They both have great food tours to learn more about the local gastronomy and taste delicious products. For example:
PORTO
LISBON
MUSEUMS – Porto or Lisbon
In terms of museums, Lisbon is clearly the winner.
Lisbon has a great variety of museums covering art, history, technology… You can find a museum for everyone with world renowned exhibitions
BEACHES – Porto Beaches vs Lisbon Beaches
PORTO BEACHES (within 30min – Foz do Douro)
LISBON BEACHES (within 1h in Sintra Cascais Park)
My opinion
Both cities are close to the Atlantic Ocean, so they offer both access to beaches.
The beaches in Porto are very close by and easy to access. In comparison, in Lisbon, they require a bit more driving or bus ride to be reached.
But I found the beaches in the region of Lisbon way more beautiful than the ones close to Porto.
DAY TRIPS in the Porto and Lisbon regions
DAY TRIPS FROM PORTO
Around Porto, some of my favorite tours include:
History – Bom Jesus church with its incredible Baroque staircase. What an architectural masterpiece!  You can combine the day trip with a visit to Guimaraes, a Unesco site. And if you don't want to drive, you can book a group tour and learn more about each place. Check out program
Nature – If you prefer Nature, you can head to the Penada Geres National Park at the border with Spain. Mountains, trees, river… Check out the program
Gastronomy + Views – A classic is to drive along the Douro river for magnificent views and tasting at historical vineyards 🙂  Check out the program
DAY TRIPS FROM LISBON
Around Lisbon, some of my favorite tours include:
History & Views –  A classic tour is to head to the Unesco site of Sintra with its castle and palaces. Such a unique place! Check out program
Nature – Head to the Arribada Reserve with cliffs, beaches and maybe some dolphins! Check out the program
Architecture – Some of my favorite monuments in Portugal were North of Lisbon. On the same day you can visit Unesco-listed monasteries and the fortified village of Obidos.  Check out the program
My opinion
Both regions of Porto and Lisbon are fascinating in terms of History and Nature. You won't get bored, there is so much to see and do without going very far!
You can find more information in both my articles:
Need to rent a car in Portugal?
My tips:
Compare prices on my favorite platform:  

Discovercars.com

– one of the best rated comparison sites!
Prefer a compact car for the narrow streets in villages
Consider their full coverage option – it for peace of mind!

Book early

to have a large choice of vehicles!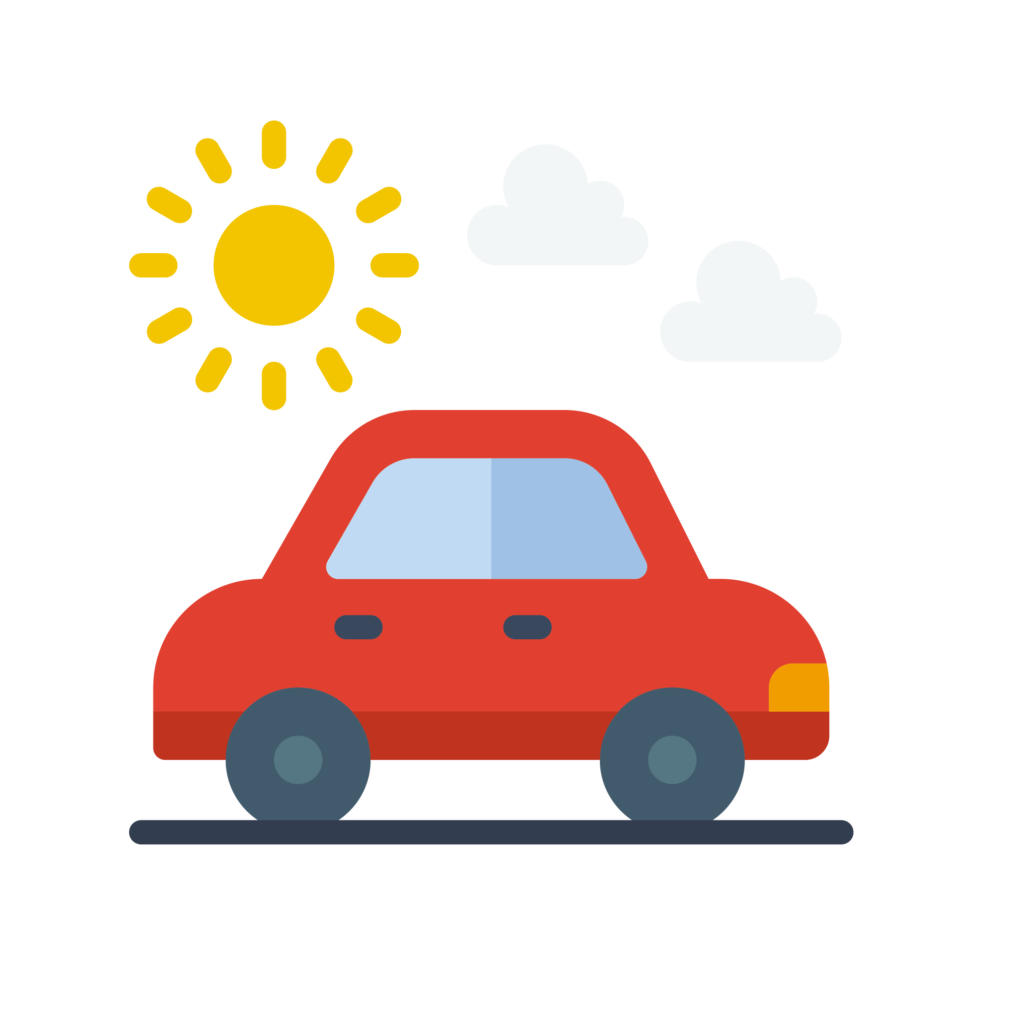 Practical comparisons – Porto vs Lisbon
Accommodations – Both cities have a large offering of places to stay at all prices
Getting around – To get around in Porto, the hop on hop off bus is really practical, while in Lisbon it is easier to take the funiculars and tuk tuk
Accommodations Options in Porto and Lisbon
PORTO ACCOMMODATION SUGGESTIONS
Or Check out the best rated in Porto
LISBON ACCOMMODATION SUGGESTIONS
Or Check out the best rated in Lisbon
Want to see more of the best Portugal has to offer?
Planning a trip to Portugal?
Check out my travel guide to help you plan:
And keep track of your own trip!
Want to see more of PORTUGAL?
PREVIOUS:
NEXT:
21 Best towns and cities in Portugal
Inspired? Share it on your favorite platform!