There is much to see not far from the famous city: Douro Valley day trips for wine tasting, exploration of Unesco sites at Guimaraes, beautiful nature in Penada Geres…
Discover my selection of the best day trips from Porto, Portugal, with map, tips and photos.
Before my tips + photos, here are my favorites for Portugal:
3 absolute best Day Trips from Porto Portugal
Porto is a fantastic city with a great vibe. You can already fill several days with tours within Porto.
But if you have a few more days to spend in Portugal, here is my list of the best day trips from Porto to enjoy more of Portugal:
HISTORICAL Best Day Tour – Braga and Guimaraes
NATURE Best Day tour – Penada-Geres National Park
GASTRONOMY and SCENERY – Douro Valley day trip
Let me tell you a little more about these 3 trips and other suggestions I have with pictures to help you decide.
#1 – HISTORY – Day Tour from Porto to Braga And Guimaraes
Highlights
Self-drive information
Drive from Porto to Braga – 45 min
Visit the old center of Braga
Drive to the parking at the bottom of Bom Jesus – 10 min
Either walk the staircase to the church or take the funicular
You can enjoy a great lunch at the restaurant near the church
Drive to Guimaraes – 40 min
I recommend skipping the visit of the castle and just admire it from the outside – spend some time in the Ducal Palace
Walk the old center of Guimaraes to discover its charm
Drive back to Porto – 45min
Compare rental prices on Discovercars.com
Organized Day Trip Option
If you don't want to spend time renting a car, join a day trip from Porto to Braga and Guimaraes and learn about the history of those places. It is always great to have a guide to explain the significance of what you are looking at.
#2 – NATURE – Porto excursion to Penada Geres National Park
Highlights
One of the Most beautiful views in Portugal: the Mirador of Pedra Bela (photo above)
The meeting of the river arms at Adpropeixe
And if you are ready to drive more, you can also enjoy another part of the national park with Lindoso and its castle
Self-drive information
Drive from Porto to Adpropeixe – 1h20
On the way you can stop at Bom Jesus (the sanctuary introduced in the tour above with the incredible staircase)
Enjoy the views at Adpropeixe and have lunch
Drive up to the Pedra Bela viewpoint
If you leave early and are ready to drive more, you can keep going North on N308-1 to enjoy the national park, cross into Spain for a short distance before entering again Portugal for another section of the Penada Geres National Park
Stop at Lindoso to visit the Castle and enjoy the views. Don't miss the typical granaries from the 17th and 18th centuries
Compare rental prices on Discovercars.com
Organized Day Trip Option
I have found this day trip departing Porto that includes the Pedra Bela Viewpoint, a little bit of hiking and swimming in beautiful waterfalls!
#3 – GASTRONOMY – Douro Valley Day Trip
Highlights
The beautiful hills covered with vineyards
The Meandering Douro river
And, of course, the wine
Self-drive information
Just head East and enjoy the views!
The N108 drive on the North side of the Douro river and the N222 on the South side
You can cross the river at Porto Manso (1h35 from Porto if not stopping)
Or cross further East at Ponte da Ermida (2h from Porto if not stopping)
Don't drink and drive – if you visit a vineyard, purchase a bottle for later
Compare rental prices on Discovercars.com
On my eBook – The Road trip guide – Portugal, I list the GPS coordinates of my favorites views of the Douro Valley
Organized Day Trip Option
This is a popular place in Portugal. There are many Douro Valley day trips available from Porto. Here are 3 different options:
Need to rent a car in Portugal?
My tips:
Compare prices on my favorite platform:  

Discovercars.com

– one of the best rated comparison sites!
Prefer a compact car for the narrow streets in villages
Consider their full coverage option – it for peace of mind!

Book early

to have a large choice of vehicles!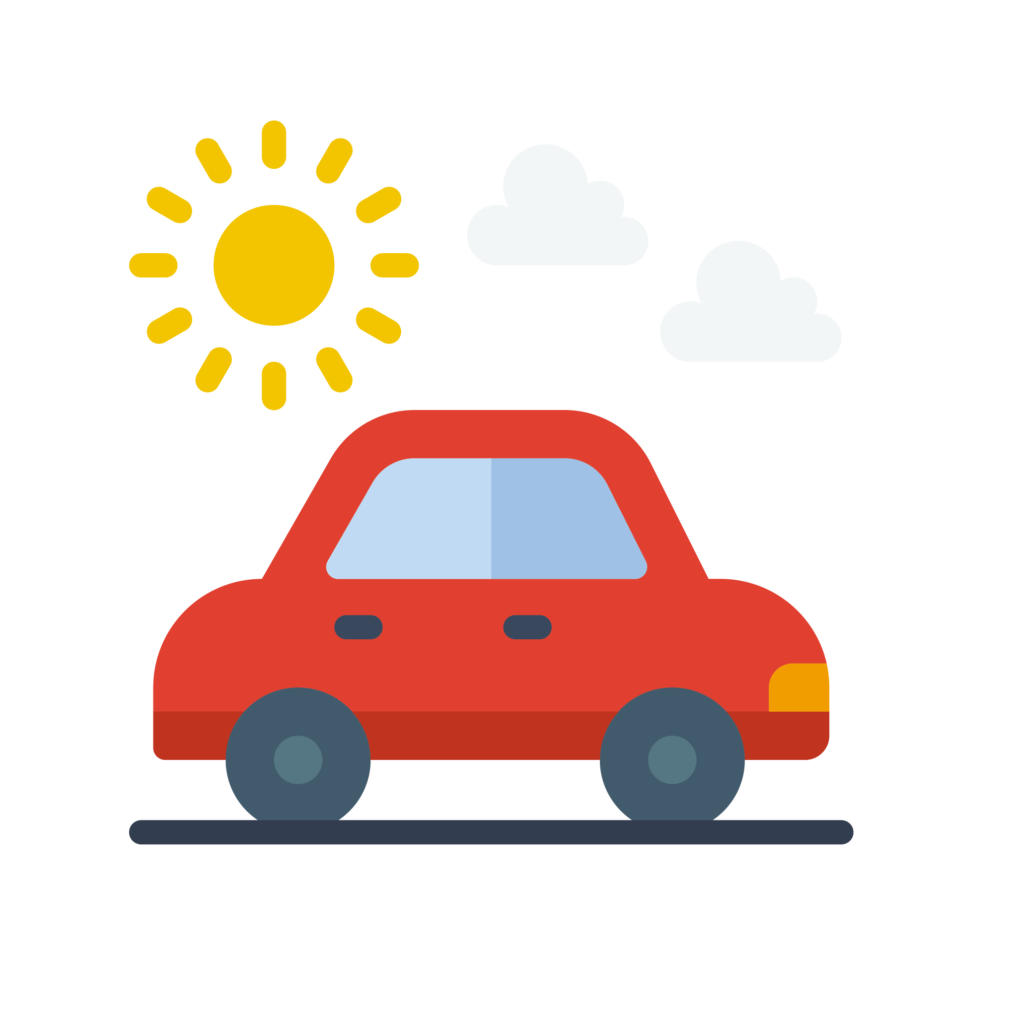 #4 – PALACE & NATURE – Porto Day trip to Bussaco
Highlights
Bussaco (or Buçaco) is a favorite for the locals and not well known by the tourists. It is a Nature park with a beautiful palace surrounded by peaceful gardens.
Enjoy the fountains and ponds at the bottom of the hill
Tour the beautiful palace (now a hotel) with its Manueline decor and enjoy the views from the garden
Visit the small convent with an interesting atmosphere
Maybe hike in the park for views of the region
Self-drive information
Drive from Porto to Bussaco – 1h20
Pay for entry in the park
Stop at the pond
Drive up to the palace – enjoy the areas
On the drive back to Porto, if you have time, you can stop at Aveiro (that I will introduce in another tour in this article)
Compare rental prices on Discovercars.com
Organized Day Trip Option
This day tour from Porto, will take you first to Coimbra, where Kings and Queens used to live and where you will find the oldest university in Portugal. Then the guide will take you to the Bussaco park to admire the Palace. A very scenic day!
I don't drink coffee
But I also like other drinks and sweets!
Do you like the free content you find on my blog? All my tips and practical information, without intrusive advertising…

#5 – MONASTERIES & UNESCO – Batalha and around
Highlights
There are many sites you can visit in the region I am selecting for this tour
The most famous of the Unesco sites is the Batalha Monastery with Manueline decor and the unfinished chapels (you can see my photos here)
There is also the Convent of the Christ in Tomar. This was one of my favorite sites to visit in Portugal. I found that it had a really powerful atmosphere.
And there is the Alcobaça Monastery with its impressive façade
And the Fatima sanctuary, a more modern building linked to the apparition of an angel
Self-drive information – My recommendation
Drive from Porto to Batalha – 2h
Visit the famous Monastery and don't miss the unfinished chapels
Drive to Tomar – 40min
Visit the Convent
If you have time explore the old town center of Tomar
Drive back to Porto – 2h
Compare rental prices on Discovercars.com
Organized Day Trip Option
I found this day trip that departs from Porto and takes you to Batalha, Tomar and Fatima. Having a historian guide to visit those location will sure make it fascinating!
#6 – LOCAL VENICE – Excursion from Porto to Aveiro
Highlights
The canals and salt pans of Aveiro
Enjoying a cruise on the canals aboard a traditional boat which is why it is called the Venice of Portugal
The interesting houses in the city center
The 'Avereio Beach' at Costa Nova with the colorful houses on the lagoon side and beautiful white sand on the seaside
Self-drive information
Drive South from Porto to Aveiro – 50min drive
Walk around the center
Enjoy a cruise in a traditional boat that will take you through the old and new parts of the town
Drive to Costa Nova – 15min drive
On the lagoon side enjoy the pathway along the colorful houses.
Then head for the beach
Compare rental prices on Discovercars.com
Note: Some people hearing 'Venice of Portugal' will have something in their head and be disappointed. So be aware that it is a charming town with a long history but nothing to do with the grandiose of Venice…
Organized Day Trip Option
This half day trip will give you a taste of Aveiro and Costa Nova, including the small cruise on the canals.
Check out program and Book
#7 – SPAIN – Day Trip from Porto to Spain – Santiago de Compostela
Want to enjoy a little bit of Spain as well? Well, Porto is not that far from the border with Spain and you can get to Santiago de Compostela if you don't mind a little bit of driving.
Highlights
The pilgrim city at the end of the famous Camino
The Cathedral and all the monuments that make it a Unesco site (learn more here)
Self-drive information
Drive to Santiago de Compostela – 2h30
Make sure your rental contract allows you to go abroad!
Organized Day Trip Option
Here is an excursion from Porto that takes you to Santiago de Compostela. And on the way back you stop at another beautiful city in North Portugal, right at the border.
Check out program and Book
Where to Stay in Porto
Where I Stayed
I stayed in a really great apartment perfectly located called Go2oporto Apartment rentals. They have a several rentals.
The same rental agency also has amazing rentals on Booking.com with a direct view on the Douro River:
OTHER SUGGESTIONS
Want to see more of the best Portugal has to offer?
Planning a trip to Portugal?
Check out my travel guide to help you plan:
And keep track of your own trip!
Want to see more of PORTUGAL?
PREVIOUS:
NEXT:
Inspired? Share it on your favorite platform!