Below are all my tips to help you plan your ideal Crete Road Trip.
Exploring Crete by car is definitively the best way to discover the best that the largest of the Greek islands has to offer: beaches, mountains, gorges, monasteries, caves and villages.
This should help you decide the best time to visit, where to go, define your Crete itinerary and prepare for your trip!
Let's make your trip unforgettable!
Before my tips + photos, here are my favorites for Crete:
STEP 0 – Essentials to know before planning a Road Trip in Crete
Let's start with a few essential facts to keep in mind before planning your trip to Crete:
PLANNING – There are lots and lots of places to see in Crete (see my best-of list), often separated by mountain roads, so be reasonable in the planning o your Crete itinerary
HIGHWAYS – There are a couple of high speed roads on the North coast but no highways. No tollroads either. On those high-speed road, you should drive partially on the emergency lane to let vehicles overtake you (this is how it works here in reality)
MOUNTAINS – There are mountain chains on the island, so you will find twisting roads and sometimes snowy conditions in Winter. My opinion is that there are not many very difficult roads, they are mostly wide enough.
ACCOMMODATIONS – Some destinations get very busy during the touristic season and you'd better book accommodations in advance (Elafonisi, Chora Sfakion…)
CROWDS – July and August get really really crowded
WEATHER – Pack layers of clothes. Because of the mountains the weather can change, with storms and rain. Be ready for all weather.
HOLIDAY TYPES – The North Coast is developed with organized beaches, while the South Coast is wilder
GOOD TO KNOW – Part of the South coast is not accessible by car (around Agia Roumeli and Loutro, East of Palaiochora)
STEP 1 – Decide the best time to visit Crete for your road trip
If your dates are already blocked and you have no choice, skip to the next step. And don't worry the island of Crete is beautiful all year round!
If you have not decided when to visit Crete yet, here are a few things to consider:
Official Summer period – Best months to visit Corsica are considered to be from April to November – during those, temperatures are nice reaching above 20°C during the day (Above 68°F)
Opening sites – The Summer opening hours of the archaeological sites and museums are from April to November. Some places may be closed during Winter
Crowds – July and August get really crowded especially on the popular beaches and famous town such as Chania and Rethymno.
May and October are my favorite months. The water is still find to go swimming, especially in the shallow depth of lagoons
If traveling in Winter, there will be snow in the mountains, and some passes may be closed
In Winter, days are shorter and limit your exploration hours on a road trip
In Summer you can have storms because of the mountains. And in shoulder seasons, you will probably wind and rain up in the mountains.
STEP 2 – Where to go in Crete – Regions and Map
Map of Crete – Touristic regions
Crete is cut in 4 main touristic regions. They are all home to nice beaches, archaeological sites and other wonders.
However in all my favorite places to see, the highest numbers are in the Chania district and the Lassithi district.
Below is a rough Map of the regions with just a few of the most famous sites
Overall touristic approach
The main distinction is that the North coast is much more developed with:
The high speed road from Kissamos at the West end to Sitia at the East end
All the main towns: Heraklion, Chania, Rethymno, Agios Nikolaos
You will hardly find any wild beaches. They are all organized.
While on the South Coast the mountains are close to the coast, so some beaches are still quite wild and there are even areas not reachable by car.
The touristic regions of Crete – best places to visit in Crete by car
Here is an overview of the 4 regions and their highlights to help you narrow down where to go on your Crete road trip:
Chania Region
Chania is the Western part of Crete.
You won't find many ruins here but some of the most beautiful beaches in Crete.
The West coast is rather wild and you can choose between the inspired town of Chania or the isolated option of Palaiochora between mountains and sea.
Highlights:
Rethymno Region
Rethymno one of the main town in Crete. It does not have the charm of Chania but it has a very long beach with seafront hotels.
The region is home to some famous beaches and monasteries
Highlights:
Preveli beach with the lake and the Palm trees
The historical monastery of Arkadi
Chora Sfakion and the ferry access to the undeveloped coast
Lake Kournas, the only fresh water lake in Crete
…
Heraklion Region
If you want to discover more about the Minoan civilization, this is the region for you.
And it is home to the capital of Crete: Heraklion with its airport and major harbor.
Highlights:
Knossos Minoan Palace (home of the Minotaur legend)
Matala Beach and its cave
Gortyna ruins with the code of Law
and the fantastic Archaeological museum in Heraklion
Lassithi Region
Lassithi is the region that has it all: Minoan sites, historical sites, organized beaches, cild beaches, mountains, monasteries… This is the region that gives one of the best overall view of Crete, in my opinion.
Highlights:
Voulisma beach with unbelievable colors
Vai beach with its palm trees
Spinalonga island, the fortified islet with a long history
Zakros: beach, ruins and gorge
The Lassithi plateau with the famous Cave of Zeus
…
or check out my article: Which side of Crete is best? East or West? North or South?
STEP 3 – How long to tour Crete by car
Time for the complete tour of Crete by Car
I would not attempt the tour of the island if you have less than 10 days.
And even with 10 days, you will have to be rigorous in your planning and only select a few places to get an overall feel of each area in order to tour Crete by car.2 to 3 weeks is way more comfortable
Time to dedicate to each region
Of course you can focus on just one single region and visit it in depth.
But below are my estimations to give you a general idea of what to plan. This timeframe do not include spending long hours laying on beaches or long hikes. I love road trips and seeing as much as possible:
Chania Region – 4 to 7 days
Rethymno Region – 3 to 6 days
Heraklion Region – 2 to 5 days
Lassithi Region – 4 to 7 days
Driving times in Crete
STEP 4 – How to get to Crete
Crete being an island, there are 2 ways to reach it: by plane or by boat.
Flight to Crete
For shorter travel time, I recommend the plane. You easily save one day of travel and the rental car prices are reasonable.
The major airport is in Heraklion
Smaller airport in Chania
Coming from outside Europe, you will probably have a layover in Athens
The local company is called Aegan Airlines
Flights from Athens take 1h
Flights from London takes 4h (if non-stop)
Ferry to Crete
If you really want to come with your car you can take a ferry from Athens or from one of the other Greek islands (if doing a longer trip)
Most ferries arrive in Heraklion
The ferry from Athens takes 7 to 9 hours depending on which company you select. There are overnight crossing options.
You can find all your ferry options and times on Directferries.com
Visa
Don't forget to check if you need a Visa to travel here.
Crete is part of Greece and inside the Schengen area.
STEP 5 – Rent your car in Crete
If you fly in, it is now time to rent your car. You will find all the international brands and many many local companies at the Heraklion airport. It is very impressive. I have never seen that many options at an airport!
Here are a few tips:
If you are not the most skilled driver, pick a car that is not too large so that you will be more comfortable in the more narrow sections of the roads
Pick a car that has a good motor so that you can drive more comfortably in the mountains
Note: In Crete, most cars are manual, so you will pay more to get automatic
You don't really need a 4WD, especially as most companies do not allow you to drive offroad even with a 4WD for insurance reasons
If driving in the mountains, I recommend getting insurance for window protection because I saw a lot of gravels and rocks fallen on the side of the road
Where to rent? My recommendations:
I don't drink coffee
But I also like other drinks and sweets!
Do you like the free content you find on my blog? All my tips and practical information, without intrusive advertising…

STEP 6 – Create your Crete Itinerary
Now that you have dates and transportation, you "just" have to decide on your Crete itinerary.
For some inspiration you can check my overall articles:
And if you want a practical tool to simplify the planning of your Crete road trip, check out my eBook:
When planning your Crete road trip itinerary don't forget to consider the following essentials:
DRIVING TIMES – Always plan more time to go from point A to point B than what Google says. You will want to stop all the time to admire the scenery and the roads might have animals or traffic
DAYLIGHT HOURS – Check out the daylight hours you have available when you are traveling. Check out how long you have to see all the sites during the days
PLAN FLEXIBILITY – Sometimes you can have bad weather conditions in the mountains. So plan to be flexible.
BOAT TOURS – plan time to enjoy boat trips to some amazing locations (Balos, Loutro, Spinalonga).. and this give you a break from driving; Check out my list of the best Boat trips in Crete
STEP 7 – Book your Accommodations for your Crete road trip
There is a very large choice of accommodations in Crete – campsites, hotels, resorts, rentals and all inclusive resorts.
You can find something for everyone's taste.
A few things to be aware of:
Generally wifi is good
Swimming pools at hotels are not often heated, so it can be cold during shoulder seasons
Most establishment accept credit cards, but you may find a few places that will ask for cash
A lot of places have very small showers. This is something to be aware of. It this is important to you, check out the pictures in details before booking.
You can find a lot of choice on Booking.com. This the platform where I book almost all my stays.
Below is a snapshot of some of the places where I stayed. I will tell you more in my article about accommodations in Crete.
I think some of the best places to stay in Crete are:
More tips on my article about where to stay in Crete.
STEP 8 – Get all the equipment you need to tour Crete by car
Classic clothes. Nothing special to think about. Check my overall preparation and packing checklists to help you.
And don't forget:
Swimsuit
Layers for rain and for colder night in the evening in the mountains
Sunscreen
Sunglasses & Hat
Hiking shoes
And regarding electronics and other equipments, I recommend
Photography equipment
GoPro for snorkeling
An extra battery to recharge your phone – you will want to take many photos and videos!
I also recommend binoculars to see the geological details and animals in the gorges and the wild areas – see my guide to help you choose your binoculars
Binoculars to be able to admire all the details in the scenery and monuments (see my guide)
Thermal Blanket. They don't take a lot of space and it is safer to have one when driving in Winter or hiking
Power strip + adapter to be able to charge all my equipment at once
STEP 9 – Get ready to drive in Crete
I know you can find a lot of comments from people who got scared driving in Crete.
Personally, I did not find it that difficult. There are a few things to be aware but nothing really scary.
You just have to be aware that:
On the high seep roads, you have to drive half over the emergency lane, to let the other cars overtake you. This is not in the driving rules, but it is how it works. If someones behind you i flicking its lights, move over the emergency lane.
Animals can appear in the middle of the secondary road, so be vigilant!
The other danger are small rocks falling in the mountains. You will see a lot on the side of the roads. Make sure you take an insurance that covers that.
Just take your time and breathe. The millions of people who have had no issues tend not to write on the Internet that all went smoothly you only see people who got scared
Learn more on my article about Driving in Crete.
STEP 10 – Fill your GPS with the coordinates
What I hate the most when road tripping is wasting time. Turning around to find a place, missing an exit.
Sometimes it leads to adventure, but most of the time it just leads to frustration.
This is why I don't rent a GPS with the car. I have my own TomTom. With this system I can use the MyDrive system on my computer to add all the hotels' GPS coordinates as well as the carparks' coordinates for all the attractions I would like to see.
This way I just pick the favorite and follow the directions!!! I recommend you do that for your road trip in Crete.
NOTE – All the locations in my eBooks include the GPS coordinates of the nearest carpark, exactly for that reason
STEP 11 – Get ready for your Travels in Crete
Language
Generally they speak good English throughout the island. Just in a few places it was a bit more difficult but we managed. Saying a few words in greek is always appreciated:
Good morning – Kah-lee-MER-ah
Bye – YAH-soo
Please – Pa-ra-ka-LOH
Thank you – eff-kha-ri-STOE
Excuse me – sig-NO-mii
Food
Food is great! A few things to know
Almost all the places where we ate had menus in English (even in isolated areas).
You will always find salads on the menu
Sometimes the bread is placed on the table but not free
Portions are very large. We used to take 2 dishes for 3 adults or share a selections of delicious appetizers
Don't miss the freshly squeezed juices !
Other tips for traveling in Crete
Emergency number is 112
Plug is 2 round holes
Generally avoid tap water and use bottle water
You must not throw the toilet paper in the toilet but in the bin of the bathroom
Need to rent a car in Crete?
My tips:
Compare prices on my favorite platform:  

Discovercars.com

– one of the best rated comparison sites!
Prefer a compact car for the narrow streets in villages
Consider their full coverage option – it for peace of mind!

Book early

to have a large choice of vehicles!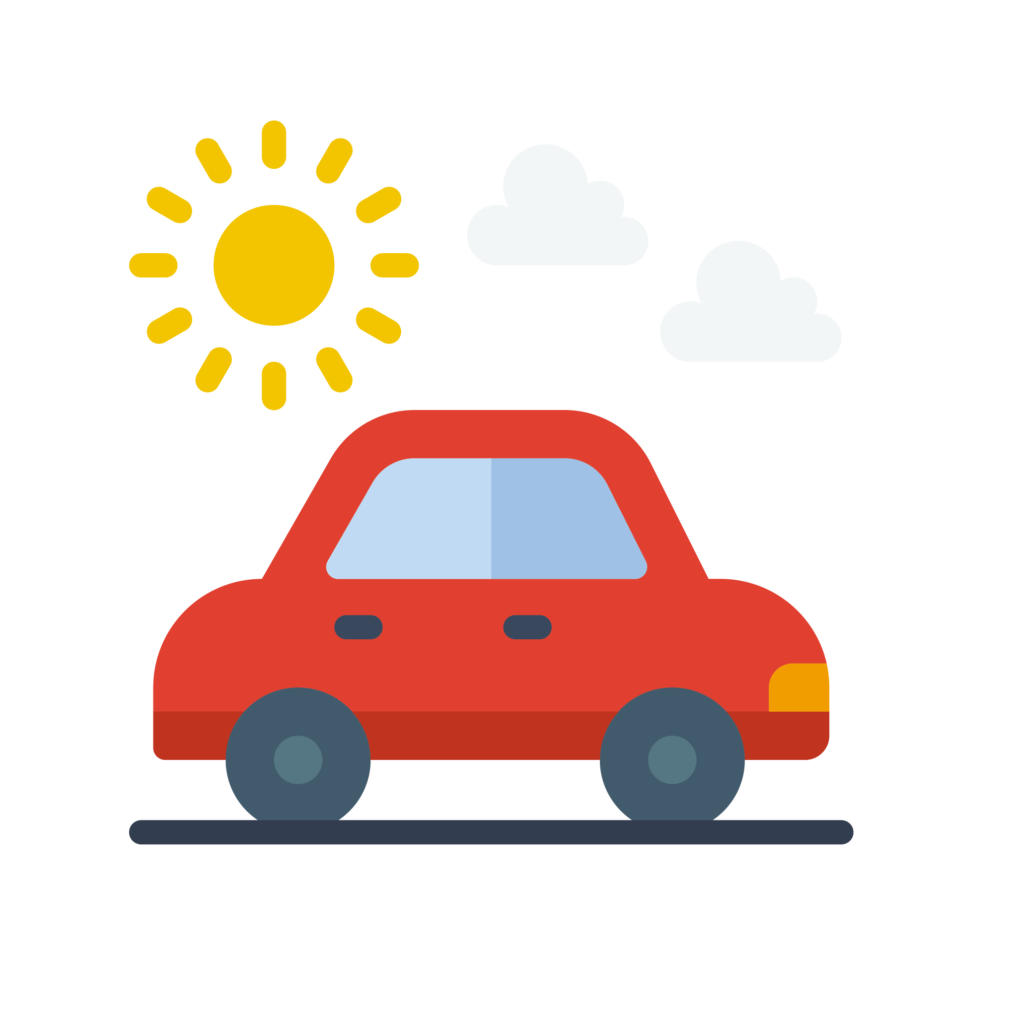 And keep track of your own trip!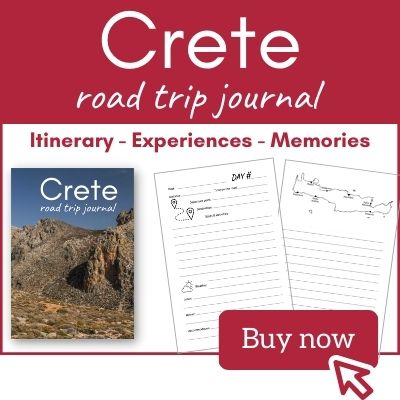 Want to see more of CRETE?
PREVIOUS:
21 best towns and villages in Crete
NEXT:
Inspired? Share it on your favorite platform!