I have gathered below all my tips for visiting Iceland in Winter.
A detailed guide to finding the best options for you:
Self-drive or Iceland Winter Tours,
best time,
driving tips,
packing,
…
I wish you a wonderful Iceland Winter trip!
Before my tips + photos, here are my favorites for Iceland:
Why visit Iceland in Winter?
Maybe you are already convinced, in that case you can skip to the planning section.
But just in case, you need a bit more convincing to decide to travel to Iceland in Winter, here you go:
Want to see more pictures of Iceland in Winter? – see all my favorites in this article.
Good to know
You won't see many whales and puffins in Iceland, but you can still see everything else.
Most of the best sightseeing places are still accessible
Days will be short yes. But because of the location it also means long sunrises and sunsets. The golden light makes the scenery even more magical and it is great for photography!
The landscapes are unique with the cold and the snow: Waterfalls can be partially frozen, the glaciers look even more blue, the black sand agains the snow…
It is not as touristy as Summer so you can enjoy the beautiful landscapes in peace. The south highlights are still popular (and more and more in the past years) but the North remains very quiet.
Since it is not as touristy you can find some good deals
And of course, the Northern Lights – watching those dancing aurora Borealis dance in the sky is such an unforgettable experience. Nature at its best
Ice caves are accessible and simply magical! The formations created by the ice… it will be unforgettable to stand in one of those
Note that the F-roads (4WD) are not accessible in Winter.
What to expect during Winter in Iceland – conditions
OK. So it is all great but you might say: but what about the weather and conditions, will traveling around Iceland in Winter be difficult?
So let's have a look at it, shall we?
Iceland in Winter – Temperatures and weather
Because of the word 'ice' in the name and the closeness with the Artic circle, people imagine Iceland being extremely cold in Winter.
Yes, 10% of Iceland is covered with Glaciers. However, surprisingly it is not that bad.
For example average temperature in December is -1°C (30.2°F) and you can expect between -10°C (14°F) and 5°C (41°F) in February. Not as bad as Canada!
However I cannot share much more about it. The weather is Iceland is very unpredictable. One year can have heavy snow, another year not. One day can be blue sky, the next day foggy snow…
But be sure you will have a lot of wind.
Driving in Iceland in Winter
Because the weather in Iceland is unpredictable, the driving is too.In theory, you can visit many places with a simple car as long as it has good Winter tires.
The main roads are cleared quite quickly by the locals.
But you won't be able to explore side roads and all.
See more info and tips in the Self drive option section or read my article about driving in Iceland in Winter.
Need to rent a car in Iceland?
My tips:
Compare prices on my favorite platform:

Discovercars.com

– one of the best rated comparison sites!
Prefer a compact car for the narrow streets in villages
Consider their full coverage option – it for peace of mind!

Book early

to have a large choice of vehicles!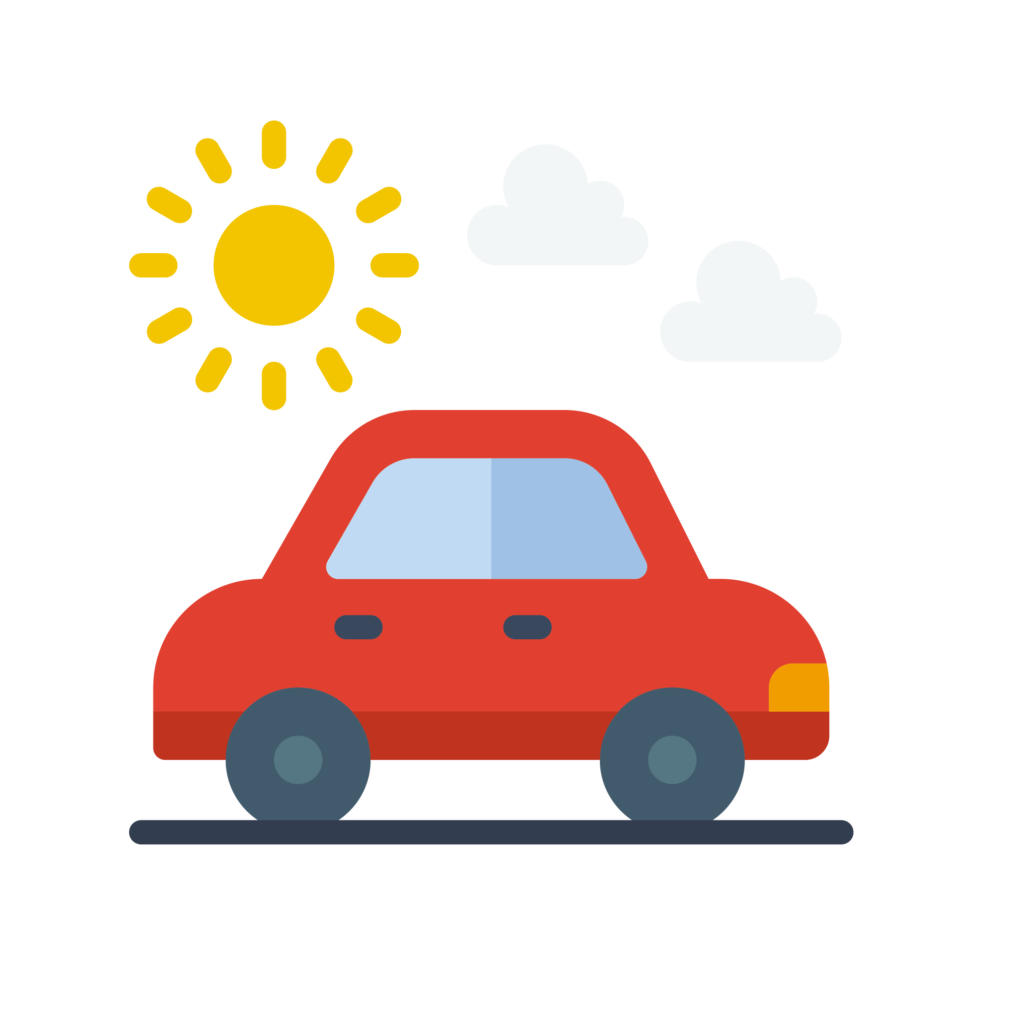 Best time to visit Iceland in Winter
Best month to visit Iceland in Winter
That is a frequent question: when is the best month to visit Iceland? – be it in Winter or in Summer… Well sorry to disappoint, there are not good answers.
2 main criteria that can help you decide:
1st Criterion – Temperature
December, January and February would be the coldest months
2nd Criterion – Daylight
A good balance between daylight to see the landscapes and nightime to see the northern lights is great
Daylight Iceland in November – 5h to 8h
Daylight Iceland in December – 4h30 to 5h
Daylight Iceland in January – 4h30 to 7h
Daylight Iceland in February – 7h to 10h
Daylight Iceland in March – 10h to 13h30
Extra Tips to pick your travel date
Beginning of March is often a popular month because the days are longer and you can see a bit more, the nights are still long enough to see Northern lights, and the ice caves are accessible
Early winter can be wet but you can have beautiful clear road with the top of the mountains covered in snow. I love those types of moments!
If one one your main goal is to admire the aurora Borealis and you have the possibility to pick your dates, Look at the moon calendar, and avoid the days where the moon is big and bright because it will reduce how well you can see the northern lights.
Tips for Visiting Iceland in Winter – Your Options
So you have decided to visit Iceland this Winter? Great.
Now it is time to plan your trip. There are 3 main options for you to travel depending on how long you have and how comfortable you feel with driving. Let's have a look:
OPTION 1 – SELF DRIVE
As you know, I love Road Trips. I think it is the best way to explore a country. A 2WD is sufficient. Just make sure the Winter tires are in good condition when you pick up the car. See more tips in the next section
If you don't want to spend time planning your own itinerary, you can just pick of of the Self-drive Iceland Winter Tour Packages proposed by GuidetoIceland (or check out my article on choosing your Self drive tour packing).
PROS – you can do your own itinerary, and stop whenever you want
CONS – you will have to deal with whatever the weather throws at you on the road, and you have to focus on the road instead of watching the scenery
OPTION 2 – REYKJAVIK STAY & DAY TRIPS
If you only have a short stay in Iceland, it might not be worth it to go rent a car. There are plenty of amazing day trips from Reykjavik that operates in Winter. This way your just sit back and relax watching the amazing scenery.
I like booking via GetYourGuide with the reviews of people who actually went on the tour.
And for accommodation ideas in Reykjavik, you can head to my Iceland Accommodation Article, or directly check the best rated hotels and apartments in Reykjavik.
PROS – No need to pack everyday, you can enjoy the scenery during the drive and not worry about where to go or how to drive
CONS – you cannot stop whenever you want, and compared to a multiday tour, you waste time driving back each day to Reykjavik
OPTION 3 – ICELAND WINTER TOURS
Your other option, very popular in Winter, is to book a full Iceland Winter Tour that will take you on a Road Trip with other travelers touring one or 2 regions of Iceland or doing a big tour along the Ring Road.
Getyourguide has some short multiday trips, but for longer trips around Iceland you can check out the ones on Guide to Iceland (or have a look at my recommendations in a section further in this article)
PROS – You will see a lot of Iceland without worrying about where to go and how to drive. This tour can cover a lot of ground and you get great explanations from the guide
CONS – You are stuck with the same people for several days and you cannot stop whenever you want.
Options 1 – Tips for Self drive trip – Iceland in Winter itinerary
Wondering if you can do it on your own?
Experience can be different depending on the weather and if you hit a snow storm. Below is my video about driving in Iceland in Winter.
That should help you decide if you feel like driving. Otherwise keep going to see the Iceland Winter Tour Options.
Self-drive Iceland Winter travel Tips
Always check your tires before getting on the road
And always have warm clothes and food with you in case a snow storm happens and you have to wait for the road to be cleared.
Just make sure you know how to drive on snow and ice (no breaking like crazy, nothing brutal…) and that you use a good rental car company.
Option 1 – Local experts – Iceland has a lot of specificities and offerings by local companies are adapted – compare cars and prices of quality local brands on GuidetoIceland.com
Option 2 – International Brands – compare offers on Discovercars.com – one of the best customer-rated comparison sites!
Book early to have a large choice of vehicles!
Check your tires before driving and check wind speeds and road closure on Vegagerdin
But if you don't feel like driving it is fine. Let's see your other options.
Where to stay in Iceland?
Self-drive Iceland Winter Itinerary
To plan your itinerary, you can:
Tips for Short Iceland Winter Trip – Reykjavik based
Reykjavik in Winter
Reykjavik is a great town to establish your base in Winter.
It has all you need within walking distance and a great atmosphere.
Winter Day Trips from Reykjavik
With a base in Reykjavik, you can pick day trips to different parts of Iceland everyday, and it between stay quiet or head to the blue lagoon for a spa day.
Here are some suggested days trips:
Northern Lights Tours from Reykjavik
You can even go see the Northern lights without driving yourself. Tours are organized picking you up in Reykjavik and taking you to dark areas, chasing the auroras.
Companies offer group tours in the evening by bus and will take you on a second tour if you can't find them the first night – check out program and prices
Note: whatever tour you look at, you will find bad reviews from people disappointed not to have seen the lights. Remember that nature does not show them on command…
Accommodations in Reykjavik
So if you stay in Reykjavik, here are some suggestions for your accommodation:
I don't drink coffee
But I also like other drinks and sweets!
Do you like the free content you find on my blog? All my tips and practical information, without intrusive advertising…

Tips Short Multiday Winter Tour Iceland
If you have several days in Iceland and want to cover more, it is best to take a multiday trip to be able to cover more of its amazing scenery.
Especially if you want to see the the whole South Coast of Iceland! Consider this 5-day Trip that covers Seljalandsfoss, Skogafoss, black sand beach, Jokulsarlon and an Ice Cave as well as the Golden Circle and the Snaefellsnes peninsula.
Tips for Complete Iceland Winter Tour Packages
Planning longer holidays to really explore Iceland in Winter but don't want to drive?
No Problem. Small group tours are a great way to explore the country and admire its various landscapes.
In terms of itineraries, I recommend the following tours:
Ultimate 10 days Iceland Winter Adventure
This even include a Super Jeep tour in the Central Highlands – quite the experience! You will see what very few people experience.
Of course it is pricey because of the logistics and access difficulty but what a memorable trip!
CHECK OUT THE AMAZING PROGRAM AND PRICE
Winter Ring Road Tour
With 6 or 8 days you can cover a lot more of Iceland. These tours will take you also to the North of the country, where in theory you will have more chances to admire the Northern Lights.
And Lake Myvatn and its pseudocraters and volcanic craters are not to be missed!
What to pack to Visit Iceland in Winter
Alright, now that you have booked you trip to Iceland this Winter (hopefully 🙂 ), it is time to plan what you are going to bring with you.
This is a summary or you can Check out my complete article with detailed suggestions and tips on what to wear and pack for Iceland
Let's start with clothes
Layers Layers Layers – weather change so much over a day, you have to be able to adapt so layers for warmth, layers for rain and layers for wind
Warm wool underwear (e.g. leggins) – something that breath well
A really windbreaker coat is essential with a hood that stays well on your head
Waterproof overpants will be you best friend. We often take waterproof jackets but forget the pants. So on top of the rain crashing directly your pants, you have the water falling from your jacket also making them wet…
Gloves!
Equipment
Want to see more – the best of Iceland in Winter:
Planning a trip to Iceland in Winter
Check out my travel guide to help you plan:
And keep track of your own trip!
Want to see more of ICELAND in WINTER?
PREVIOUS:
7 Iceland waterfalls in Winter
NEXT:
Planning an Iceland Winter Road Trip
Inspired? Share it on your favorite platform!