Iceland is a stunning country with lots to see. Planning a road trip can be overwhelming.
So a great option is to book an Iceland Self Drive Tour package where all is planned and booked for you: the car, the hotels and the suggestions of places to stop. Below is my guide to choose the best tour option for you.
Planning an Iceland Road Trip – Package or Self-planning?
If you arrived on this article, it means that you are considering purchasing a Self-drive Package. However planning a trip to Iceland is a lot of fun so let's quickly review the self-planning option.
If you have already made up your mind and don't want to plan things yourselves, you can skip to the next section.
In both case you have the advantage of the self-drive compared to a group tour. You can stop any time you want and spend as much time as you want at a location you love.
Self-Drive Package
Pros
You get an Itinerary defined by local experts
You don't have to spend time reading hotels reviews and comparing everything
One overall price for easy budgeting
Cons
You have less flexibility in the choice of hotels based on your preferences (you just select the category)
You pay extra for the services provided by the company organizing the tour
I don't recommend booking a Tour package if traveling in October. They often offer the Summer packages and days are too short to complete the drives and visits.
You plan the road trip yourself
Pros
You can decide exactly what you want to see
Tours are often focusing on the main sites, if it is your second time you should consider planning yourself to go off the beaten path
If you have specific requirements in terms of hotel, you can do your own research and book exactly what you like
Cons
A lot of hours are required to plan everything and compare hotels
You might not have access to some of the hotel discounts the tour company has
Check out my guide to plan your Iceland Road trip yourself
If you would like to plan it yourself but feel overwhelmed by the amount of information, consider my eBooks that simplify planning by identifying my selection of the most beautiful places and sharing easy maps made for planning:
Don't want to read the whole guide?
Before I start entering the details and explaining the criteria to choose your self-drive tour company and your tour, you might just want to have a look at my suggestions for packages.
I have selected Guide to Iceland. They are a very dynamic and passionate local team of experts. I really enjoy their platform and their options.
Based on itineraries, I things the following tour packages are really great options to consider:
(more details on my choices later in the article)
Choosing the Self-drive Iceland Tour company
Local or international?
There are 3 options in terms of purchasing a self-drive tour in Iceland:
From a local rental car agency
From a local travel agency
From a travel agency in your country
The advantage of using an agency in your own country is that it is easy to communicate with them in case of issues, but they probably are using a local agency anyway so it is adding cost.
My choice goes to a local travel agency with local experts to define itineraries. The team at GuidetoIceland is responsive and passionate.
Flexibility
See how many personal details you want in your itinerary.
Some companies offer tours without any changes possible, other allow you to modify a few things or select extra options.
Or you can go with travel agents who create everything to your taste… However I think most of the time they still use standard itineraries and charge you more… (just saying)
Winter vs Summer
The company you choose should have different packages for Summer and Winter – if they are offering the same, be concerned! Daylight is so different, you can't fit the same amount of sightseeing and driving.
Conditions
Don't forget to check out the minimum age to drive the car and any other conditions they may have (deposit when renting car etc) so that you make sure you agree with those.
Reviews
Of course, this is always a good thing to read before selecting a company. All companies will have negative reviews, something can always go wrong and some people have impossible expectations… Check out the percentage of bad reviews and if the companies has taken the time to answer the bad one in a respectful manner.
Cancellation Fee
Don't forget to check the cancellation terms!
For example, if you are booking on GuidetoIceland, you can cancel within 24 hours. Past that, they will keep a significant fee for their work planning and booking. It makes sense but some people are surprised, so I am being upfront. Therefore I  recommend taking their cancellation insurance. The fee is very reasonable and you will be able to get a refund anytime!
Main Criteria to select a self-drive tour in Iceland
Time
Your first criteria to select your self-drive tour in Iceland is how long you have to explore the country. A few days? One week? 10 days? More?
If you have 1 week or under
My recommendation when selecting your tour is not to book a Full ring road tour in only 7 days. This would imply a lot of driving and feeling frustrated not to be able to stop as much as you want.
With one week or less focus on one region either South Iceland or West Iceland or North Iceland.
If you have more
If you have more than a week, you can consider driving the complete tour of the Ring road. And if you have time, I recommend adding the Snaefellsnes peninsula with its beautiful Kirkjufell mountain.
Daylight
How long you have for your holiday is important, but the period when you are traveling is as well. In Winter the days are really short and you cannot cover as much road and sites as during Summer.
Book an Iceland self drive tour that is designed especially for Winter or Summer.
However as I said at the top of the article, I don't recommend booking a tour package when traveling in October. They tend to offer the Summer tour packages but the days are too short for that.
Driving
Take into consideration how much driving you are willing to do each day. For example the famous Glacial lagoon of Jokulsarlon is 4h30 away from Reykjavik!
That's one thing that is missing from the otherwise great information on the GuidetoIceland Seld-drive tour packages, it's how much driving is required each day.
But you can get a rough estimate using Google maps.
Interests
Of course, you should also select your tour based on your interests:
If you want to see glaciers, waterfalls and icebergs, head to the South Coast
If you want to see more volcanoes, geothermal activities and geological features, head to North Iceland
Price
And the last criteria to consider is your budget. Self drive Iceland Tour Prices depends on:
Time of the year
Number of people travelling together in the same vehicle
Type of car (size and 2WD/4WD choice)
Accommodation type
Optional Activities (you can add activities such as glacier walking, glacier boat tour, snorkeling in a fissure…)
If you have limited money to spend, your can see Budget self drive tour options here. Some are a lot cheaper because they are camping tours which can be fun!
What car to choose for your Road Trip Package
Manual or Automatic ?
Iceland rental agencies offer have both manual and automatic cars.
So it depends on what you are used to driving at home.
If you are staying on the main roads, driving is very easy.
To my opinion, on gravel and bumpy roads, the automatic was more comfortable but the Manual was way more fun! 
2WD or 4WD?
If you plan on doing the Central Highlands, the question is easy, you need a 4WD and to know how to cross rivers
If you plan on sticking to the ring road ring and going through all major sights, then you just need a standard car
If you have some time and want to discover some areas more in depth, this is when you have to go all 'pros and cons'. The 4WD is more expensive. But by renting a 4WD your don't worry engaging in gravel roads. If it looks promising, you can go no problems!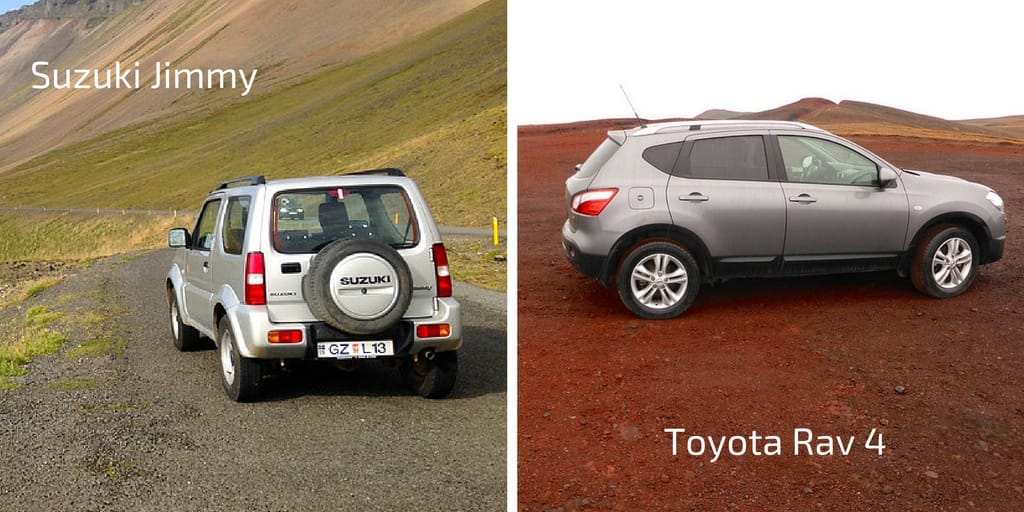 Choose your accommodation level
There is not much about accommodation I can tell you.
With an Iceland self drive package, you have a lot less flexibility. You basically choose the level of comfort you are looking for.
Note that some accommodations in Iceland have shared bathrooms so make sure the conditions are clear when booking.
I think accommodations is totally secondary in Iceland. It is so beautiful that you want to spend as much time as possible exploring and admiring the scenery. The hotel is just for sleeping 🙂 . But this is a very personal opinion.
Should you book extra activities now or once there?
There are great activities that can be booked on top of the program basis.
For example:
Glacier hiking in Skaftafell
Snorkeling in the Silfra fissure in the Thingvellir National Park
Enjoying a boat trip to get closer to the glacier at the Jokulsalron lagoon
Visiting a sparkling ice-cave that can't be accessed alone (winter only)
Going whale watching from Husavik
Relaxing at the Blue Lagoon
Hunting for the northern lights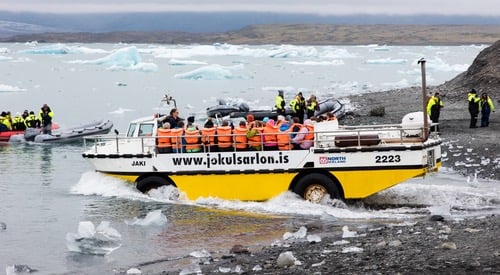 If you book on Guide to Iceland, once you select your date and number of people, you can select the activities you want and book them right away.
Pros to booking right away
Some tours have limited spaces (e.g. cave tours) so you would not be able to get in at the last minute
You have your full budget clear and settled
Cons
You can't be late. You can't spend more time at a place you like if you have to be somewhere else at a specific time
Personally, I prefer to book everything in advance so that the trip is well structured and it add a pace to the tour.
Don't forget to wear appropriate clothing and have the right equipment.
Check out my Iceland packing lists for Winter and Summer.
Best Iceland Self drive Tour Summer
And here comes my selection of great Self-drive tours in Iceland. I have spend time reviewing the itineraries and reviews. I think they are well balanced in terms of scenery and driving time.
I have selected 3 tours depending on your available time:
7 days – South of Iceland + Golden Circle
As I said earlier, if you have only a week, I don't recommend going for the full ring road tour because it will be a lot of driving and frustration not to be able to stop.
This is a great program to explore the best of the Iceland's South Coast, the Golden Circle and the Snaefellsnes peninsula. There is already a lot for you to see here.
My Highlights – Kirkjufell mountain (see my photos), Jokulsarlon lagoon (and don't forget to cross to Diamond beach – see my photos), the Seljalandsfoss waterfall where you can walk behind (see my photos)
Check out program and latest prices
10 days – Best of Ring Road + Snaefellsnes Peninsula
This is a great tour to have an overall view of Iceland with the South, the North and the Snaefellsnes Peninsula.
In the North, if whales are not essential to you, I recommend skipping it to spend more time exploring the Myvatn area. It is home to really fascinating geological features.
My highlights – A bit of everywhere, same as above for the South. Once in Myvatn, I recommend Dimmuborgir, the pseudo-craters, Hverir and Leihrnjukur (have a look at my North Iceland Guide)
Check out program and latest prices
14 days – Complete Iceland overview including the Westfjords
A full tour of Iceland including the magnificent and less visited Westfjords!
Check out program and latest prices
Best Iceland Self drive Tour Winter
And I have done the same with the Winter tours, making sure you can complete the program easily (you can drive less in Winter).
But make sure you can drive on the snow. Check out my article about driving in Iceland in Winter.
6 days – Golden Circle + South Coast
Golden circle and South Coast of Iceland with less stops than in Summer because things are less accessible. You will still enjoy magnificent scenery, the powerful waterfalls and the icebergs at Jokulsarlon.
I recommend the Ice cave tour. It is becoming a bit too touristy but it is still a magnificent place!
Check out program and latest prices
10 days – Complete Ring Road
Enjoy the Complete Ring Road Tour to get an overview of the whole island in Winter.
Check out program and latest prices
Want to see more of ICELAND?
PREVIOUS:
NEXT:
Inspired? Share it on your favorite platform!