Orakei Korako geothermal park is one of the best in the Rotorua-Taupo volcanic area, New Zealand. Accessible only by boat, it offers colorful geothermal formations (including a cave) surrounded by dense forest. My favorite stop in the region! Below is my guide to help you plan your visit.
Why visit the Orakei Korako thermal park? – "the Hidden Valley"
Orakei Korako is my absolute favorite geothermal parks in the Rotorua-Taupo region (see my comparison article), for several reasons:
It requires a little detour. Most people focus on the parks at Rotorua (especially with the big bus tours) so you have a lot less crowds here
Despite being off the beaten path it is very easy to access
The geothermal features are stunning and colorful – mostly the sinter terraces
The walking path allow you to admire those features from various viewpoints
The volcanic area is surrounded by lush forest and a lake. Amazing contrast!
It has something very rare: a geothermal cave. See further in the article for more info.
Do you understand why this is one of my favorite things to do in North Island?
Orakei Korako name
Orakei Korako means "Place of adorning" in Maori
This geothermal park is also refer to as the "Hidden Valley"
Careful when using online maps, Orakei is also the name of a suburb in Auckland
Orakei Korako history – in short
The valley is almost un changed from what is was thousands of years ago.
The area of the Waikato valley has been inhabited by the Maori of the Ngati Tahu tribe for a along time.
Early 19th, a large settlement had developed around Orakei Korako
It is thought (but not confirmed) that the tribe left the area after the eruption of Mount Tarawera in 1886
The place became a visitor attraction for the first time in the beginning of the 20th century
There used to be 2 giant geysers (90m and 55m high), but they were drowned by the lake when the Waitomo river was modified to generate power, with the Ohakuri Dam
Orakei Korako park in video
And below is a short video of my visit, to give you an idea of what yours could be like.
Many more photos after the practical information.
Planning Tips – Orakei Korako New Zealand
How to get to Orakei – Map & location
Located in North Island
Between Rotorua and Taupo
Accessible via a paved road from Road 5
Rotorua to Orakei Korako = 1h drive
Taupo to Orakei Korako = 30min drive
Below is a map with all my favorite parks, to help you located Orakei Korako:
Practical maps with my selection of the best places to see can be found in my eBooks. They facilitate the planning of your New Zealand road trip:
Visiting Orakei Korako geothermal Park
Plan 2h for your visit
There is a large carpark on arrival
Entry price – 39 NZD on site
Opening hours – 8 am to 4pm in Winter and 4:30pm in Summer
Next to the carpark is the visitor center. There is a café, a souvenir shop and toilets
Note – there are no facilities once you cross the lake!
The walk is well maintained with tracks, board walks and staircase. I counted 885 steps on the loop (some going up others going down) – more information about the difficulty of the walk further in the article.
Where to stay to visit Orakei Korako?
Rotorua and Taupo are not far away. Therefore you can stay in either one and have access to many accommodations and restaurants.
Need to rent a car in New Zealand?
My tips:
Compare prices on my favorite platform:  

Discovercars.com

– one of the best rated comparison sites!
Prefer a car with enough power for the mountain areas
Consider their full coverage option – it for peace of mind!

Book early

to have a large choice of vehicles!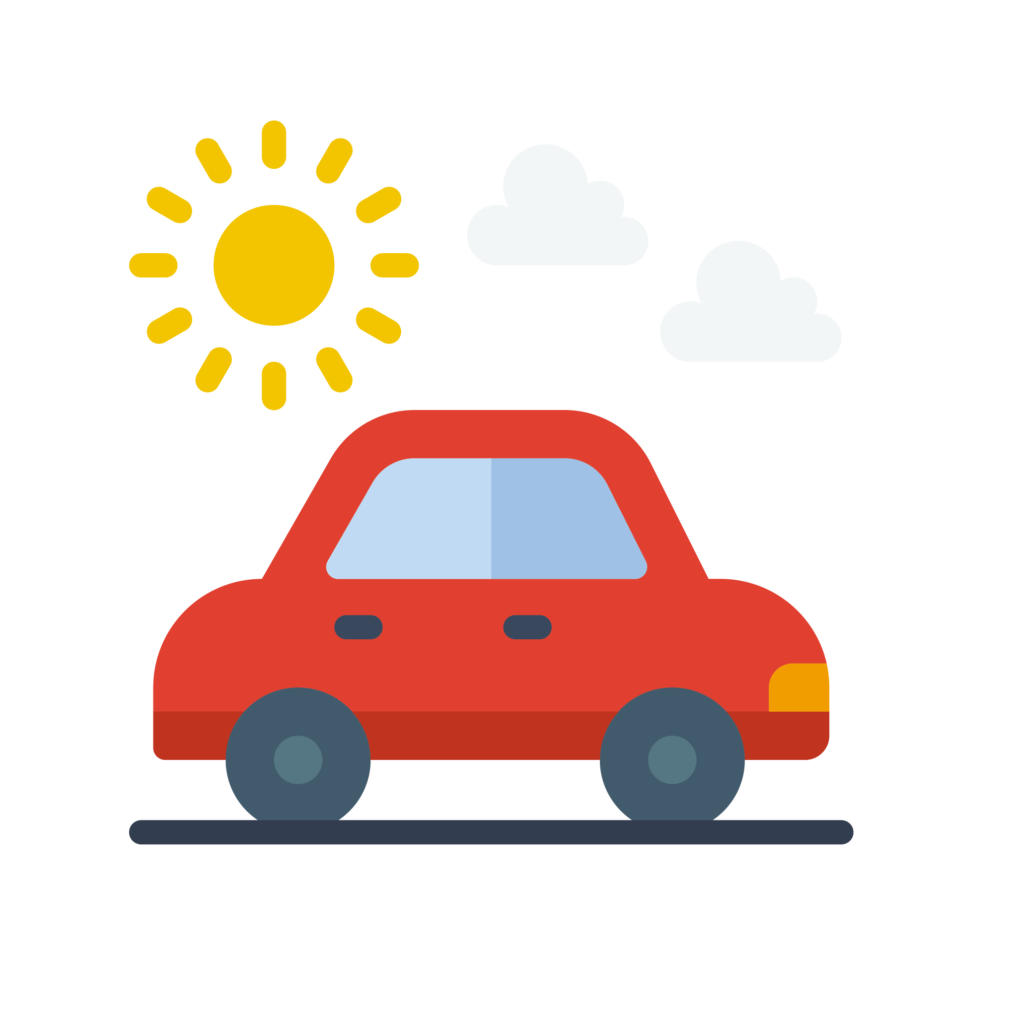 Lake Ohakuri & access to Orakei Korako geothermal park
What is unique about Orakei Korako is that you cannot reach it by car.
It is situated across Lake Ohakuri.
This used to be the Waitomo river, but its power was harnessed with the Ohakuri dam and it created this beautiful Lake.
I really enjoyed the views of the silica terrace and of the fumes from behind the hills.
I arrived at opening time and was greeted by stunning reflections on the lake.
The area is really enchanting. After my tour, I had a break at the café to enjoy the views a little bit longer.
The only way to reach the walking path around the valley is via boat.
Nowadays it is a motor boat with big windows so that you can enjoy the views.
The crossing takes only 2minutes. So just wait and the boat will be back soon to pick you up. It goes on demand.
When it started being a touristic attractions early 20th century, people used to cross on a canoe.
Getting around Orakei Korako – Map & Difficulty
Before sharing with you many pictures of the stunning park, here are some information to be prepared for the walk.
Orakei Korako track – Map
Below is the map of the walking path. There is no choice to get around, you just follow it.
I really appreciated to see those boards all around with the map and the indication of where you are on the path.
Difficulty of the walk
The track is really well maintained
One the terraces you will be on boardwalk
In the forest, you will be walking on tracks
It is generally easy
The only points to know is that there are many staircases on the loop. I counted 885 stairs (some going up, others going down). However they are not in a row. They are spread around the trail.
And because of the incredible geothermal features you stop all the time…
I took my time and took a lot of pictures – and I completed the loop in 1h30. But I could have stayed longer, it so fascinating!
A reminder that the facilities (café and toilets) are only on the carpark side. You won't find any on the walking trail.
Safety precautions
This is an active geothermal area! Never forget it.
Stay on the pathways
Don not touch any of the water
Be careful if visiting with children
After rain, the boardwalks can be slippery so be careful
Smoking is prohibited in the park and don't litter!
Orakei's Silica terraces – Emerald, Rainbow and Golden Fleece
Orakei is mostly famous for its impressive silica terraces.
The fault scarp were created by an earthquake in 131 AD when Lake Taupo was erupting.
Emerald Terrace – Kakariki
As you first arrive, you discover the Emerald terrace. What a sight! This is a great start to the tour.
It is not a lava flow. It is a silica terrace.
Its depth is 20m in some places. And it continues under water for another 35m. Temperature is around 45°C (113°F).
It offers a great variety of colors thanks to the thousand of tiny organisms.
The main color is orange, but you can see yellow, white and some green.
Orakei Korako Rainbow Terrace and lookout – Aniwaniwa
A little bit further up is the Rainbow and Cascade Terrace.
It flows over the escarpment creating a cascade of sinter.
Waters flows on it. One of the signs indicated that "nearly 20 millions litres per day of hot water flow into the lake".
The walking loop takes you tot he Rainbow lookout with a wide panorama on the all the silica terraces. This is incredible, especially as they are surrounded by lush vegetation and a lake!
Golden Fleece Terrace
The Golden Fleece is the largest fault scarp in the valley (40m long and 5m wide). And it is the third one you will see.
It is mostly covered in a white sinter coating (so not as fascinating the others). This is why the Maori call it Te Kapua which means the cloud.
I don't drink coffee
But I also like other drinks and sweets!
Do you like the free content you find on my blog? All my tips and practical information, without intrusive advertising…

Map of Africa
My favorite area of the whole park in the Map of Africa.
It is fun because you can see it from ground level and also from several viewpoints.
Here it is:
The whole flat area is 70m2 where the water is between 58°C (136°F) and 68°C (154°F).
Apparently, the water is fed by thermal springs upstream.
Orakei Korako Cave – Sacred cave Ruatapu
The other unique feature is the Orakei Korako Thermal park is the Ruatapu caven also known as the sacred hole.
It is New Zealand's only geothermal cave. And such feature is not common around the world.
At the bottom of this cave cut in the volcanic tuff, is a small pool. It is know as the Pool of Mirrors or Waiwhakaata. Temperature is around 44°C (111°F).
It is not sure how the cave formed. There are 2 theories (Hydrothermal eruption crater or dissolution around rock fractures). The Orakei website says that dissolution is the most likely story.
Other things to see at Orakei Korako park
But it is not all. There are many more geothermal formations to discover throughout the park.
Below is a snapshot of what you could see:
Diamond and Sapphire Geysers
The 2 main geysers have been flowed by the lake. 2 remain by the side of the path. The Diamond and Sapphire geysers.
Eruptions are unpredictable.
The Diamond geyser ejects water up to 8 or 9m high. And it sprays the water into millions of tiny droplets, hence the name Diamond geyser.
Artist's palette lookout
The Artist's palette is a flat white silica terrace (150m long).
Clear blue pools appear ins some places.
Water levels vary greatly. It is unpredictable which means you can see quite different colors depending on when you visit.
Its Maori name is Kei Runga Ite Mania.
Kohua Poharu – The Orakei Korako Mud Pools
The walking path also offers some boiling mud pools. ​Activity depends on the season. They were quite active when I visited.
They form where the thermal fluids have decomposed the rocks, making clay.
The forest
A small part of the trail takes you in the forest that surrounds the valley. Here you can see Pingas (tree ferns), especially the famous Silver fern.
Take your time and listen for the birds.
Soda fountain – Waiariki
Another one of my favorites was the Soda Fountain.
It is a small pool of crystal clear water. And it is currently boiling (after being dormant until 1984).
Here again, you cannot be sure of what you will see when you visit. It is unpredictable.
More photos of Orakei Korako
And below are a few more photos to convince you to make a detour on your New Zealand itinerary to see this incredible place!
Orakei Korako or Wai-O-Tapu ?
If you have limited time, you can might wonder which geothermal park to visit. You can read my complete article comparing them.
But here we can focus on Orakei Korako v Wai-o-Tapu. And in my opinion:
Less crowds in Orakei
A unique access by boat in Orakei
A better variety of formations in Orakei (at least the way I felt it)
Some very striking unforgettable features in Wai-O-Tapu (Champagne Pool, Devil's bath)
I prefer Orakei Korako to Wai-o-Tapu but if you have time, I recommend doing both 🙂
Want to see more of NEW ZEALAND?
PREVIOUS:
Wai-O-Tapu Thermal Wonderland Rotorua
NEXT:
Flight over Rotorua – old article