Milford Sound, the most famous fjord of South Island dis not disappoint: Cruising on calm waters surrounded by abrupt cliffs, rainforest and waterfalls… the discovery was captivating!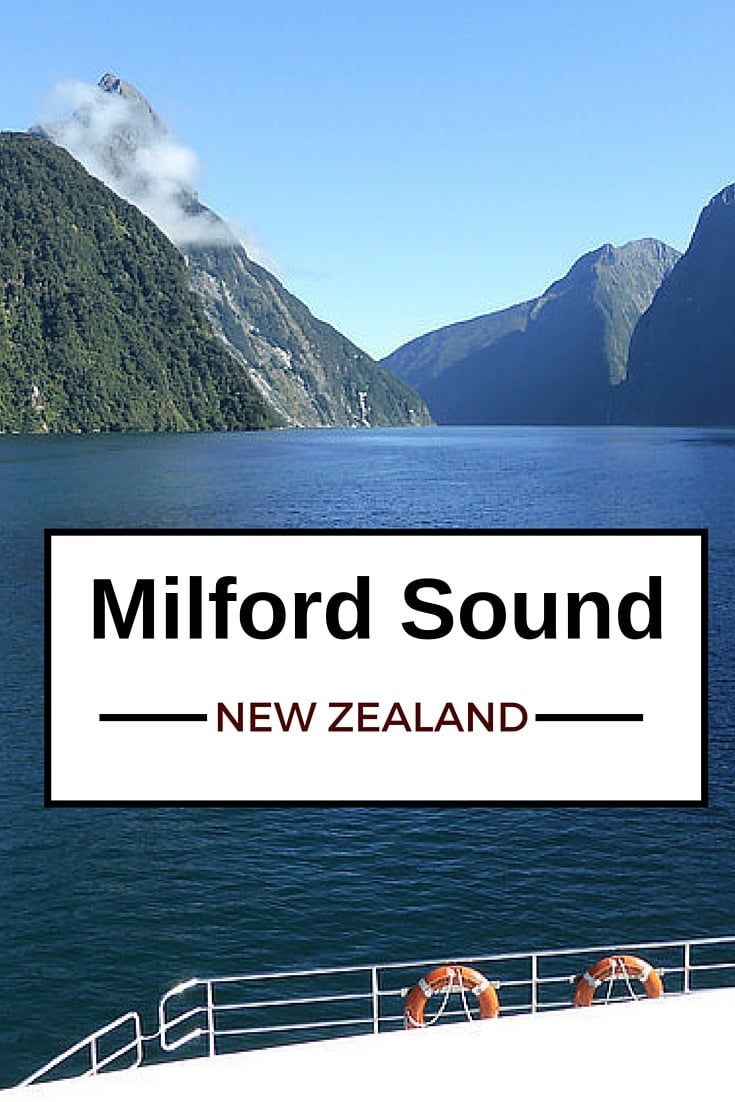 INFO & PLANNING TIPS – MILFORD SOUND
Milford Sound is considered a Must do while visiting New Zealand's South Island. It is the most accessible Sound which makes it… a very touristic place.
It is one of the most accessible fiords, the only one which can be accesses by road. Quite still, the steep cliffs are covered with rainforest. The highest point of Milford Sound is the Mitre Peak – culminating at 1,692 metres.
TIPS FOR TRAVEL PLANNING ADDICTS – MILFORD SOUND
Getting to Milford Sound
By bus or with your own car, take the Milford Road which is a great drive with stunning scenery
295km from Queenstown (4 hours 15 minutes)
121km from Te Anau (2 hours 15 minutes)
Cruising Milford Sound
Check out the official website of Milford Sound
Many company offer cruising options from small boat with bigger one. On my 2 week tour of New Zealand I had no choice. We were on a Jucy Boat and it was correct
It is 16km to the head of the fjord and the sea
Bring some rain gear and warm clothes. You will see in the picture that I was lucky, but most of the time the weather is not so sunny.
On the way to Milford Sound
The drive down Milford Road is already an adventure with stunning landscapes before and after the tunnel.
My experience with the Jucy cruise
Although I wished we had the place to ourselves, the pacing of the different boats is quite nice and crossing them can help create better compositions on pictures.
At the end, although I had been sick since the night before
, I enjoyed the steep cliffs, the waterfalls and the preserved nature. We even spotted some dolphins!​
The boat was spacious enough and we all had one free muffins and some warm drinks. ​However the boat was a bit too big for my taste.
Cruising the Fjord
Milford Sound, part of Fiordland National Park, reaches 400 metres deep in places. It is actually a fjord as it was formed by the erosive effects of a glacier. Mitre Peak, the prominent peak in the picture below, rises at 1692 meters.
I don't drink coffee
But I also like other drinks and sweets!
Do you like the free content you find on my blog? All my tips and practical information, without intrusive advertising…

The Many waterfalls of Milford Sound
As you can see we had a wonderful blue sky for our cruise of Milford Sound. This was not the best weather to enjoy many waterfalls but we still saw some great ones. To compare with how it looks like with bad weather I recommend Young Adventuress Liz's rendering of the legend of Milford Sound.
Want to see more of NEW ZEALAND?
Discover more things to do with planning information and photos in my online New Zealand Travel Guide.
PREVIOUS LOCATION:
NEXT LOCATION: 
FOX GLACIER OR FRANZ JOSEF GLACIER
Have you ever visited a fjord?